The thyroid is a butterfly-shaped endocrine gland, below the larynx in your throat, that plays a major role in the metabolism of the human body. Its effects are felt by every single cell within your body.
Sadly, issues with the thyroid producing either too much hormone or too little are rampant in industrialized peoples. These metabolic diseases are not easy fixes, as metabolism is a system-wide function. Thus, the cause and effects are spread throughout the system as well.
The longer thyroid issues go on, the harder the fix becomes. And in those cases, many specific supplements or even drugs may be required. If it gets bad enough the thyroid may shut down completely or need to be removed. But if it is focused on early enough, and the right steps are taken, many people can restore normal thyroid function. That is what this article is about.
What does the Thyroid do?
Forgive the technicality as we talk about the hormonal cascade at play here.
The hypothalamus produces TRH or thyrotropin-releasing hormone. This signals the pituitary to release TSH or thyroid stimulating hormone. TSH, in turn, triggers the thyroid to release T4 or thyroxine. T4 gets converted into T3, or triiodothyronine, primarily in the liver.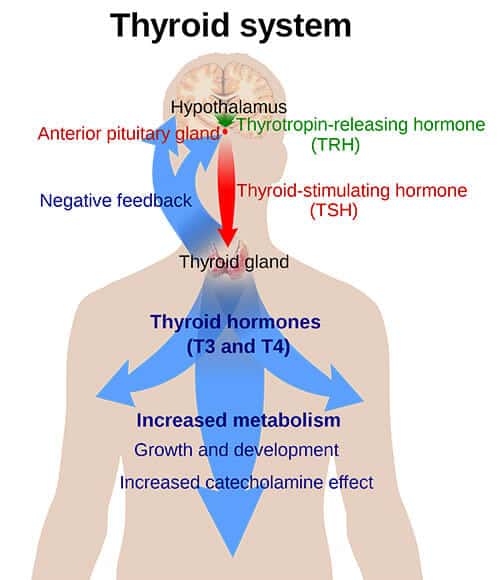 T4 plays a role in methylation, helping to detoxify your body, but is considered far weaker in the main thyroid effects than T3. However, T4 can also convert into Reverse T3 or rT3 which blocks the work of T3. It is there to establish a balance, getting rid of excess T4, but too much of it causes hypothyroidism.
There are also T1 and T2, but little is known about the function of these. Future research is likely to find out more regarding their importance.
When the thyroid is functioning properly, it does a lot. This includes:
Increasing body temperature
Regulating heartbeat
Increasing metabolism of energy
Improving muscle strength
Supporting mood
Increasing fertility
Replacing dying cells with new ones
And more
Where it Goes Wrong?
Women are dramatically more likely to suffer from thyroid problems than men, with some estimates saying five to eight times as likely. This is probably due to the differences in the women's sex hormones, less testosterone and/or more estrogen and progesterone.
Even worse, many people with thyroid issues are not aware they have them. No matter what the issues are, underlying virtually all of them is inflammation, as is the case with all chronic disease. Some of the main thyroid issues include:
Weight Gain and Difficulty Losing Weight
Fatigue
Depression
Pain
Infertility
Some other signs of hypothyroidism include:
Dry, thin hair
Missing eyelashes or eyebrow hair
Cystic acne around mouth and chin
Darkness around eyes
Puffiness around Adam's apple
Water retention
Shortness of breath
Pale skin
Migraines
Muscle pain
Low body temperature
Memory or concentration problems
Constipation
Heavy menstrual flow
Joint pain
With this laundry list, we know we're dealing with systemic functions. Because of individuality, how thyroid disorders affect one person may be dramatically different than the next.
Parathyroid
Another set of glands that reside right next to the thyroid are the parathyroid glands. These produce parathormone which is responsible for regulating the amount of calcium in your blood and bones. Issues with the parathyroid can lead to such painful issues as kidney stones as well as brittle bones. Many other symptoms parallel those with thyroid problems.
Many of the same steps covered here will help with issues in the parathyroid, especially if it is autoimmune in nature. Graves' disease, Hashimoto's and goiter are all associated with hyperparathyroidism.
Hyperthyroid vs. Hypothyroid
There are two main groupings of thyroid issues:
Hypothyroid is when there is too little thyroid hormone.
Hyperthyroid is when there is too much.
There is also what is known as cellular hypothyroidism or thyroid resistance. This is when the thyroid produces sufficient amounts of hormones, but your cells aren't registering them, bringing about the same issues and symptoms as with hypothyroidism.
As with all hormones, the issue isn't just the hormones themselves, but the receptor sites in the cells where they act on. The healthy functioning of these is harder to find out through methods such as blood testing.
Goiter is a case of hypothyroid where the thyroid gland enlarges. This is caused specifically by a major deficiency of iodine. It is rare in industrialized societies these days because of the iodization of table salt. While that may be enough to prevent goiter, that doesn't mean it is enough to give optimal amounts of iodine though. More on that later.
Autoimmunity (Hashimoto's and Graves' Disease)
Thyroid problems may or may not be autoimmune in nature. Many of them are, but not all. Hashimoto's is an autoimmune hypothyroid. Graves' disease is autoimmune hyperthyroid.
In autoimmunity, the body creates antibodies to naturally produced enzymes, hormones or other molecules with the human body. The immune system then attacks these as if they were pathogens. As you can imagine, this then causes problems.
As with all autoimmunity, this ultimately stems from immune system confusion which is in very large part because of what we eat. Most of the immune system resides in the gut. Certain foods overburden the body, leading to autoimmunity. As happens, some people have this war then waged in the thyroid, while others suffer elsewhere.
The fact is that autoimmune conditions often come in groups. If you are diagnosed with one, if you don't rectify the situation, chances are in a few more years you'll get another.
Thyroid Testing
As with all hormones, the thyroids interaction with the body is complicated. You can't understand everything that is going on by one or two numbers. As with all testing, over the years it has been refined and gotten better. What this also means is that the standard tests that most doctors will give you are a couple of decades behind what real thyroid experts know.
TSH is often tested. While a number outside the reference range tells you that thyroid dysfunction is an issue, a normal number does not tell you your thyroid is functioning normally.
The following numbers are the ideal reference range as recommended by Suzy Cohen in her book Thyroid Healthy: 

TSH .1 to 1.5 mg/dL
Free T3 3.5 to 4.3 pg/mL
Total T3 140-175 ng/dL
Reverse T3 < 15 ng/dL
Free T4 0.8-1.8 ng/dL
TPO < 20 IU/mL
Free T3/rT3 ratio >2
These numbers are not set in stone. Every thyroid expert is going to recommend somewhat different numbers, which speak to the fact that blood tests are just one possible means of gathering information, and may not even be the best.
Another option besides blood testing is using ultrasound on the thyroid gland. With this, a doctor can look for enlargement or inflammation of the gland itself.
Still another test that can be done at home is checking your basal body temperature. Using a basal thermometer under your armpit after waking up in the morning, and before getting out of bed, you want to look for a temperature of 97.8 to 98.2 degrees. Anything lower than this indicates hypothyroidism. (This isn't a sure indicator though. You could have a normal temperature, but have autoimmune antibody attacks of the thyroid.)
Necessary Micronutrient Cofactors for Thyroid Function
The numbers in T4 and T3 specifically have to do with the number of iodine molecules used in the hormones. The T has to do with the amino acid tyrosine.
Thus, for a healthy thyroid, you need these starting molecules. Tyrosine is a non-essential amino acid, which can be created from its precursor phenylalanine. Both tyrosine and phenylalanine are found in most proteins including meats, dairy, eggs, some seeds, and beans. You're not likely to be deficient unless you're not getting enough protein.
Iodine is another matter. This essential mineral has been estimated to be deficient in up to 96% of people, by Dr. David Brownstein. Instead of belaboring the point here, we have an in-depth article all about iodine, including the importance of it for the thyroid, here. Suffice to say that most people need therapeutic amounts to support the thyroid, especially in cases of hypothyroidism, and not just amounts necessary to prevent goiter.
To convert T4 into T3 requires deiodinase enzymes. Critically important for these are the mineral selenium and the B vitamins especially B6 and B12. You can find out more about selenium and the easiest abundant food source of it here.
Some other important cofactors include:
As an example, thyroid hormones have difficulty entering cells if your vitamin D, zinc or iron are too low. This can cause symptoms of cellular hypothyroidism.
These micronutrients are all critical, and not just for the thyroid either. If you have thyroid issues, test for these nutrients and start supplementing with them. You can get many from foods, but chances are you'll need to supplement at least in the beginning to get the therapeutic amounts you need to get back towards normal.
While you can overdo them all, especially copper and iron, many people may be deficient in several or even all of these.
What to Avoid to Support Thyroid Function
As inflammation is at the root of most thyroid issues lowering inflammation in the body is going to help.
Excessive toxins will inhibit your body's ability to regulate thyroid hormone. As most of the T4 is converted into T3 in the liver, if the liver is overburdened with its workload, it won't be able to do this job properly. Cleansing your body and your liver can help.
Heavily processed foods that cause inflammation can be another trigger. For many people, this means highly allergenic foods including dairy, gluten, nightshades, and/or soy. If you have autoimmune thyroid issues an elimination diet of all of these things is in order.
(As autoimmunity is not really a "thing" but instead a process, even if you haven't been diagnosed with an autoimmune condition, many people would do well to avoid many of these things.)
The foods are a big part. Then there are specific chemicals to avoid.
First off, you'll want to avoid chlorine and fluoride, found in many municipal water supplies. This means not drinking this water, and also not bathing in it. Good quality filters are able to remove these harmful chemicals. Bromine is found in many baked goods as well as in drinks like Gatorade.
All three of these chemicals displace iodine in the body and try to function, unsuccessfully, where iodine should be. These chemicals often become concentrated in endocrine glands. By having sufficient iodine in your diet, your body will also uptake less of these.
Painting iodine over the thyroid on the skin of the neck is also a possible method, as you'll absorb it directly through the skin and it can more easily enter the gland.
Many chemicals, from plastics, pesticides and other sources, not only mess with sex hormones but thyroid hormones as well. For instance, BPA found in many plastics, and also in register receipts, is known to block thyroid receptors. These need to be avoided as much as possible. Estrogen dominance is often found in combination with thyroid problems.
Various drugs also interfere with the conversion of T4 to T3 and other aspects of metabolism. These include beta blockers, chemotherapy, contraceptives, lithium, corticosteroids, and others.
There are also goitrogens found in cruciferous vegetables, including broccoli, cauliflower, Brussels sprouts, kale, etc. These can suppress thyroid activity so people with hypothyroidism should be careful with them.
Drugs and Supplemental Thyroid
The most important thing is the micronutrients covered above. In cases of deficiency, which most people will have, these should be supplemented, or the diet changed in order to get much-needed supplies.
Drugs are not my strong suit, so I won't even attempt to make recommendations here. Besides I am morally opposed to drugs and how they're utilized in our society. Please find a qualified doctor or naturopath that can guide you here. Be warned though, the wrong thyroid drugs can actually make things worse.
Besides drugs, you can also supplement with desiccated thyroids from animals. These thyroid glands are going to contain many of the necessary cofactors needed to make the best use of it, over synthetic drugs. But while this is often a better choice than drugs, it needs to be treated with the same caution.
Depending on the how far thyroid disease has gone many people may need to remain on either drugs or supplemental thyroid long-term.
Herbs to Support Thyroid Function
It is important to note that herbs cannot cure thyroid issues. As a multifaceted disease with many symptoms, this can only be "cured" by an overall lifestyle plan. That being said, herbs can certainly help in dealing with symptoms as well as helping the body return to a more effective ecology. Herbs work systemically and thus don't affect one thing but the whole system.
Ashwagandha helps with T3 and T4 production in the body.[1,2] At the same time, as an adaptogen, but not an overly stimulating one, it helps support the adrenal glands. It works in many cases of both hypo and hyperthyroidism. (However, some people with Hashimoto's finds that it stimulates their immune system too much, exacerbating symptoms. But this is only in some people. Other's with Hashimoto's find it works well for them.)
Nettle leaf (not the same as nettle root) works well in many thyroid cases. That is because of its effects on circulation, elimination, and inflammation in general. It also has a solid iodine content.
Herbs Specifically For Hypothyroid
Eleuthero is another adaptogen. It is considered to act on the hypothalamus, the master endocrine organ. Thus, it can help the endocrine system to better read its environment and adapt to it. As it can be stimulating, it is best used for hypothyroid. It can be helpful in cases of hyperthyroid but would be best balanced by cooling, nervine herbs.
Kelp, bladderwrack, and other seaweeds, if classified as herbs, are going to be specifically helpful in cases of iodine deficiency.
As a source of trace minerals and effects on the metabolism, Shilajit is another herb used for supporting the thyroid. Because of its effects on boosting metabolism, it seems best used in hypothyroid, but some have also said it is useful in hyperthyroid conditions too.
Other possibly useful herbs include:
Licorice
Evening Primrose
Echinacea
Black Walnut
Bacopa[3]
Ginger
Herbs Specifically For Hyperthyroid
Bugleweed is the most well-known herb specific for this issue. Others include:
Other Lifestyle Factors
A healthy gut flora is essential for thyroid function. It is estimated that around 20% of T4 is converted into T3 by the bacteria in the gastrointestinal tract. Getting prebiotic rich food, eating fermented foods, and taking probiotics can assist in this.
Similarly, many people need to work to restore proper levels of stomach acid, supplementing with HCl or digestive enzymes, in order to better absorb nutrients from their food. Eliminating problematic foods (like gluten which causes gut permeability in everyone, even if certain people don't have problems with the gluten itself) is also going to help restore proper gut function.
Adrenal function is another important component. Having excess cortisol, which is a signifier of too much inflammation, is going to cause havoc. On the flip side, having too little cortisol is also a problem. This occurs when the adrenals are overtaxed for too long. Basically, thyroid and adrenal dysfunction go hand in hand. That means that stress management is a big part of this. Doing things like meditating and walking in nature help. And you have to realize that all the foods and chemicals mentioned above are stressors too. Even if you're mentally great at dealing with stress, it doesn't mean your body isn't being hit by it from many "hidden" sources.
Thyroid Energetics, Emotional and Psychological Issues
Lastly, let's touch on the emotional and psychological side of any disease. While some might consider it woo-woo, I like to look beyond the physical when it comes to healing.
"If you struggle to communicate–whether the difficulty is not listening to others or not expressing yourself effectively–you likely have health issues in the areas of the mouth, neck and thyroid…people with thyroid problems are frequently very intuitive but are unable to voice what they see because they too often struggle to keep the peace or win people's approval."

All Is Well – Louise L. Hay and Mona Lisa Schulz M.D. Ph.D.
The thyroid gland corresponds with the fifth chakra which is all about communication. It is also the connection between brain and higher chakras, the 6th and 7th, and the heart, the 4th chakra. In fact, some report the 5th chakra as multi-chambered, connecting with every other chakra. Perhaps this is another reason women have more thyroid issues than men.
I don't have specific things for you to do here, just to point you in the direction you may want to explore. In our material world, many people think of diseases as purely physical, thus they're often further suppressing what ultimately needs to be resolved for true healing.
To Recap
Far more detail can be gone into on this subject. Many books and there are some recommendations below, are written on this subject alone. As this article is already getting long, I'd like to wrap it up reiterating some of the above and the order in which it should be approached.
Get your micronutrients, all the vitamins and minerals listed.
Eliminate foods that are causing autoimmunity and other issues.
Help restore gut function including stomach acid and the microbiome.
Avoid contact as much as possible with endocrine disrupting chemicals whether through eating or through the skin.
Investigate the psychological side of why issues may be arising in your thyroid.
Experiment with herbs that can help with symptoms and establish a better human ecological system.
Note that these steps are going to help in the case of both hyper and hypothyroid. They're going to help if it is autoimmune or not. And then for specific cases, you would aim what you're doing with these and other steps more specifically.
As mentioned earlier this is not a simple solution. But it is a comprehensive one. Besides thyroid issues, these same steps will also protect you, or repair your body, from many other possible issues.
This is likely something that will take a few months to get going on, and then it must become part of your lifestyle throughout time. There will never be a single herb or even a drug that fixes the thyroid. The system is too complex.
Further Reading
This article was meant only to be a quick start guide. If you are suffering from thyroid issues I would recommend any or all of the following:
References:
Chengappa, K. R., Gannon, J., & Forrest, P. (2014). Subtle changes in thyroid indices during a placebo-controlled study of an extract of Withania somnifera in persons with bipolar disorder. Journal of Ayurveda and Integrative Medicine,5(4), 241.  https://www.ncbi.nlm.nih.gov/pmc/articles/PMC4296437/
Panda, S., & Kar, A. (1998). Changes in Thyroid Hormone Concentrations after Administration of Ashwagandha Root Extract to Adult Male Mice. Journal of Pharmacy and Pharmacology,50(9), 1065-1068. https://www.ncbi.nlm.nih.gov/pubmed/9811169
Kar, A., Panda, S., & Bharti, S. (2002). Relative efficacy of three medicinal plant extracts in the alteration of thyroid hormone concentrations in male mice. Journal of Ethnopharmacology,81(2), 281-285. https://www.ncbi.nlm.nih.gov/pubmed/12065164
Latest posts by Logan Christopher
(see all)