There is one superfood, that many people have heard of, which is loaded with selenium. It's brazil nuts! In this video here and the article below I go into detail on why you may want to eat these every single day.
Selenium in Brazil Nuts
Each nut has around 50 micrograms of selenium, depending on the size. The RDA (which is notoriously low in just about everything) for the adult man or woman is 55 mcg.  So you can see that just one brazil nut a day provides the base level and two or three is better for an optimal dose of this critical nutrient.
Selenium is used in the body's master antioxidant glutathione peroxidase. It is used for the immune system, thyroid function and among other things selenium appears to be powerfully anti-cancerous.
One study in New Zealand found that eating two brazil nuts per day worked slightly better to restore selenium blood levels than selenium supplementation. [1]
As with everything you probably can overdo it on the brazil nuts as well. Excessive selenium intake is characterized by a metallic taste in the mouth and brittle hairs and nails. The recommended safe limit is 400mcg. However, my guess is that if your body is in need of more selenium you could do much more than this, at least for a period of time.[2]
The Wild Brazil Nut Tree
One of the reasons they pack such a nutritious punch is because they are a wild food. Attempts at cultivating the Brazil Nut Tree (Bertholletia excelsa) have failed as the dense rainforest and the large bees required to pollinate its flowers are there. Standing at over 50m and sometimes living over 1000 years it's no wonder it is a great food.[3]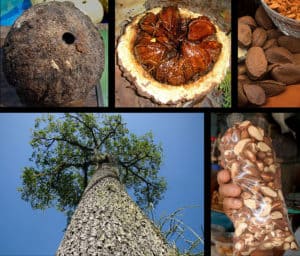 Unshelled Brazil Nuts (which means they're in the Shell)
Recently, I found out that most shelled nuts found, like in the bulk bins of health food stores are heavily contaminated with various molds and toxins. It's probably still worth it for the selenium and other nutrients, but there is a better option.
If you can get a hold of them while they are still in shells, you are sure they are protected from toxins and fresh as well. You can actually taste the difference in taste between those you buy at a store and the ones you crack by yourself.
Finding these nuts in shells in stores can be pretty difficult, because people are lazy and stores typically cater to what people want, but luckily they are available for purchase online. I get them on Amazon here.
Feel free to throw them into shakes, mix them with our various herbs, add them to a trail mix, or any of another hundred ways you could use them. They taste great.
The secondary benefit of this is the fats in them are not going to be rancid as can occur in most nuts. Though among the nuts, brazil nuts are higher in protein and have less fat.
Sources:
Latest posts by Logan Christopher
(see all)