Chances are you can identify some of your own stress symptoms.  Maybe your heart races, your stomach churns, you hold tension in certain areas of your body, or you feel a general sense of being overwhelmed and feeling helpless.  All of these "symptoms" are part of the fight-or-flight response that results from stress.
How Stress Damages The Body
We all know what stress feels like, but have you ever considered the impact stress has on the body?
When the "fight-or-flight" response is triggered, the body pumps out adrenaline and cortisol.  This leads to an increase in blood pressure, breathing and heart rate. In small doses, these chemicals can help to improve focus, enhance energy, and even boost immunity. Issues arise when stress becomes chronic.  
In fact, 60% of all illnesses are due to stress.
Chronic stress causes systemic inflammation, which has negative health consequences. Chronic stress has a negative impact on memory and learning- it actually kills brain cells.  Chronic stress also puts your heart in danger- it is associated with increased risk of heart attack, heart disease, and stroke. Immune system function is also suppressed.
This explains why when you're stressed, you are more likely to get sick and stay sick longer.  
In general, chronic stress ages the body. Stress can contribute to weight gain and digestive disorders. Chronic stress also impacts your mood and relationships. It can cause insomnia, anxiety, depression, and reduce your physical and emotional resilience.  
Herbal Support For Managing Stress
Now that we know the problem, let's take a look at some all-natural herbs that have been proven to help with mental support and managing stress.
Ashwagandha
Ashwagandha is a traditional Ayurvedic medicine which is regarded as a rasayana because of its rejuvenating properties. Ashwagandha is known to lessen the effects of stress on the body.  This herb was traditionally used to prolong life, stimulate the mind, to enhance energy, and to promote a healthy libido.  Ashwagandha is considered an adaptogen- it supports the body's resistance to physical, emotional, and environmental stress.
As an adaptogen herb, Ashwagandha helps the body to maintain optimal homeostasis. While stress can wreak havoc on hormonal balance, Ashwagandha supports the body in optimal endocrine function (helping to support hormonal balance).  
Ashwagandha is a unique adaptogenic herb because it can help support energy levels while also bringing a sense of calm. This makes this herb ideal for individuals who feel fatigued and those who suffer from anxiety.
Lost Empire Herbs' Spartan Formula
For an all-around natural approach to stress and burnout, we highly recommend our Spartan Formula. This powerful adaptogenic formula was specifically designed to help you combat stress.  When combined together, the herbs in our Spartan Formula have been shown to enhance athletic performance and improve cognitive function while under stress. Spartan Formula can help you to attain physical and mental endurance for optimal performance.
What herbs are in Spartan Formula and why does it work?
Eleutherococcus senticosus
Eleuthero has a history of use in Traditional Chinese Medicine (TCM).  It is regarded for strengthening qi (vital energy).  It is considered a mild adaptogen that's unlikely to cause over-stimulation, which makes it ideal for elderly people (while also being appropriate for people of any age).  Research shows that Eleuthero helps to strengthen the immune system. In fact, regular use has been shown to reduce the incidence and duration of colds and other common infectious diseases.  
Eleuthero is a popular herb among athletes, as it increases endurance and stamina, enhances mitochondrial activity (the production of energy at a cellular level), and also speeds recovery. Eleuthero acts as a nervine, helping to calm the body and mind.  It's specifically indicated for type A personalities- those who work hard and don't get adequate rest or nutrition.
Rhodiola rosea
This herb has an interesting history in TCM.  Chinese emperors sent expeditions to Serbia to obtain this plant since it was regarded as the secret to long life and immortality.  With its impressive reputation, it's no wonder that in modern times this herb is classified as an adaptogen.
Rhodiola is a powerful nervine that serves to balance the mood and to improve emotional and mental state-of-mind. It's been shown to increase alertness, decrease fatigue, improve cognition, and support immune function.   No wonder the Medicine Hunter Chris Kilham says it's his all-time number one herb.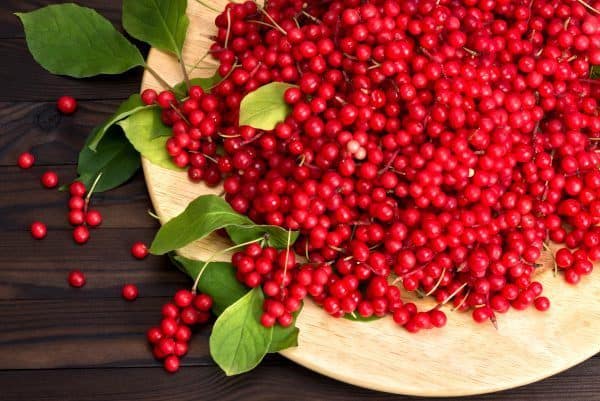 Schisandra chinensis
The TCM name for this herb is wu we zi, which translates to "five flavors fruit." In TCM, taste is an important indication of a plant's properties.  Since Schisandra contains all five tastes (sweet, sour, bitter, pungent, and salty) TCM regards this herb as balancing to the yin organs (the liver, kidneys, heart, lungs, and spleen).  
Research shows that Schisandra has powerful anti-inflammatory properties. It also supports liver health by increasing herpetic glutathione, which is an essential liver antioxidant. Studies have found that Schisandra has a normalizing effect on blood pressure and proves beneficial in helping to manage either elevated or low blood pressure. As an adaptogen, Schisandra supports the nervous system, simultaneously enhancing cognitive function and brings a sense of calmness to those who feel distracted, overwhelmed, or nervous.  
Cordyceps
This fungus was traditionally reserved for use by the emperor and royal family of ancient China.  Today, Cordyceps is used to treat deficiency of yin and yang of the kidneys. In TCM, the kidneys house jing (life essence) and not only fluid balance, but also optimal sexual functioning, bone health, and hearing. 
In fact, its reputation for healing is legendary.
Cordyceps is commonly used to improve libido and fatigue. Studies have shown that Cordyceps supports healthy immunity.  It has also been shown to improve lung function. 

Reishi Mushroom
Reishi is the ultimate medicinal mushroom and can help support the nervous system and combat stress. The Chinese name for Reishi, Ling zhi, translates to "spirit plant."  
In Traditional Chinese Medicine (TCM), Reishi is said to nourish the shen (spirit)- a person's consciousness and emotional balance.  Disturbances of shen include: anxiety, insomnia, moodiness, nightmares, and poor memory.  Reishi proves to be a wonderful remedy for people with these conditions.  
As a nourishing adaptogen, Reishi helps promote balance in body and peace in mind. Reishi is recognized for strengthening the heart, improving cognitive function and prolonging life.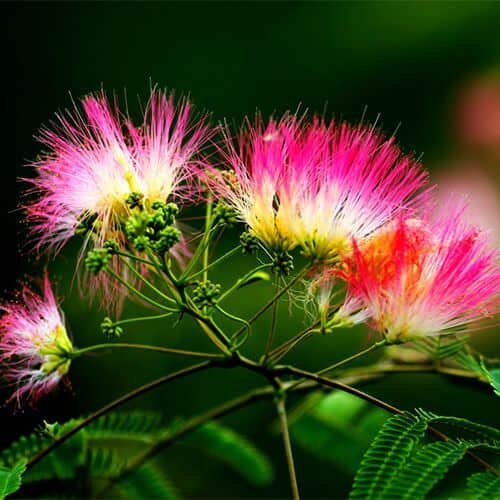 Albizia
Considered the "tree of happiness" in TCM, Albizia is one of the most valued herbs for relieving an anxious mind and stress, and for improving overall state-of-mind and wellness. In fact, it was first documented in the 2nd century for its mood support, calming properties, and other benefits as a tonic herb.  
It's specifically noted for anyone suffering from grief. The flowers and bark of the herb are used medicinally; a traditional belief is that the bark anchor the spirit, while the flowers lighten it.  
Albizia helps combat the effects of stress by improving sleep quality, reducing irritability, and improving poor memory and emotional well-being. Albizia replenishes shen, which is thrown off balance when we experience a high level of stress or suppressed emotions.
If you're looking to reawaken your zest for life, Albizia is the herb for you.
To learn more about how to combat stress, check out these articles:
Herbs and Practices to Calm the Anxious Mind
Stress Management: How Medicinal Mushrooms Can Help.  

References:
"Is Stress Killing Us? 5 Tips for Beating Stress…Naturally." (January 30, 2018). Aviva Romm MD.  Retrieved from: www.avivaromm.com/beating-stress-naturally/.
Winston, David, and Steven Maimes. Adaptogens: Herbs for Strength, Stamina, and Stress Relief. Healing Arts Press, 2007.
Latest posts by Erin Henry
(see all)