Spartan Adaptogenic Formula for
Greater ENERGY Guaranteed or Your Money Back
Fight Stress, Fight Fatigue, Fight Burnout and Increase Physical and Mental Work Capacity*

There is one thing above all that people notice when they take Spartan Formula…greater energy. Whether they use this to work harder, play harder, in the gym or elsewhere is up to them.
We'd love to give you the same benefits like Brett got:
"I feel like a freaking Spartan. And I feel a little weird writing that in a review, but it's true. I'm a 38 year old business owner. I've been taking this for about a week to week and a half and the mental clarity and energy I'm experiencing is pretty remarkable. I also feel a little more aggressive…Like a need to get a work out in. Anyway, I've been a supplement guy for ever in terms of vitamins and the basics. I'm new to this stuff, but it's been amazing so far."
But nothing works for everyone. That is why we stand behind our 365 Day Money Back Guarantee. Nothing to send back. No big hoops to jump through. If it does NOT work for you, simply let us know and we'll refund your full purchase price.
The only way you'll know is to try it for yourself.
Why We Need More Spartan Toughness These Days…
The Spartans have become legendary in their fighting ability and toughness.
Subject to military drill from infancy, the Spartans were one of the most feared military forces in world history. At the height of Sparta's power – between the 6th and 4th centuries BCE – it was commonly accepted that, "one Spartan was worth several men of any other state." Throughout their adult lives, the Spartans continued to be subject to a training regime so strict that, as Plutarch says, "They were the only men in the world with whom war brought a respite in the training for war."
That's stress! Perhaps it makes the trials and tribulations of modern day living seem lesser, but the truth is far more people in this day and age are under chronic loads of stress. So much so that the body can't handle it and begins to break down.
But what if there was a way to combat that stress? What if you have the physical and mental endurance and concentration you needed to excel in life? What if you were able to keep like a Spartan with no choice but to continue training? The answer is an herbal class called adaptogens, and this adaptogenic formula is designed to give you the biggest and best fighting chance…

The Amazing Ability of Adaptogens
An adaptogen is a substance that helps you to better "adapt". They help, in the words of toxicologist Lazarev who coined the term, to increase "the state of non-specific resistance". The means your body becomes better in a general way. In Western medicine the common idea is "one disease, one drug". This idea does NOT apply to adaptogens as they have been shown to help with many problems. Adaptogens have been found to exhibit neuro-protective, anti-fatigue, anti-stress, nootropic and CNS stimulating activity.*
Anti-Stress Effects
Russia has led the field in studying adaptogens. One finding is that they assist in the regulation and homeostatis of the neuro-endocrine-immune complex.* That means your nervous system, endocrine or hormonal system and the immune system work better.
Specifically, the stress protective effects are associated with the HPA axis (hypothalamus, pituitary, adrenal). Adaptogens appear to activate stress-induced self defense mechanisms in cells, which then allows the cells to better handle stress in the future.* In this way they're referred to as stress-mimetics. In this formula you get not one adaptogen but a blend of four of the most powerful ones out there: Eleuthero, Rhodiola, Schisandra and Cordyceps
Eleutherococcus senticosus
In 35 clinical trials Eleuthero was tested in healthy human subjects against various stressful conditions including hot temperatures, athletics, heavy physical burden, loud noise conditions, forced work, intense mental and physical work and more.*
In ALL there was an improvement of physical and mental work capacities. It was also shown to be helpful with illnesses including, atherosclerosis, diabetes, hypertension, trauma, neurosis, heart disease, insomnia, cancer and more.*
Rhodiola rosea
Rhodiola has strong effects on the symptoms of stress-induced fatigue. This was shown via cortisol (the stress hormone) measurement in the saliva.*
In 128 patients with clinical symptoms of fatigue, treatment with Rhodiola improved partially or completely every patient's symptoms. It's been shown to assist when you're feeling down and normalize sleep.*
LD50 is that is the dosage that kills half of a population. Research reduced overdosing on ethanol in mice by about 120%. That means it took much more to kill them. To some up in the USSR Rhodiola was recognized for the following five effects:
Acts as a stimulant for those suffering fatigue (but without being over-stimulating)*
Increases ability for mental work*
Aids in recovery from physical and mental work*
Assist in optimal sexual function in males*
To assist with psychiatric patients in improvement as well as mitigating negative drug side effects.*
The Rhodiola used in this formula is not our current Rhodiola but an older version. This is done to make the formula more affordable.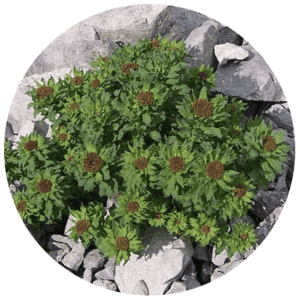 Schisandra chinensis
Back in WW2 Soviets used schisandra berries for their stimulating and tonic effects. They began doing this after looking at the native hunters who used them to reduce thirst, hunger and exhaustion as well as for improving night vision.*
Schisandrin B stimulates the expression of heat shock proteins in normal cells which enhances mitochondrial glutathione status, other antioxidant activity, ATP generation, cognitive enhancements, and reductions in age-related impairments.*
Schisandra can help to relieve a down mood.* It's even been found to be useful for other mental health issues.* Now includes the highest quality Organic Schisandra Concentrate on the market!
But that's not all, to Spartan Formula we've added another powerful adaptogen and one of our personal favorites.
Cordyceps
In Tibet, and now being backed up by modern research, Cordyceps is considered a remedy for weakness and fatigue, and are used as an overall rejuvenator for increased energy.*
It is used in the region to help offset the effects of altitude sickness and improve oxygen capacity.* This effect is what makes it attractive to athletes as one of the medicinal mushrooms it has immuno-modulating effects and has been known for its aphrodisiac qualities.* Our cordyceps are sourced from the USA, are true cordyceps and are grown in 100% organic conditions similar to the Himalayan mountains.
The cordyceps used in this formula is not our Cordyceps militaris but our old Cordyceps Blend to make Spartan more affordable.
Physical Endurance for Athletes
Although we designed this formula with stress fighting in mind, as you can see it has powerful physical effects as well. Not only do these herbs help with mental fatigue but physical as well. Taking this formula you're likely to improve better in physical activities, especially endurance activities like running, biking, swimming, etc. Designed to give you the endurance, fortitude and stress resistance of a Spartan.*
Each bag is full of 100 grams or just over 3.5 ounces. Recommended starting dose is one tablespoon per day. There are roughly 15 tablespoons per bag. Contains roughly 6.6% non-GMO corn maltodextrin from some of the herbal extracts inside.

Contraindications:
Spartan Formula is not to be used while pregnant or breastfeeding as it is untested in doing this. Some people also recommend avoiding taking schisandra when you have the common cold or flu, because of its astringent properties, in holding moisture in the body. Other than that there are very few side effects to these herbs. Of course, everyone is different so you'll have to try it out to find out how well it works for you.
*These statements have not been evaluated by the FDA. This product is not intended to diagnose, treat, cure, or prevent any disease.

Consuming this product can expose you to chemicals including Lead, which is known to the State of California to cause birth defects or other reproductive harm. For more information go to www.P65Warnings.ca.gov/food.