If you're in California you've likely seen this sort of warning everywhere. If you're not in California, you probably haven't seen it nearly as much.
I think that this article will be of interest to anyone, not just those in California because it speaks to quality of supplements, failures of regulation and more.
Here's just a couple examples of where you might spot it…
From gas stations to Disneyland, the warning is pervasive.
Found a warning on some building materials the other day. (Does it only cause cancer in California, or is the State of California the only ones to know this?)
A natural by-product of baking bread received this warning.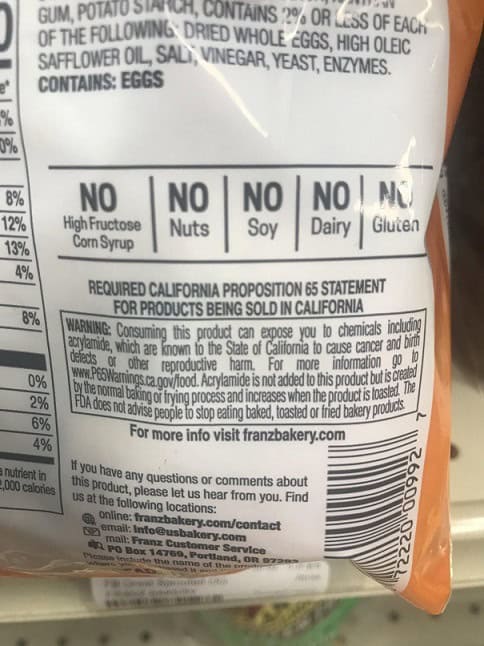 And on some of Lost Empire Herbs.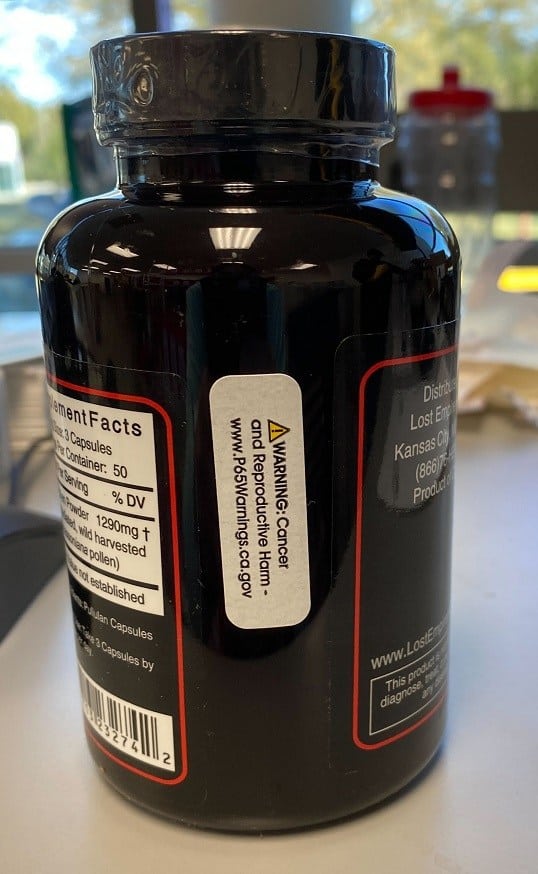 In any case, this article may be useful for you to understand toxic chemicals, regulations and Lost Empire Herbs strict standards.
What is Prop 65?
Formally titled The Safe Drinking Water and Toxic Enforcement Act of 1986, this is known mostly as Proposition 65 or Prop 65. It's a California law that was passed in 1986. The goal was to reduce exposure to toxic chemicals known to cause cancer and/or birth defects.
The controversy over it tends to have to do with businesses being required to know the scientific safety level of specific chemicals. Its enforcement occurs through civil lawsuits, that is bottom feeding attorneys bringing suits against mostly small businesses (including earlier this year, Lost Empire Herbs). In 2018, mostly small businesses paid $35 million in Prop. 65 settlements.
This LA Times article covers the subject quite well for those that want to go even deeper. 
The List
The list of chemicals under regulation from Prop 65 is ever growing. You can find it in full here.
This includes a wide variety of chemicals including DDT, Red No. 8, 9 and 19, PFOS, vinclozolin and so many more.
It is often seen for heavy metals lead, cadmium, and arsenic which is where it impacts Lost Empire Herbs.
You see these periodic elements are found throughout the environment. They can accumulate into herbs and foods depending on growing conditions. This is one of the large fears of herbs from China, somewhat justifiably so.
Lost Empire Herbs Standards
We have strict heavy metals standards which are lower than what is legal according to US agencies such as the FDA and EPA. We also look at our industry trade group, the American Herbal Products Association, for their recommendations.
You can read more about that here, as well as see how each one of our products stack up in our latest independent lab testing.
But Prop. 65 has a low limit especially for lead that is tough to beat. Still, many of our products do actually beat it! But not all.
Prop 65. Heavy Metals Limits
Any supplement with 0.5 mcg per serving or higher of lead is required to have the warning. Some of the herbs are below that amount and some are above. And as discussed in the recent article on Lead Exposure, many foods and even some water supplies, which do not require labeling would fail this amount.
Pointed out, there was the average serving of raisins which contained 0.905 mcg of lead, the average chocolate bar, 0.65mcg. The worst example in raisins was a large 7.55 mcg of lead.
Water supplies are legally allowed to have above 15 mcg/liter before the EPA deems it worth going to the trouble to do something about it.
The average person is exposed to several micrograms per day of lead. And likely this is an underestimate, because there is overall not enough attention paid to the subject.
Lead is the only metal, or chemical, of concern with our herbs. At the time of this writing, all of our herbs pass the following limits in Prop 65.
For cadmium, the limit is 4.1 mcg.
For arsenic, the limit is 10 mcg.
Interestingly enough, the heavy metal mercury is listed in proposition 65 but does not have a limit. Dentists everywhere must rejoice! Please note that tuna and a lot of other seafood almost assuredly would fail any similar limit if it existed.
Compare with Captured Agencies
While we have to place labels on our natural supplements, Monsanto's Roundup is getting a free pass due to the revolving door and captured agency status of the EPA, FDA and amongst others.
"It is irresponsible to require labels on products that are inaccurate when EPA knows the product does not pose a cancer risk," said EPA Administrator Andrew Wheeler of the weedkiller glyphosate. "We will not allow California's flawed program to dictate federal policy."
See this letter from the EPA to the California Office of Environmental Health Hazard Assessment in which the EPA, "concluded that the standard warning language for products containing glyphosate was false or misleading and therefore, any glyphosate products bearing the statement would be considered misbranded."
Glyphosate = safe. Herbs = not safe. That's what billions can buy you.
At least juries aren't buying the BS as of late. But back to the topic at hand.
California's Plusses and Minuses
There's a saying that "Where California goes, so too does the rest of the nation." Yet many people across the nation do not want the USA to go in the direction California is going in.
Proposition 65 may have been started with the right idea, but in practice it is non-functional. The warnings do not adequately inform customers because it is a complex topic of 1000's of chemicals, parts per millions, micrograms and complex biology. The regulatory burden tends to only hurt business without actually achieving any of its stated aim. 
Again the contrast is helpful. In California there was recent bans of PFAS (endocrine disruptors among other things) in textiles and cosmetics. When you understand the problems of these forever chemicals this appears to be a good move.
Yet Genetically modified (GMO) ingredients are allow to be used without any labeling. And in fact, GMO mosquitoes are very likely soon to be released. (Because what could possibly go wrong with that?)
And just recently California passed a law that allows for the excommunication of doctors for any COVID-heresy against the official dogma. (Never mind that the officials got everything wrong, the USA having the worst outcomes of any nation, those of us aware of such, know that truth is not what is aimed at here.)
All in all, proposition 65 is a great example of a policy failure as the warnings have become an odd combination of scary yet meaningless.
Still, we at Lost Empire Herbs will continue to play along with it in order to avoid getting sued again. And we'll continue our dedication to quality that is truthfully superior to what any regulatory agency says and with rare transparency thrown in.
Latest posts by Logan Christopher
(see all)