There has recently been raised concern about aluminum toxicity from herbs. This article aims to clear up this issue.
This article is essentially part two in the claims of shilajit's heavy metal toxicity which is covered here, as aluminum was one of the implicated metals mentioned there.
First of all, you must know that this metal is the most abundant mineral on planet earth. It's in everything. It is about 7-12% of the earth's crust depending on where or how you measure. So anything that grows in the ground or eats things grown from the ground contains some aluminum.
The Dangers of Aluminum
It is important to note that aluminum is considerably less toxic than the classic heavy metals like lead, cadmium and mercury. It is not considered a heavy metal at all, probably because it is so common.
It is acutely toxic at high levels of over 40 mg/kg of bodyweight.[1] But that's not to say it's not linked to various issues.
Chronic exposure to aluminum is linked to neurological issues including Alzheimer's and dementia (though this is still not widely accepted).[2] This is possibly through negatively interacting with the blood-brain barrier.[3]
It has also been classified as a metalloestrogen, along with many other metals, due to its estrogen signaling effects.[4]
In animal studies it is clear that high aluminum can cause developmental issues in the young as well.[5]
High levels may also interfere with phosphorous as it readily binds to it. This in turn is linked to skeletal problems.[5]
Skin irritations and rashes occur in many people exposed to aluminum, possibly due to allergies to the metal.[5]
Government Guidelines
There are only guidelines for aluminum in water. In the US, the EPA has a suggested guideline of 0.05 to 0.2 mg/liter.
There is no limits for food because, as we'll seen, aluminum is common in food.
Aluminum is Everywhere
Here's the main places you'll find it:
Additives
Raising agents in baked goods
Aluminum sulfate to clarify drinking water
Antacids
Buffered aspirin
Antiperspirants
Aluminum salts to make color brighter
Toothpastes and tooth whitening products
Aluminum cans, pots and pans
Vaccines
Air
Our environment is heavily polluted. Even if you live in a pristine area, this stuff is everywhere.
Based on the dangers it is best to do what you can to avoid exposure. As many of the things listed above are not necessary, moving towards more natural living should automatically lower your aluminum exposure.
It's a good step in the right direction. However, you'll still be getting lots of it…
Normal Food Amounts of Aluminum
We already established that there is some aluminum in all foods. This report contains a comprehensive chart on pages 30-35, listing aluminum amounts of all kinds of foods. Note that this is from 1974, so amounts have likely changed, but it was the only solid information I could find on the subject. Here's a few highlights:
Corn 0.5-16ppm
Wheat 2-73.6ppm
Beets 0.36-250ppm
Celery 1-70ppm
Tomatoes 0.2-38ppm
Cherries 0.3-35ppm
Apples 0.2-2.2
Pepper 48-237ppm
Cumin 273-580ppm
Ginger 73-200ppm
Turmeric 500-640ppm
Cinnamon 48-115ppm
Steak 0.9-9ppm
Chicken 1ppm
Eggs 0.2-1.4ppm
There is tons more data inside that report. I share some here just to point out that there's aluminum in all foods and the ranges are all over the place.
Plant foods tend to have more than animal foods as it doesn't bioaccumulate but is mostly excreted.
And for whatever reason, many herbs tend to accumulate much higher amounts of aluminum too. So if you're going to ditch your supplemental herbs for this reason make sure to throw out all your culinary spices too!
Remember that ppm is an airy number. In any case, you're probably getting more aluminum from food than any other source. However, as we'll see, ingesting aluminum may not be a big issue.
How much does the average person get daily?
Estimates of daily intake for aluminum ranges in the published literature from 1.53 to 160 mg/person/day.[6]
Once again, we have quite a range. For optimal health, we'd almost certainly want to be on the lower end of that.
Absorption and Excretion of Aluminum
Gastrointestinal absorption of aluminum is low. Estimates are in the range of 0.1% to 0.4%. Of course, this does also depend on the type of aluminum. Aluminum citrate is estimated to be absorbed 0.5% to 5%.
Your intestines don't like to pull in aluminum into the body. This happens quite naturally unless calcium levels drop low. If that happens your body increases parathyroid hormone which increases the uptake of calcium, but also aluminum too. So keep your calcium supply high.[8]
With cases of leaky gut ingesting aluminum rich foods may be more problematic.
Of course, digestion is just one possible means of getting this metal. We also have drinking water which changes absorption. Absorption of aluminum from liquids tends to be much higher. You also get aluminum from breathing because of pollution. And you'll also absorb it through the pores like with aluminum rich deodorants.
Aluminum is largely eliminated through the feces and urine. If your kidneys are functioning well your body is able to take in some aluminum and get rid of it.
This WHO report stated:
"Tipton (1966) analysed in the diet and excretion of two subjects for 30 days and found that the mean balances were 0.000g and -0.024 g. This reaffirms earlier results (Campbell, 1957) that excessive intake and absorption by a normal individual is followed by prolonged excretion of the excess, following a reduction in intake."[7]
Testing for Aluminum Exposure
The best test to ensure you are not high in aluminum and other heavy metals is probably a hair metal test. Dr. Dodd, in this report, states:
Dr. Jeffrey Bland, Professor of Nutritional Biochemistry at the Univ. of Puget Sound in Tacoma, WA. and Director of the Bellevue-Redmond Medical Labs has found in his clinical experience that hair aluminums above 60 PPM are highly significant in terms of elevated body burdens, other labs are reporting a low toxic level under 10 PPM and borderline toxicity between 10 and 20 and toxicity above 20 PPM.
Remember that's how many ppm YOU are and doesn't mean you should avoid anything with higher amounts. Remember that you absorb little and your body does get rid of it, but still some may accumulate, leading to higher levels and this should be avoided if possible.
The Detox Benefits of Clays, Fulvic and Humic Acids
Another confusing aspect we have to look at is that various clays, which are known for their benefits, specifically in their ability to absorb damaging particles, are often rich in aluminum.
Kaolin clay is hydrated aluminum silicate, estimated to contain 35% aluminum. Bentonite clay can be made up with potassium, sodium, calcium and aluminum.
Bentonite clay has been shown to help with viruses, pesticides, herbacides and recently aflatoxins, a certain type of carcinogenic mycotoxin caused by species of Aspergillus fungus. In rats:
"The addition of bentonite or HSCAS [hydrated sodium calcium aluminosilicate] to the AF-contaminated diet diminished most of the deleterious effects of the aflatoxin. Pathological examinations of liver and kidney proved that both bentonite and HSCAS were hepatonephroprotective agents against aflatoxicosis."[9]
More on Shilajit Specifically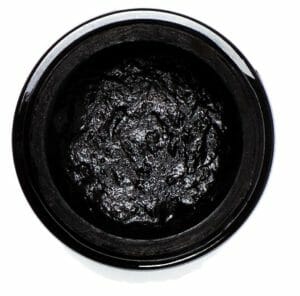 Similarly we'll find aluminum in shilajit. Unfortunately, there is no direct research information about the aluminum in shilajit. However, once again we can turn to two of the components it contains, fulvic and humic acids. There's not a whole lot here, but I came across the following two studies, showing the these acids can bind to aluminum and thus lower their toxicity.
In corn that was grown with Aluminum in the growth medium, when humic acid was added, there was less concentration of aluminum in the plants, as well as better growth.[10]
Also, fulvic acids in water decreased toxicity of aluminum as occurred in three different freshwater organisms.[11]
What is likely happening is that shilajit is binding to the aluminum and other metals in the earth as it is extremely reactive to them.
Our Herbs and Aluminum
You are an individual and have the right to choose. Just remember that this is a common element found in all foods. You should probably have all your foods, culinary herbs and other supplements tested as well.
And although the PPM may be much higher in these, since tiny amounts are ingested, as compared to foods with low PPM but large quantities eaten, the food likely contributes more.
If you want to avoid aluminum here are our herbs with the highest amounts.
Here are our herbs that are lowest in aluminum.  All under 10 ppm.
Everything else is somewhere between 10 and 100ppm.
(Note that these are current tests at the time of writing this article and may not reflect the most up to date tests uploaded in the future.)
To sum up, avoiding aluminum exposure is probably most important through water and the air. Digestively and transdermally would be next to focus on. But since it is so common, you can't avoid it. Thus worrying about the little amount that is in herbs and supplements is probably not worth doing.
Additional Note: Avoid Clays combined with Citrus
In another study that someone shared with me, looking at pregnant women eating clay, it was clear that this did affect aluminum levels to some degree.[12] However, it was hard to control for how much of the clay, or pemba, they were eating and other factors.
One thing that stood out to me was the fact that combining clays with citrus, increased the bio-availibility of the aluminum.
Therefore, we recommend, in an abundance of caution, you do not combine shilajit with any citrus juices, or anything that has citrate in it. Please wait at least an hour between taking these.
References:
Occurrence, exposure, effects, recommended intake and possible dietary use of selected trace compounds (aluminium, bismuth, cobalt, gold, lithium, nickel, silver)".International Journal of Food Sciences and Nutrition. Informa Plc. 65: 911–924.
Ferreira PC; Piai Kde A; Takayanagui AM; Segura-Muñoz SI (2008). "Aluminum as a risk factor for Alzheimer's disease". Rev Lat Am Enfermagem. 16 (1): 151–7.
Banks, W.A.; Kastin, AJ (1989). "Aluminum-induced neurotoxicity: alterations in membrane function at the blood–brain barrier". Neurosci Biobehav Rev. 13 (1): 47–53.
Darbre, P. D. (2006). "Metalloestrogens: an emerging class of inorganic xenoestrogens with potential to add to the oestrogenic burden of the human breast". Journal of Applied Toxicology. 26 (3): 191–7.
Sorenson, J. R. J., Campbell, I. R., Tepper, L. B. and Lingg, R. D. (1974) Aluminium in the environment and human health, Environ. Health Persp., 8, 3-95
Twenty-first Report of the Joint FAO/WHO Expert Committee on Food Additives, Geneva, 1977, WHO Technical Report Series No. 617
M A Abdel-Wahhab, S A Nada, I M Farag, N F Abbas, H A Amra, "Potential protective effect of HSCAS and bentonite against dietary aflatoxicosis in rat: with special reference to chromosomal aberrations." Nat Toxins – 1998 (Vol. 6, Issue 5, Pages 211-8)
Tan, K. H., & Binger, A. (1986). Effect Of Humic Acid On Aluminum Toxicity In Corn Plants. Soil Science, 141(1), 20-25. 
Trenfield, M. A., Markich, S. J., Ng, J. C., Noller, B., & Dam, R. A. (2012). Dissolved organic carbon reduces the toxicity of aluminum to three tropical freshwater organisms. Environmental Toxicology and Chemistry, 31(2), 427-436.
Latest posts by Logan Christopher
(see all)