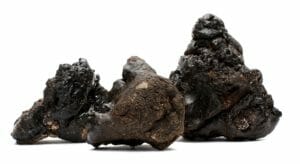 Mike Adams of Natural News recently put out an article regarding shilajit heavy metals toxicity that many of our customers saw, raising their concerns. For those of you not familiar with the article, here's a link to the original piece.
Here we answer the claims and concerns put forth in that article, and why we feel this is somewhat alarmist news meant to grab attention.
As my brother Cloud said, if these heavy metals were a problem, "I've taken so much shilajit over last 5 years I should be exhibiting toxicity symptoms!"
Let's look at why we don't feel this is a big issue. First things first…
How does Lost Empire Shilajit stack up against the one featured in the article from HealthForce?
We have two different types of shilajit, our shilajit powder and shilajit resin so both of those are included below.
We've listed the shilajit "heavy metals" (not all of them are actually considered heavy metals). The numbers are taken from the article concerning HealthForce's product. We've also added for our products the cadmium and mercury levels since these are two of the often other looked at heavy metals.
Please note that we have had these heavy metals toxicity tests available on our website for our customers to view for a long time now. On any product page click the lab results tab and you'll see it listed. We are not hiding what is in our products. 
We've translated things back into ppm or parts per million as this number is more often used, as well as it being easier for conversions later. In the article, ppb or parts per billion is referenced. I think he does this in order to make the numbers appear bigger.
You'll note that both our powder and resin come in with less lead, but with mostly higher amounts of everything else.
In the article, Mike Adams makes mention of the "over 600 ppb of arsenic, another toxic heavy metal," yet his testing website offers the highest grade of A+++ for anything under .62 ppm, which translates to 620 ppb. Therefore this statement does not appear to be in alignment.
Why Parts Per Million/Billion is Misleading?
This is misleading because it all depends on how much is being consumed. The EPA's limit on lead in the water supply is 15 ppb. That is 0.015 ppm, so it seems like these supplements are dramatically higher, right?
As Adams exclaims, "The EPA's limit on lead in the water supply is 15 ppb. The shilajit product we tested was over 180 times higher."
Well, consider that you're supposed to drink eight glasses of water per day, as well as bath in this municipal water.
Heavy metals in water tend to be much worse, because being dissolved solids they are far more absorbable. Plus you certainly aren't drinking or eating a half gallon of shilajit, or any other supplement, daily.
To actually find out how much of these metals you're getting, we have to get a bit more mathematical.
1 ppm = 1 µg /1 g   (a µg is a microgram, sometimes also abbreviated mcg)
So here are the conversions done for you.
And then this is per recommended dose.
Great, now we have actual amounts rather than "airy numbers." So…
What are Safe Heavy Metal Levels?
Is Shilajit safe? We follow what the AHPA (American Herbal Products Association) lays out. Here is a link to their report on Heavy Metals: Analysis and Limits in Herbal Dietary Supplements
Below I've copied a number of tables from inside that report. Note that these only address the actual heavy metals of arsenic, lead, cadmium and mercury. Copper, nickel and aluminum are NOT considered heavy metals. Another forthcoming article will address the high aluminum levels, and similarly why we don't believe this to be an issue.
I get it. I don't trust the FDA, the EPA, or any government agency to tell me what is healthy. They have a notoriously poor track record of doing that. So let's look at some more restrictive numbers.
The lead limit for pharmaceutical products, according to the U.S. Pharmacopoeia, is 10 ppm, and this figure is cited by U.S. test labs as the acceptable limit for herb products, dietary supplements, and drugs.
Mike Adams mentions how Canada has banned shilajit supplements in his article. Here's their actual recommendations:
Then we have California's ridiculously restrictive Prop. 65 which states that a product cannot contain more than 0.5 µg of lead per daily serving. I say "ridiculous" because you probably get much more than this simply by BREATHING the air inside of a modern city. They note two different levels, as a carcinogen and a reproductive toxicant.
Note: All of the shilajit heavy metals don't reach the carcinogen level.
And notice that with our Shilajit Resin, since you only need a tiny amount, it actually passes Prop. 65 with flying colors, not even being a reproductive toxicant.
Remember, breathing in a city like Portland or Los Angeles, you can intake more harmful carcinogens and reproductive toxicants than this[1]…so take resin but stop breathing!
Lastly, what the AHPA lays out for us.
So we've established that there's really not that much of these heavy metals in both ours and HealthForce's shilajit.
Heavy Metal Toxicity and Detoxification
I feel it is appropriate to share this infographic from Mike, pointing out a few of the OTHER places you may be getting assaulted by heavy metals.
While you should strive to avoid many of these things, you can't do everything. This is the world we live in today. Our environment is heavily polluted which is one cause of the rampant health issues everyone is facing.
Is any lead good for you? Probably not.
Fortunately, the human body is designed to detox things. And this speaks to the importance of keeping your body's detoxification pathways working well. On that note…
Shilajit Heavy Metals Detoxification Properties
The other important thing to know about is shilajit's detoxification properties! Mike Adam's brushes this issue aside, basically saying it can't be true because of the heavy metals, and calling out sellers for being "scientifically illiterate". This is despite the research behind it. So let's talk science…
So, is Shilajit safe? Shilajit specifically helps remove these same heavy metals it is blamed for containing.
[pt_view id="ab7e7465op"]
While there are no long term human trials regarding shilajit, this study [2] gave healthy subjects 2 grams of shilajit every day for 45 days and noted no adverse effects. Instead cholesterol and antioxidant improvements were seen.
And there is quite a bit more research on what it contains, specifically fulvic and humic acids.
The following quote sums up some of this research and appears in Shilajit: A Humic Matter Panacea [3]. Humic acids are abbreviated as HA here, and fulvic acids as FA.
HA can interact with heavy metals in the soil rendering them as poorly soluble compound and thus can avoid the heavy metal entrance into the organisms [4]. Many experiments support the capacity of the HA to detoxify the heavy metals and lessen the bioavailability in plant and animals.

Experiments by Tao et al have shown that the availability of copper was reduced for fish uptake via their gills in presence of fulvic acid in water [5].
Zralý et al have demonstrated that the feeding of lead along with HA reduces the accumulation of lead in chicken organs such as bone, muscle, liver and kidney, compared to the chicken feed without HA [6].
Similarly, in the other study of Herzig et al states that accumulation of cadmium were reduced in the presence of HA by 39.6% in kidney, 34.2% in liver and 80.8% in muscle as compared to the chicken feed with Cd in the absence of HA.
Sanmanee et al have shown that FA treatment reduces the toxicity of copper in the mammalian cell, porcine oviductal epithelial cells [7]
Once again, this is only some of the research. Lots more can be found if you search on these components that are inside shilajit.
This should not be brushed aside. While fulvic and humic acids were once widely found in our food supply, they are not anymore. Shilajit is one natural substance where you can find them.
Some Other Detoxification Methods
I do give credit to Mike Adams for bringing up this issue. Heavy metals can be a problem wreaking havoc on the nervous system, endocrine function, and more. However, pointing the finger at shilajit is wrong in my opinion.
Why don't we focus our attention on some far worse things like glyphosate and GMO's rather than herbs that have been used successfully by many people for centuries and millennia?
Since we can't 100% avoid heavy metals as they're everywhere in our environment, what should we do?
Based on the above I would say TAKING Shilajit is a good idea.
Besides that here's a few resources we've previously put out to go deeper:
This is All Biased Information so Make Your Own Health Choice
Of course, we sell shilajit supplements. As such, we are biased in favor of them. But we're not selling shilajit because it's a "hot, trendy supplement". Most people still have never heard of it and it's never made its way onto Dr. Oz.
We're making it available because we think this stuff is amazing. The whole reason we started this company was in fact to find the highest quality herbal supplements for ourselves to support our health and ability to perform at peak levels.
When I put resin inside my mouth I feel a zing of energy. I feel my brain activate. And that's not from heavy metals!
So yes, I fully admit, we are biased.
On the flip side, Mike isn't in the free and clear either. Although he says he would never sell anything with heavy metals, this doesn't stop him from having "untested" products advertised on his website. If you search on his website there's also many articles touting the benefits of shilajit. These haven't been taken down.
He also happens to specifically sell a heavy metals detox supplement. So citing the dangers of heavy metals and blaming supplements for being full of them is in his interests.
Overall, I have to say I agree with the bigger message of looking at heavy metals. The supplement industry is, for the most part, pretty shady. Being in it we know some of the stuff that goes on. We're doing our part in being transparent. That's why our testing is shown on the website.
We want you to trust us because we know that is the best way to grow this company, to create lifelong customers. Thus, because this issue has been brought out into the spotlight we will look even harder at bringing you high quality herbs that are very low in heavy metals now and in the future.
This also comes with a WARNING. This is just HealthForce and us. It's not to say that there aren't a lot of fake or low quality shilajits out there that could be much more heavily contaminated with heavy metals. I would make sure to see an independent COA from anyone you're buying shilajit from. Then go ahead and compare it to the numbers above.
To wrap up I wish to say this.
If you only read his article it could swear you off from ever taking shilajit. Here we provided the counterpoint to that so at least you can see both sides of the argument.
Now you need to make your own choice. You are a sovereign human being. Ultimately, the responsibility comes down to you when it comes to your health.
If you have any other questions please ask them below.
References:
Latest posts by Logan Christopher
(see all)