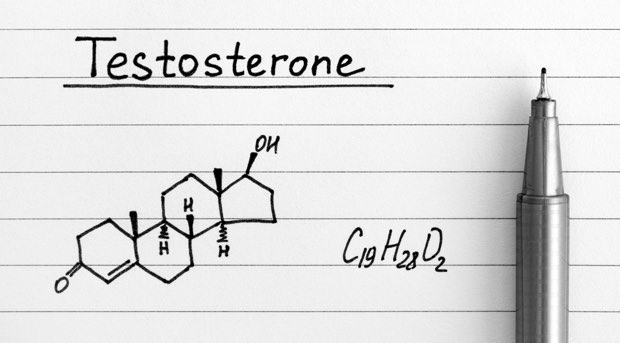 Why be concerned about herbs that increase testosterone?
Men from all over the world are worried about their level of testosterone. What man hasn't asked "how can I get more free testosterone?"
This male hormone is responsible for our masculinity, virility, libido, muscle growth. Therefore if the barometer of your libido is at its lowest, it quite likely means that your testosterone level is low.
Testosterone is related to energy, motivation, erections, ejaculation, muscle concentration, and all the traits that define a man.
The question that comes up, again and again, is: How do I increase testosterone levels? Do we have to go through hormonal boosters, or do other alternatives exist?
To raise your bodybuilding performance and most importantly raise the temperature under the duvet, use, and abuse what nature offers us: natural aphrodisiacs!
What is Testosterone?
Testosterone is a vital hormone that occurs naturally in the body. It's produced in large quantities by males; in the testes, and in the adrenal glands. Production of testosterone in the body is linked with sexual performance, reproductive function, muscle mass, hair growth, aggression, and other factors related to male virility. Testosterone levels increase to the age of 20-30 and slowly decline as men age naturally as has been established in numerous clinical trials.
A simple blood test can determine low testosterone levels and treated with hormone replacement therapy. There are many ways to increase your testosterone; however, for a more natural approach, some herbs used in traditional medicine can help manage the symptoms and boost its production. Nevertheless, it's always advisable to consult a physician before using herbs for any condition.
Men who suffer from low testosterone levels may experience heart diseases, poor memory, mood swings, and reduced sexual performance.
Most bodybuilders and athletes are aware of the benefits of boosting their testosterone levels; it helps to accelerate muscle growth, boost physical performance, and concentration. Additionally, a good level of free testosterone is what it takes to have a strong and long-lasting erection and healthy libido.
Herbs to increase testosterone
To boost your overall strength and libido, you should learn the best method to boost your testosterone hormone levels naturally with food, herbs and spices.
Therapy, which includes injections, and pills, lotions, or creams that are commonly found on the market today are not the only source of the boosting low testosterone levels. You may be surprised to find that the hormone is also found in a variety of herbs, spices, and foods. Here is a list of the best tonic herbs, spices, and foods that will awaken your senses and warm the body.
It is estimated that 80% of the world's population regularly uses natural herbal products as a major source of self-medication.
Over the years, certain foods and herbs have been recognized for their use in the treatment of health problems related to testosterone.
Tongkat Ali
Nicknamed "Malaysian ginseng," it has been used in Southeast Asia for several hundred years to promote well-being, increase strength, and libido. Today, it is increasingly used as a natural, gentle, and effective alternative to sexual stimulant drugs.
Tongkat Ali extract increases the level of testosterone according to an Italian animal study. According to a previous animal study – published by Malaysian researchers 14 years ago – the effect on testosterone levels stimulated muscle growth.
The first experimental animal studies focused mainly on the aphrodisiac properties of Tongkat Ali. Mice treated with Tongkat Ali had much greater sexual activity than control animals. Testosterone from the treated mice had increased by 480% in a week.
In addition, a randomized study was conducted on thirty volunteers by a team of researchers from the University of Malaya, with an extract from Tongkat Ali. The objective of the study was to observe its effects on testosterone, DHEA and SHBG levels. The volunteers were selected from married men aged 31 to 52 years. They were given two capsules a day for three consecutive weeks.
In 62% of cases, the results showed an increase in sexual desire and performance. Additionally, there was a notable improvement in their physical and psychological well-being. You might also sometimes hear this root called Eurycoma longifolia or Longjack.
Mucuna pruriens
Mucuna or velvet bean vine is an annual legume that produces peas with very hard and stinging hairs. The pea seeds have been used for centuries in herbal medicine and in Ayurvedic medicine to treat mood disorders.
Mucuna is a precursor of dopamine, a neurotransmitter that affects our mood, emotions, and hormonal stability. For this reason, it is recommended for depressive disorders, stress, mood disorders (such as seasonal depression), hormonal disorders, impaired concentration, and sexual disorders.
This herb is known for its aphrodisiac effects, increasing libido and fertility. In humans, it increases testosterone levels and improves sperm quality. Using Mucuna for bodybuilding can help suppress prolactin, which is associated with low levels of testosterone.
Prolactin is a pituitary hormone that encourages breastfeeding in women after giving birth and is known to decrease testosterone levels. Excessive prolactin, especially in males, can cause erectile dysfunction (ED), poor spermatogenesis, gynecomastia (male breasts), a range of inflammatory diseases and diseases and low testosterone levels.
Nettle Root
Formerly used by Greek and Roman civilizations to cure various ailments, such as a cough, arthritis, skin diseases and tuberculosis; Nettle Root is still considered a top-notch remedy.
Recently, this extract has become a popular supplement for bodybuilders involved in competitive weightlifting.
This herb influences the degree of interaction between sex-hormone binding globulin (SHBG) and free testosterone. The primary function of SHBG is to regulate the amount of free testosterone that binds to cell receptors precisely where protein synthesis takes place. Testosterone's effect on binding to these cellular receptors is to promote muscle growth, so nettle root's ability to free up SHGB from testosterone can be significant.
Pine Pollen
Harvested in its natural environment in pristine areas of China, this supercharged herb contains over 200 nutrients, vitamins, and bioactive minerals that help in boosting maximum physical and mental health. Pine Pollen has been used in traditional Chinese medicine for over 2,000 years as a health invigorating, longevity tonic, and anti-aging food. It has been proven to restore energy, eliminate signs of aging, battle fatigue, and strengthen the immune system.
Pine Pollen contains a large number of vitamins, minerals and fatty acids essential for the secretion of testosterone. These contributions are easily absorbed by the body. By increasing testosterone naturally, it can also stimulate your libido.
With this product, you can not only increase libido but also boost your muscle mass and performance.
Here at Lost Empire Herbs, Pine Pollen is our number one seller for a reason: it really works!
Food and spices that increase testosterone
As with herbs, there are certain nutritious foods that should be included in your diet if you're trying to naturally boost testosterone. These include fish, vegetables, spices, seeds, fruits and eggs.
Mackerel
Mackerel is a fish of the same family as tuna. It contains many excellent nutrients for the body, including zinc that will help maintain good levels of testosterone in the body.
Mackerel is also rich in omega 3 fatty acids, more than tuna, substances that can limit chronic inflammation associated with the practice of intense muscle hypertrophy exercises.
Broccoli
Broccoli contains two substances that play an essential role in testosterone levels. Indole-3-Carbinol and D-Glutaric Acid in broccoli help in reducing excess estrogen in the body, and also minimize its effects. Broccoli is, therefore, an anti-aromatase food that will fully contribute to the maintenance of a high testosterone level.
The same is true of other vegetables from the cruciferous family, such as cabbage and cauliflower or Brussels sprouts.
Peanut butter
What's better than one or two tablespoons of peanut butter spread on a nice slice of rye bread, or on a rice cake? If you have sweet cravings, satiate them without hesitation with peanut butter, very rich in unsaturated fatty acids that help raise testosterone levels.
Sunflower seeds
Sunflower seeds contain essential fatty acids that, according to a study published in The Journal of Applied Physiology stimulate the production of testosterone in the body and promote the maintenance of overall health.
Sunflower seeds are also very rich in vitamin E, zinc, and selenium, substances that participate in boosting testosterone levels.
Sunflower seeds are definitely a food that men should eat more of, especially as they age.
Garlic
Garlic is one the foods in the spotlight due to its excellent properties. One of these properties is boosting the levels of the male hormone.
Bad for the breath, opt for minced garlic in your salads or in your cooked vegetables. Its content of allicin could be at the origin of the stimulation for the release of Luteinizing Hormone, which leads to increases in the circulation of testosterone.
Avocado
Avocado is rich in vitamins A, B, C, E, and K. It also contains folic acid, potassium, and zinc, all of which are substances known for their testosterone boosting effects.
Dairy Products
A study published in the Biological Element Trace Journal shows that people who eat dairy products and have high calcium levels naturally have more elevated testosterone levels.
The combination of sports activity and a diet rich in calcium increases testosterone levels more easily. Greek yogurt is particularly popular because of its low-fat content.
Eggs
Testosterone is synthesized from cholesterol. Eggs, which are a pure source of cholesterol, are therefore excellent sources of nutrients ready to form more testosterone in your body.
Foods that lower testosterone
In contrast to the above foods that naturally build testosterone, the following should be avoided if that's your goal.
Licorice
This sweet plant is often used to make licorice and sweets. It tends to reduce testosterone levels.
Soybeans
Soybeans are one of the most nutrient-rich natural foods. It contains a large amount of protein, carbohydrates, lipids, vitamins A and B, potassium, calcium, magnesium, zinc, and iron. It is found in many forms: soy milk, tofu, tempeh, natto, miso, and tamari. Too much consumption, though, lowers testosterone levels.
Mint
Mint is one of the most popular medicinal plants. Often used to flavor ice cream, sorbets, and confectionery; it will affect your libido. Brush your teeth rather than eating a candy that refreshes your breath.
Quinine
Quinine, the aromatic component of tonic beverages, is responsible for lowering testosterone levels. It's also found in some soft drinks. It gives a bitter taste and a visible fluorescence when the drink is subjected to ultraviolet radiation. Think twice before drinking, especially if you intend to please your partner.
Corn Flakes 
If you plan a bedtime snack, avoid the bowl of corn flakes. The dough of the flake is flattened and grilled. Derived from corn, these cereal flakes, cooked with sugar and vitamins, do not blend well with libido and sexual desire for men or women.
In addition to the prescribed medical treatments for erectile dysfunction, some healthy practices can help you boost your reproductive life and overall body performance. For testosterone production, your body is very much dependent on your diet, so it's important to know exactly what you're consuming.
Hopefully you'll alter your diet and include some/all of these foods, spices and herbs that increase testosterone and avoid the ones that lower this all-important hormone for men and women.
Writer: Kathleen Joy
Latest posts by Zane Christopher
(see all)