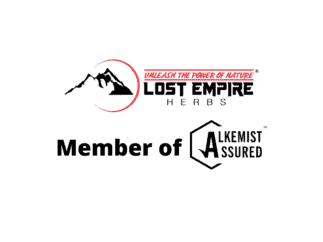 At Lost Empire Herbs, we value quality in our herbs more than anything.
This is because like you, we consume our product for our own health and vitality. We wish to live long, vigorous lives, and this only benefits you as we search for the highest quality herbs on the planet, while still trying to make them cost-efficient at the same time.
With this in mind, we have partnered with the third-party laboratory, Alkemist Labs, that we have been using for about a decade now to verify the identity of our herbs.
We have always posted the certificates of analysis we received from them to show you that what we sell is what it is claimed to be, not some fake or weak crap. However, these reports are a bit technical.
Note: You can find these on the lab-results tab of each product page.
Because of that, Alkemist Labs has created a program to help communicate more transparency in the industry to the consumer. Dietary Supplements get a bad rap because there are so many bad actors trying to make a quick buck. It pains us to be lumped in with them by so many people which is why we are happy to be one of the first to join this program with the best lab (in our opinion) in the industry.
The program has two levels as explained below:
Level One: Next Generation TransparencyTM Reports for Consumers
Participating companies display test results and Certificate of Analysis (C of A) reports in Next Generation TransparencyTM (NGT) with consumer-friendly formatting on their website for either B2B customers or consumers to see and refresh them at least every six months.
These simplified C of A's are supplied in addition to the more technical versions Alkemist's testing clients receive but are easier for people without scientific training to understand. Each company in the program will be listed on the Alkemist website as a Next Generation TransparencyTM partner, linked to their website.
Level Two: Alkemist AssuredTM Seal
Brands wishing to further demonstrate their quality commitment and assurance may also apply for the use of the Alkemist AssuredTM seal on product marketing materials, websites, sales materials, etc. In addition to the requirements for the level one NGT program, level two requires that participant companies utilize Alkemist identity, potency, and contaminant testing services for raw material and blended ingredient quality. A minimum one-year commitment is required for each product in the program to be permitted to use the Alkemist AssuredTM seal.
"Transparency is the vehicle by which trust is communicated. Accurate testing by a proficient lab is a tried-and-true demonstration of label accuracy and quality, so it has always made sense to me that testing reports be shared with consumers," said Elan Sudberg, CEO of Alkemist Labs.
"It's gratifying to see the industry embrace this vision, and it is the right thing to do for the people who take our industry's products."
If you wish to learn more, you can go to Alkemist Labs Press Report where I took some of the above
from: https://www.alkemist.com/alkemist-labs-announces-alkemist-assured/
Lost Empire Herbs is starting with Level 1 and has already been uploading the consumer-friendly reports
to those products that received them.
As Phase 2 takes more specific testing than we currently do, we will be slowly adding products to take
advantage of the Alkemist Assured seal.
More testing is never a bad thing but it isn't free, so we have to try to be smart about it.
Below is a list of the updated products with new Next Generation Transparency Reports:
Albizia 
Ziziphus
Nettle Root Powder
Bacopa
Chaga Mushroom
Cistanche
Cordyceps Mushroom
Reishi Mushroom
Lion's Mane Mushroom
Sea Buckthorn
Mucuna
Be aware that more great things are in the works. More testing, more quality, better product supply, and
new additions to our line!
Personally, I am very excited for the future, and we thank you so much for your
support in making us the best herbal supplement company we can be!
Example of REAL Lab Test COA by Alkemisat Labs on our Lost Empire Herbs Albizia Powder.
You can find similar tests on the lab-results tab of each product page.
Cheers,
Zane Christopher, Director of Quality Assurance
Latest posts by Zane Christopher
(see all)