Herpes simplex virus (HSV) is a sexually transmitted infection that can affect the mouth and genitals. The general consensus is that once you get the virus, you have it for life, but that doesn't mean it'll be active throughout that time.
The best thing to do is to try to avoid herpes in the first place. But it is estimated that about two-thirds of the population has the virus. That means there's a good chance that you have it, even without knowing it. It is estimated that 85% of people that carry the virus are unaware.
In this article, we'll look at a few different factors that can stop you from getting herpes in the first place, and if you do have it, keep it dormant.
Herpes and Arginine/Lysine Ratio
One thing that may make herpes active, causing outbreaks, has to do with two amino acids, arginine and lysine.
The general recommendation for herpes is to up your lysine intake and decrease your arginine intake. Limited research has been done on this, specifically on lysine supplementation. Some research has seen positive results.[1] Others no results.[2]
Perhaps lysine is not the main thing, but other stuff going on in the food could be. If you look, some people do seem to be getting good results in doing this, so I would say it's worth a shot.
Foods High in Lysine and Low in Arginine
Dairy
Fish
Chicken
Lamb
Beef
Eggs
Quinoa
Amaranth
Most Fruits
Most Vegetables
Foods High in Arginine and Low in Lysine
Nuts
Legumes
Peanuts
Lentils
Beans
Chocolate
Wheat
Oats
Rice
Shellfish
Corn Syrup
Gelatin
Protein Powders
If we look at this second list and know a little bit about what these foods actually are, they are mostly made from the reproductive parts of plants. They're all seeds essentially ready to grow, and thus have more arginine which can be an important amino acid for growth.
In fact, it was based on this idea that this article got started. A customer asked about the possibility of pine pollen causing herpes outbreaks. Well, pine pollen is a reproductive material. The arginine (30 mg per 3 grams of pine pollen) is a little higher than the lysine content (24mg per 3 grams). Thus, it may not be best for those with herpes.
Other Steps to Control Herpes Outbreaks
If you have the herpes virus, the main thing you'll want to do is support your immune system. If your immune system is strong it can keep the viral load at bay and stop outbreaks.
Some simple steps along these lines include making sure you have adequate supplies of:
In addition, you'll want to not do many things that can lower your immune function including avoiding, or limiting, alcohol, as well as most packaged, processed and high sugar foods. Keeping the stress levels down is important too, as that also has an impact.
What are Good Herbs for Herpes?
Note that all of this research is pretty preliminary. Almost no double-blind placebo-controlled human studies have been done on the use of herbs for herpes. But this does not mean that they don't work, just that they haven't been thoroughly investigated.
Many people would prefer natural remedies to drugs, and in the case of herpes, drugs won't even cure it, just manage it, like herbs can help do. Plus, attempts at herpes vaccines have failed though they keep trying.
So, what does show promise?
The oil of Lemon Balm (Melissa officinalis) was shown to kill the virus. "Both herpesviruses were significantly inhibited by pretreatment with balm oil prior to infection of cells. These results indicate that Melissa oil affected the virus before adsorption, but not after penetration into the host cell, thus lemon balm oil is capable of exerting a direct antiviral effect on herpesviruses. Considering the lipophilic nature of lemon balm essential oil, which enables it to penetrate the skin, and a high selectivity index, Melissa officinalis oil might be suitable for topical treatment of herpetic infections." [3]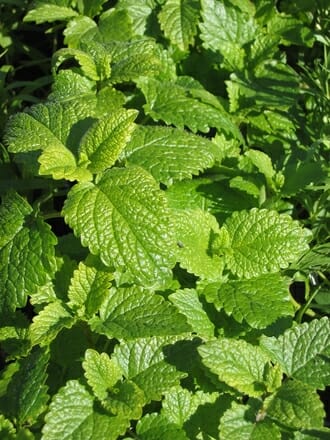 And it turns out that other plants in the Lamiaceae family, of which Lemon Balm is one, but also includes Peppermint, Self-Heal, Rosemary, Sage, and Thyme, also have anti-viral activity when used topically. [4]
An alcohol tincture of Rhubarb was shown to kill the virus in rats at a medium and high dosage and is as effective as Acyclovir, an anti-herpes drug. [5]
Turmeric, or the active compound curcumin, was shown to work against HSV2 in mice. Even more effective was eugenol, which can be found in clove oil. [6]
Some other commonly recommended herbs are elderberry, echinacea, eleuthero, garlic, astragalus, licorice, neem, olive leaf and more.
Keep in mind that any herbs that support the immune system and are anti-viral likely have effects here. This includes reishi mushroom, which has been investigated for this use. [7]
For a lot more information you can check out JustHerpes.com a website devoted entirely to the topic.
References:
Latest posts by Logan Christopher
(see all)