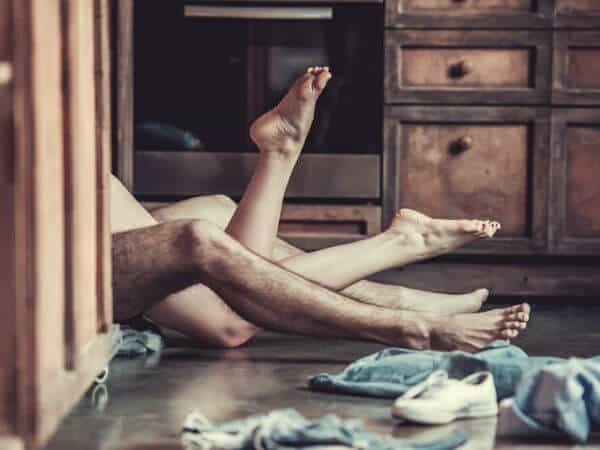 Do you want to have better sex and more passion in your life?
Concerned about your low sex drive and want to do something about it?  You aren't alone.
In our culture sex is often an awkward topic of conversation and creates a lack of meaningful dialogue. The truth is that there are millions of women of all ages who are puzzled at the state of their libido. Unfortunately, concerns and questions often go unanswered. There are a lot of factors to explore when it comes to sexual health and satisfaction, so let's get right to talking about sex!
Exploring how you feel, where you are at, and what you desire can be empowering and healthy. 
When natural medicine expert, Dr. Aviva Romm, works with a patient to address low libido she always begins by exploring the root of her questioning her sex drive. Dr. Romm is aware of how our medical industry and culture can impact the way a woman thinks about libido—unfortunately, it is commonly negative. She says,
"…a very savvy and profitable medical industry has sprung up around convincing women that our libido is low, then offering us the very drugs that will fix our problems! This idea is unwittingly reinforced by the over-sexualization of women in the media…so a lot of us think we have a problem we don't really have." She emphasizes that there is truly no defined normal when it comes to sex—it's all up to the individual! 
Dr. Romm also explains that there isn't a connection between having low libido and enjoying sex when one does have it. This means that if your level of sex feels fine to you and isn't hindering your relationship, you may not even have a problem with libido. Having a discussion with your partner can help to clear things up and make sure that both of your needs are being met.
If you are still feeling like you have low libido, you also aren't alone!
Have you ever asked yourself about your beliefs surrounding your low libido?
How has your libido changed over time?
Have there been any recent changes in life that may influence your sex drive- work, family, personal commitments?
Are you experiencing any new medical symptoms?
How is your relationship with your partner?
These are all questions that can help a woman understand the state of her libido. Dr. Aviva Romm states, "Libido is profoundly influenced by our personal sense of well-being, our physical health, our hormones, stress levels, and our relationship happiness, and is less commonly caused by an actual medical problem."
Taking all of this into consideration, talk with your doctor if you feel like your low libido may be linked to an underlying medical issue.
Some of the most common medical conditions that can cause low libido include:
Hypothyroidism
Depression
Drug/alcohol abuse
Hormonal problems (specifically low estrogen and low testosterone)
Prescription medications
Pre-existing medical conditions (such as diabetes)
Previous surgeries that affect nerve sensation of the pelvis/vagina (hysterectomy)
Vaginal pain (STDs, STIs, nerve pain, irritation).
While hormonal fluctuations certainly play a role in sex drive, sex doesn't have to necessarily decline with age. We are biologically designed to have a higher sex drive in our fertile years, and at the same time, this doesn't mean that sex cannot be passionate in the later years.
The cyclical hormonal patterns that occur when a woman is menstruating often creates highs and dips in libido due to hormonal fluctuations.
Women who are new mothers or breastfeed tend to experience low libido, which often is a result of fatigue, hormonal fluctuations, or the new stresses of motherhood. Women who are experiencing peri-menopause and menopause often report a decrease in sex drive. The important thing to remember is that while some of these issues may be hormonal related, long-term relationship status and stressors also play a major role.
Dr. Christian Northrup discusses how low libido during middle and older age may have less to do with the hormones and more to do with life—the stresses of life have caught up and women during this stage of life are in a phase of reinvention. She says,
"…your sap is running deep into the roots of your life and into your body and you're reinventing yourself. So for many women, they feel like they'd be fine if they could just go into a cave and not have anybody asking them to do something. So that's usually what's happening with low libido." In fact, many women experience a spark of renewal in sexual energy post-menopause. Dr. Northrup emphasizes the importance of working on your sex life to improve your libido at any age—it's also good for your health!
Working on your sex life can be an empowering!
In fact, there is research which indicates that people who believe sex takes work are more satisfied with their sex lives. Social psychologist researcher, Jessica Maxwell, distinguishes between "sexual growth beliefs" and "sexual destiny beliefs"—sexual growth being positive for relationships, and sexual destiny leading to people feel as though their sexual problems indicate their relationship isn't meant to be, resulting in lost faith in the relationship. She says,
"…Your sex life is like a garden, and it needs to be watered and nurtured to maintain it." Maxwell emphasizes the importance of talking with your partner about sex. Knowing what makes each other feel emotionally safe, or connected, and knowing what turns your partner on are all great ways to foster a positive sexual experience.
Tips to Stoke Your Fire
De-stress: As we have seen, stress can be a major culprit of low libido. Do your best to identify stressors in your life. Perhaps you need to say "no" to commitments that aren't in alignment with your needs. Practice relaxation techniques, get adequate rest and make adjustments to your lifestyle to fit your needs.
Exercise: In fact, exercise can help decrease stress and helps with hormonal balance. Exercise can directly invigorate sexual energy! Yoga poses can be a great way to enhance pelvic health. Practice some Kegels while at the line in the grocery store.
Feel Sexy: Do what makes you feel sexy to invite more passion into your life. This can be anything from wearing special clothing to dancing. Talking to your partner about ways they can help make you feel sexy can also be helpful.
Ask for Help: If you feel like your low libido is the result of a deeper medical issue, seek out a professional for guidance. Working with a natural medicine or integrative doctor can be particularly helpful since there are many wonderful lifestyles, dietary recommendations, and supplements that can help with low libido. It may also be helpful to seek out the support of a therapist, for yourself or as a couple.
Herbs to Stoke Your Fire
Kacip is a flowering herb that is known for supporting women's health with libido, hormonal imbalances, menstruation, and PMS. Native to Malaysia, this herb has been used to enhance women's health for centuries by traditional medical practitioners. Along with aiding the reproductive system, Kacip has been found useful for decreasing stress and promoting better mood. This herb can be particularly helpful to women who experiencing menopause or post-menopause, due to its estrogenic properties. Researchers from Malaysia's National University have discovered that the estrogen found in Kacip renders as an alternative to estrogen replacement therapy. Kacip has also been found to aid in bone health (which can be of particular concern to older women). Plus, this herb can serve as an antiviral in fighting yeast infections.
Known as the "Tree of Happiness" in Traditional Chinese Medicine, Albizia is an uplifting tonic herb that can help you get your spark back. Albizia is a nourishing nervous system tonic, which can be particularly helpful for those who feel over-stressed and moody. Studies show that Albizia can help lessen anxiety and promote sleep. Research also shows that Albizia contains antioxidants that work specifically in the amygdala (the area of the brain with the primary role of processing memories, making decisions, and regulating emotions) to fight the free radicals that cause inflammation and damage.
This herb is a nervous system tonic which is specifically indicated for the "Type A" personality. It also happens to be a wonderful aphrodisiac! Blue Vervain has been shown to enhance mood- decreasing anxiety and bringing a sense of calm. This herb can also be a women's best friend, helping to alleviate menstrual cramping, ease lactation in breastfeeding, and stimulate uterus contraction in pregnancy.
This is an Ayurvedic herb which has long been respected as an overall women's health tonic. It is recognized as a rejuvenate that brings reproductive strength to those who take it. In fact, Shatavari translates into "She Who Possesses a Hundred Husbands." According to Dr. Prem, women who take Shatavari regularly have a reduced risk of hormonal imbalances, loss of libido, and issues related to menstruation, lactation, digestion, and immunity. As our sexual health and organs are sensitive to stress, taking a tonic herb such as Shatavari can be particularly important. Shatavari has been shown to help support fertility and maintain hormonal balance. It's no wonder that Shatavari is also a natural aphrodisiac. In Ayurveda, it is respected as a plant that can help women experience a deeper spiritual love.
Supporting a healthy sex life is critical to one's overall health. It's obvious that good sex enhances mood, but did you know that sex can help ease the pain, lower cancer risks, boost immunity, enhance heart health, and offset menopausal symptoms?
A good sex life takes work, but it is totally worth it! Treat yourself well and explore how you feel in your current sex life. If you are unsatisfied, know that there are solutions available. Remember, there is truly no defined normal when it comes to sex—it's all up to you!
References:
Albizzia. Retrieved from http://www.askdrmao.com/natural-health-dictionary/albizzia/.
Jagyasi, P. (2014, July 18). Health Benefits of Shatavari for Women. Retrieved from http://www.drprem.com/wellness/health-benefits-shatavari-women/.
Labisia Herb Fights Candida and Aids Women's Health. (2016, August 10). Retrieved from http://www.realnatural.org/labisia-pumila-kacip-fatimah/.
Northrup, M.D, Christiane. Is This Your Peri-Menopause Transition?  Retrieved from http://www.drnorthrup.com/perimenopause-transition/.
Northrup, M.D, Christiane. Low Libido At Midlife? What You Can Do To Increase It. Retrieved from http://www.drnorthrup.com/audio/low-libido-increase/.
Page, Ken. This Is the Surprising Key to Having a Better Sex Life. (2016, December 26). Psychology Today.  Retrwww.psychologytoday.com/blog/finding-love/201612/is-the-surprising-key-having-better-sex-life.
Romm, MD, Aviva. (2018, January 29). 7 Important Tips for Rebooting Your Sex Drive. Retrieved from http://www.avivaromm.com/is-your-libido-low/.
7 Reasons Sex Does Your Body Good. (2012, December 5). Retrieved from http:// www.prevention.com/sex/better-sex/why-sex-so-good-you.
Latest posts by Erin Henry
(see all)