Last week I laid the foundation for understanding premature ejaculation, its causes and some solutions.
Today we dive into herbs that may be able to assist in this department.
But first, I wanted to share a story that one reader posted as a comment on our blog. It deals with erectile dysfunction, as well as premature ejaculation and some of the downstream consequences these can lead too.
"Weak erections is a big problems that is affecting most man in their marriage today and it's the reason why most marriage fail and its also one of the reasons why must married women cheat, and it's what every married men should know, I'm saying this in my own experience, my wife cheated on me all because I was unable to satisfy her sexually, it was my fault, why because when I was growing up I masturbate frequently a lot and it leads to my premature ejaculations that I cannot spent up to 5 minutes on top of a lady, it was a very big problem for me to solve, I met with different medical doctors, taking all sorts of drugs and exercises, no one could actually work,. I can gladly tell you now that my premature ejaculations and weak erections problems i have been facing is now things of the past because i have found a solution to my problem, and I can now spend more than 2 hours on top of woman without ejaculations, I know so many men are having these kinds of problems too."
– Eduardo
While I wouldn't say this is the issue in most marriages, it certainly is a factor in some. Eduardo did not share what worked well for him, but I wanted to share this to show that there is hope for anyone suffering from such.
In the previous article, I mentioned how, in my opinion, behavioral training is likely the thing that most will help with premature ejaculation.
Herbs can assist here too, but they're no panacea. Others may see no benefit. Because premature ejaculation is a complex topic, there is no one-size-fits-all solution. Anyone that tells you such is lying.
That being said, some may get results with the following.  I'll start with some of our popular herbs that may have a reputation for helping here, whether or not there is science behind them. From there I'll dive into the limited science that is available.
Schisandra for Premature Ejaculation
Schisandra, the five-flavor fruit, touches on so many different areas and processes in the human body. It is said to help with sexual stamina which also means premature ejaculation.
Schisandra is very astringent. This is sometimes called a taste, but also a mouth feel, in that it dries out your mouth. The thing is astringency isn't just happening in your mouth. That it happens there is a clue that it happens elsewhere in your body.
And it is not that it dries you out. Exactly the opposite. It helps you to hold onto fluids, what the Chinese would call "water Qi." This includes semen. It won't stop you from ejaculating, but it does seem to aid the body in holding on a bit longer than it otherwise would.
There are other herbs that are astringent too. Rhodiola may be the best example of this. Adaptogens such as that can play a role in sexual performance as well.
Adaptogens are best known for their ability to help you deal with stress. Both Rhodiola and Schisandra are two of the original adaptogens. Since stress can be a factor in premature ejaculation this would be another way that Schisandra helps.
Shilajit for Premature Ejaculation
Shilajit is known as the "destroyer of weakness." Premature ejaculation can be seen as a symptom of such weakness.
Being an herb of many nicknames, Shilajit is also known as "Indian Viagra." When talking to an Ayurvedic doctor about this he pointed out that it does not work anything like Viagra. There is no PDE-5 inhibition. (More about that in the next herb.)
Instead, Shilajit helps the body and constitution to become stronger, through trace minerals, fulvic acid, dibenzo-alpha-pyrones, natural C60, etc.)
Man's natural ability is to be able to be erect and last at least a reasonable amount of time. If you're below this baseline, the thought is that Shilajit can help you to build your foundation better.
Traditional usage saw Shilajit being recommended for low testosterone, thin semen, premature ejaculation, erectile dysfunction, and more.
Horny Goat Weed (Epimedium) for Premature Ejaculation
Horny Goat Weed includes an ingredient called icariin. This is a PDE-5 inhibitor. PDE-5 is an enzyme that basically breaks down nitric oxide which is necessary to cause the relaxation of blood vessels that allows the penis to become erect. Inhibiting it thus allows you to stay harder, longer. This is the mechanism by which Viagra, Cialis and other ED drugs work.
This being an herb, it is not nearly as powerful as the single isolated ingredient. But then it comes with other components, other benefits, and less risks too.
As we saw in some of the research into drugs for premature ejaculation, PDE5 inhibitors are sometimes used successfully. Therefore, a natural herb that works be the same mechanisms may help too.
From personal experience, I do seem to last longer without any attempts at trying to do so when I take Horny Goat Weed. Your experience may differ.
Blue Vervain for Premature Ejaculation
Blue Vervain is generally not considered a sexual tonic. Instead this bitter nervine is most known for helping relieve stress on the nervous system. And that is exactly how it can help here.
Regardless of other underlying physiological issues that may be playing a role, as soon as someone suffers from something like ED or PE, their psychology is likely to make it worse. This performance anxiety can then exacerbate any symptoms. Trust me, as I speak from experience in my own issues with porn-induced erectile dysfunction.
Blue Vervain, with its bitter flavor and cold downward action, is said to help take you out of your head into your body. Since far too many people live in their heads these days, even while having sex, this is a very useful action.
Other Herbs for PE
Other herbs we have that there have been reports of helping with premature ejaculation include Tongkat Ali and Cistanche.
So our Thor's Hammer Sexual Potency Formula that combines many of those listed here, Shilajit, Tongkat Ali, Horny Goat Weed, Mucuna and Cistanche, may help in this department. It was focused more towards erectile function, but as there is quite a bit of overlap, I would say it is worth giving a shot.
Onto some scientific studies about herbs and premature ejaculation. Note that in all of the above there doesn't seem to be any scientific evidence. It's all mechanisms of action and anecdotal evidence instead. I wanted to show some of the studies I came across in doing research.
VigRX
A randomized double-blind study looked at an herbal supplement known as VigRX on premature ejaculation.
This supplement included:
Horny Goat Weed Extract [20:1] 15mg (the only one of which was mentioned above)
Cuscuta Seed Extract [4:1] 25mg
Ginkgo Biloba Leaf 100mg
Asian Ginseng Root 100mg
Saw Palmetto Berry 100mg
Muira Pauma Bark Extract [4:1] 50mg
Catuaba Bark Extract [4:1] 50mg
Hawthorn Berry 100mg
The results: "Although the improvement in IELT [intravaginal ejaculation latency time] and CIPE [Chinese Index of Premature Ejaculation] scores in the herbal vigRX group was more than the placebo group, this difference was not statistically significant."
They mention that better results might have been found with higher doses, a larger sample size, or longer duration of taking the supplement.
I have never used this supplement so cannot comment as to its quality or effectiveness.
Qiaoshao Formula
I shared the ridiculousness of this reductive science trying too hard in an email the other day. This was something I stumbled across when I first started working on this article.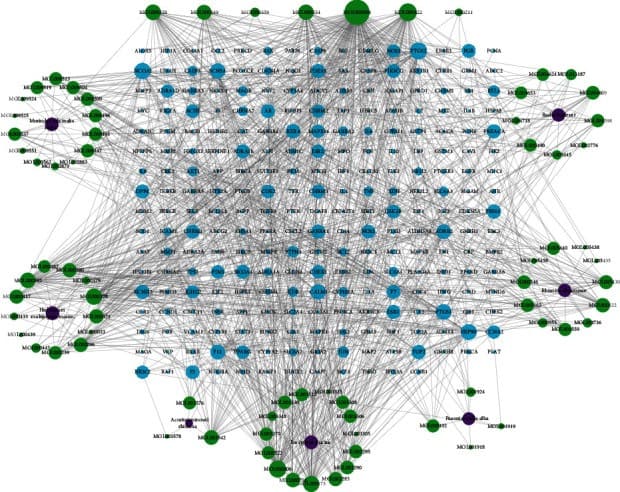 Makes sense, right?
That study has to do with a traditional Chinese medicine formula known as Qiaoshao (QS) and its effects on premature ejaculation. This formula contains the following:
Forsythiae Fructus
Paeoniae Radix Alba
Radix Bupleuri
Hedysarum multijugum Maxim
Morindae officinalis Radix
Rhizoma Dioscoreae
Acoritataninowii Rhizoma
This study is full of jargon much more than even most studies. I post the following for your and my amusement:
"By merging the C-CT network of QS formula and the PE-targets PPI network, we obtained 88 anti-PE targets from QS formula, and then, module analysis and enrichment analysis were performed to further investigate the potential mechanism. It revealed that 20 significant enriched pathways were associated with QS formula in the treatment of PE disease, including TNF, PI3K-Akt, HIF-1, T-cell receptor, ErbB, FoxO, Toll-like receptor, p53, thyroid hormone, prolactin, sphingolipid, estrogen, VEGF, NOD-like receptor, MAPK, and Fc epsilon RI signaling pathway, as well as osteoclast differentiation, cell cycle, and apoptosis."
In other words, this formula hits on lots of things that are tied into premature ejaculation, so it should work. However, this study did not actually test it in humans.
Scarcely Studied Subject Area
A systematic review from 2017 looked at complementary and alternative medicine for premature ejaculation. This included "Ten randomized controlled trials were included. Two assessed acupuncture, five assessed Chinese herbal medicine, one assessed Ayurvedic herbal medicine, and two assessed topical 'severance secret' cream."
Their conclusion, "There is preliminary evidence for the effectiveness of acupuncture, Chinese herbal medicine, Ayurvedic herbal medicine, and topical severance secret cream in improving IELT and other outcomes. However, results are based on clinically heterogeneous studies of unclear quality." Most of these studies were compared against SSRI's and thus didn't have true placebo control groups.
In other words, there really isn't sufficient scientific evidence for the subject.
Which brings us to you.
For your health, whether dealing with premature ejaculation or something else, an experimenter's mindset is useful. You'll likely have to try a good handful of things before you get results. And that doesn't just mean all the herbs listed on this page either. While working with herbs can obviously be beneficial in some cases, here to you'll want to look at behavioral techniques, acupuncture, your psychology underlying such issues and still more possibilities out there.
If you'd like to share your experience with premature ejaculation, and what has or has not worked for you, please do so in the comments. (And feel free to use an fake name if that suits you.)
Latest posts by Logan Christopher
(see all)