Just because it is true on average, doesn't mean it has to be true for you.
Science more often than not deals with averages. While this can be useful information, many people then take it to be gospel.
For instance, when we're talking about men and testosterone, you'll often see charts like this one.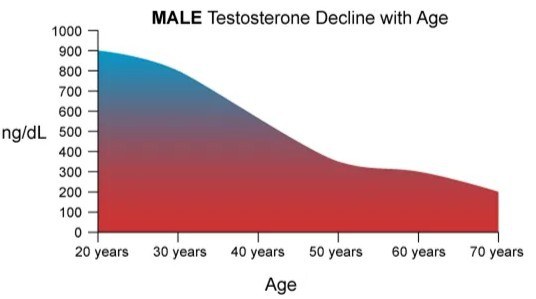 Simple to understand. And it appears to show a one-to-one correlation.
Most would take it to mean that age is causative of testosterone decline, though that is actually another logical leap that isn't exactly true.
Something like the above is averaged out, generalized, from something like this scatterplot.
With the lines drawn, we see the clear declining picture is there. Even without the lines you'd be able to see it. Though here it is not as simplified.
But again, those lines are just average.
I want to point out to you some specific dots.
Look at those 60- and 70-year-olds in the red zone. They've got higher testosterone than many 20- and 30-year-olds.
Some of those that are outliers, those 75–79-year-olds in the dark red that are above the blue line, are beating out most everyone that is younger!
Even that 85-year-old, circled in orange, is beating out about one third of the 20- and 30-year-olds.
Even that 93-year-old is higher than a great many 50-year-olds.
Here's the key. Don't be average. And definitely don't be below average!
To do that you need to do things that will keep you above average for your hormone health.
Herbs aren't average, especially ones that don't taste so great. Not these days.
The Standard American Diet, is just, well, SAD. And its average too. Eating clean and healthy takes more work.
Being a couch potato is average. Getting stronger and moving well even in old age is not average.
You have more power than society wants you to have to take control of your testosterone and your health.
We here at Lost Empire Herbs are here to support you doing so.
Some of our top herbs for doing just that include Pine Pollen, Pine Pollen Tincture and Tongkat Ali. And there are many others.
While this is true of testosterone, it applies to so much else too.
Latest posts by Logan Christopher
(see all)