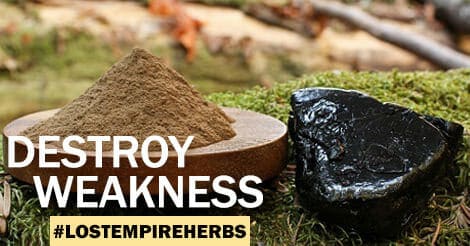 Here is an easy, but powerful mineral to add to your regular daily herbal routine.
Shilajit Resin, aka the "Destroyer of Weakness" and the "Conqueror of Mountains," is an amazing mineral pitch.
Shilajit is the #1 rated herb in Ayurvedic Medicine. It is highly regarded as the most powerful anti-aging substance known to the people of India.
In fact, according to legends it is believed to be a nectar of the gods, to be magical or have divine powers.* And it has historically been used as a Cure-All.
It is certainly a powerful adaptogen and Jing substance.* It was even kept Secret by Top Yogis so they could get the benefits themselves.
Understand Shilajit Resin is a mineral substance, actually on the borderline between mineral and plant material, it is potent stuff according to alchemical traditions.
It is a great source of:
Fulvic Acids
Humic Acids
Trace Minerals
C-60 (Fullerenes)
Research any of these compounds and find out what they can do for your health and longevity. (I'm especially happy to have recently learned that Shilajit is a natural source of fullerenes.)
The "ritual" aspect is to take Shilajit Resin first thing in the morning, along with a glass of water. You might take it as you're brewing your coffee, just like I do.
Our Source and Process
Our Shilajit Resin is sourced at over 14,000 feet in the Himalayan Mountains in Bhutan. Ours is a combination of gold Shilajit (swarna) and copper Shilajit (tamra). Its high quality is assured by the testing for dibenzo-alpha-pyrones, fulvic and humic acids.
This Shilajit Resin is collected from waterlogged areas. It is put into wooden barrels for 14 days so that the water gets settled down further. This slurry is rubbed through cotton cloth for filtering. That's it! This is the least amount of processing available for Shilajit which is reflected in both the taste and potency.
The dose is 100mg which can be seen with the tiny spoon that comes with it. As it is a resinous material, we don't recommend you actually use the spoon end though. Either flip the spoon around to use the flat end or use some other utensil so you don't put plastic into your mouth.
Dr. Jay, our supplier of Shilajit, claims it is said…
"Take Shilajit every day for a year and it will add a year to your life."
While this certainly is some hyperbole, it does speak to the anti-aging benefits it brings.
Shilajit can have some subtle as well as powerful effects for you. Start doing this ritual and see what happens.
(Shilajit Powder is great too, it's just the Resin is more concentrated and potent.)
A top Ayurvedic Herb, Shilajit is a powerful anti-aging substance rich in minerals, Humic, and Fulvic acids. It supports detoxification, ...
Read More
USD$ 59.99
Add to cart
A top Ayurvedic Herb, Shilajit is a powerful anti-aging substance rich in minerals, Humic, and Fulvic acids. It supports detoxification, ...
Read More
USD$ 49.99
Add to cart
Latest posts by Logan Christopher
(see all)