Wondering how to make homemade ghee? It's really easy. In this article, we'll share the simple steps of how to make ghee for yourself and the traditional method of making ghee.
(If you missed the first in this series of articles about ghee, which details why it is so amazing, including the research behind it, you can check it out here. Also, check out the amazing case studies of megadosing ghee.)
What You Need:
1 pound of grass-fed unsalted butter
Skillet or wide bottom pan.
Wooden spoon
Cheesecloth or strainer
Glass jar
Directions:
Put the butter in your pan or skillet over medium heat.
After butter had melted, continuing heating for approximately 12 minutes, stirring occasionally.
Froth will bubble up. Do not remove this. Turn the heat to low.
Ghee is ready when a drop of water is placed on the ghee and produces a crackling sound.
Pour ghee through a strainer into a jar and allow to cool.
Different sources say either to remove the foam, while others say not too (because it contains medicinal components). I'll opt for the later, as this was mentioned in traditional Ayurvedic texts, versus random online sources.
While cooking it, it will smell like popcorn. You'll notice the curds (which is mostly protein) from the butter form on the bottom. Be careful to keep the heat down so that these do not burn. The lower the heat throughout this whole process the likely higher quality ghee at the end.
You'll strain off the curds through the sieve. You can eat these, and the flavor is intense but good.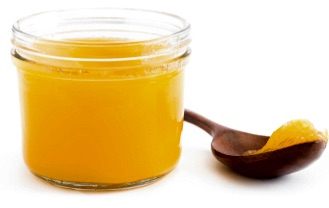 The end result should be a golden color and have a sweet smell. If it is brown or has a nutty smell, it is likely overcooked and burned.
One pound of butter yields approximately one pint of ghee.
The ghee is shelf-stable and even improves with age. There are stories about 100-year-old ghee!
The Traditional Way To Make Ghee with Fermentation
If you want to get very technical, the above process only makes clarified butter and not ghee. To make ghee the traditional way you must ferment the milk first, before churning it into butter. Although you will be cooking the fermented butter, so that it is not probiotic, there are likely important processes that occur during the fermenting curd stage, that will not occur with the cream straight to butter process.
This video walks you through the additional steps.
(At the time of writing this, I have not yet tried the ghee fermentation method.)
My guess is that clarified butter as I made above is still great stuff, but this traditional process yields something even better. If you have any experience in the differences between these processes, I'd love to hear your comments below. Or any comments on other methods for how to make homemade ghee or different benefits of ghee you've experienced.
Latest posts by Logan Christopher
(see all)