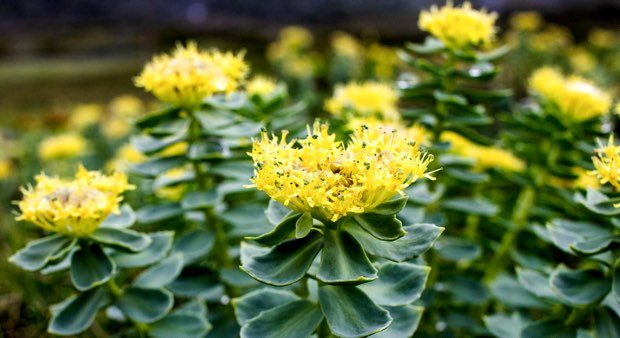 Rhodiola rosea also known as golden root, arctic root, roseroot or rose wort is a potent adaptogen herb which has a brain boosting, fat burning and energy enhancing health benefits for the body. This rare herbal plant grows native at high altitudes in the arctic areas of Eastern Europe and Asia.
Rhodiola Benefits
The adaptogenic benefits of Rhodiola rosea include that it helps regulate natural physiological, immune and neurological reactions to oxidative stress in order to be able to adjust and adapt to physical, chemical and environmental challenges in the body.
Here are some of the benefits of Rhodiola rosea which includes the following:
Increase energy level
It increases energy, stamina and endurance by increasing red blood cell production in the body. Who wouldn't want to enjoy more healthy, natural energy and stamina in their everyday life?
Improves cognitive brain function
It increases the sensitivity of neurotransmitters dopamine and serotonin, which is known for increasing memory, focus, pleasure, and improving mood. No wonder Rhodiola is increasing gaining interest from the nootropic community, constantly in search of enhanced cognition, learning and mental sharpness?
Lowers stress level
Rhodiola rosea has the ability to reduce one of the body's major stress hormones which is called cortisol. Rhodiola's effect on cortisol has been well-researched and presents exciting benefits for longevity.
Burns Belly Fat
One of the benefits of Rhodiola rosea is that it contains rosavin, an active compound that stimulate an enzyme called hormone-sensitive lipase, which is able to breakdown fat that is stored in adipose tissue on the belly area. Rosavin has been shown to have amazing adaptogenic benefits for the human central nervous system.
Fights Depression
It increases dopamine sensitivity, which has been shown to improve mood, help fight food cravings and addictions which makes it an effective herbal alternative to anti-depressant medications, making it one of the benefits of the Rhodiola rosea. If you want to get off of one of the most popular antidepressant drugs like Luvox, Zoloft, Celexa, Prozac or Wellbutrin, talk to your doctor about the natural mood stabilizing benefits of this amazing adaptogen.
The "Medicine Hunter" Chris Kilham talks about his favorite herb, Rhodiola rosea, and its effect on memory, energy levels and depression. He also compares it with Ginseng and explains why Rhodiola might be a better choice.
Reduces anxiety levels
Improves Cardiovascular health
Improves immune function
Increases sexual enhancement
Regulates menstrual cycle
It's one of the best natural anti-depressives
Enhances memory, mental clarity, alertness and concentration
Increases energy levels
Helps with Jet Lag
It's interesting that Chris Kilham refers to Rhodiola as a gateway herb, because unlike some other beneficial herbs, you are likely to actually feel the difference in well-being after taking Rhodiola. For instance, this is not the case with Echinacea as you obviously cannot "feel" that a number of T-cells are increasing, even though this could ultimately help you to beat the common cold faster.
Muscle Recovery
Rhodiola rosea extract can boost the level of enzymes, RNA, and proteins essential to muscle recovery after an extensive workout and it also stimulates muscle energy status. Any active person who loves exercise and athletic activity and wants to shorten their recovery period would benefit from researching the benefits of Rhodiola.
Enhances Memory and Concentration Ability
Studies have been conducted using proofreading tests which demonstrated the increase of the bioelectrical activity of the brain after supplementation with rhodiola extract, which improves memory and brain energy
Effective for Heart Problems
The abnormal presence of stress hormones will increase blood pressure, cholesterol, potassium levels and increase risk factors for heart disease. A part of the benefits of Rhodiola rosea is that the Crassulaceae plant has been found to decrease harmful blood lipids, making it reduce the risk of heart diseases.
Herbal Alternative Treatment for Cancer
A number of antioxidant compounds have been found in Rhodiola rosea and related species and significant free-radical prowling activity has been shown water and alcohol extracts of Rhodiola. It is believed to increase the resistance of the body to toxins by demonstrating an increase in anti-tumor activity. The antioxidant benefits of Rhodiola are therefore considerable.
Beneficial Effect on the Immune System
Another important part of Rhodiola rosea is protecting and stimulating the immune system by restoring metabolic balance in the body. The beneficial natural killer cells in Rhodiola called polysaccharides have anti-tumor activity and this helps increase the body's resistance to toxins.
More clinical trials and scientific studies are needed in order to better establish the many health benefits of Rhodiola Rosea. We're working on a new article about rhodiola for weight loss and will post more information when it's ready.
We recently upgraded our rhodiola to a higher quality, organically grown and processed version.
As mentioned before, one of our goals at Lost Empire Herbs is to constantly seek out higher quality herbs. We are never going to "settle" or compromise the quality of our products because of laziness or lackadaisical attitudes.
If you have had any experience with Rhodiola, you will be able to tell from the smell when you open your bag that this stuff is potent.
Extracted with both water and alcohol, so there's a guaranteed potency of some of the active components including salidrosides and rosavins.
In reading one report by the American Botanical Council regarding the benefits and uses for rhodiola, it went into why this herb is an excellent candidate to explain what an adaptogen is and how it should support the body.
An adaptogen should be innocuous and cause minimal disturbance of the normal physiological functions of an organism;
The action of an adaptogen should be nonspecific (i.e., it should increase resistance to adverse influences of a wide range of harmful factors of physical, chemical, and biological nature);
An adaptogen may possess normalizing action irrespective of the direction of the preceding pathological changes (i.e., if a body parameter is high, the adaptogen brings it down towards normal; if a parameter is low, the adaptogen brings it up towards normal).[1]
Rhodiola supports the emotional and physical states of the body which inevitably becomes worn down through chronic stress-induced fatigue.
Our bodies are not meant to be in a constant mode of stress. You can read further into this matter from the article on the adrenals and the importance of adaptogens under the Health Index page.
Yes. There are healthy levels of stress, but it is certainly not what is deemed okay in the society we live in today.
When the body is plagued with stress, when we allow a lifestyle of being overworked, under-nourished, sleep deprived and either up or down, in the past or future, hungry (because we have skipped breakfast or vital meals) or too full from overextending our stomachs that are desperately seeking nutrition and not the processed "fluff" that becomes harder to avoid on a regular basis…This is not the type of stress that keeps our bodies healthy.
Fortunately, the awareness that is rising in the athletic and health world has bridged the gap between this stress-ruling phenomenon of ALL those who are experiencing it.
It is great to know many are evaluating their situations, eating habits, exercise habits and starting to address that being completely fatigued on a daily basis is not okay.
This is why rhodiola is highly revered as a liberating adaptogen.
It naturally acts as a stimulant for those suffering from detrimental, chronic fatigue
It increases the ability for mental work
Aids in recovery from physical/mental work
Provides support for sexual function
"In a double-blind placebo-controlled study of 60 foreign students at a Russian high school, administration of a Rhodiola rosea extract (660 mg/day of a preparation named Rodaxon) resulted in an increase in physical (velergometric) work capacity, coordination, kinesthetic sensitivity, and general well-being along with a decrease in psychic fatigue and situational anxiety."[1]
Unfortunately, that study did not provide specific amounts of rhodiola used in that preparation or active components so its hard to say what you would need to achieve similar effects.
That means you can keep your body performing at optimal levels for much longer without damaging the adrenals from toxic installments.
If you want to experience what your body and mind feel like when they can persevere through long workouts and trials of everyday life, rhodiola is a perfect candidate for you to tap into your unlimited resources and full potential.
Adaptogens like Rhodiola differ from other stimulants during forced, exhaustive muscular work. With classical stimulants, the initial increase in work-capacity is followed by a period of substantially decreased (markedly below average) work-capacity. Repeated use of such stimulants will ultimately deplete the brain catecholamines and will decrease conditioned reflexes.
In contrast, with extracts of Rhodiola rosea, the initial increase in work-capacity is followed by a lesser diminution, such that the work-capacity continues to be above average.[2]
Rhodiola can provide support and help almost anyone.
Great for athletes.
Great for people who use their brains (do you?)
Great for EVERYONE who has ANY stress in their lives.
The herbs are here for you to use as a pillar to stand on while building the solid foundation that we need in our lives.
The stronger your health foundation is, the harder it is for obstacles, ailments and near anything to knock you down.
Rhodiola is a perfect herbal companion to help tap into the strength and prowess within you so that you may easily face any situation in daily life and to launch into new realms of accomplishment.
References:
Brown, R., Gerbarg, P.L., Ramazanov, Z., Rhodiola rosea: A Phytomedicinal Overview HerbalGram. 2002; 56:40-52 American Botanical Council