This is the largest article we've ever posted. Its aim is to cover pretty much everything you could ever want to know about Pine Pollen, especially as relates to human health. As this is our best-selling herb and a large part of why Lost Empire Herbs started in the first place, we felt it was worthy of this dedicated mega-article.
Please use the Table of Contents below to skip around to the sections you find most useful and relevant to your needs.
Read on to learn all about the benefits of Pine Pollen, its effect on testosterone levels, how well it works and much, much more. Get ready to soak up all the knowledge in this Ultimate Guide to Pine Pollen.
What is Pine Pollen?
Pine Pollen comes from pine trees, of which there are over 126+ species within the Pinus genus and Pinaceae family. These include Pinus sylvestris, Pinus longaeva, Pinus ponderosa, Pinus pumila, Pinus contorta and many others. Each one of these has a common name, or several names, such as lodgepole pine, Siberian dwarf pine, and many more. Different species of pine trees are found throughout most of the Northern hemisphere as pictured in this world map.
Pine trees produce a number of edible substances. Most people are familiar with the pine nut, which is typically used to make pesto. Pine tree bark, specifically from the French maritime pine, is used in a different supplement.
At the right stage of growth, pine needles can also be consumed or used to make tea. And more importantly, for the purposes of this article, is the pollen.
Can you eat Pine Pollen?
Absolutely!
The pine tree pollen comes from the male cones or catkins. Most people who have grown up around pine trees are going to be more familiar with the female pine cone. Yet it is the male pine cones that spread the pollen.  Thinking in biological terms, equating humans to pines, male sperm is the equivalent of the pollen…which is one reason it tends to help in those similar areas and functions.
What does Pine Pollen look like?
To our eyes, it's a fine yellow powder.
Yet, when you view Pine Pollen under a microscope, you'll notice what has been named the "Mickey Mouse" shape.
Each grain has a middle with two bulbs at about 120 degrees off of it.
This pine cone pollen is full of phyto-androgens which serve not just to fertilize pine cones, but also to massively spread their "growth message" to the ecological system by spreading it far and wide.
Again, this shows why it can be helpful as human food.
Pine Pollen Benefits
There are many health benefits to Pine Pollen because of the wide range of nutrients it provides. While some herbs are used because they supply only one benefit (and this is where isolated supplements and drugs are focused on),  Pine Pollen is packed with many.
This is the case with all reproductive substances. Eggs, despite being vilified because of cholesterol regardless of the fact that dietary cholesterol not really being associated with internal levels, are one of the best foods out there (as long as you don't have allergies to them). Why? Because these eggs have everything needed to produce new life.
Pine Pollen is much the same because it is the fertilizing factor in nature. It helps create life and as such, has a lot to help do so. It helps spring to occur in areas where pine trees exist. It's a potent activator of the ecology. While we'll be diving into some of the proven benefits and research later, this way of thinking about it is holistically important for your health.
Some of the benefits include:
Pine Pollen for fertility
It being a big supporter of hormone and reproductive health, it can certainly help you if you're lacking in this department.
Pine Pollen for ED
While only drugs can "treat" erectile dysfunction (which was a term created when a certain blue pill came on the market), this pollen helps restore natural health to all kinds of reproductive factors and areas. The male penis is just one such area.
Pine Pollen for men
Beyond the above issue, if you're looking for male hormone support and everything those impact (like your brain, your mood, your muscles, your recovery, etc.) then Pine Pollen can be a great help. More detail on how it does this to come.
Pine Pollen for weight loss
Just about everyone's favorite area because so many people need help here. There is nothing in Pine Pollen that does this specifically or in a big way. But by providing lots of nutrients, which many people are often lacking, and the endocrine support, both men and women are likely to have better foundational health from which to shed fat.
Pine Pollen for women
Even though it has a reputation as a male tonic, Pine Pollen is also great for women's hormone health. Some women may not be aware that they also have testosterone, and many are deficient in it, making this phyto-androgenic powder very helpful. In addition, it's detoxing benefits can help with balancing women's hormones.
The difference in benefits of Pine Pollen powder and Pine Pollen tincture are important to know.  We'll dive in deeper on some of these topics in another section.
History of Pine Pollen
Pine Pollen has long been used in Traditional Chinese Medicine (TCM). And also closely related to the uses in Japan and Korea.  It is mentioned in several Chinese classics such as Shennong's Herbal Classic, The Pandect of Materia Medica. This dates back to 200 A.D., during the Han Dynasty.
"Pine Pollen tastes sweet and mild and has no toxicity, it mainly helps with vicious Qi from cold and fever in the heart and abdomen, inducing urination, eliminating extravasated blood, nourishing Qi, strengthening energy, and extending lifespan for long-term consumption."
Meanwhile, the Tang Materia Medica from around 657 to 659 A.D. states:
"Pine Pollen also names pine yellow because it looks like cattail pollen, long-term intaking can lighten the weight and its treatment effect is even better than pine bark, leaf, and resin."
In TCM,  Pine Pollen is considered sweet and mild, useful for the liver and spleen meridians. One of its main functions is eliminating dampness in the body.
Looking at it from the three treasure model,  Pine Pollen is best considered as a Yang Jing substance. As Jing is closely related to hormonal health, this makes a lot of sense. For more about Jing read this article All About Jing. 
While Jing may be its main property, it certainly has some Qi effects which can be seen in its help with energy and other functions. It has undoubtedly been used all over the world over millennia and in other areas where pine trees grow; however, there just aren't any good records of it.
Some specific mentions and uses in historical texts include:
Shi Liao Ben Cao/Dietetic Materia Medica from the Tang Dynasty – Pine Pollen of half a kilogram mixed with 5 kilograms of honey. This is taken internally and was said to promote beauty in the face.
Shan Jia Qing Gong from the Song Dynasty – Chinese Pine Pollen cakes made with water and rice flour is to be made "according to the shape of ancient dragon cakes." These taste and smell sweet as well as help people's appearance become more beautiful and increase will.
Pine Pollen was also used extensively in Japan and Korea. In 1613, a royal physician named Heo Jun published the Dongui Bogam which means "Mirror of Eastern Medicine." In it, he writes, "Pine Pollen is sweet, mild, heart and lung nourishment, Qi tonifying medicine and with a function to stop bleeding."
[pt_view id="a0eb1ebby4″]
What's In Pine Pollen?
The nutritional content of Pine Pollen is going to depend on the species, location, time of harvest, and other factors. It is natural and thus will have natural variations, which can be fairly large. The amounts quoted here are from various sources that have tested them or our own independent testing. Recognize that each batch and especially pine pollens from different species will have different amounts. That being said, the same components should all be present in more or fewer degrees.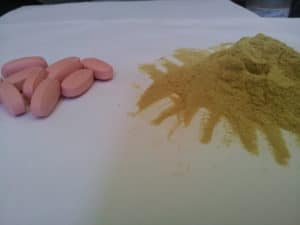 Generally, Pine Pollen has over 200 bioactive nutrients within it. This is one reason we've called it "Nature's Multivitamin."
Each of the following is for a three-gram amount of the powder.
Amino Acids include:
Alanine 17mg
Arginine 30mg
Aspartic acid 33mg
Cysteine 3mg
Glutamic acid 47mg
Glycine 21mg
Histidine 6mg
Isoleucine 16mg
Leucine 25mg
Lysine 24mg
Phenylalanine 17mg
Proline 26mg
Serine 16mg
Threonine 15mg
Tryptophan 4mg
Tyrosine 11mg
Valine 19mg
(Note Pine Pollen is a complete protein and then some.)
Vitamins:
Vitamin A 1.3ug
B1 (Thiamin) 182ug
B2 (Riboflavin) 15ug
B3 (Niacin) 427ug
B6 (Pyridoxine) 39ug
B9 (Folic Acid) 28ug
Vitamin C 1686ug
Vitamin E 97ug
Vitamin D .7ug
Beta Carotene .8ug
Minerals include:
Potassium 33.9mg
Calcium 2.4mg
Magnesium 3.3mg
Phosphorus 89.6mg
Iron 0.09mg
Zinc 0.09mg
Selenium 0.6ug
Manganese 0.3mg
And many more trace elements
Antioxidants and More
Oleic acid
Alpha Linolenic Acid
Lignans
MSM
Fiber
Enzymes
Coenzymes
Flavonoids
Monosaccharides
Polysaccharides
Nucleic Acid
Superoxide Dismutase (SOD)
Inositol
Polyphenols
Quercitin
Rutin
Phytosterols
Proanthocyanidins
Resveratrol
Notice that some of these are categories of nutrients and thus there can be many types inside them.  We plan to have a Nutritional Facts panel available soon for our Pine Pollen powder, but developing that panel with this level of detail takes time and the testing is expensive. While all of these are important, it is the phyto-androgens in Pine Pollen that people are most interested in.
Pine Pollen Testosterone
Pine Pollen is ever-growing in popularity as an herbal supplement because of one main thing: Pine Pollen and testosterone.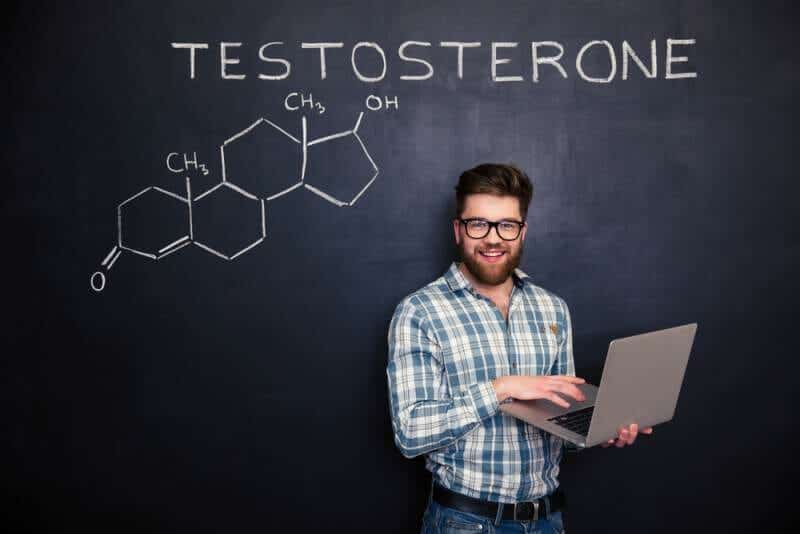 Most people who are into nutrition have likely heard of phyto-estrogens, as they are in soy, flax, hops and many others. These are plant chemicals that are similar to estrogen and interact with our hormonal systems. However, few people have thought about phyto-androgens. (I know I didn't until I was first introduced to Pine Pollen many years ago.) While this area is largely unstudied, Pine Pollen is one source that has lots of phyto-androgens.
While all the attention is given to the main male hormone, testosterone, this is just one of many.
These were found in the pollen of the Scotch pine, Pinus silvestris L, according to this study.
They've also been found in all other Pine Pollen species that have been analyzed.
There is enough data available to feel confident that all Pine Pollen species have phytoandrogens, though differing in amounts. But we don't have enough data to say that one species is better than another at this point.
Once again, all the attention is paid to testosterone, but that is just one component.
DHEA has been called the anti-aging hormone. While another weak androgen, it has far-reaching effects across the body.
Epitestosterone appears to antagonize testosterone, meaning working against it, but very little is known about what this hormone really does.
Pine Pollen also contains many other nutrients that support hormones in varied ways, such as Vitamin D and various metabolites. These are small amounts, nothing like what you would get in an isolated Vitamin D supplement, but they do show the complementary and holistic nature of using Pine Pollen.
You may also be wondering if there has been a Pine Pollen testosterone study done in humans that shows how it affects these levels.
Unfortunately, the answer is that no, at this time, there is no such study available. Some people will say the amount of Pine Pollen phytoandrogens are simply too low to affect humans. But that's looking at it through a reductionist lens, rather than holistically.
They do not directly supply you with enough testosterone as a prescribed testosterone replacement therapy will, but it can be beneficial in helping your body give the signal to enter a more anabolic state. And if you think that amount is small, Buhner writes, "It takes as little as four nanograms (one-thousandth of a microgram) to change our sex to men while we are developing in the womb."
What about Pine Pollen and DHT or Dihydrotestosterone?
According to the records, it does not appear to contain this hormone. Or maybe it hasn't been studied or looked at. But since testosterone are precursors to this stronger anabolic hormone, it will likely affect the amounts in one way or another.
DHT gets a bad rap in prostate problems and hair loss, but is actually a very important and useful hormone, in the right amounts and locations.
Pine Pollen's Other Phytoandrogens
There are also gibberellins and brassinosteroids. These are true phyto-androgens in that they are novel plant steroids. While they are not created inside the human body by itself, like the other hormones, that doesn't mean they do not have an effect on us.
Gibberellins have been shown in various plant studies to jumpstart germination. When they are sprayed onto other seeds or growing buds the plants grow much faster.  They operate on cell enlargement and division. And they've been shown to connect with androgen receptors in the human body.
Brassinosteroids is a grouping of a few different compounds. Brassinolide is a powerful growth stimulant. There is also castasterone and typhasterol.
There are also a number of glutathione transferases.
Glutathione is the master antioxidant in the human body, one of its many roles is to detox hormones that are dangerous, or simply ones that have done their job and need to be recycled. These are also involved in the synthesis of testosterone and progesterone.
While the WOW factor to many people may be that Pine Pollen actually contains testosterone (as it was for me), diving deeper into the research, I think it's these other components that are largely responsible for the majority of the benefits.
Does Pine Pollen Really Work?
This is a question we get often.
First of all, it depends on what you mean by it working. Which benefit are you looking for? Increasing testosterone as can be shown on a blood test? Or simply increasing the things we associate with testosterone such as greater clarity of mind, more energy, more passion, greater sex drive, etc? If you could only have one of these which would you prefer?
[pt_view id="a0eb1ebby4″]
So, let me say this. Yes, Pine Pollen works. But whether it works for you and for whatever you're expecting it to do, that's much harder to say.
There are a few different ways we can look at whether Pine Pollen works or not.
The first, and in my opinion the ultimate test, is whether it works for you individually. It doesn't matter if it works in double-blind scientific trials, or for countless other people if it doesn't work for you. And there is only one way to find this out. Take it and see what it does for you.
Besides that, we can look at anecdotal evidence. Is it working for other people? Yes…but not everyone. Nothing works for everyone. See the section below with our customers' reviews to see what it is doing for them.
The fact is, we couldn't sell as much of this stuff as we do if it wasn't working for people. I always get annoyed by a 1-star review that calls it a scam or worthless. I'm sorry, but just because it didn't work for you doesn't make you the arbiter of truth in the matter.
In our modern day age, we tend to rely heavily on scientific evidence. That can be great…except that there is very little research done on Pine Pollen. There simply has not been any solid double-blind, placebo-controlled studies done looking at humans taking Pine Pollen for increasing testosterone, supporting the prostate, sexual function, or anything else!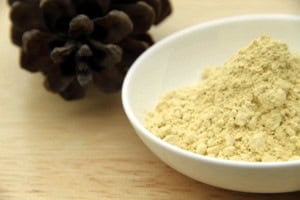 Pine Pollen Results and Research
Let me state that this summary of research is not meant to make any claims or effects of Pine Pollen.
As you can see, the clinical research being done in cells, mice, rats, and other small animals, it is very preliminary at best.
Pine Pollen Research That Is Available:
In senile mice, Pine Pollen that was ingested was shown to increase SOD activity, which is one of our main antioxidants. This, in turn, helped to reduce mitochondria DNA mutation and damage. As mitochondria are the powerhouses of our cells that produce energy, protecting them shows effects in having greater energy and anti-aging.
In this study, an ethanol extract was used (aka Pine Pollen tincture). They found that this exhibited antioxidant and anti-inflammatory properties in cells through down-regulation of the JNK and MMP pathways (c-Jun N-terminal kinase and matrix metalloproteinase if you must know).
Going off the last result, this research looked at arthritis in rats. Oral Pine Pollen extract helped the rats to have less damage from the inflammation that was induced.
Similar to the last result in mice, except this paper also look at how the pain was reduced, in addition to the inflammation.
I'll just quote this one, which looked at various aging markers in mice, "Our finding presents Pine Pollen as an attractive agent with the potential to retard aging and attenuate age-related diseases in humans." Pine Pollen appears to help many aging factors.
This study looked at a specific polysaccharide in Pine Pollen (SPPM60-D) and its effect on the immune system in mice. They found it improved macrophages and thus, immunity.
Mice that were poisoned with arsenic had their brain cells protected from damage with Pine Pollen.
Here, human hepatic cells (akaliver cells) were analyzed in vitro. Water extracts of Pine Pollen helped to protect them in a limited way. See below for a graph of how pine pollen increased SOD activity:
This analysis looked at different polysaccharide fractions of Pinus massoniana pollen. TPPPS1 showed antioxidant effects, while TPPPS2 and TPPPS3 where more immunomodulating. They also mention that TPPPS1 induced the highest amount of NO production, which makes we curious about its role in sexual function.
This same group of researchers continued to look at these polysaccharides in immune function in rabbits, chickens, pigs and other animals, finding positive results.
Injections of pollen from Pinus nigra showed antitumor activity in mice.
And that is pretty much all that is available at this time. We hope that one day we will be able to fund a Pine Pollen double-blind study in humans, but until that happens you're going to have to rely on anecdotal evidence to convince you to try it for yourself.
The one author that has brought Pine Pollen to the forefront is Stephen Harrod Buhner. It is heavily mentioned inside of The Natural Testosterone Plan. There is also the dedicated book Pine Pollen: Ancient Medicine for a New Millennium.
What's The Best Pine Pollen Supplement To Use?
There are lots of different types of Pine Pollen supplements available. The fact is that there is no best, just advantages and differences to each.
The best option for you personally, may not be the best general option for others.
Let's take a look at the different types of Pine Pollen.
Pine Pollen Powder
The simplest Pine Pollen supplement is the powder. If you're harvesting it yourself, you can get raw Pine Pollen.
If you're buying from us you're going to get steam distilled and cell wall cracked Pine Pollen. The steam distillation is used to make sure the Pine Pollen doesn't get moldy. If you're getting it fresh from nature, it's fine if its raw, but if it's being stored for any period of time you don't necessarily want this.
To the best of our knowledge, we're the only ones that are steam distilling our Pine Pollen. While this might damage some of the heat-sensitive nutrients, it is done briefly to preserve as much as possible.
We have found that others are using a microwave to radiate and sterilize it. We avoid this because of potential DNA mutations or other possible negative effects this could cause.
So, while ours is not raw, it's close. Generally, people looking for raw Pine Pollen simply mean the bulk Pine Pollen powder.  We see the powder as more of a food than a supplement, in which you can use larger doses than you would with many other herbs. See the dosage section for more details.
Pine Pollen Tincture
A tincture is an alcohol extract of an herb. The alcohol acts as a solvent, which draws out many of the constituents of an herb. Different components come out in alcohol, as compared to water, which is the other main solvent used in herbalism.
When it comes to Pine Pollen tincture, the alcohol appears to draw the phyto-androgens very well and makes these more bioavailable to the body.
There is a theory that these hormones cannot survive the digestive tract. That they're broken down. Now, we know that the powder does deliver hormone benefits, but certainly not to the same degree as the tincture does.
While we see the powder as more of a superfood, the tincture is stronger. The powder is balancing to the hormones, while the tincture is more directly boosting testosterone and others.
The powder is safer. It is recommended for women. We've had plenty of kids and even pregnant women take the powder. But in these populations, the tincture should not be used generally, though there are exceptions. (Once again, see the dosage section for more details)
In case you're wondering, yes you can take both the Pine Pollen tincture and the powder at the same time. Many of our customers have achieved great benefits in doing so. In fact, that's one of the reasons we put them together in the Men's Hormone Package, along with Nettle Root.
What about a Pine Pollen tincture without alcohol?
Yes, there is an extraction method that does not use alcohol, such as the Pine Pollen Acetract, which is like a tincture but made with vinegar.
Pine Pollen Extract
While the tincture is one type of Pine Pollen extract, some other companies sell powdered Pine Pollen extracts. Like many other herbs, the powder is heated in water, making a decoction. This is boiled down and then spray dried (sometimes using maltodextrin fillers to do so) to yield a concentrated extract.
A 10:1 extract should mean that ten pounds of raw Pine Pollen were used to make one pound of finished extract. In practice, these numbers are not exactly accurate.
You would think this powder is ten times as good as the bulk Pine Pollen, however, that is not necessarily the case. In our experiments with this, we've found it doesn't seem to work as well as the regular powder. Maybe the boiling water destroys the phyto-androgens or other nutrients. I'm sure that certain nutrients do get concentrated, but it may be at the cost of other ones.
Thus, we do not offer a powdered Pine Pollen extract in this form at Lost Empire Herbs.
Pine Pollen Tablets, Pills and Capsules
Lastly, the powder can be put into the most common ways that supplements are taken. Tablets, pills, and capsules may sound like different words for the same things, but there are some differences.
Tablets and pills are when the powder is pressed, using some sort of glue or binding agent so that it becomes a hard pill. We do not recommend these because often the binding agent (and sometimes other fillers) is of dubious quality.
In our Pine Pollen capsules, we went with what we thought was the best option, pullulan capsules, which are made from tapioca starch. You can read more about these, and the unfortunate reality of most capsules that other companies use in this article Are Capsules Good For You?.
Capsules are a good option for convenience and for those who don't like the taste of the pollen. While there are many good reasons to taste herbs, we understand that some people prefer "easy and convenient" and simply aren't going to use an herb otherwise.
Pine Pollen Cell Wall Cracked or Not?
Pine Pollen granules have a hard cell wall. If you think about in nature, the pollen is going to blow out from the trees and travel sometimes miles through the air before being deposited. This is to preserve the nutrients inside for being available in the right conditions.
Some experiments have shown that gastric acid is not sufficient to get through the cell wall. If this is the case, then Pine Pollen would be largely or fully undigested when consumed.
Cell walls are cracked using a low temperature but high-speed airflow technology to smash the Pine Pollen grains against each other. Investigations show that this should increase the bioavailability of certain nutrients such as the proteins and carbohydrates.
This is similar to some other supplements such as the algae chlorella, which must have the cell wall cracked in order to be digestible.
The question is, is this necessary or helpful?
Unfortunately, it looks like the primary research is only available in Chinese and Japanese, and without an English translation, it makes it tough to figure out.
My guess is that raw Pine Pollen with its cell wall intact is fine. After all, Pine Pollen has been used for thousands of years and they didn't have high-speed air flow technologies back then. If it was totally undigestible then it wouldn't have been used.
That being said, it does appear that the cell wall cracking may help make it better. Even with the tincture, it may allow the alcohol to get more inside the cells to draw out more. For these reasons, right now, all of our Pine Pollen supplements are cell wall broken.
The hormonal effects weren't talked about in many of the ancient texts. Perhaps the cell wall broken pollen is what allows these to better come forth in the human body.
Is Pine Pollen Organic?
The vast majority of Pine Pollen products, ours included, is not certified organic. Is this a bad thing? No. This is true of most wildcrafted foods. All Pine Pollen comes from pine trees which are found out in nature. No one is farming trees, or spraying them with pesticides, larvicides, herbicides or anything else. It simply isn't necessary. Furthermore, there is no GMO's involved. There is simply no need to tamper with the genetics of the pine trees out in nature.
Now, that doesn't mean there can't be contamination from heavy metals in the air or other problems. That is why we independently lab test our Pine Pollen and why you should look for that in any supplier. All our current tests can be found in the Lab Results tab of any product detail page.
In the full sense of the word, Pine Pollen is organic, but not necessarily certified as such. Certification costs time, money and effort, and one or more of those are often lacking in the smaller operations such as our own.
We just got in a new test looking at any trace of pesticides in our pine pollen and it came back clean.
How to Take Pine Pollen and What is the Best Pine Pollen Dosage?
How to take Pine Pollen depends on which type of Pine Pollen you're taking. I'll describe the basics and then some special cases. You might be asking, what is the best dosage? Again, this question can't be answered in a straight way. It depends on you. It depends on what benefits you're aiming for. But hopefully, this helps answer more questions than it creates.
Pine Pollen Tincture Dosage
One dropperful or 30 drops twice daily.
How to Use A Pine Pollen Tincture – The simplest way to use is to squirt the liquid under your tongue and hold it there for approximately 30 seconds. This sublingual absorption allows the alcohol and the compounds inside to pass through the thin cell walls under your tongue, directly into your bloodstream. Note that we use a 70% alcohol by volume tincture. This is strong to draw out more of the phyto-androgens, however, it also means that the alcohol is going to sting a little bit. If you can't handle this, the tincture can also be added to liquids, though it may not deliver as strong of effects this way as it won't immediately enter the bloodstream the same way.
Pine Pollen Powder Dosage
½ to 1 teaspoon per day. About ½ to 1 gram.
Megadose: 1 ½ tbsp to 3 tablespoons per day. 5 to 10 grams.
How to Use Pine Pollen Powder – For a small dose, you can spoon the powder into your mouth then wash it down with any liquid. Be careful you don't inhale. Pine Pollen has a bitterness that some people don't like, but most will get used to in time. Many people, myself included, enjoy the taste. For larger dosages, such as the megadose, try mixing the Pine Pollen directly into water or another liquid. It can also be added to smoothies and shakes, as well as cooked with.
Capsules: 3 capsules twice per day. .43 grams per capsule which comes out to 2.46 grams.
How to Use Pine Pollen Pills, Tablets and Capsules –  You can modify the above dosage to equal a megadose or a smaller dose as needed. If you're using another brand of pills or capsules, you'll want to find out how much Pine Pollen is in each cap in order to calculate your dose. To take simply put the capsules in your mouth and swallow them down with a liquid.
Cycling Pine Pollen
Because of the stronger hormonal action of the tincture, we do recommend cycling your dosage routine as a precaution. Here are two options:
Take it 5 days on, 2 days off.
Take the recommended dose each day, every day, until you run out of the bottle. Then lay off for one week before starting again.
Like with dosage, there is no best cycling method. For much more on this topic, including cycling Pine Pollen and other herbs, see the article on our site Cycling Pine Pollen Tincture Tongkat Ali and Other Herbs.
Dosage for Men vs. Women
The above dosages are for men. But women can also benefit from Pine Pollen. The normal powder dosage of ½ to 1 teaspoon per day should work fine. You could even increase the dose up to 2 to 3 grams per day, but the megadose likely is not necessary.
Generally, Pine Pollen tincture is not recommended for women. However, we have found it works great for some. This is especially true if you know that you are low in testosterone (which seems to be the case for many women despite all the attention being paid to estrogen and progesterone).
For women, tincture dosage should be 1 to 3 DROPS per day. This tends to be enough and of a bottle will last a long time like this. Beware that doing too much can lead to side effects such as shoulder or back acne, but this is not likely to happen with minimal dosing like 1 to 3 drops.
Dosage with herbs is always just a starting point.
How Long Until Pine Pollen Works?
It depends on what you mean by works. For example, one effect that we noticed and discuss is the morning wood guarantee. Obviously, this only holds true for the guys (technically there is a female equivalent, but from the women I've talked to, they don't really notice it.) As a test, we recommend taking a megadose (10 gram) right before going to bed. Many guys wake up and voila!
But this doesn't work for everybody. Some guys continue this experiment for a number of days, and in a little bit of time, it happens. For others, it doesn't happen at all.
It can work right away or for some, never.
Morning wood is just one of the many possible benefits. Many people note greater energy, enhanced recovery from workouts, increased general well-being and much more. Once again, these can happen right away, or after many weeks of consistently taking the pollen.
Other Methods of Use
As mentioned above, Pine Pollen can be mixed into all kinds of things. In China, it was often added to baked goods. As it is similar in texture and appearance to flours of all kinds, why not?
Nor does Pine Pollen just need to be used internally. It can be used externally as well. Because of its many nutrients, Pine Pollen can benefit the skin.
Storing Pine Pollen
How should you store your Pine Pollen? Kept in the right conditions your Pine Pollen can last for years.
Time is not actually the problem. Instead, it is light, air and heat that make Pine Pollen and other herbs lose their potency. Heat is easy to take care of. Simply store it in a normal temperature place. Light and air can be the bigger culprits.
Note that tinctures are easy because of the amber glass. Simply keep the top screwed on when not in use and tinctures can literally last for decades.
The powder is a bit trickier. If you're not going to use it right away, keep it in a sealed bag.
If you do open the bag it best to seal it or move it into a jar to seal it. (Our Miron glass jars offer the best protection from light).  And then use the powder within a reasonable amount of time.
Pine Pollen for Bodybuilding and Athletes
(Understanding Anabolic vs. Androgenic Benefits)
As we dive into the topic of whether Pine Pollen is good for bodybuilding or other athletes, it is important to understand the difference between androgenic and anabolic.
Anabolic is the stimulating of growth of many tissues including the muscles and bones.
Androgenic is the stimulating of the male characteristics which can include the penis, seminal vesicle, and prostate gland size. It also leads to increased density of hair, deepening voice, more oil on the skin (in sebaceous glands) and other factors.
Depending on you, you may want more of one factor than the other. In general, for a bodybuilder or other athletes, the anabolic side is what is desired.
As mentioned above, there is very little research on Pine Pollen so we have to look at what we have available. One such study, that I saved for this section, looked at the anabolic vs. androgenic function of Pine Pollen in the African sharptooth catfish (Clarias gariepinus). They found that "Pine Pollen resulted in slightly, but significant inferior androgenic effect, but the anabolic effect was superior compared to both 17α-methyltestosterone, and testosterone." (The control groups were essentially fed straight steroids for comparison.)
Androgenic and Anabolic Effects of Pinus tabulaeformis Carr Pollen in Clarias gariepinus (PDF Download Available).
There is not as much androgenic effect, but a stronger anabolic effect. This is what anyone looking to build strength, without negative effects, is looking for.
As covered up above, the anabolic benefits may be enhanced by using Pine Pollen tincture for bodybuilding or other athletics. Or get the best of both worlds by using both the tincture and the powder as many of our customers do.
While you might be thinking of Pine Pollen for testosterone enhancement, there really is so much else that Pine Pollen can help with. Better recovery is one of the things we often hear about from hard-charging athletes.
[pt_view id="a0eb1ebby4″]
Pine Pollen for the Prostate
Some other herbs, such as Nettle Root Extract have lots of research about assisting in this area. Pine Pollen does not.
But we have heard from a number of customers about this helping here. Keep in mind that these are just some individual reports. But these case studies indicate that Pine Pollen can likely help in this arena, and companies should investigate this with further research.
Here is what Paul Thompson said:
"Your products are truly awesome and I apologize in advance for the length of this review! I have been working out since I was 13yrs old and am currently 50. I'm happy to say that I haven't stopped! 7 yrs ago I had an unknown medical ailment that obstructed my bladder causing me to almost die because my kidneys had grown to almost 4-times its normal size due to my inability to fully empty my bladder…Neurogenic bladder was the result, as well as the "joys" of self-catheterization until I could heal. Then 2-yrs ago in April, I was diagnosed with BPH and prostate cancer with a Gleason score of 6. I've always maintained a healthy diet but after hearing that diagnoses I began to search online for natural cure/alternatives. Then one day in an email from Rick Kaselj (one of your affiliates) he mentioned Lost Empire Herbs and Pine Pollen…the rest, as they say, is history! Literally too!!  At my last prostate exam in Aug 2014, all my readings were benign! My BPH levels are normal. I've also been taking He Shou Wu off and on for the last few months to help my kidney functions and can attest to it helping me. Also, your Tong Kat Ali is the bomb and a must to complete my "needs" :-). I have no reason to blow smoke up anyone's butt and normally I wouldn't give a review. However, I can't ignore the positive difference in my body since taking your products considering how careful I have to be with what goes into it. Keep up the good work!"
And Rob Lyons:
"Hi Logan. I wanted to let you know what I believe Pine Pollen has done for me. For over 20 years I have had to use a drug to help with prostate/urine flow problems and getting up 4 or 5 times a night to pee. I have tried several times to get off the drug without success until now! After starting the pollen I noticed I wasn't getting up as often and when I did I didn't really have the urge to go so I tried not taking my pill before bed. I have now gone 63 nights without the pill and I average getting up less than once a night!! My urine flow isn't perfect but I'm not going back to the drug and I sleep much better. My wife gets up more often than I do. Hahahaha. As far as morning wood goes if I take 1 heaping teaspoon twice during the day and 4 at night before bed the morning woods is great! I have recently started using the tincture as well about 4 days a week. Thanks."
One of the things that occur with BPH and other prostate issues is that urination becomes more frequent and with other issues.
Dr. Clifford N. Alford said:
"Before getting your Pine Pollen, when I would urinate I either had to sit on the toilet or stand with my legs spread over it so that I could dribble into the toilet without showering the whole area. As of the morning after the megadose test, I can stand about six inches away from the toilet, and hit the back wall of the toilet with a steady stream of urine."
Once again, not everyone that takes it is going to get these kinds of benefits. But this gives us a starting point, that it can be helpful to try for prostate issues.
Now let's cover the mechanisms by which it may work. As previously covered Pine Pollen helps regulate the hormones. BPH, that is benign prostate hyperplasia, has a lot to do with the hormones. While older information points to DHT being the culprit, more modern research shows that estrogens tend to be the bigger factor. You can read more about this in our article about the Prostate.
By increasing testosterone, and having glutathione and other components that help to detox xenoestrogens, this can help support the hormone health of the prostate in addition to other areas of the body.
Pine Pollen Libido, Sexual Vitality, and Erectile Function
When we first started taking Pine Pollen we noticed a certain effect. Stronger morning wood. Of course, we (myself and my two brothers, the owners of Lost Empire Herbs) were all relatively young guys. So we weren't really lacking in this department in the first place.
I later came to find that morning wood is not simply a black and white thing. You can look at multiple factors including the hardness, the length of time it lasts, and how many you get during the night/morning. I wrote about that extensively inside this special report.
And we kept hearing this from our customers too. That's when we put out the "Morning Wood Guarantee," along with the Megadose protocol on the Pine Pollen powder. Now, this doesn't mean we guarantee this will happen for you. Nothing works for everyone. But if you're looking for that and it doesn't work, that's what our money back guarantee is for.
You may be thinking, who really cares about morning wood?
You should because this is a good signifier of health in a man. And if it's working then, it tends to work well at other times too.
Many men take Pine Pollen to help restore healthy erectile function. It does this through the hormone support and some other mechanisms too. For more details on the subject please see our article Erectile Dysfunction.
With libido, it's a related matter. This is testosterone dependent to some degree, though it is not the only factor.
Another question we often get … Will Pine Pollen shrink your testicles?
This is something that occurs with steroids and is not going to happen to with Pine Pollen short of insane abuse (like drinking a bottle of tincture per day). Even then I don't know, but that would be too much and would certainly cause some sort of side effects.
Pine Pollen Allergies
Do you think you might have a Pine Pollen allergy? 
It is possible, though this is far less common than other common allergies, including many other pollens.
If you get itchy, watery eyes, or start sneezing in the springtime when the Pine Pollen is abundantly spreading out across the landscape (and covering your vehicle with its yellow pollen grains), this doesn't necessarily mean you're allergic. Lots of other pollens and other possible allergens are out and about at the same time.
It might not even be the pollen itself but various fungi and molds that are in the air.
If you think you might have a pine tree pollen allergy but want the benefits of taking Pine Pollen then we suggest you test it out. Take a small amount like ¼ teaspoon. If you get any common allergic symptoms such as red eyes, itchy throat, runny nose, etc. then you just might have an allergy. If you have no negative side effects than you're likely good to go.
And even for those with Pine Pollen allergy symptoms, there's been people that take the Pine Pollen tincture without any negative effects.
What about other Pine Pollen Side Effects?
Besides Pine Pollen allergies are there any other potential side effects? Is Pine Pollen dangerous?
To look at this it is best to break it down into two categories:
Pine Pollen powder side effects
Pine Pollen tincture side effects
Each of these is a little bit different.
So, let's start with the powder. Every human is a little bit different. For this reason, not everything works for everybody, and sometimes people react negatively.
That being said, we have not heard of anybody having any negative side effects from Pine Pollen powder beyond the allergies already mentioned.
The Pine Pollen tincture could be a bit different. As covered earlier, the tincture draws the hormonal component out, making them more available to the human body. They can be absorbed straight into the bloodstream rather than passing through digestion.
For this reason, Pine Pollen tincture is generally not recommended to men under 30 years of age. And if our environment wasn't so polluted with xeno-estrogens and other endocrine disrupting chemicals, it would be more suitable for guys in there 40's, 50's or 60's and above only. Younger guys simply shouldn't need this added hormone boost.
And for that reason, it is generally not recommended for women or children.
Why? Same reasons, they generally don't need the big hormone boost, and in fact, it could be detrimental to them.
But women sometimes do need more androgens (and this is more common than you might think). We've heard reports from several women who have wonderful results by taking one or a couple drops of the tincture. Not a dropperful, but drops.
I had my wife experiment with this. I told her to take one drop but she didn't hear that and was taking half a dropperful. And one of the possible pine pollen tincture side effects came up. Back and shoulder acne. This common sign of male puberty comes about because of increased androgens in the body, so it can be a good sign, man or woman, that you may be taking too much.
Too much could also cause the opposite effects of what you may want to occur. Less libido, less erectile power, overly aggressive. Again, these typically happen with too much. The key is the right dose.
Lastly, some people ask…
Is Pine Pollen a banned substance?
The answer is no. The best of our knowledge it is legal in every country in the world (though that doesn't mean customs won't create hassles around it…I'm talking to you Canada and Australia!)
But in the future, it is possible that some sports leagues could ban it. It does look like Lost Empire Herbs is on the NFL banned companies list, along with some others such as Jarrow Formulas, Premier Research Labs, and many more. Simply because it contains some banned substances, despite very small trace amounts, and it comes like this from nature. To put this in another light, realize that your body contains banned substances too. Essentially, you're carrying illegal drugs. Such is the bureaucratic world we live in.
DIY Pine Pollen
How to harvest Pine Pollen
In the future will have our own Pine Pollen harvesting video, but in the meantime, this is a great one to check out.
Spring, give or take a month or two depending on where in the world you are, is when the pine trees start to release their pollen. You'll want to look for the male pine cones, which are much smaller than the female cones you may be thinking of. Pictured here are some immature cones. They look like this, but you'll need to wait a bit longer to get the pollen from them.
Harvesting Pine Pollen is easy.
Tap these in the springtime and you'll see a puff of pollen explode into the air. You can shake these cones into a container. You can also collect the cones then filter them from the pollen later. To separate the Pine Pollen grain from the cones, simply shake over a fine sieve.
Where to harvest Pine Pollen?
You can do this anywhere pine trees are found, which is most of the Northern hemisphere, and a few spots in the tropics of the Southern hemisphere. There are at least 126 different species of pine spread throughout the world. They grow in all kinds of ecologies from the semi-arid desert to rainforests. So, collecting Pine Pollen can be done anywhere you find them.
How to make Pine Pollen Tincture
If you harvest Pine Pollen or buy Pine Pollen from us or other sources, you can use that to make your own tinctures. This is a very cost-effective way of making some strong endocrine support for yourself, friends and family.
This video is old, but popular showing you the steps to follow.
For more of the written steps and instructions see this article: How to Make Pine Pollen Tincture.
And for an even longer rundown, using ginseng instead of pollen, this newer article too. How to Make Herbal Tinctures Step-by-Step.
One caution before you jump in… because the Pine Pollen grains are so tiny, the alcohol will basically turn to mud. This can be tougher to work with than other tinctures.
Combinations and Comparisons
Pine Pollen vs Nettle Root
There are two ways we can look at this. One is molecular. As mentioned above the pollen has many hormonal components to it that seems to help in regulating testosterone. Nettle Root also has hormonal components, but these don't directly boost testosterone in the same way. Instead, they appear to help testosterone to stay testosterone by limiting aromatization (conversion of testosterone to estrogen), limiting sex hormone binding globulin (which makes testosterone not free), and limiting 5-alpha-reductase (conversion of testosterone to DHT).
The other way of looking at it is Yin and Yang. Pine Pollen is a very Yang substance, meanwhile, Nettle Root is much more Yin in comparison. When looking at the benefits of Pine Pollen, we often just think in terms of that, but it's important to look at the Yin side of the equation too. That's why working with both of these can be complementary and synergistic. On that note, they both appear to support a healthy prostate well.
Pine Pollen vs Nettle Root Tincture
All of what is said above is true. While the Pine Pollen tincture makes the hormonal boosting much more apparent than the powder, we can't say for sure if that is true with the ettle Root. There is not enough evidence, anecdotal or otherwise, to say whether our Nettle Root extract powder or tincture is better for one thing over the another.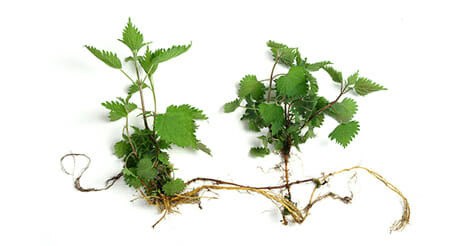 Pine Pollen vs Ashwagandha
Ashwagandha is often thought of as a testosterone booster. But how it works is much different than Pine Pollen. With Ashwagandha, such as in our spagyric tincture, the main method by which it appears to work is by lowering cortisol, the stress hormone.
Since cortisol is inversely related to testosterone, by lowering cortisol you can often see increases in the androgenic action. Which one of these will work better for you depends on you and your circumstances. If stress is a big problem, Ashwagandha might be a better fit. Both Pine Pollen and Ashwagandha can be combined.
Pine Pollen vs Maca Powder
Maca has a reputation for helping the hormones, but according to the studies I've seen it really doesn't seem to affect them much. Instead what it is great at doing is increasing libido and energy.
Since many people are looking for those benefits as being related to testosterone and other hormones, it makes sense that this confusion could occur.
Once again, these can be combined together for synergistic benefits.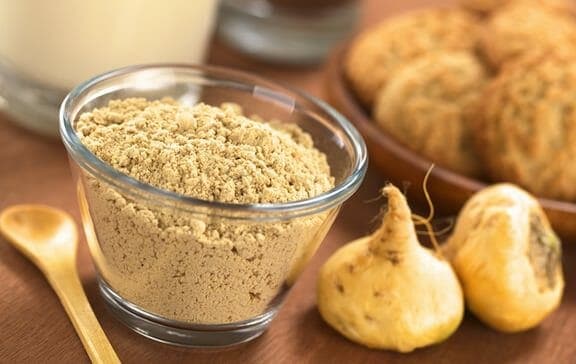 Pine Pollen vs Shilajit
Shilajit is known as the destroyer of weakness and is a strong mineral pitch that comes from Ayurvedic medicine. Shilajit is not directly hormonal in any way that I've seen. Instead, it does many things in the background, which may, in turn, affect the hormones.
First, it is loaded with trace minerals which are used in all kinds of reactions within the human body, including such things as hormone conversion.
Secondly, it contains fulvic and humic acids, as well as dibenzo-alpha-pyrenes. These substances are great for helping detox the body. One thing that many people don't realize is that all hormones much be processed and detoxed from the liver after they're used up. Aiding this process can be helpful for ideal hormone health.
Third, it is great at aiding energy metabolism.
Shilajit has been nicknamed "Indian Viagra." It got this name not cause it works anything like the drug, but because it does all these things in the background, which can restore things to working order like a normal healthy person would.
Pine Pollen and Shilajit go well together. You'll find them combined, along with two other herbs, inside Phoenix Formula.
Pine Pollen vs Tongkat Ali
Which is better for increasing testosterone? Pine Pollen tincture or Tongkat Ali? I wish I could give you a clear answer. Alas, I cannot. Instead, I see these two as the two strongest testosterone increasing herbs we have.
There really isn't a better as one may be better for one person, while the other works better for the next. Both are strong. Both work in different ways. And many of our customers have had great success in using both at the same time.
Pine Pollen vs Bee Pollen
Bee pollen is commonly found in health food stores and tends to be the only pollen that most people think of taking internally. Bee pollen is collected by bees from various flowers (wildflowers, sage, raspberry, buckwheat, orange blossoms, etc.)
Bee pollen is collected from the bees as they fly back to their hives. It can be a great supplement with many health benefits. But the big difference is that it does not appear that any of these plant pollens have the same phyto-androgens that Pine Pollen possesses.
Pine Pollen vs Flower Pollen
This is very similar to the above bee pollen answer. Other pollens are collected from flowers (cattail pollen, Swedish flower pollen, etc.) without the use of bees. Once again, these can be great for your health but do not appear to have the phyto-androgens or the androgenic effects that Pine Pollen gives.
Pine Pollen vs Pine Bark
The pollen isn't the only useful part of the pine tree. Pine bark can also be used. In this case, a specific type of pine tree, the French marine pine, is most often used. Pine bark extracts are very astringent. It contains oligomeric proanthocyanidin compounds or OPC's. These possess strong antioxidant, antibacterial, anti-inflammatory and anticarcinogenic properties.
One of the benefits of pine bark is its effects on erectile function. One Japanese study saw positive results using pine bark extract along with L-arginine in people with mild erectile dysfunction. It makes sense that pine bark extract combined with Pine Pollen could have great synergistic benefits.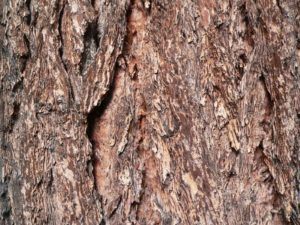 Pine Pollen vs Pycnogenol
Pycnogenol® is simply a trademarked type of pine bark extract. Therefore, everything said above, more or less applies.
Pine Pollen vs Pine Nuts
The pine nut comes from the female pine cone. These do appear to have testosterone and other phyto-androgens but in even smaller amounts than what is found in the Pine Pollen. While pine nuts are great to eat, in pesto, trail mixes, or just straight, they're not going to deliver the same kind of benefits you'd expect from the pollen. Plus, they seem to be very expensive with the price always increasing.
Pine Pollen vs Tribulus
Tribulus is another well known Ayurvedic herb sold especially for male health purposes and just for general health purposes. While it has a reputation for increasing testosterone that doesn't appear to be the case in studies. What has been shown is increases in libido and sexual well being in rats, and in one human study. It has been shown to enhance androgen receptor density in the brain, though this hasn't been confirmed elsewhere, such as the muscles or sexual organs. Tribulus may work great for some people, while Pine Pollen works better for others. Once again, the combination could be quite useful in many cases.
Pine Pollen vs Deer Antler
Deer antler is another androgenic substance. The tips of the growing horns of the deer (it doesn't actually have anything to do with the velvet, except that that is there, compared to when the antlers become calcified bone) have ectosaponins and other unique compounds. These chemicals seem to trigger growth in important ways.
Although the research does not appear to back this (with deer antler products, quality heavily matters) it is theorized to help with growth hormone, more so than testosterone specifically. As these are anabolic brothers with many similar effects many people might try using these interchangeably.
We have a tincture formula in the works that combines both high-quality deer antler along with Pine Pollen.
Pine Pollen vs Steroids
Steroids are bioidentical hormones, or synthetic substitutes, that are typically injected into the body. They can only be obtained by a doctor's prescription or illegally.  While they certainly can have benefits, the side effects can potentially be harmful.
While Pine Pollen contains androgenic hormones, it's nowhere in the amounts that are used in steroids. It is more the signals this herb gives your body, rather than the direct supply, that helps to bring your hormones towards greater balance.
Customer Reviews
Pine Pollen is our number one seller and you'll find we have more reviews than anyone else when it comes to the best Pine Pollen supplement.  As we always tell people, nothing works for everyone. Therefore, you can't always expect a perfect rating. Unfortunately, for some people, it doesn't work. But for many others, it can be life-changing.
Pine Pollen Powder Reviews
As of writing this article we currently have 135 customer reviews, with an average rating of 4.3 stars out of 5. When you're reading this we're likely to have even more. Here's just a small sampling:
Larry Hart (verified owner) – May 5, 2018
"I've tried other so-called test boosters, but nothing compares to Pine Pollen. I've only used it for2 weeks and have placed my 2nd order. This product does as it says. Later I'm gonna try the tincture with the powder. You guys are great. Excellent customer service. You are my new supplement company. Can't wait to try more products."
Christopher (verified owner) – March 7, 2018
"Before I found out about Pine Pollen from my brother, I had been going through anxiety, depression, and I experienced a bad drop in my libido. It was during this time that I also found out from my doctor that I had very low testosterone (and I'm a young guy). I spent several weeks hopelessly doing research on natural approaches to increase my testosterone, restore my libido, and get through the ups and downs I had been going through. It wasn't until I tried taking Pine Pollen that I realized there's hope! Within my first few days of taking the Pine Pollen at its standard dosage, I quickly noticed major improvements in my overall well-being in addition to a restored sex drive, resulting in morning wood and stronger erections. I continue to take Pine Pollen every day to keep myself set on a healthy trajectory. I'm very pleased with the results I've been getting from this miracle herb and I honestly believe that it will be of great benefit for others experiencing similar stresses at any stage of their adult lives. Believe me when I say that I'd be doing a huge disservice by not sharing my experience with this review. I'm a customer for life!"
Earl Heath – October 19, 2017
"I tried Pine Pollen and was skeptical of the benefits. I use it in my morning smoothies and noticed the things down below became more "Rock Solid' as well as seeing a boost in strength. I really could tell when I went a couple of months of not taking the supplement. I continued to lift weights and noticed I wasn't making any gains in strength. I ordered a megadose and within two days of consuming the product, I almost doubled my reps in the gym. This is by far the best bang for the buck of supplements that I have ever tried."
Pine Pollen Tincture Reviews
Both our capsules and powder, in the 50 and 250-gram size bags, are located in the same place and share the same reviews. But the tincture is on a separate page and has its own set of reviews.
Our tincture, at the time of writing, has 50 reviews, coming in at just above 4 stars on average. Here's a small sampling of our best Pine Pollen tincture reviews:
Keith Clark (verified owner) – September 11, 2017
"I am a 50+-year-old man, and as we all well know without the proper diet and activity or exercise which is not always easy to come by on a daily basis. Things go downhill, as well naturally so does our testosterone production that significantly decreases in our later 40's. Over time we just don't feel like men at times, at my age. In fact, if it were not for urination many would likely have seldom use for our little life long friend. I had been prescribed viagra by my doctor. But once I learned about the side effects and the physiology addiction I immediately stopped years ago (once viagra always viagra, or viagra dependent or something close to it). I had read about Pine Pollen on several websites. The first time I tried your Pine Pollen tincture I was amazed at the difference it made in my libido and stamina. The long lost morning wood is exactly a perfect way to describe it. I ride a bicycle to school with my son 5 days a week and pick him up later in the day. I enjoy the low impact aerobics I get from it that keeps my circulation and heart in good order. After using the tincture for three days. My girlfriend was definitely pleased with my new found arousal and if I might add so was I. I have now ordered and started the Pine Pollen Megadose, and recently Tongkat Ali. With this newfound abundance of energy. I am optimistic after what I have experienced with the tincture alone thus far. That the herbs I have ordered over time will continue to resurrect my sex drive and improved my health and overall quality of life."
r.justin.carroll (verified owner) – March 16, 2017
"I'm 48 and have definitely noticed a drop off in libido the last few years… while this isn't the instant "fix" of viagra type medications, if you give it time and stick with it (cycling on 5 days off 2) then you will see (feel?) results within a few weeks at worst. It took about 2 weeks before I noticed it and now after a month it's definitely a solid addition to my regimen (pun intended.) Make sure to let it sit under your tongue as long as you can without swallowing for maximum effect. Good stuff! A+"
Emma – March 4, 2017
"Finally a product that does what it says. I bought this for my husband. He and I have suffered with his no libido, weight gain and just lack of energy and zest for life. He has been taking the tincture everyday for just over a month and we are ecstatic. I must say that since he teamed up the tincture with to grat Ali we have REALLY noticed it has enhanced the process. He has noticed more clarity in his mindset, his libido is back and I cannot keep up with him. We feel more connected and it's helped our relationship. He was already on a fitness regime and had lost weight but he feels like this has helped him with being motivated. He gets up at 4.30am to do his exercises and he is no longer bombing at 3pm. Not only has this helped our sex life but I have my happy husband back who has found his mojo and loves life. My only complaint is that in Australia we don't have access to your herbs.. We have tried Myomin and other products to help him but to no avail. It's so refreshing to actually buy something and it works and it's natural. Congratulations to your product."
Where to Buy Pine Pollen?
Of course, you can buy Pine Pollen here at Lost Empire Herbs. We sell Pine Pollen to just about every country in the world including the USA, UK, Canada, Australia and elsewhere.
Not only right on our website, but you can find our brand on Amazon.
We have Pine Pollen for sale at many times throughout the year. The best bet is to sign up for our email newsletter. Not only do we give you 15% off your first order, but then you'll hear from us about sales, new products, new articles and much more on a regular basis.
Why should you buy from Lost Empire Herbs?
We believe we have the best Pine Pollen brand because with independent lab testing you know you're getting what we say you're getting without contamination from microbes or heavy metals. In addition, we treat our Pine Pollen with steam rather than irradiation to sterilize it. And it is cheaper than some other brands, but not too cheap.
Fun fact for those who haven't been with us too long. We used to be called Superman Herbs before a trademark issue with DC Comics forced us to change our name. So, for those looking for Superman Herbs Pine Pollen, it's the same great stuff found under our new name.
At this time, you won't find our Pine Pollen in Vitamin Shoppe, GNC or most other retail outlets. While we plan to enter retail in the future, buying online is the best place to find us.
I hope this article has helped you to understand pine pollen better and everything that it can do for you. It's just one piece in our commitment to educate and bring you the highest quality herbs we can make available.
To pick up pine pollen powder or capsules go here.
And to grab a bottle of pine pollen tincture, or several go here.
And if you happen to any any other questions about this amazing herb that aren't addressed here, ask them in the comments below.
Latest posts by Logan Christopher
(see all)