He Shou Wu – The Yin Jing Powerhouse and Top Anti-Aging Herb of Today*

If you've lost your youthful vigor, potency, strength, and energy, try He Shou Wu.*
If it worked for Mr. He, it could work for you!
In the heart of ancient China, in a village nestled among misty mountains, lived a man named Mr. He. Age had dulled his spirit, loneliness and sadness echoed in his footsteps, while thin white hair interwove on his scalp. Every night, he sought solace in wine, drowning the pain of a childless life.
Mr. He's loneliness wasn't due to a lack of desire but an ailment that rendered him impotent. And so, one fateful night, inebriated and weary, he ventured deep into the mystic woods, seeking a place to rest his sorrow-laden heart. 
As he lay beneath the canopy, he dreamt a vivid dream: a family with children laughing and playing, a loving wife waiting at home, and his hair—ebony and lustrous—symbolized his strength and vitality.
Awakening with a heavy heart from this dream of desires unfulfilled, Mr. He noticed something peculiar—a twisted root, unlike any he had ever seen. Its intertwined form resembled two lovers lost in a passionate embrace.

With the root in hand, he returned to his village. The wise man, a sage with knowledge as deep as the oceans, couldn't identify the root. But he did have insight: "This root chose you," he declared. "Perhaps within lies the answer to your prayers."
Intrigued, Mr. He brewed a tonic, the scent earthy and invigorating. And as the first drops caressed his lips, a rush of energy, like a jolt of lightning, surged through him. Each day, as he drank more, he felt rejuvenated, more alive than he had in decades.
Before the village's very eyes, Mr. He transformed. The white hair darkened, the frailty replaced by vigor, and a zest for life returned to his eyes. Mr. He soon married, and the laughter of not one, but nineteen children echoed in his home. He lived for another century, his tale whispered from one generation to the next.
To this day, that miraculous root bears his name—He Shou Wu, which means Mr. He's Black Hair (or Hairy Back depending on the translation).
With a legend like that, wouldn't you want to give He Shou Wu a try? (But please don't set your expectations quite that high. It is the hyperbolic stuff of legends, after all.)
Are You Yin Jing Deficient?
Do you feel that the zest of your youth has slightly dimmed with time?
In Chinese Medicine, there are three treasures: Jing (essence), Qi (energy), and Shen (spirit).

Jing is associated with your DNA, your constitution and your body on the whole. Jing is often likened to a deep reservoir of our life force, from which we draw energy, vitality, and resilience.
This vital essence is split into two key aspects: Yin Jing and Yang Jing. Yin Jing, in particular, is often associated with the body's nourishing, cooling, and foundational energies, which are responsible for replenishing and maintaining the body's deepest fluids and cellular regeneration.
Although many of our customers run to the stronger Yang herbs (like Pine Pollen and Tongkat Ali), if they're not finding those working, they could be Yin deficient. And in any case, you want to balance the Yin and the Yang. 
Common indicators of Yin Deficiency include:
Decreased libido

Fertility issues

Premature aging

Brittle bones

Flagging energy

Lack of drive and confidence

Depression

Mental dullness

Night sweats

Dry skin, throat, or eyes

A red tongue with little or no coating

Dizziness

Ringing in the ears

Lower back pain

Knee pain
In the Chinese outlook, Jing can be said to "leak" away as you age or definitely during disease. Kidney or Yin Deficiency has been called having a dead or nearly dead battery.
Very often, nourishing the Yin is what is needed to make the Yang (sex, athletics, success) more likely.
The Top Yin Jing Herb of Chinese Medicine
Dive into the rich annals of history and you'll find He Shou Wu has been the go-to remedy for those seeking to reignite their youthful energy and equilibrium.*
He Shou Wu, also often called Fo-Ti or the Latin Polygonum multiflorum, is perhaps the very best and most well-known Yin Jing herb in Chinese Medicine.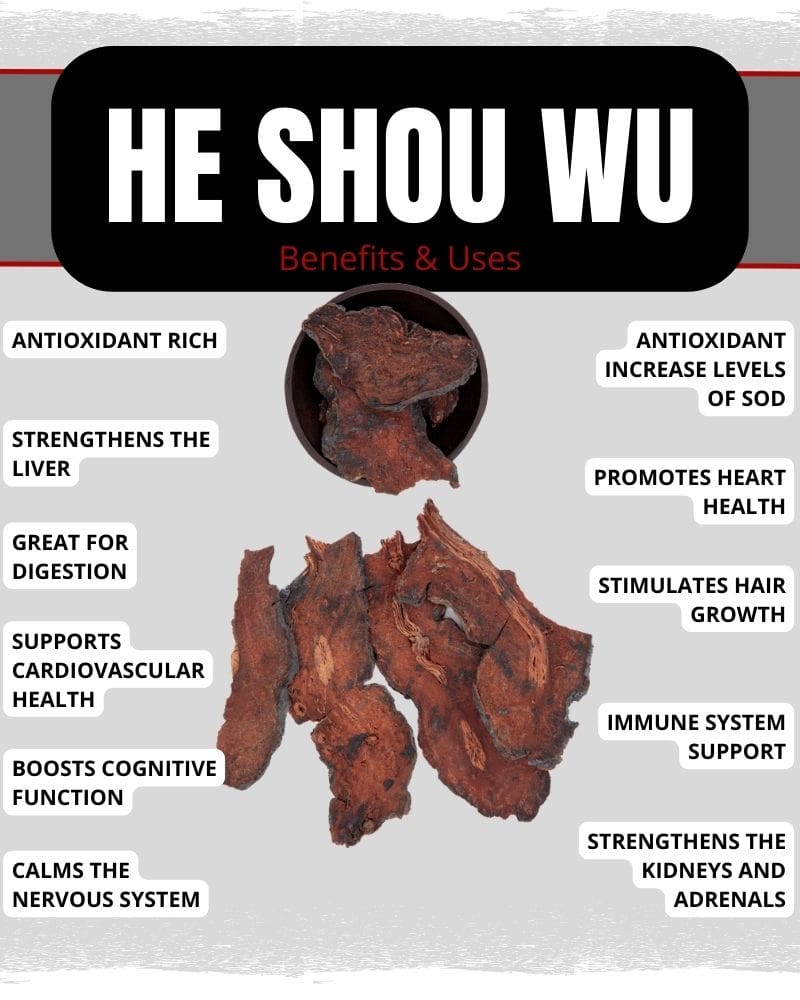 Over the years, it has earned a reputation for the following benefits:
Nurture your liver and kidneys through effective detoxification*

Cultivate luscious hair with enhanced growth and vibrant hue*

Delicately soothe and stabilize the nervous system*

Naturally fortify sexual vitality*

Enrich blood quality and fortify blood cell health*

Reinforce the foundation of health: your kidneys and adrenals*

Sharpen your mind for enhanced clarity, retention, and cognition*

Alleviate the discomforts of low back and knee pain linked to Kidney health*

Amplify your body's immune defenses*

Preserve gland health, delaying its natural degeneration*

Bolster the strength of your muscles and tendons*

Enhance the tranquility and quality of your sleep*

Safeguard your skin against the ravages of time and environment*
The Scientific Outlook on He Shou Wu
While there are only a few human trials available at this time, other research done on He Shou Wu has found the following effects:
Anti-Aging Effects*

Neuroprotection*

Enhanced Cognition and Memory*

Increased Antioxidants (SOD and Glutathione)*

Immunomodulating*

Supports Healthy Cholesterol Levels*

Hepatoprotective (Supports Liver Health)*

Support Cellular Apoptosis (Programmed Cell Death)*

Regulates mTOR Pathway (One of the Main Anti-Aging Pathways)*

DNA Protective and Anti-Mutagenic*

Anti-Inflammatory*

Antiviral*

Increase Nitric Oxide*

Improve Endothelial Function*

Enhanced Mitochondrial Efficiency*

And More
Hundreds of important compounds in He Shou Wu have been found that can lead to health and anti-aging.* 
The principal constituents of the plant are the tetrahydroxystilbenes (called TSG for short). There are at least 12 different forms of TSG. Plus, there are many other stilbenes, quinones, flavonoids, phospholipids, and others. 
Another main constituent of He Shou Wu is the anthraquinone, emodin. These compounds are being widely investigated for all the above effects. 
Does He Shou Wu Actually Restore Gray Hair to its Natural Color?
Yes, in some cases.* But no, not in most.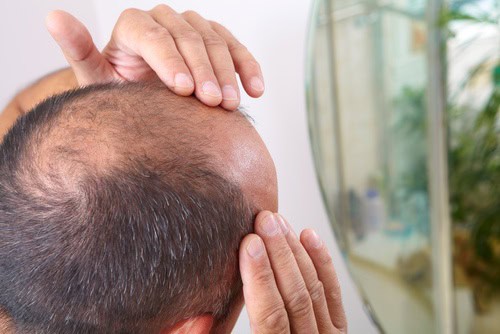 Some studies have found that He Shou Wu boasts an ability to reverse graying hair.* He Shou Wu helps preserve melanin content, the pigment responsible for hair color.* Additionally, it promotes melanin synthesis.*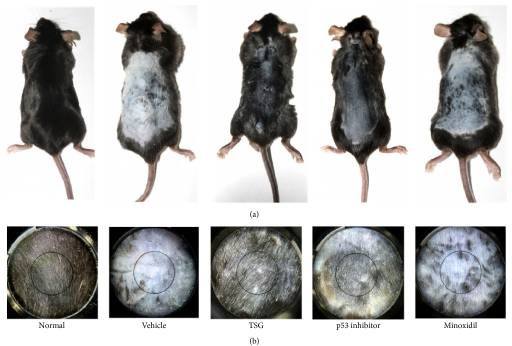 But He Shou Wu's magic isn't limited to color; it's known for boosting hair growth too.* Dive deeper, and you'll find studies spotlighting dermal papilla cells, crucial players in hair growth.* When treated with compounds from He Shou Wu, some of these promoted cell proliferation, with one even significantly enhancing hair fiber length in just 21 days.*

Real-world trials with men and women have shown some results.* He Shou Wu can work both when taken internally as well as when used topically.*
However, we have found that only a small percentage of our customers see results in these areas from internal use of He Shou Wu. Nothing works for everyone. 
For more information, please see He Shou Wu for Hair Loss, Hair Growth, and Gray Hair.
Two He Shou Wu Extracts Available for You…
There is an Organic Spagyric Tincture and a 10:1 Powdered Water Extract available. 
Raw roots act as a strong laxative and don't provide many of the positive effects of the prepared version.

He Shou Wu has traditionally been prepared with black beans, ever since the Tang dynasty, as was written up in "Xian Shou Li Shang Xu Duan Mi Fang," or the Secret Formulary for Traumatology and Fracture Taught by Immortal.
This involves stewing the roots in black bean juice before removing and drying them. Such preparation helps to change chemical compounds inside.
Both versions use prepared He Shou Wu roots, but at this point the processing is different.
10:1 Water Extract of
He Shou Wu Powder
The prepared root then goes through a 10:1 reflux extraction process, meaning it takes 10 pounds of roots to make 1 pound of extract.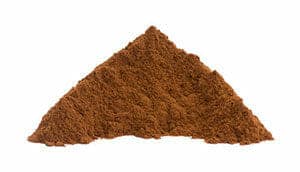 The reflux extraction process involves crushing and stewing the prepared root in pure water and then distilling the essence-filled liquid to arrive at an incredibly pure product.
The process is done three times over the course of 4.5 hours to get the purest essence of the herb available. This essence is then filtered, further concentrated and air-dried to give you the highest quality and strongest extract you can get.

Here's a visual overview of the entire process: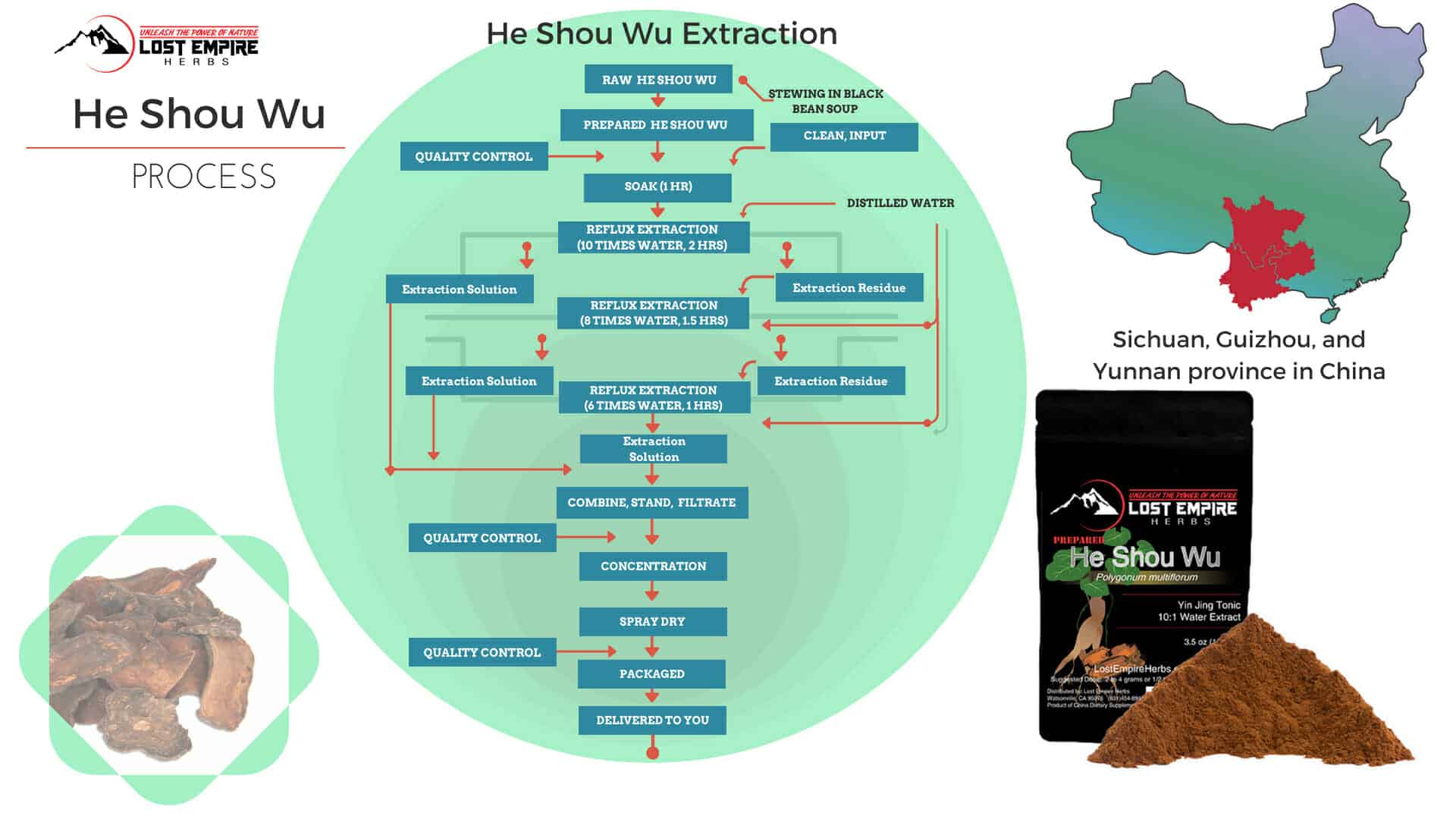 The spray drying process necessitates the use of maltodextrin. Thus, the final product is about 10% non-GMO corn maltodextrin.
Alchemical Processing and Quality of the He Shou Wu Spagyric Tincture
For the tincture, the roots are harvested, prepared and dried, all steps done certified organically in China, before being used to make the tincture. The remaining steps are done inside the USA. 
The roots are then tinctured for over six weeks in a menstruum made with organic cane alcohol (40% ABV) and distilled water. It's stronger than a 1:2 tincture (technically 0.6g/1mL).
After the maceration is complete the roots are pressed to expel the menstruum. Instead of throwing out these roots as would be done in a regular tincture, they're calcined and ground down into a fine white ash, then further extracted with distilled water and a gentle evaporation process until crystals are formed. These purified "salts" are added back into the tincture to finish the process.
These roots are USDA Certified Organic, as is the Organic Cane Alcohol used for the tincture. 
There is nothing besides prepared He Shou Wu roots, organic cane alcohol, distilled water, and the crystalized "salts" of He Shou Wu added back in, used in this tincture. 
This alchemical or spagyric preparation yields a more powerful, more embodied tincture. Not only does it add trace minerals into the tincture, but seems to aid in electrical signaling that occurs in your cells.
Taste, Characteristics, and Recommended Dosage
In Chinese Medicine, the color BLACK is associated with the energy JING. In other words, many things black in color are good for supporting your Jing.
This tincture is a very dark brown that often appears black, depending on how much light there is. Our He Shou Wu Spagyric Tincture has a strong salty taste. This taste is associated with the Water Element, specifically the Kidney Meridian, which is the storehouse of Jing. Besides that the taste is somewhat chocolatey. 
Tincture Dosage:
The recommended dosage is one dropper, which is 1 mL or 30 drops daily. This comes in a one-fluid-ounce bottle, so there are about 30 droppers per bottle. At the recommended dose a bottle will last about 30 days.
This dose is just a starting point. You can modify the dose up or down as you see fit.
Tinctures are best squirted into the mouth and held under the tongue for about half a minute before swallowing. Alternatively, you can add this to drinks, tea, smoothies and more. 
We have not yet tried topically using this He Shou Wu tincture on the hair for color or thickening effects. If you try that out, please let us know how it goes for you. 
Powder Dosage:
The powdered He Shou Wu extract is a medium brown color. It is straightforward and versatile to use. Just mix ½ to 1 tsp into your morning and evening water, coffee, tea, smoothies, juices, etc. It's very easy to incorporate into your daily routine. You could also make a calming tea by stirring your dose of the powder into a cup of near-boiling water. 
The ½ to 1 tsp daily dose yields 54 to 27 servings per bag.
Both He Shou Wu's are gluten-free and vegan-friendly.
Contraindications and Possible Side Effects of He Shou Wu
He Shou Wu, in its raw form, is a powerful laxative. However, our product is made with the traditional preparation method of cooking it in black bean stew. The most common, though rare, He Shou Wu side effects are slightly soft stools and mild gastrointestinal discomfort. With the tincture instead of powdered form, there should be zero gastrointestinal distress.
As shared above, He Shou Wu is protective of the liver. However, there are some case reports of liver damage. This seems to be overblown and is covered extensively in this article: Does He Shou Wu Damage the Liver? Still, if you see any jaundice or blood tests that reveal elevated levels of ALT, ALP, or bilirubin, please stop taking He Shou Wu to be safe. 
He Shou Wu is typically safe to consume for relatively healthy adult men and women. 
Children and pregnant or breastfeeding women should not consume He Shou Wu as this has not been studied.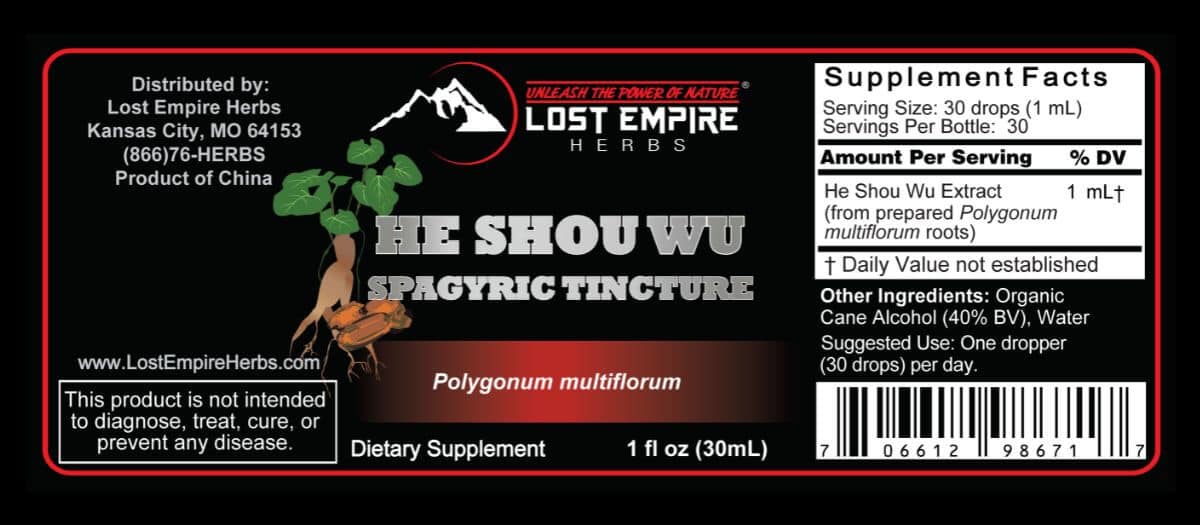 *These statements have not been evaluated by the FDA. This product is not intended to diagnose, treat, cure, or prevent any disease.

WARNING: Consuming this product can expose you to chemicals including Lead, which is known to the State of California to cause birth defects or other reproductive harm. For more information go to www.P65Warnings.ca.gov/food.
For more information on what this warning is, visit https://lostempireherbs.com/california-prop-65