He Shou Wu is one of the top anti-aging tonic herbs from Traditional Chinese Medicine (TCM). It has a reputation for assisting in several hair-related issues including hair loss, hair growth and for stopping or reversing the graying of hair—darkening it and reversing it back to its natural color.
Hair is an important aspect of appearance for both men and women. And when you're happy with your appearance, you're more likely to have confidence and to be happier in all other areas of your life. Unfortunately, both hair loss and gray hair are common issues that most people begin to notice as they age. One or both of these issues are often considered the inevitable side-effects of old age.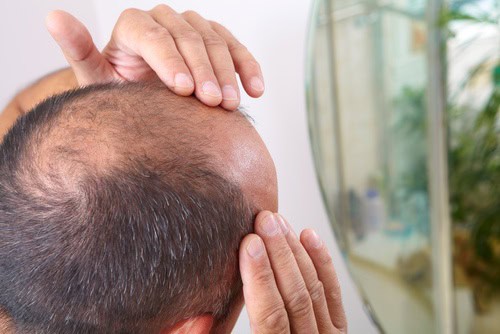 In our culture, there is a high importance placed on having a youthful appearance. So it's no surprise that anti-aging products, remedies, and regimens have created a booming industry. This is where He Shou Wu comes into play, but first, let's cover some of the basics.
What Causes Hair Loss and Gray Hair?
It is not old age itself. This is obvious because young men and women can also experience hair loss and the early graying of hair, just as so elderly men and women maintain their darker natural colors. Instead, it is more likely due to one or more factors that occur over time, such as:
Poor nutrition
Poor mineralization
Heavy metal toxicity
Sex hormonal changes
Thyroid conditions
Chronic stress
Immune malfunction
Genetics
I also want to mention the last one, genetics.  Genetics certainly plays a major role… however,  it is not the sole causative factor. The field of epigenetics is rapidly expanding in awareness among the general population. What this means is that let's say you have genes for losing your hair. Well, epigenetics IS essentially the many environmental factors that can work to turn on or off those genes. Ultimately, these epigenetic factors are going to come down to the things mentioned in the above list.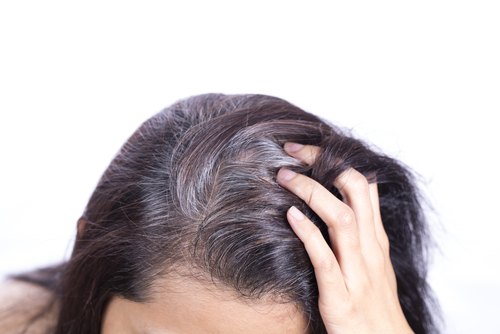 DHT and Hair Loss
DHT can bind to receptors in your hair follicles causing them to shrink or even die. Thus, some people have focused on getting rid of DHT to prevent hair loss, especially in androgenetic alopecia, which is better known as male pattern baldness. This is seen with receding hairlines or hair loss on the crown. BUT that comes at a cost as DHT is an important and powerful hormone that has lots of other uses, including sexual function, muscle mass and more.
5α-reductase (read 5-alpha reductase) is the enzyme that converts testosterone into DHT (dihydrotestosterone). Thus many "baldness cures" look at reducing this enzyme to reduce the DHT presence.
This is how the drug Finasteride works. But as reported by many of our customers who originally took Finasteride to combat male pattern baldness, it can also permanently alter your hormone levels and sexual function in a negative way. This is something known as Post-Finasteride Syndrome which you can read more about here.
Yes, excess DHT may be a problem…but what is causing it to bind to the hair follicles in the first place? All the above-mentioned factors may play a role. I bring this up because hormone health is an important area that we focus on here at Lost Empire. In my mind, I would not sacrifice DHT for my hair and I definitely would AVOID Finasteride!
The Energetic Explanation of Hair Health…Jing Depletion
Jing is one of the three treasures in Traditional Chinese Medicine (TCM). Some of the concepts that it includes are your primal essence, your constitution, and your life force. Jing has a lot to do with aging and hormones. Jing has a lot to do with the hair.
If your jing is being prematurely depleted through stress, toxicity, lack of nutrition, etc. then there will most likely be side effects. The hair turning gray would be one possible outcome. Hair loss would be another.
If your hormones are disrupted that means your jing is too. Essentially, TCM and Western medicine agree and say much of the same thing, just in different terms and different models of the world. Why is this important? He Shou Wu is one of the best jing herbs there is!
What is He Shou Wu and What are the Benefits?
Before we dive into the benefits of He Shou Wu for hair, it's important to understand a little bit of the basics about this herb.
He Shou Wu is made from the roots of Polygonum multiflorum. (Although it is also often called Foti, this is actually as a result of an error that occurred long ago, yet it has begun to recirculate in popular literature.)
As mentioned, He Shou Wu is considered one of the best jing herbs, specifically supporting the Kidney energy, which is the storehouse of jing. More specifically He Shou Wu helps to increase antioxidants within the body, helping to protect your DNA from damage.
He Shou Wu also supports the blood, the liver, and detoxification. Part of this occurs with the interaction of hormones including testosterone and estrogen.
You can read more about the main benefits of He Shou Wu on our product description page here.
For now, let's turn our attention to the benefits of He Shou Wu for hair.
Scientific Support for He Shou Wu Reversing Gray Hair
One of the best studies I could find on He Shou Wu and gray hair looked at the mechanisms by which it worked for what it called "hair blackening."
First, they found that raw He Shou Wu beats out prepared He Shou Wu, though both had results. Specifically, the raw extract worked better internally, while the prepared extract worked better externally.1
This image from that study shows the proteins and processes involved in hair pigmentation.1 As I said before it is complex.
This study states that the hair growth promotion effect likely occurs as a result of the fibroblast growth factor-7 (FGF-7). Mice with back hair were treated with H2O2 to change the hair color. The topical application of He Shou Wu helped in preserving the melanin content in their hair.
Most people have heard of melanin but may only think of this regarding the skin tanning. However, melanin is also part of what gives color to hair. Another study looked at human cells and zebrafish embryos and extracts of He Shou Wu were found to promote melanin synthesis, specifically through the activation MC1R/MITF/tyrosinase-signaling pathway.2
But that is just one mechanism. As mentioned above, hair loss and hair color can be complicated. The abstract of a study summed up some of the mechanisms well…
"Some studies have found that hair growth promotion effects of Polygonum multiflorum were probably mediated by several cytokines, such as Sonic Hedgehog (SHH), insulin-like growth factor-1 (IGF-1), hepatocyte growth factor (HGF), fibroblast growth factor-7 (FGF-7), and β-catenin. Besides, Han et al. have shown that marked beneficial effects of Polygonum multiflorum on hair quality and appearance were through upregulating α-melanocyte stimulating hormone (α-MSH), melanocortin 1 receptor (0MC1R), and tyrosinase."3
This image shows the control mouse on the left and the mouse that was topically treated with TSG, a compound from He Shou Wu, in the middle as compared to others. Of things tested, especially compared to the control, the TSG group retained the best hair color.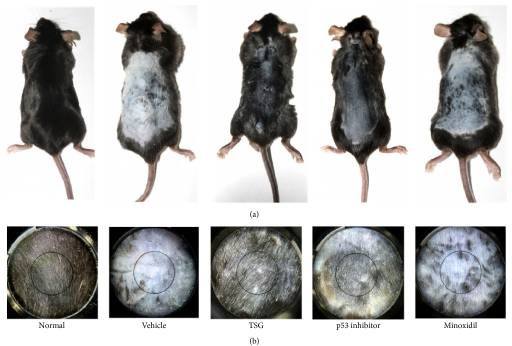 TSG is one of the molecules inside of He Shou Wu that is thought to be one of the active constituents responsible for antioxidant and anti-aging properties. Some studies tested this for the hair coloration, and while it was partly active, it paled in comparison to the full extracts.
Scientific Support for He Shou Wu Supporting Hair Growth
The effects on hair color are just one aspect of He Shou Wu. The other is how it affects hair growth, so let's look at some of the studies analyzing that.
An in vivo study looked at dermal papilla cells (DPCs) which play an important role in hair growth. These cells were treated with various compounds isolated from He Shou Wu in an effort to find which ones increased proliferation of these cells. Half of the compounds worked, one of which "increased hair-fiber length significantly" in 21 days.4
Another study using DPC's looked at TSG, the aforementioned important compound of He Shou Wu, and it's 5-alpha-reductase inhibiting activity. It didn't have any, showing that this is not the mechanism by which TSG helps the hair. But then there are many other compounds available too.5
Numerous other studies are similar. One found that He Shou Wu showed "some hair-growth promoting efficacy," along with some other herbal extracts including thuja (Thuja orientalis) and Espinosilla.6
A study in male and female mice found that most hair growth happened between the 2nd and 3rd weeks.7 And that topical application is thought to work through sonic hedgehog expression among other things.
Yes, you read that right. This protein was named after the Sega Genesis video game. Once again, just another aspect of a complicated matter.

This study has an important conclusion
"Judging from our obtained results, we found both oral administration of [raw He Shou Wu] and topically given [prepared He Shou Wu] could promote hair growth. The hair growth promotion effect of oral [raw He Shou Wu] was most probably mediated by the expression of FGF-7, while topical [prepared He Shou Wu] promotes hair growth by the stimulation of SHH expression. This founding enhanced our confidence in natural products application in the field of hair promotion in the future."7
But that's just cells and mice. What about in humans?
One study with both men and women between the ages of 30 and 60 took He Shou Wu twice a day. In one month 89% of the 48 people reported improvement with no reported side effects.8
One study found that pre and post-menopausal women taking an extract of He Shou Wu improved hair loss. 25 out of 26 got results! 77% of these women reported significant and dramatically thicker hair.9
So yeah, He Shou Wu does appear to work for both hair color and hair growth. And those last studies indicate that this can be effective in both men and women.
Lost Empire Herbs He Shou Wu 20:1 Extract
Which brings us to our next topic. Does the He Shou Wu extract we sell at Lost Empire Herbs work?
A few basics you need to know.
Not all herbs are created equal. In general, you get what you pay for. So you may find that prices will vary significantly on herbs including He Shou Wu. I can't tell you whether or not other products are of good quality because I have never used them. Here is what I can tell you about ours…
Our He Shou Wu extract is prepared in the traditional way by cooking it with beans to bring out more of the tonic effects. This is important because the studies above showed that prepared was not as good at raw when taken internally, though it still worked well. At this time we do not offer raw He Shou Wu.
That being said, the topical use of prepared He Shou Wu is better. Now, we haven't really recommended people use this topically…yet. We're going to test and report later on the results. What would be the best way to do this? My guess is to start with something simple like mixing He Shou Wu with a little bit of water to make a paste and then applying this to the hair, scalp, beard, etc.
Back to internal use. Does it work? We have received reports from a few customers that it has. Here's from a few five-star reviews we've received…
Roger wrote:
"Great effect to be in good health all the week!! And my hair is more strong and starting to coming back to black !! There is new hair growing too!!! Very happy thanks, guys!!"
Mark M said:
"I've been taking He Shou Wu for a while now, pleased to say, my gray hair and beard is growing in BLACK AGAIN. Very happy and pleased to have this result! Thank you LOST EMPIRE HERBS. HE SHOU WU works for me."
Jbf0813 said:
"First of all – This website and these herbs have changed my life! I started taking He Shou Wu about 2 weeks ago, I definitely feel the calmness of it, and I do think my beard hairs have lessened on the grey a bit."
James Lunsford wrote:
"I've been taking He Shou Wu for about 6 months now and it only gets better over time! My widows peaks (high peaks run on both sides in my family) have receded and my gray hair is a thing of the past. Oh yeah, I'm just a couple of months shy of 58. I bought it because I was looking for more Jing as I had some aches in my kidney and knee areas. Gone! This herb does everything you promise. As usual."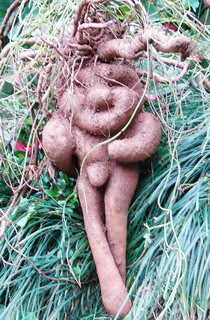 Understand that these are just a few results and you shouldn't take it to mean that it will necessarily work as well for you.
After asking around on our There's an Herb for That Facebook Group., I also received some negative reports:
Stephen wrote:
"I took it daily and had no effect on my hair. I still got salt and mostly pepper hair, following in line with my dad and grandpa"
And Archie wrote:
"I'm salt and pepper too. Wish it worked for me!"
I have to say that we also get a number of returns (people using our 365-day money back guarantee which you can read about here) on He Shou Wu as people were using it for their hair and NOT seeing the results they wanted.
Why does it work for some and not others?
As we covered, hair loss and gray hair are both complicated subjects with various interacting systems in the human body. He Shou Wu supports some of these systems. If you are in that system that needs help, then He Shou Wu can help to reverse some hair loss or gray hair. But if you're not,  it may not help.
Like everything else, this herb will work great for some people and not for others.
For you, there's only one way to find out. No study will prove whether it works for YOU. No amount of other people's successes or failures will let you know how it will work for you. You'll just have to try it yourself and see.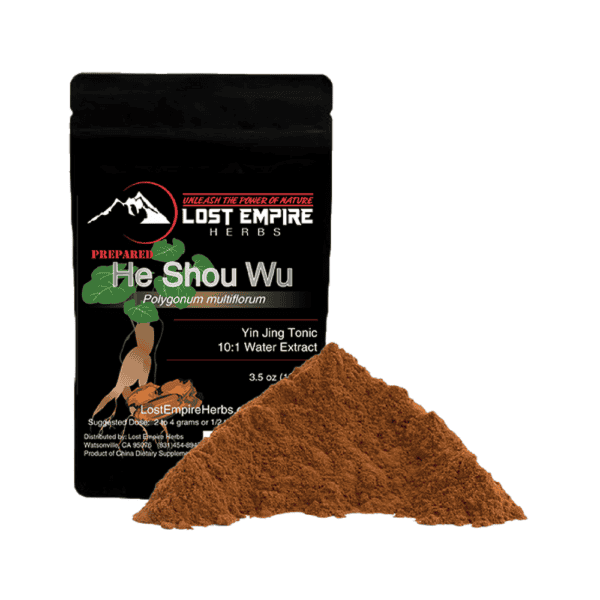 Before you do, let me also say that you may start taking He Shou Wu for the hair benefits…but look at all the other benefits it may bring you such as more energy, better mood, a more robust immune system, and more.
We may think of He Shou Wu for the hair, but it also does so much more.
Related Posts You May Be Interested In…
References:
Han, M., Lu, J., Zhang, G., Yu, J. & Zhao, R. Mechanistic Studies on the Use of Polygonum multiflorum for the Treatment of Hair Graying. Biomed Res Int. 2015; 2015: 651048. https://www.ncbi.nlm.nih.gov/pmc/articles/pmc4657090/
Thang, N., Diep, P., Lien, P., and Lien, L. Polygonum multiflorum root extract as a potential candidate for treatment of early graying hair. J Adv Pharm Technol Res. 2017 Jan-Mar; 8(1): 8–13. https://www.ncbi.nlm.nih.gov/pmc/articles/PMC5288971/
Chen, L., Duan, H., Xie, F., et al. Tetrahydroxystilbene Glucoside Effectively Prevents Apoptosis Induced Hair Loss. Biomed Res Int. 2018; 2018: 1380146. https://www.ncbi.nlm.nih.gov/pmc/articles/PMC4339524/
Sun YN, Cui L, Li W, Yan XT, Yang SY, Kang JI, Kang HK, Kim YH. Promotion effect of constituents from the root of Polygonum multiflorum on hair growth. Bioorg Med Chem Lett. 2013 Sep 1;23(17):4801-5. https://www.ncbi.nlm.nih.gov/pubmed/23896496
Tan, J., Pan, J., Sun, L., Zhang, J., Wu, C., & Kang, L. Bioactives in Chinese Proprietary Medicine Modulates 5α-Reductase Activity and Gene Expression Associated with Androgenetic Alopecia. Front Pharmacol. 2017; 8: 194. https://www.ncbi.nlm.nih.gov/pmc/articles/PMC5390023/
Seo, S.R., Kang, G., Ha, J.W., & Kim, J. In vivo hair growth-promoting efficacies of herbal extracts and their cubosomal suspensions. Jounral of Industrial and Engineering Chemisty. 25 July 2013. 1331-1339. https://www.sciencedirect.com/science/article/pii/S1226086X12004571
Li, Y., Han, M., Lin, P., He, Y., Yu, J., & Zhou, R. Hair Growth Promotion Activity and Its Mechanism of Polygonum multiflorum. Evid Based Complement Alternat Med. 2015; 2015: 517901. https://www.ncbi.nlm.nih.gov/pmc/articles/PMC4534627/
Coglio G., Bosio A. How & Why in Medicine. 2002. Alopecia and its treatment-the reality of the new chances of success, in the clinical study of NuHair: first food supplement with great scientific impact. (Dermatology).
Blum J. M. Prospective, Randomized, Double-Blinded, Placebo-Controlled Clinical Trial to Test the Efficacy and Short-Term Safety in Women of NeHair. Glastonbury, Conn, USA: Marshall-Blim, Biotech Corporation; 2002.
Latest posts by Logan Christopher
(see all)