Over the years there's been some concerns about He Shou Wu being damaging to the liver, even though it has a reputation of helping the liver out. What is going on here? Are these legitimate concerns?
Here was one such question we recently received:
---
I have bought several things from your website and was considering buying He Shou Wu extract to see if it helps turn some of my gray hairs to black as the legend goes.
My main concern is that I've read some articles about it being linked to serious liver damage (e.g. link here). I noticed on your website you guys refer to it as a liver tonic actually.
I'm wondering whether this is a liver tonic or a liver damager? Please advise.
Thanks,
Tarak
---
Here's the short and easy answer. I really don't think it is much of a problem. Overall, He Shou Wu is more protective of the liver than damaging to it. Side effects of this nature are quite rare and almost always go away if you cease taking the product.
Conflict of Interest Disclosure:
And let me state from the outset that I'm obviously biased here. Not only that I like He Shou Wu, but my company sells the stuff.
I hope I can set that aside and judge this objectively, but you'll have to be the judge.
Now onto the long and complicated answer…
Anecdotal/Personal Experience
I've personally been taking it every day for years and all my blood tests have shown my liver is doing fine.
Many people say we shouldn't rely on anecdotal evidence, but as you'll come to see, that is mostly what is on the other side of this debate too, a few case reports.
There are a great many other herbal enthusiasts that also take He Shou Wu regularly and have no apparent issues with it.
The Damaging Case Reports
Most of the science found is just single case reports. For example, this one that says:
"A 54-year-old woman consumed Ho-Shou-Wu for 1 month, after which she experienced fatigue and overall weakness. A diagnosis of toxic hepatitis was made based on her clinical history, the findings for viral markers and other laboratory data, and ultrasonography. Her condition improved considerably after she stopped taking Ho-Shou-Wu. However, she resumed taking Ho-Shou-Wu immediately after discharge from hospital, which aggravated her symptoms and liver function. She was immediately readmitted and stopped taking Ho-Shou-Wu. Her relapse into hepatitis immediate after resuming consumption of the herb is strongly indicative of the validity of Koch's postulate in this case."
There's a bunch more like this. And that was all I'd seen over the years until Tarak shared this study with me. The study is "Clinicopathological features of He Shou Wu-induced liver injury: This ancient anti-aging therapy is not liver-friendly."
The problems with case studies was covered in this research. That "most of these studies were case reports or reports of small series of patients, and lacked data on causality assessment, latency, histological features, and long term follow-up after cessation of the herb."
But here was a more data-driven and scientific response. This study involved 29 patients with He Shou Wu-induced liver injury. Here's how that number was arrived at.
First of all, this study was done in China where herbs are used far more widely than in the USA.
This image comes from this study. DILI means Drug-Induced Liver Injury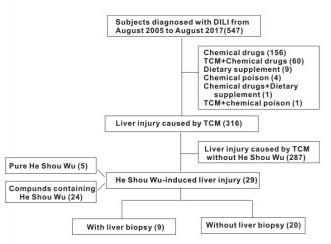 From 2005 to 2017, a span of 12 years, 547 people went to the hospital for DILI. In many cases this was from drugs, but others were because of herbs. 316 were attributed to TCM (traditional Chinese medicine), and of these 29 were attributed to He Shou Wu.
Only 5 of those cases had to do with just He Shou Wu. The other 24 were formulations that included He Shou Wu.
To put this in perspective, that's less than two and a half people per year.
What Happened to These 29?
"The most common symptom was jaundice (79.3%, 23/29). Of nine patients with liver biopsies, six showed acute cholestatic hepatitis, two acute and one chronic hepatocellular injury pattern."
And, "According to well-defined criteria, seven patients (24.2%) had mild liver injury, 13 (44.8%) moderate, six (20.7%) moderate–severe, two (6.9%) severe, and one (3.4%) fatal."
The one that died was taking He Shou Wu along with other herbs to help her coronary heart disease but did die of liver failure.
One person in 12 years. Four people with chronic issues in four years.
But most recovered just fine. "The 29 patients were followed up for a median of 33.0 months (range: 1.5-93.0)… Most of the patients (25/29) recovered completely in a median time of 45 days."
Of course that's not all of the reports. They write, "Combining our data with previous studies, eight patients have died, four undergone liver transplantation, and four progressed to cirrhosis, underscoring that He Shou Wu can induce severe and fatal liver injury that requires careful monitoring and intensive care."
Putting that in Perspective
Let's go with the eight deaths. That's out of how many people taking He Shou Wu? I don't know the answer. Probably hundreds of thousands over that course of time.
I don't deny that there is more research needed in this area. If He Shou Wu is potentially dangerous to some, we ought to know about it.
Obviously, any death should be investigated.
Dr. Barbara Starfield, from the John Hopkins School of Public Health, lists out some such iatrogenic disease in her JAMA commentary, "Is US Health Really the Best in the World?" This includes:
• 12000 deaths/year from unnecessary surgery
• 7000 deaths/year from medication errors in hospitals
• 20000 deaths/year from other errors in hospitals
• 80000 deaths/year from infections in hospitals
• 106000 deaths/year from nonerror, adverse effects of medications
These add up to 225,000 deaths per year from iatrogenesis and this was back in 2000.
And then there's this…
…Sorry, couldn't help poking the bear there. Back to our main topic.
What's Causing Injury?
Many of the case reports point the finger on He Shou Wu when it might just be something else.
First of all, as we saw in many cases other herbs were involved. A common name He Shou Wu is sold under is Shou Wu Pian. Looking around at this I found that sometimes it is 100% He Shou Wu. Other times it is formulated with a wide variety of other herbs.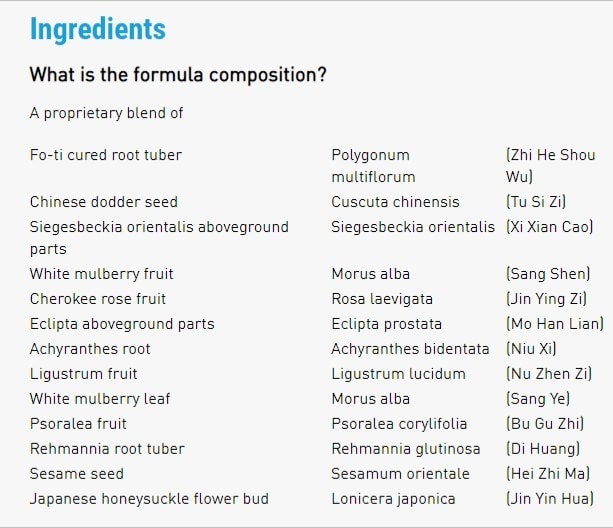 In some cases it could be heavy metal toxicity.
Then there is the difference of raw He Shou Wu and properly prepared. One study found "The processed roots of [He Shou Wu] have displayed lower rates of toxicity as reported in animal experiments."
Still more confounding factors are available. A different study found "Most previous studies have ignored the relationship between the factors of geographical areas/batches and toxicity…The results of the study show that the toxicity of PM [Polygonum multiflorum] was obviously different among the different geographical areas, and the most toxic PM was from the Sichuan province."
But at least one case study did analyze the product to directly implicate the He Shou Wu. "In our patient, acute hepatitis occurred a few weeks after he started using Shou Wu Pian for chronic prostatitis, and other causes of hepatitis were excluded. We found no substitution or contamination of the product, which suggests that hepatotoxicity is related to the chemical components of the product and the manner of its use. The major constituents of P. multiflorum are polyphenols and anthraquinones. After intestinal metabolism, anthraquinones are transformed in anthrones. These highly reactive substances, when absorbed, can damage the liver."
There has been some follow up regarding these compounds and how they could potentially be a mechanism of action in damaging the liver. So it does appear that at least in some cases it is what is in the He Shou Wu itself. In that way we can confidently say that He Shou Wu is NOT the right herb for some. What can we tell about that?
Whose More Susceptible?
In that slightly larger study, 75% of the patients were women. Is that actually true across the population? Remember that we're dealing with relatively small numbers. That's 22 women and 7 men, but there maybe something there that makes women more susceptible.
In addition, the median age was 53 years, though with a wide range from 15 to 73 years. Not surprising that older people had more issues.
Thirdly, many of those people also were immunocompromised in one fashion or another.
If you know your genes, there's even some info that may help there. Another study found "The HLA-B*35:01 allele is a genetic risk factor for PM-DILI and a potential biomarker for predicting PM-DILI in humans." [PM-DILI being Polygonum multiflorum drug-induced liver injury]
What About in the USA?
I didn't find any data about He Shou Wu liver injuries in the USA. But I did find the following, which again gives some perspective on it.
In one study, in the USA between 2004 and 2013, a total of 839 people with DILI were enrolled. Please note that this was not about He Shou Wu, but all drugs and supplements.
The numbers break down as follows:
45 had injury caused by bodybuilding HDS (herbal and dietary supplements)
85 by nonbodybuilding HDS
709 by medications
In other words, pharmaceutical drugs were causing liver injury about 5.5x as often in this study. Of that a few people had unknown Chinese herbals. I did not see any that specifically mentioned He Shou Wu in this study.
Even with these small numbers there's another issue. Another study talks about the difficulty of assessing causality. They found that "A small but important proportion of cases could not be reliably diagnosed as ≥50% likely to be DILI."
The Case for He Shou Wu's Liver Protective Capacity
Let's flip sides for a second. There's also a case to be made for He Shou Wu helping the liver. This leads to quite a bit of confusion because how could it help the liver and hurt it too?
Understand that He Shou Wu has traditionally been considered liver protective. That's one of it's many benefits as one of the top anti-aging herbs in Chinese medicine.
While most of the following science is preliminary, we do see evidence of liver protective abilities.
In mice, He Shou Wu extract was found to be lessen liver cirrhosis.
Another mouse study where acetaminophen was used to cause liver injury, found this injury reduced by an alcohol extract of He Shou Wu. The survival rate increased, mechanistically through "Nrf2 activation" and "bile acid transporter expression modulation."
Still one more mouse study found that He Shou Wu "improves the content of liver fatty acids in aging mice induced by D-galactose through, enhancing the activity of anti-oxidant enzymes."
In a rat study, a water extract of He Shou Wu was found to reduce lipid peroxidation and positively modulate inflammation.
An in vitro study looked at He Shou Wu extracts effects on normal liver cells and cancerous liver cells. The 50% ethanol extract induced apoptosis (programmed cell death) in both cell lines, but more so in the cancerous one.
The most detailed study I found on this reviewed far more evidence than the small amount I've listed here. It concluded that "Numerous evidences have confirmed that the processed [He Shou Wu] and its active ingredients have a significant hepatoprotective effect…In conclusion, the processed [He Shou Wu] and its active components have a complex regulatory mechanism for liver diseases, which has the advantages of 'multi-channel, multi-target'."
In Summation – What to Be Aware Of?
So on the one hand we have case studies and a handful or reports of people taking He Shou Wu and having liver toxicity. However, the numbers of these are quite rare. While there are some serious effects, in most cases simply stopping the consumption of He Shou Wu causes the problems to stop as well.
On the other hand we have a long tradition of use of He Shou Wu for many functions including liver health. And some preliminary animal and cell studies that show how it could help in the liver specifically but mostly in cases where drug-induced damage was caused.
More research is certainly needed. But here are my takeaways.
If you are taking He Shou Wu (or other herbs, supplements and drugs) and you see signs of:
Jaundice (that is the yellowing of the skin)
Blood tests reveal elevated levels of alanine aminotransferase (ALT), alkaline phosphatase (ALP) or bilirubin
Then you may want to stop taking the drug, herb or supplements and see if these go away. If they are the culprit you should see a return to baseline.
Besides the most common symptom being jaundice (79.3%), others reported in there were:
fatigue (55.2%)
nausea (48.3%)
abdominal distension (27.6%)
itching (24.1%)
fever (20.7%)
abdominal pain (10.3%)
Keep these things in the back of your mind. Doing so I think it is safe to continue to take He Shou Wu. That's what I'll be doing.
Agree? Disagree? Have more research to share? Post your questions and comments down below.
Latest posts by Logan Christopher
(see all)