About
LOST EMPIRE HERBS Mission
We're in the business of changing lives! 
Ever since we received our first review that said this happened as a result of our herbs, we've been focusing on doing this.
"Lost Empire Herbs have changed my life!!!! I have had an autoimmune disorder that has caused me pain for years. Many doctors have tried to help to no real avail. I would spend evening, nights, and weekends curled up in pain trying to recover enough to work the next day…Herbal medicine seemed like a long shot but I decided to try. I added Shilajit and pine pollen to my daily routine…To take this up a notch I recently added Tongkat Ali…These herbs have given me back my life. My body has improved so much. My marriage has improved as a result of feeling better. I have renewed strength. My mind is clearer. The list goes on- to put it shortly…Thank you- To the people at Lost Empire Herbs for such spectacular products!!!!"
– Jason
It's getting responses like this that lead us to continually up our game. And it's what set up our company's mission.
Our Mission is to Change the Lives of 100,000 People
How are we setting out to do that? First and foremost…
#1 We Aim to Bring the Highest Quality Potent Herbs and Formulas to Market
This is for selfish reasons if for no other. Every single person in our company takes these herbs…so we want the best stuff for ourselves!
That's also why we budget for independent lab testing on all our products and actually share these exact tests with you, so you can see them.
Quite simply, you can't get great results with crap. When it comes to herbs you very often are getting what you pay for. As one customer put it:
"I have bought herbs from many companies including Lost Empire. Since herbs can be expensive, especially if you are taking several; I sought a lower price. In the end, I always come back to Lost Empire because the quality I have gotten from other companies just isn't there. Especially in the case of the Pine Pollen, yours just seems more potent and the price difference wasn't that much. I'm done trying to find a "same quality" product for a lower price. I have wasted a lot of money in that pursuit."
We know our stuff works. Just look at the many five star reviews we get. (Of course, no one herb works well for everyone. You have to experiment to find those that will suit you as a sovereign individual best.)
We really do WANT you to get results. That's why we focus on potent herbs that you'll be able to feel a difference from.
That's also why we have our generous one-year guarantee in place.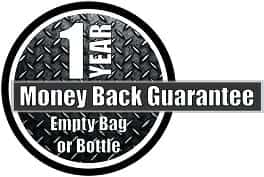 #2 We Aim for the Best Customer Service
While so many other "supplement companies" hide behind the internet or retail outlets trying to interact with people as little as possible you're welcome to give us a call or email us at [email protected]. Chelsea, Tesha, Gabe, or Elise are happy to help you out.
Here's our consistently high case ratings for the past year from our email support:
Nor is it just our service. We want your whole experience to go as smoothly as possible. Fast shipping. An easy, online checkout available. We're not perfect so we can't promise there won't ever be an issue…but when there is you can bet we'll do our very best to make it right.
#3 It's Not Just About the Herbs…
The way I see it the herbs are like the tip of the spear in introducing people back to a more natural way of living. By living in closer alignment to nature (rather than the arrogance that goes into thinking everything technological and man-made is best) we can have higher performance in our lives.
Health is our birth-right and easily attained if we just follow the right path. It does not take insanely-priced pharmaceutical medications in order to have it. After all, we're not suffering from a deficiency of drugs.
So, we share a lot of information…in many cases hard-fought and earned wisdom…on what it takes to live a healthy lifestyle. This comes in in-depth articles such as on everything you ever wanted to know about pine pollen, the dangers of plastics, sharing real blood test results, and much more. It also comes in the videos we put together for you.
Some people say we send too many emails, but we've simply got a whole lot to share with you (and because we care about what suits you best, we do have a weekly digest option too for those that feel that way).
#4 Our Core Values
Often times a business' core values (if they have even identified them) are just used internally. We've decided to share our core values publicly with you for two reasons.
#1 – You can better hold us to them to make sure that we're embodying each of these six values.
#2 – If you resonate with these core values, we can be better aligned in our aims.
Nature's Wisdom
We follow the wisdom of nature. While mankind has developed some amazing technologies, we believe that many of the things that afflict us and the world, come from not being in harmony with nature. From thinking we're smarter than her. For instance, in pharmaceutical drugs we work to drive action in one direction, which results in side effects. Contrast this to herbs, with more compounds than we even know anything about, that can work intelligently, with wisdom, inside our bodies. What we can learn from nature goes far beyond the use of herbs too. The greater we live in alignment with nature, trusting in her wisdom, the greater our health and performance can be.
Accept Challenges
We rise to the challenge. The overarching mission of Lost Empire Herbs is to change the health paradigm. That's a big challenge, with lots to overcome. But even if we can't do it for everyone, we can do it for many individuals. And that's what a good challenge will lead to. We know that stress can be good (like with adaptogens) and can cause us to grow, therefore we seek out and go after worthy challenges and opportunities, whether big or small in our lifetimes as well as in our day to day work.
Terra Firma
We keep our feet planted firmly on the earth as much as possible. This accomplishes several aims. An actual physical connection to Earth is important for establishing physical and mental health. That's part of Nature's Wisdom. Similarly, as we grow as a business it's important to stay firmly rooted in our ideals, to not get pulled away in a thousand directions. To stay accountable to ourselves and others. And being well grounded allows for the best spiritual development too.
Unending Quest for Quality
We strive for the highest quality in all that we do from the herbs we use and sell, to the people we hire, and the systems we work with. It truly is an unending quest, as things can always be improved. Plus, treating it as a quest puts fun and purpose behind it. Our overall mission is the Holy Grail and we are Knights of the Roundtable going after it.
Rule of Gold
"Do unto others as you would have them do unto you." We strive to offer the best service to help people, to treat our customers as we would like to be treated, and to practice what we preach. This guideline helps us to keep this aim first and foremost. We also recognize the other golden rule too: "Whoever has the gold makes the rules." The most successful organizations use their wealth to make the rules, and in many cases, these are not good for humankind, nor nature. The more gold you have the more impact you can have for good or ill. Thus, we seek to be a very profitable organization so we can use money to make a bigger impact.
Evolving Symbiotic Organism
A business is like a living organism. The people, the systems, the products, the content, all can be likened to cells within this organism. The suppliers and vendors are other symbiotic organisms. Contrary to the Darwinian notion of "survival of the fittest," nature is much more cooperative in how it runs. And thus, we model our business off natural symbiotic organisms. This includes an eye for looking at evolutionary methods such as horizontal gene transfer and symbiogenesis so that our business is one that can evolve quite quickly.
To Sum Up
We are capitalists though we're not out JUST to make a buck. While we are a for-profit business, we are dedicated to helping people in order to so.
And because there are certainly some shady characters in the supplement space, we're aiming to lead the industry towards greater quality, greater transparency and greater service.
There are some big plans in place to make this become more of a reality every day. We've been around for six years now and I feel like we're just getting started…