I just got my latest bloodwork back, that I've been doing regularly with InsideTracker.
I am surprised and elated by one of the results.
My Total Testosterone came in at 992 ng/dL!
My last result was 845, which at the time was the highest I had ever had it tested at.  Previous to that it was 782.
One of my goals, just for fun, was to break the 1000 mark. (So that means I am slightly frustrated by being just 8 ng off, but oh well.)
This was surprising because I had lots of added stress in my life from hunting to buy a house.
As can be seen, my cortisol level did go up, almost doubled, but didn't get outside of the optimal range. (Perhaps it was from regularly taking Ashwagandha as Mike talked about with his results here.)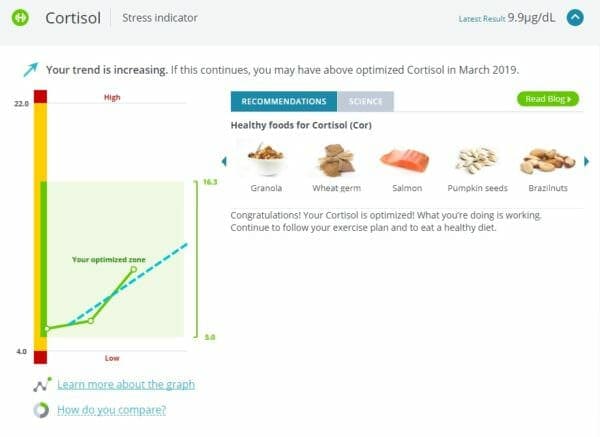 I have also been taking Rhodiola fairly regularly for the same reasons. I often feel like this rhodiola is quite strong for me, but over the past couple of months I needed that extra kick.
And since Free Testosterone is at least equally as important than Total Testosterone, you'll see that I had a nice jump in that as well from 13.8 to 17.2 ng/dL.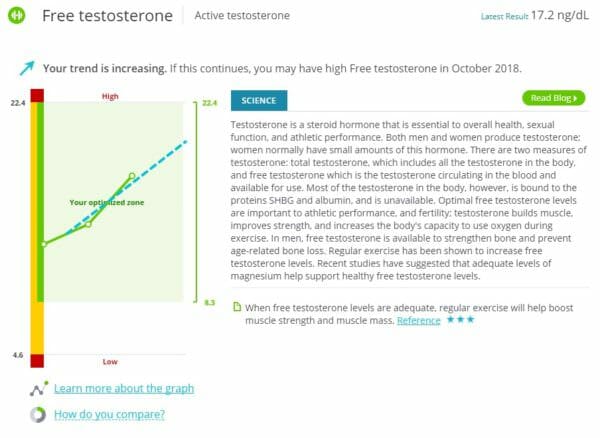 This was despite my high SHBG. So, an update on that. If you've been following along you know that this number seems to always be high for me, and for my brother Zane, leaving us to think a genetic aspect to it could be at play.
I was regularly taking our Nettle Root Tincture to see if this helped with the high SHBG number. As you can see, there was a very slight decrease from 58 to 56 nmol/L. But there are too many factors to say whether this did or did not work. Perhaps without it, with everything else going on, this number would have been higher. Perhaps nettle root tincture doesn't help with this. Maybe the powder is better for SHBG. With this single point of data we can't know for sure.
Okay, onto the other bad news.
My cholesterol is borderline high!…
I say that jokingly because I don't see this as a problem at all. Having so much cholesterol is likely a contributing factor to my high T, seeing as cholesterol is the starting molecule for all the sex hormones. If you notice in the upper left of the picture, the green lights on HDL and Triglycerides, which are more important factors for overall health. So I'm not really planning on changing anything to try to bring that lower. In fact, I did just see a study saying that high LDL (the so-called bad cholesterol) was linked to less death!
Next up Vitamin D…
Still a little bit low. If you remember, I stopped taking all Vitamin D supplements. Why? Because I'm trying to get it all from the sun, since the sun provides much more than just D. Unfortunately, house hunting, and an added workload, got in the way of sunbathing time. But the good news is I have better tanning spots (including where I can tan 100% naked) at my new house, so I plan to be back in the optimal zone next test, assuming the weather cooperates as we enter into autumn.
Lastly, a number I am intrigued by, my fasting blood glucose level…
This one has been a little high over the past couple tests, and came in even higher this time. Perhaps it too is a result of the higher stress load. Or maybe its because I have been eating more than normal to put on weight and keep it on, to support one of my training goals.
The good news is I have a glucometer at home so I can check this number a bit more often and see what is going on.
As for everything else. It's all optimal! Red and white blood cells, inflammatory markers, nutrients like B12, magnesium and calcium, liver function. All is good there.
If you're wondering what I use to do my blood testing, and to provide all the pretty graphs above, I use InsideTracker, a personalized health analytics company founded by leading scientists, physicians, nutritionists and exercise physiologists from MIT, Harvard and Tufts University.
If you like what you see you can get 20% any InsideTracker test or service by entering the coupon code LOSTEMPIRE20 when checking out. This link automatically applies it for you.
This just shows that what I talk about regarding testosterone works! I'm living proof. If you want the full details of just about everything I do you can find it inside of Upgrade Your Testosterone.
Latest posts by Logan Christopher
(see all)