Chaga is the King of Mushrooms and "Gift of Heaven" according to Siberian Shamans
Chaga (Inonotus obliquus) is a mushroom most commonly found on birch trees, and can grow there for up to 80 years. Different from other mushrooms, it grows its sclerotium or mycelium on the outside of the tree, instead of inside. It is believed by some to be parasitic, but by others to instead live symbiotically with the host tree.
Since time unremembered it has been used by the native people that lived in areas where it is found for a wide range of treatments both internally and externally in a poultice. In fact, it was one of the two mushrooms found on Ozti the Iceman.
Even up into the modern day people in Eastern Europe, Russia, Canada and Northen USA have used it regularly for hundreds or thousands of years.
In 1955, the Russian Medical Academy of Science recognized Chaga as a medical treatment. Then in 1968, Alexander Solzhenitsyn (famous for The Gulag Archipelago, attributed to being part of what brought down the USSR) wrote a novel, Cancer Ward, that was translated into English. This introduced the West to the benefits of this amazing mushroom.
Chaga May Be One of the Best Mushrooms for Healthy Immune Function*
Antioxidant*
Inflammation Modulating*
Reduces DNA Damage*
Immune System Support*
Helps Support Apoptosis, Programmed Cell Death*
Russian research found that "Compounds produced from this mushroom are characterized by the widest range of antiviral activity" against various strains of Influeza.*[1]
One study found these effects comparable to the pharmaceutical Tamiflu.[2]* It's even been investigated for having effects on the virus that changed the world.[2]* The different viruses it's been shown to affect is a growing list. This includes extracts inhibiting the reproduction of hepatitis C virus (HCV) and human immunodeficiency viruses (HIV).[3]*
It's also been long used for parasitic infections.[3]*
Out of control growths within the body are affected by lending antioxidant support, increasing cellular apoptosis, stimulating the immune system and more.[4]* The many mechanisms by which Chaga appears to work is extensive and only beginning to be studied in detail.
Chaga Supports Insulin Sensitivity
The second main area of effect for Chaga outside of the immune system, is in blood sugar and insulin sensitivity.* That same antioxidant and inflammation-modulation occurs within these systems.
Effects are wide ranging here too. This includes lowered glucose levels, lowered leptin levels, and decreased pancreatic damage and protection of islet cells.[3]* This was primarily just in mouse and rat models however.
There's also some research showing Chaga's beneficial effects on lipid or cholesterol levels.[4]*
A Wide Range of Other Effects
That's just some of the effects. Here's a few more:
Gastrointestinal Support*
Liver Protective*
Neuro-protective – Helps support Optimal Cognitive Function[3,8]*
Anti-Fatigue Activity*
Both a Jing and Shen Tonic Herb according to Chinese Medicine*
DNA protective*
The Many Compounds Inside Chaga
All of this action is because of the many compounds found inside of Chaga which include:
Superoxide Dismutase (Contains 25 to 50 times SOD as other mushrooms)
Lanosterols
Inositols
Inotodiol
Ergosterol
Melanin (the same thing that darkens skin)
Betulin and Betulinic Acid
Triterpenes
Polysaccharides including 29+ types of Beta Glucans (Supports Immune System)
Many Minerals (High in Potassium, Rubidium, Cesium, Zinc, Germanium, Silicon and others. Note that natural cesium is not radioactive and happens to be anti-cancerous and very alkaline.)
Vitamins B2, B3, K and D2
Soluble and Insoluble Fibers
While there are commonalities with other medicinal mushrooms like having polysaccharides and triterpenoids, there are a few compounds that makes Chaga stand out from the rest such as inotodiol, melanin and betulin.
Chaga contains vanillic acid which gives it a slightly vanilla like flavor. Thus, you can combine with vanilla extracts to help bring out this flavor.
How Our Chaga Extract Powder is Processed
These Chaga mushrooms are wildcrafted from birch trees. Real mushrooms are used, rather than mycelium grown on grain. 
These mushrooms are then extracted with both alcohol and water in the ratio of eight kilos of mushrooms used to produce one kilo of this powder. Many Chaga products on the market are just powdered Chaga, which the body cannot absorb due to chitin. It must be processed for best use. Our extract goes through the following steps specifically:
The whole Chaga mushrooms are chopped down into smaller pieces.
These pieces are placed into a stainless steel pressurized vessel where they are cooked in ethanol at 75°C or 167°F for three hours. The alcohol is then recaptured.
After the ethanol process, they are cooked at 80°C or 176°F hot water for two to three hours. This liquid is filtered and collected. Then this decoction process is repeated three times.
All liquids are combined, then centrifuged to remove any residues.
The filtered liquid is placed in a vacuum at 55°C or 131°F for around two hours to concentrate it in a ratio of 8 to 1.
This concentrated liquid is spray dried at 180°C or 356°F to become a powder.
This Chaga mushroom powder is then tested in quality control to verify it meets the specifications.
All this is why one customer Aaron T. said, "I've tried chaga from several different sources before. This is definitely the best chaga I've ever tried. It mixes more smoothly than any other chaga that I've had. It also has the best taste and even though it is more expensive than some of the ones I've tried you really only need to use 1/4 of a teaspoon so it still lasts pretty good."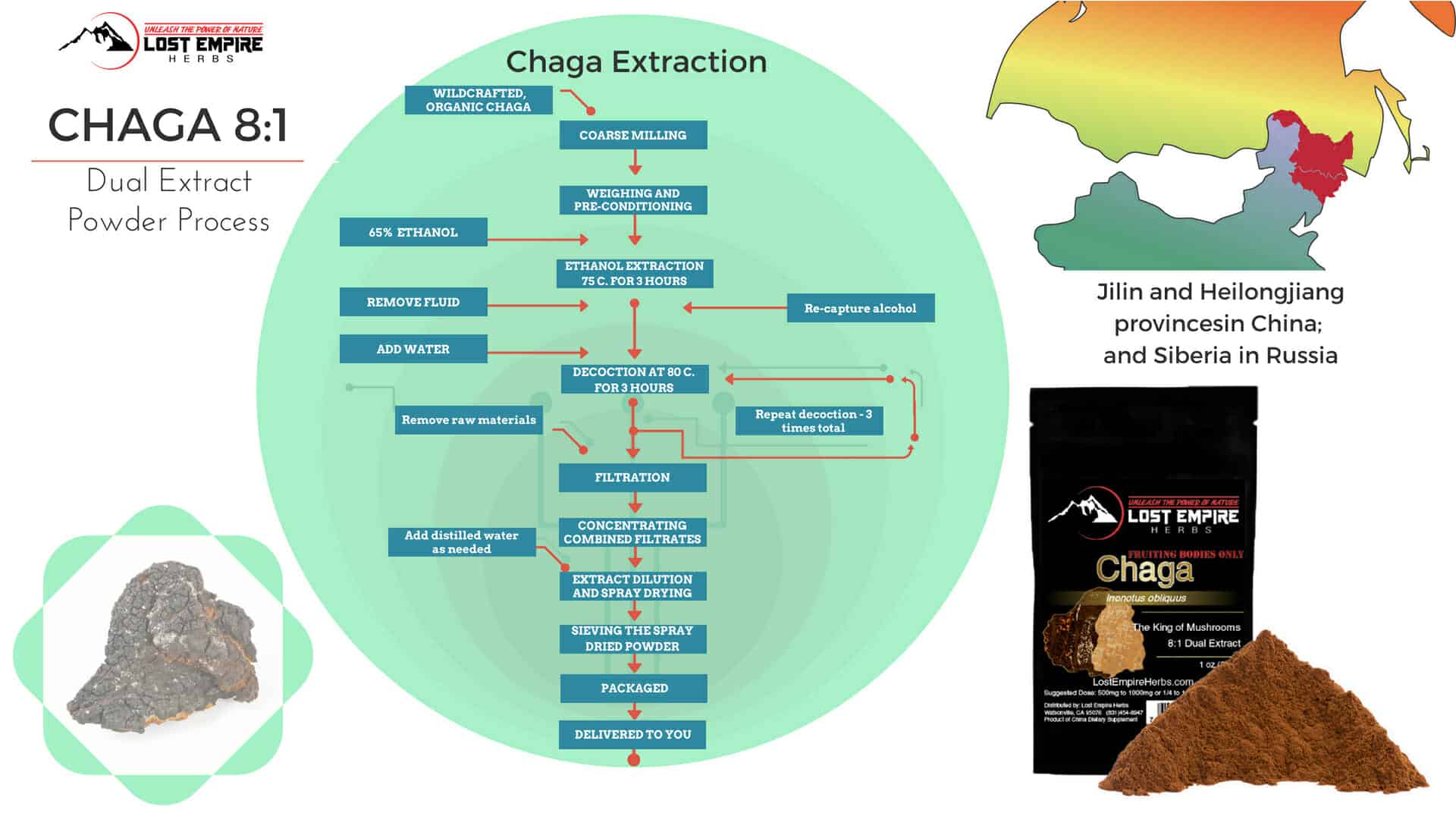 How to Use Our Chaga Extract
Each bag of Chaga extract powder is 30-grams or just over one ounce. The recommended dose is 500mg to 1000mg per day which is roughly equal to 1/4 to 1/2 teaspoon.
At this dose, each bag will last 30 to 60 days.
Add Chaga to tea, coffee, juices, smoothies or consume it straight. Its taste is somewhat like that of chocolate and coffee.
Logan's method is to combine Chaga along with He Shou Wu and Maca in coffee each morning. More details here. 

These statements have not been evaluated by the FDA. This product is not intended to diagnose, treat, cure or prevent any disease.