The World's Best Testosterone and Libido Boosting Herb...that Almost No One Knows About!*
Just Pay 1 Penny + Shipping Today to Find Out If Pine Pollen Works For You
Our Pine Pollen works. You can read the many positive customer reviews on this page (and this is just a small fraction of what we have!)
But nothing works for everyone!
There's only one way to find out if it works for you. And that is to take it and see the results.
To help you do just that I'm hooking you up with a bag of Pine Pollen for just one penny plus shipping and handling.
I am losing money on this deal! So why would I do it? Once you try it, and find it works for you, I hope you'll come back and order Pine Pollen (or our many other amazing herbs) at the normal price.
...if so, then Pine Pollen might be right for you.
Signs You May Need Testosterone Support...
Here's why Pine Pollen could be a perfect match for you. Have you noticed any of the following lately?
Testosterone Decline
Your Manhood doesn't Stand at Attention Whenever You Want
Decreased Libido and Sex Drive
Increased Weight Gain and Body Fat
Signs of Estrogen Dominance
Running Out of Energy Each Day Before it's Over
Hair Going Grey or Disappearing
...if so, then Pine Pollen might be right for you.
One of the Best Testosterone Supplements?
Pine Pollen works differently than other supplements that are claimed to boost testosterone. You see, pine pollen actually contains phyto-androgens. The interesting and unique thing is that it also contains Testosterone, DHEA and other human hormones too. This is in addition to novel plant sterols such as Gibberellins and Brassinosteriods.
Now, these are small amounts. It's nothing like steroids or injections you'd get from your doctor. But along with the over 200 bioactive substances like vitamins, minerals, amino acids, polyphenols and more, it works.
All that nutrition makes sense when you realize it must "give life" to new pine trees. As such, it can give life to your manhood too.* Pine Pollen strengthens your own systems ability to produce testosterone and other sex hormones.*
And with Greater Testosterone You Will Notice:
Greater muscle mass and strength
Increased sex drive and performance
Sharper focus and memory
Uplifted mood (aka feel like a man!)
Less aches and pains
And much more
Nothing works for everyone, which is why it's important for you to TRY it and see for yourself with your one cent bag which you can grab today.
Also notice that this is just ONE of many benefits. That is where we turn next...
Here's what our customers say...
"Before I found out about pine pollen from my brother, I had been going through anxiety, depression, and I experienced a bad drop in my libido. It was during this time that I also found out from my doctor that I had very low testosterone (and I'm a young guy). I spent several weeks hopelessly doing research on natural approaches to increase my testosterone, restore my libido, and get though the ups and downs I had been going through. It wasn't until I tried taking pine pollen that I realized there's hope! Within my first few days of taking the pine pollen at its standard dosage, I quickly noticed major improvements in my overall well-being in addition to a restored sex drive, resulting in morning wood and stronger erections. I continue to take pine pollen every day to keep myself set on a healthy trajectory. I'm very pleased with the results I've been getting from this miracle herb and I honestly believe that it will be of great benefit for others experiencing similar stresses in any stage of their adult lives. Believe me when I say that I'd be doing a huge disservice by not sharing my experience with this review. I'm a customer for life!"
- Christopher
"You always here about different things in the holistic and health industry, but like me, most are skeptical and reluctant to spend their hard earned money on the items being so heavily bolstered in the description sections of each website that may be selling the next big thing. If you've had any reservations or reluctance like I did, dispel them and order the pine pollen. I started my health journey roughly three years ago with a tea by the name of Yerba Mate, which I still use to this day, but this pine pollen is just as special and has become apart of my daily intermittent cycled eating. Fat has fallen off of me and continues to fall off of me, and I'm experiencing a level of calm, as well as elevated energy levels throughout the day. This is a very special product that continues to deliver, but like anything that your body isn't used to assimilating, it will take time to work and for you to feel the effects of you're a first time user. I look forward to being a customer of lost empire herbs for a long time to come."
- "Power9140"
"I've tried various herbs and recently bought the Pine Pollen Megadose. After two weeks of taking it, I can honestly say that is the most effective natural supplement I have ever taken -and I've tried a lot….I wake up refreshed and have more energy, and my stress levels are WAY down. I am a 46-year old fit guy who's been battling PTSD, who exercises regularly and the pine pollen helps with my workouts, but most importantly controls my moods and anxiety, and has helped me cope and stay calmer, which also has had a positive effect on my sex life so that is an added bonus. I feel like my hormones are finally balanced again, or at least significantly improved. Awesome product."
- Olaf
"Great stuff my new SuperFood. Ever since I start taking pine pollen I've got a boost of energy major boost of energy. I'm never tired body always feels great does all around super"
- Anthony R Anderson
Boosts the "Anti-Aging Hormone" DHEA*
Ideal DHEA levels have been associated with less mortality from all causes, immune system health, greater well-being, less body fat, and much more.
Pine Pollen is thought of by many to be all about testosterone. But that couldn't be further from the truth.
Pine Pollen contains trace amounts of this anti-aging hormone as well. And therefore it helps support healthy, ideal levels of DHEA too.*
Perhaps even more importantly, Pine Pollen seems to help detox the xenoestrogens and other endocrine disrupting chemicals that our environment is full of.* From plastics to pesticides, our air, food, even the air we breathe is full of chemicals that do us harm such as:
Important Protection from Harmful Endocrine Disrupting Chemicals
BPA
Phthalates
PCBs
PBDEs
DDT (banned many years ago, yet sadly it's still in our environment)
Oxybenzone
Dioxins
And this list only scratches the surface.
This, more so than aging, is one reason that there are chronic health issues surrounding hormone health and a population level decline in testosterone overall, not just age!
Pine Pollen appears to help turn on your hormonal regulatory system.* At least for those that take it, this trend can be turned around.
Morning Wood is like a Canary in a Coal Mine for Your Hormone and Cardiovascular Health!

Think back to this morning. Did you wake up with wood?
If not, I'm sorry to say, that is a sign of declining health.
While complicated this has to do with your hormones, like testosterone, and your blood supply (which can indicate existing or impending metabolic disorders such as diabetes).
And that is one of the reasons Pine Pollen is so great. It can bring your morning wood back from the dead!*
I'm not going to sugar-coat it. Pine Pollen is an amazingly strong substance from nature. It's literally the pollen of the pine trees which acts to cause new life and help Spring spring up.
So when you consume Pine Pollen, it works on your "pollen-making apparatus", aka your reproductive organs and everything involved down there.*
Morning Wood... Guaranteed
One of the strange effects Pine Pollen seems to have is to dramatically strengthen morning wood, aka pitching a tent, aka morning glory, aka nocturnal penile tumescence (for the science nerds).*
Few people care about morning wood per se... but if it is working then, it tends to work other times you want it too (wink, wink, nudge, nudge).
Here's some of our internal survey results where it worked for over HALF of men.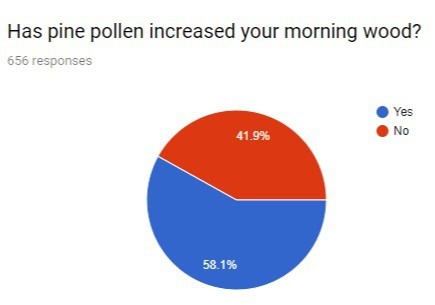 If fact, we have a specific protocol where we guarantee it. Customers have written in telling us "it's as hard as a diamond," "it had to be dealt with," "it could dent a car door," and far more graphic things too! So yeah it works.
And many people who didn't get results were NOT following our Megadose Protocol. How many of those men would have gotten benefits if they had?
(While many of those that DID get results did so with smaller doses too!)
Here's what our customers say...
"I started using Lost Empire Pine Pollen last year around October 2017…Worked as advertised for me during the night and morning . Sometimes so much during the night it would wake me up with the hardness."
- Bruce Frame
"I've tried other so called test boosters, but nothing compares to pine pollen. I've only used it 2 weeks and have placed my 2nd order. This product does as it says. Later I'm gonna try the tincture with the powder. You guys are great. Excellent customer service. You are my new supplement company. Can't wait to try more products."
- Larry Hart
"I have taken the pine pollen herb & I liked it! It made me Have a Nice Wood! & I enjoyed it very much! Might get another order of it! I am 52yrs old young. & It works great for me! ? & I have taken the pine pollen powder. & I like it! ? Having a woody makes me feel great! ?"
- Gary DiMura
This is not a trial offer with recurring billing that you can't cancel. Your order today is for TODAY ONLY!
This is not a trial size... it is our regularly sold 50-gram bag that retails for $19.99. This is the REAL THING.
Independently Lab Tested with Strict Quality Control Standards
Most supplement companies simply go by their suppliers certificates of analysis. We do not!
Everything we get is independently verified by 3rd party lab testing that it is:
What it says it is (no wood pulp or unknown ingredients masquerading as an herbal extract)
Extremely low in heavy metals (we personally have stricter standards than any government agency)
Free of harmful microbes
In addition, we continue to add even more tests for purity and potency. And unlike most supplement companies we publicly post ALL of our tests for our customers to see.
We don't hide the fact that our Pine Pollen comes from China…as that's the only place with commercial operations at the scale we need. I know, I know China is a boogeyman and you shouldn't trust supplements that come from there. Well, that is one of the reasons we do independent lab tests on all our herbs.
Strict Heavy Metal Standards
Yes, it is extremely low of heavy metals.
Arsenic at 0.25 ppm which earns a Grade A+++
Cadmium at 0.436 ppm which earns a Grade A+.
Lead at 0.58 ppm which earns a Grade C (please note that these grades are stricter guidelines than ANY government so a C here is still very good).
Mercury at 0.006 ppm which earns a Grade A+++.
Steam Sterilized...Not Microwave Irradiated as Most Pine Pollens Sold Are
Yes, it is free from harmful biological contaminants. Our Pine Pollen is steam-sterilized while most others are treated with harmful microwave radiation. (Or not treated at all…which then results in tons of mold!) See the results of our independent lab test here.
Beware! Drug Spiking in Chinese Herbs...
What happens with some Chinese herbs is that they're spiked with drugs! This is especially true of "sexual tonics" which use PDE-5 inhibitors, versions of Viagra and the like, known by the generic name of Sildenafil. Our tests confirm our Pine Pollen has no such drugs. See the results of our independent lab test here.
A Few More Reasons to Trust Us
It's a sad fact that there are many unscrupulous supplement companies out there. We're not one of them! Welcome to Lost Empire Herbs. We stand apart from other supplement companies and here you'll learn a few more reasons why.
#1 – We are Real People
My name is Logan Christopher.  That's not a pseudonym or pen name. I, along with my two brothers, Zane and Cloud, started this company to get the best quality herbs for ourselves and start sharing them with others.
Can you guess which one I am? 🙂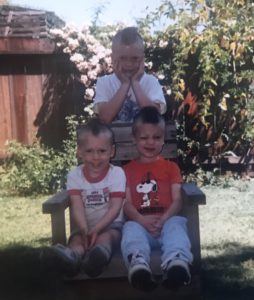 #2 – We take Our Herbs
I take these herbs. All of our employees take our herbs. With other companies, do you know if the CEO or any employee is taking the supplements they mak? It might surprise you to find that some do not.
And if they won't take what they're producing, should you?
#3 – Great Customer Service
I can't say we're perfect, but we certainly strive to be. Our great service is another reason that people love us.
"You provide an excellent service, your products work for me, at 67 years old I feel 40 years old again very good! Especially I am able to call and talk to one of your great people that's a service that should never change in a world where we can't talk to anyone." – John

#4 – 3rd Party Independent Review Platform
We use a third party independent platform called TrustPilot. This means that we cannot "game the system" deleting bad reviews or anything like that.
There're 2,017 and counting reviews on that with an average rating of 4.6 stars. These come from our real customers.
#5 – Great Education
Herbs are not a magic bullet. They can have some truly amazing effects but if you want to be healthy and high performance you need to do a lot more than just take herbs. As such we share articles, videos, podcasts and more that will help you to get more out of life.
And of course, we've got tons of education around the herbs themselves. In fact, with your purchase today...
Free Bonuses with Any Quantity Purchase Here
In addition to Pine Pollen you'll also receive the following two ebooks. Our New Customer Herb Guide welcomes you to the wild world of herbs including:
How to Take Herbs - Herbs are a whole new realm to many of our customers. Where do you start? How do you take these powders and tinctures? What about taste? All these questions and more answered here.
How to Experiment with Herbs on Your Own
Not All Herbs Are Equal - Understanding Herb Extract Types and Potency Ratios
A Complete Glossary of Herbs, Our Most Popular Products and More
A $19.95 value, yours free with purchase.
Take Your Health, Power, and Performance to the Next Level
Discover how you too can improve your energy, sleep, mental focus, itality and much more with the fun and exciting world of herbs.
We will walk you through the top herbs and formulas to help get you to whatever your performance goals happen to be. Performance is NOT just for athletes. For us performance means even just sleeping better or not having brain fog.
Here's what our customers say...
"I tried pine pollen and was skeptical of the benefits. I use it in my morning smoothies and noticed the things down below became more "Rock Solid' as well as seeing a boost in strength. I really could tell when I went a couple of months of not taking the supplement. I continued to lift weights and noticed I wasn't making any gains in strength. I ordered a megadose and within two days of consuming the product, I almost doubled my reps in the gym. This is by far the best bang for the buck of supplements that I have ever tried."
- Earl Heath
"I have been take the bare minimum of 1/2 tsp twice daily as a starting point and I must say I noticed a difference in the first week. I didn't get a stimulant effect which I love, but a more overall sense of things changing. I add it to my coffee and it's tasteless!!! A little perk in my step, a clear mind, libido actually increased (which is weird because I've been on HRT) I could write for days about my positive experience but won't. I just know after a month of supplementing on it I'll continue to use it! I'll also continue to buy from LOST EMPIRE because of how fast it came to my house and the packaging is top notch!! Customer for life !! Thanks everyone at lost empire for being a big part of a healthier me !!"
- Casey Bingham
"Great products that are real herbs. Packaging is the best I've seen really says alot about how they take care of their products. I've been taking their herbs for about a week. I have more energy and more clear thinking. Will be ordering more herbs from LostEmpireHerbs. Thank you guys are the best."
- Roger Jay C
How Long Does it Take to Work?
This is an important topic so I want to make sure to give it a bit more time.
One reason we rolled out the Morning Wood Megadose Protocol was that this was something many people could notice specific benefits with the very next day.
But as I keep saying, nothing works for everyone, not at the same speed anyway!
Here's another chart from our internal survey:
30% said that the morning wood effect occurred from the very first dose.
57% said that it took up to a week for the effects to occur.
12% said that it took up to a whole month for the effects.
1% had to wait even longer than a month to get the effects.
Almost a third of people get the results the first night. Almost everyone is getting results within a week. And a smaller segment took a month or longer to get results.
This is just about the Morning Wood...but other benefits would be found in similar time frames.
Frequently Asked Questions
There are several different methods. Some people just put the powder into their mouth and then swallow it. Or you can mix into water, any other liquid or a smoothie. You can even sprinkle it on top of a salad, oatmeal or other foods
Anytime. Some people like to take it during natural peaks in the circadian rhythm like in the morning and after workouts. It is also great to take before workouts and at night-time before bed. For best results take Pine Pollen 2-3 different times per day instead of all at once.
Yes. Pine Pollen is really more of a food than a medicine or drug. It is safe for anyone to consume in powdered form (except for those who have pine pollen allergies).
Pine Pollen has not been sufficiently tested in pregnant or nursing women for safety, so it is not recommended. That being said we do know some women who take it during those times and the babies seem perfectly fine.
Unfortunately, a small percentage of people have a Pine Pollen allergy. This is not a dangerous allergy, like peanuts for some, but can cause discomfort. When you get Pine Pollen it is best to take a small dose, like 1/4 teaspoon, and wait a few hours. If you have any common symptoms of allergic reactions it may not be the best herbal supplement for you.
We strive to deliver the highest quality yet affordable products available, while providing great information and customer service so that we can truly transform people's lives. We stand by our products because this is the stuff we all take ourselves.
Just 100% pure Pine Pollen. Nothing else.
Unfortunately, Nothing Works for Everyone... 🙁
Sadly, nothing works for every single human being out there (short of gross generalizations like breathing being good for you).
We've shared a bunch of real five-star reviews from real customers so far...with many more coming.
But I also wanted to share some 1-star reviews with you as well.
"Product did not work at all for me but the customer service was great"
- Joseph Froehle
"Not certain how long one needs to take this product to start seeing any results or benefit, but I have seen nothing as yet."
- Jon Sandberg
"I have only taken it for a couple of weeks but so far I don't feel any difference. So far it feels like a waste of money."
- Harry Tokayer
Honestly, Pine Pollen is our most popular herbs for a reason.
With over 40,000 units sold there are 377 reviews and counting, the vast majority five stars.
But in case you're one of the few it doesn't do anything for, I want to remind you you're only paying one penny plus shipping today. And if you want we'll even refund that if it doesn't work for you.
Seeking a Natural Solution to Orchestrate the Symphony of Hormones
One of the big problems is that hormones do not work in isolation. The best way to think about them is as a symphony all working together.
Rather than injections with isolated hormones, in my opinion, it is always best to work with a natural approach... because our bodies come from nature. This is a lower risk, lower cost intervention.
A natural substance, like Pine Pollen, has hundreds of co-factors which serve to regulate and balance its effects in the body. And instead of a one treatment for one problem view, natural substances can work at that root level, giving your body the building materials it needs to best take care of itself.
A doctor might need to give you an aromatase inhibitor so that the testosterone they inject you with doesn't become estrogen. Why not instead go with something that helps balance both testosterone and estrogen?
Look, those interventions have their place, but when in doubt natural is better and safer. How many times does Western Medicine have to go opps, before you realize that science can and does lead us astray?
Pine Pollen Supports Improved Workout Recovery*
The Morning Wood may be the most noticeable of results when taking Pine Pollen.
Another thing we here reported over and over again is that people are not getting as sore after workouts!* (Testosterone and the like being a big part of recovery, of course.)
Pine Pollen is a complete protein too. This makes it great to take post-workout especially. Not only does it have all the essential amino acids, but most of the non-essential ones too.
A three gram dose of Pine Pollen contains:
Alanine 17mg
Arginine 30mg
Aspartic acid 33mg
Cysteine 3mg
Glutamic acid 47mg
Glycine 21mg
Histidine 6mg
Isoleucine 16mg
Leucine 25mg
Lysine 24mg
Methionine 4mg
Phenylalanine 17mg
Proline 26mg
Serine 16mg
Threonine 15mg
Tryptophan 4mg
Tyrosine 11mg
Valine 19mg
Here's what our customers say...
"Lives up to the hype" - Ronald Phillips
"Product works as advertised! Will definitely buy again!" - Bob Camp
"This is an incredible product." - Daniel Kraybill
"Good price, good product, and knowing it comes from people who care makes it extra special. Good vibes." - Frank Pulieri
"Works as expected, great customer service, quick turnaround" - Jack Canada
"Pine Pollen is the miracle supplement for guy's over 50 (like me). I can't believe I did without it for so long. These guy's know what they are doing!"
- Stretton Rutherford
Pine Pollen is amazing...
And there's only one way to find out if it will be amazing for you. That is to try it and see.
You won't find a better deal this this just one cent plus shipping offer.
So why are you still on this page? Click the button below to place your order and be trying Pine Pollen within a few days...
References:
Stephen Buhner, Pine Pollen: Ancient Medicine for a New Millennium
Stephen Buhner, The natural testosterone plan: for sexual health and energy - Healing Arts Press - 2007
Saden-Krehula M, Tajić M, Kolbah D. Testosterone, epitestosterone and androstenedione in the pollen of Scotch pine P. silvestris L. Experientia. 1971 Jan 15;27(1):108-9.
I, Adenigba & B.L.M., Tumbokon & Serrano Jr, Augusto. (2017). Androgenic and Anabolic Effects of Pinus tabulaeformis Carr. Pollen in Clarias gariepinus. The Israeli journal of aquaculture - Bamidgeh. 69. 1388-1396
Travison TG, Araujo AB, O'Donnell AB, et al. A population-level decline in serum testosterone levels in American men. J Clin Endocrinol Metab. 2007;92:196-202.
Rutkowski K, Sowa P, Rutkowska-Talipska J, Kuryliszyn-Moskal A, Rutkowski R. Dehydroepiandrosterone (DHEA): hypes and hopes. Drugs. 2014;74(11):1195-1207. doi:10.1007/s40265-014-0259-8