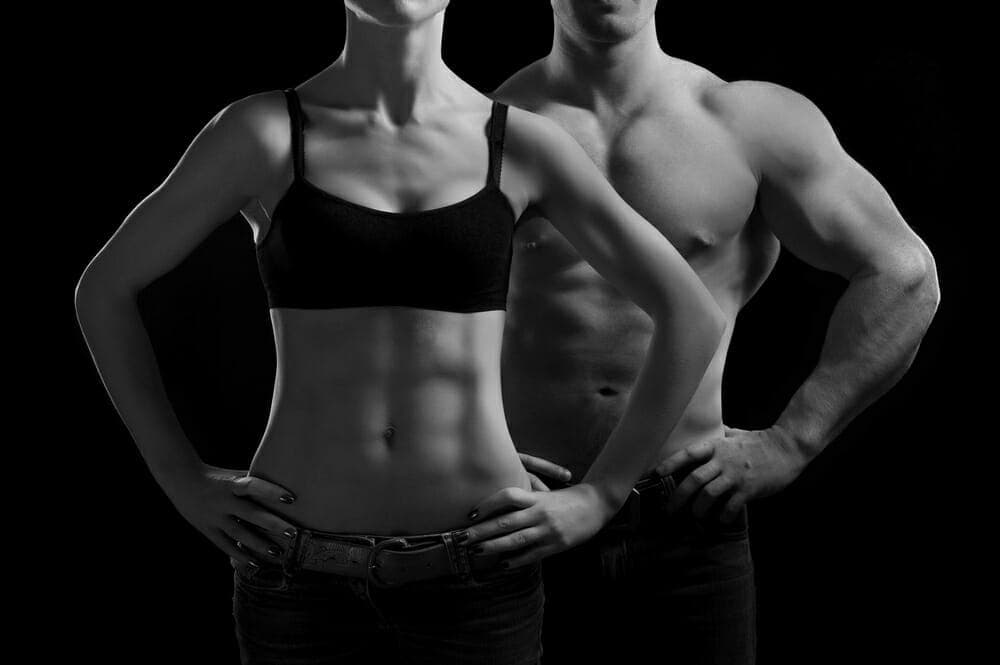 Understanding Testosterone and the Hormonal Ecosystem
Testosterone—it's in all of us! This hormone is important for male sexual function increased muscle mass, and has also been known to stoke male aggression. You may also know that it has many interesting health implications for people of both sexes.
When it comes to women's health and testosterone, many may think "oh no!" What comes to mind may be hirsutism—aka male patterned hair growth. Did you know that testosterone production is both natural and necessary for optimal health in both men and women? The time to reconsider and reclaim the importance of testosterone in women's health starts now. That's right ladies, testosterone is one of our hormones too!
So, what are hormones? Hormones act as chemical messengers, circulating throughout the body and slowly creating changes in health and well-being by exerting functions on various tissues and organs. When hormones work together they create a balance in the body. When there is an imbalance in one hormone, it can cause widespread imbalance.
All of our hormones function as part of the endocrine system and are produced by various tissues and organs:
The Pituitary is known as the master gland. It releases hormones that stimulate the other glands in the endocrine system to release their hormones. Some key hormones produced by the pituitary includes Follicle Stimulating Hormone (FSH) and Luteinizing Hormone (LH).
The thyroid gland secretes thyroid hormones, which are responsible for regulating the metabolism[TH1].
The adrenal glands secrete hormones that control stress response (cortisol and adrenaline) and blood pressure regulation (aldosterone). About half the testosterone in a women's body is produced by the adrenal cortex and the ovaries.
The ovaries (female) are known for producing estrogen, progesterone, and of course, testosterone. These are all considered "sex hormones."
The testicles (male) are known for producing testosterone.
The pancreas produces insulin and glucagon, which regulates blood sugar levels.
 The synthesis of testosterone is regulated by the secretion of gonadotropin-releasing hormone (GnRH) from the hypothalamus, which stimulates the release of LH and FSH from the pituitary. The LH stimulates synthesis of testosterone in the ovaries.
From a Traditional Chinese Medicine (TCM) perspective, hormones can be viewed as representatives of yin and yang. While yin and yang are opposing principles, they rely on one another to exist. Yin is nourishing and building, while yang is energetic and activating—but together they balance. Dr. Claudia Welch says:
"If we can understand yin and yang, we have a simple framework for understanding the function of any hormone in the body, and specifically the complex stress hormones (yang) and sex hormones (yin), whose relationship is at the root of women's health, good or ill. Whether we are talking about a liver cell, heart cell, fingernail cell, brain cell, or carbon molecule, each has form and substance. This is yin. Each also has an energy that organizes, transforms, and directs the substance. This is yang. Yin is about mass, yang is about energy. Yin is the thing operated on, yang is the operating force" (Welch 15).
When observing the hormonal changes that occur throughout a woman's lifespan, one witnesses the ebb and flow of yin and yang. We can empower ourselves by supporting and rebalancing our hormones throughout our lives and in doing so, we can help prevent unpleasant symptoms and imbalances. It all begins with paying attention to your body.
Understanding the hormonal cascade of the menstrual cycle also sheds some insight on how women's hormones function. Each phase of the hormonal cycle is about one week.
The four phases of the menstrual cycle include:
Follicular phase – occurs after your period before ovulation; estrogen levels increase, creating a thicker uterine lining to host an egg. Testosterone levels increase, and yes in turn libido rises! Blood flow to the brain increases, along with increases in serotonin the "happy hormone"
Ovulatory phase- when you are ovulating; estrogen and testosterone reach peak levels. The brain sends Follicle Stimulating Hormone or FSH and Luteinizing Hormone or LH. FSH signals the ovaries to ovulate, and LH signals the synthesis of progesterone (progesterone is dependent on ovulation, since it is secreted by the corpus luteum, the area in the ovary where ovulation occurred). Estrogen levels decrease as progesterone levels rise.
Luteal phase- occurs before you have your period; progesterone levels peak, preparing the body to shed the uterus lining. Testosterone and estrogen levels continue to drop.
Menstrual phase-  is when you have your period; progesterone levels drop. At the start of bleeding hormone levels are relatively low, but at end of bleeding estrogen levels begin to increase—leading once more to follicular phase. And the cycle begins again!
Testosterone is often overlooked when observing the hormonal cascade of menstruation. Although women produce testosterone in smaller amounts than men, the amount produced is significant. Testosterone actually functions as a precursor for some of the estrogen needed in a woman's body. Again, it's all about balance, as too much or too little testosterone can negatively impact health and well-being.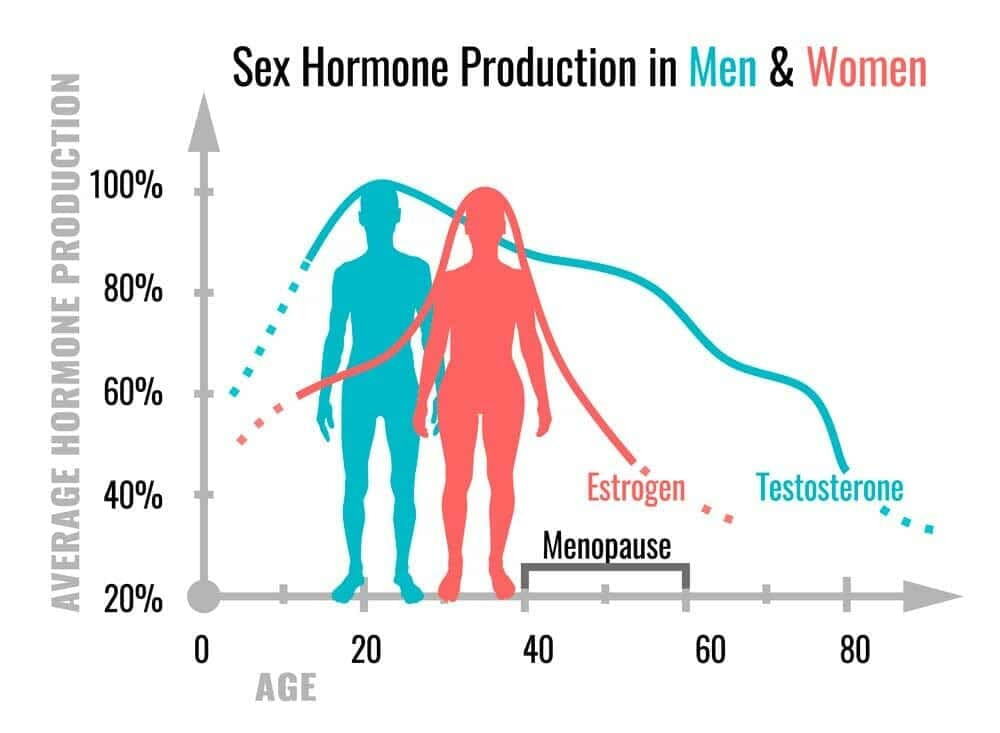 The Impacts of Testosterone on Health and Well-being
Testosterone plays a major role in driving libido. In a study published in The Lancet: Diabetes & Endocrinology, findings determined that "concentrations of testosterone are positively associated with sexual function in women." Decreased inhibition and spontaneity during the end of the follicular phase and beginning of ovulation can be partly attributed to testosterone increase during this time in the cycle.
Menstruation aside, a healthy woman's body will produce a steady stream of testosterone. Women's health expert, Alisa Vitti, speaks about the importance of testosterone for overall health:
"Good testosterone levels are important for building muscle mass, maintaining a healthy weight, and retaining bone density. You also need testosterone to get a decent night's sleep, to have a strong libido, and to be about to tap into your creativity…studies show that robust testosterone levels promote creative divergent thinking as well as musical talent!"
When it comes to cognition, evidence shows that testosterone is a neuroprotective and produces anti-inflammatory actions within the brain. While more research is still needed on testosterone in women's health, some researchers believe that testosterone also assists with creating more favorable cardiovascular effects in women.
Now that we know the importance of testosterone, you may be wondering how to tell if your testosterone is in balance. Let's take a look at some of the symptoms of LOW testosterone (aka Low T) as described by Alisa Vitti:
fatigue
low libido
 vaginal dryness
 insomnia
 gaining weight around the middle
 infertility
joint pain/arthritis
 low self-esteem
problems in retaining muscle mass.
In contrast, symptoms of HIGH testosterone (aka testosterone dominance) includes:
hormonal acne (mid-cycle and/or right before your period, as testosterone, can cause the sebaceous glands to produce excess oil)
 male pattern hair growth
 hair loss
 insulin resistance (issues with blood sugar balance)
 high blood pressure
 irregular periods
What Causes Testosterone Imbalance? 
Some of the main causes of hormonal imbalances, which affects testosterone balance include:
exposure to environmental toxins (ie. xenoestrogens- -which can be found in plastics, soaps, detergents, and conventional animal products)
 hormonal birth control
 insulin resistance (blood sugar imbalance, diabetes)
 obesity
diet (lack of nutrients, food intolerances, microbiome imbalance, alcohol/smoking habits)
If you are concerned about your testosterone levels, consult with a healthcare practitioner who can test your hormone levels and prepare an individualized treatment plan specific to your needs.

Balancing Hormones with All-Natural Remedies
The good news is that there are many helpful lifestyles and dietary choices you can make, along with herbal support that can help you bring your testosterone levels (along with other hormones) back into balance.
Diet- incorporating a variety of healthy fats, such as coconut oil, avocados, seafood, grass-fed butter, and ghee, is important for hormonal health. Saturated fats and cholesterol are necessary building blocks for hormone production. Healthy fats are also anti-inflammatory and can even help boost metabolism. Omega-3 fatty acid, which is found in wild salmon, walnuts and grass-fed animal products, is also known for enhancing cognition.
It is most beneficial to limit refined carbohydrates along with oils that are high in omega-6 fats (such as safflower, corn, sunflower, soybean, and peanut). Focus on eating nourishing fats and increase vegetable intake. Vegetables provide the body with vital nutrients.
Some key vitamins to focus on when it comes to hormonal health are Vitamin D and Zinc. 
Vitamin D is important for keeping inflammation low and is known for helping with mood swings in people who suffer from seasonal depression. Sunlight is the best source of Vitamin D, so even if it is cold, make it a point to embrace the season and get outside!
Zinc is important, especially if you are experiencing Low T. Some research shows that zinc deficiency may be the main cause of Low T for some folks! This is due to the fact that androgen receptors (the receptors in our bodies that recognize testosterone) are often altered in people with low zinc. Beans and seeds are wonderful sources of zinc.
Herbs-  are wonderful allies in hormonal support. A class of herbs known as adaptogens can be particularly helpful, as they have been clinically proven to decrease cortisol and help balance out hormones. Adaptogens work with the body and can increase or decrease hormone levels unique to an individual's needs. While there are synthetic forms of testosterone available, the side-effects can be risky– working with lifestyle, diet, and natural herbs are key to promoting and supporting long-term hormonal balance and health.
Ashwagandha Spagyric-  considered an adaptogen, Ashwagandha is a long-time appreciated hormone balancing herb in Ayurvedic medicine. It has been shown to reduce cortisol levels in the body and also increases blood flow to the sexual organs. Taking this herb in a spagyric form also means that there are more minerals than a typical Ashwagandha tincture, due to the enhanced processing technique.
Black Maca Powder– also known as Siberian Ginseng, Maca had long been used as a remedy for sexual dysfunction and infertility. It is not a surprise that it is often used as an aphrodisiac. Maca is a tuber, which is filled with phytonutrients, including zinc and other important micronutrients. It can help build bone density, muscle, and is also touted for increasing energy. The powder is tasty too! It can easily be added to smoothies.
Pine Pollen–  may get the rep of being great for men (after all it is the male spore of the pine tree!), but it is an ally to women too! It has been used in China for thousands of years and is considered a beauty tonic for women. Pine Pollen is known for containing phyto-androgens, including testosterone. Experts believe that the structure of these phyto-androgens allows them to work similarly to the body's own hormones in an adaptogenic way. As a hormone balancer, Pine Pollen can also support liver health and detoxification. It is also high in phytonutrients and antioxidants!
De-stress- high cortisol (stress hormone) is one of the most common causes of hormonal imbalance. When our body's adrenals are overtaxed with producing high amounts of cortisol, we do not produce an adequate amount of sex hormones, which can result in Low T. High cortisol also affects our blood sugar regulation and can be a root cause of insulin resistance; insulin resistance has been linked to T dominance. So, whether you have Low T or too much, lowering cortisol levels is a great place to start.
One of the best ways to de-stress and achieve a lower cortisol level is to get more sleep. Paying attention to your emotional state is also important, as emotional and physiological stress go hand in hand. In TCM, it is believed that the emotion of fear can cause an imbalance in the reproductive organs, kidneys, and adrenals, all of which, affect cortisol levels and overall hormone balance. Dedicating time to self-reflection, quiet walks, breathing, and meditation practices can be beneficial in addressing emotional stress.
Exercise- once again, it's all about balance, yin and yang. From a TCM perspective, exercise can be a great way to support the movement of flow of qi in the body. Too much, or too vigorous though, and one can actually increase stress and deplete the body. When it comes to movement, listen to how your body feels. Try supporting your body's natural fluidity through stretching. Exercise and weight-bearing activities have been shown to increase testosterone temporarily. Weight-bearing exercises have also been shown to support bone health.
Liver Support- the liver has the important role of detoxification. When our livers are sluggish, hormones are not filtered correctly and end up recirculating into the bloodstream causing T dominance. A congested liver also includes environmental toxins, which can mimic estrogen in the body and build up to create a state of estrogen dominance and thus, cause Low T.
Vitamins and minerals are necessary for proper liver function, Zinc especially. TCM positions the emotion of anger within the liver. Working with your emotions and focusing on ways to de-stress can positively support liver health. Keep in mind, cortisol has to be processed by the liver. Supporting the microbiome with fermented foods and probiotics can also benefit the liver.
Now you know, ladies…. female testosterone is the yin within the yang.
References:
Davis, Susan R, and Sarah Wahlin-Jacobsen. "Testosterone in Women—the Clinical Significance." Diabetes & Endocrinology, 7 Sept. 2015, www.thelancet.com/journals/landia/article/PII2213-8587(15)00284-3/fulltext.
"Female Hormones & Menstruation 101." Gaia Blog, 21 Apr. 2017, www.gaiaherbs.com/blog/2015/07/13/female-hormones-and-menstruation-101/.
Kevin. "The Yin and Yang of Hormonal Balance: A Traditional Chinese Medicine Perspective."Hormonal Imbalance in Traditional Chinese Medicine Perspective | IMI Hong Kong | Central, Discovery Bay – IMI, www.imi.com.hk/hormonal-imbalance-in-traditional-chines-medicine-perspective.html.
Mazer, N A. "Testosterone Deficiency in Women: Etiologies, Diagnosis, and Emerging Treatments." International Journal of Fertility and Women's Medicine., U.S. National Library of Medicine, 2002, www.ncbi.nlm.nih.gov/pubmed/11991434.
Tyagi, V., Scordo, M., Yoon, R. S., Liporace, F. A., & Greene, L. W. (2017). Revisiting the role of testosterone: Are we missing something? Retrieved January 02, 2018, from https://www.ncbi.nlm.nih.gov/pmc/articles/PMC5434832/
Vitti, Alisa. "5 Reasons You Have Adult Acne." Flo Living, 7 Dec. 2017, www.floliving.com/5-reasons-you-have-adult-acne/.
Vitti, Alisa. "Hormone Diet: 5 Foods to Make You Lose Weight." Flo Living, 18 Nov. 2015, floliving.com/upgrade_flo/5-foods-to-boost-a-secret-hormone-that-makes-you-lose-weight-faster-sleep-soundly-and-have-boundless-energy/.
Vitti, Alisa. "The 7 Hormonal Phases You'll Experience in Your Lifetime." Flo Living, 5 Apr. 2017, www.floliving.com/7-hormonal-phases/.
WELCH, DR CLAUDIA. BALANCE YOUR HORMONES, BALANCE YOUR LIFE. MOTILAL BANARSIDASS, 2017.
Latest posts by Erin Henry
(see all)