Lately, I've been exploring xeno and phytoestrogens to get a better understanding of how these can harm and benefit our health.
This recently got kicked off with my article: Are Phytoestrogens Dangerous or Healthy?
Follow up articles had to do with a specific phytoestrogen beta-sitosterol, as well as the phytoestrogens in He Shou Wu.
And there's still more to explore.
In doing that I came across this fantastic study, Exploring the Biological Activity and Mechanism of Xenoestrogens and Phytoestrogens in Cancers, published only a year ago. I know I geek out on this stuff, but many of you appreciate me diving in like this.
This study gives evidence to what I've been talking about. For example, "Different from the xenoestrogens which are widely accepted as carcinogens, a wide range of beneficial effects of phytoestrogens on the cardiovascular, metabolic, and central nervous systems, as well as a reduction of cancer risk and postmenopausal symptoms, has been claimed."
First, I will mention that it focuses on women and cancer, notably of the breasts. This image from the study shows the often time opposite effects from these different estrogens.
This picture shows, on the bottom, how different effects are shown in xenoestrogens vs. phytoestrogens. In fact, some opposite effects from the two different sources. This quote is a mouthful but describes it in more detail.
"Xenoestrogens are more likely to displace endogenous E2 [estradiol] from hSHBG [human sex hormone binding globulin] binding sites, enhance E2 formation by inducing steroidogenesis enzyme expression, such as aromatase, consequently promoting estrogenic responses in humans. Meanwhile, supplementation with phytoestrogens may lead to decreased plasma E2 levels via interaction with hSHBG levels and interruption of estrogen metabolism."
SHBG is an important carrier molecule that has been detailed in this two-part article. I hypothesized long before I saw any scientific evidence of such that xenoestrogens and other endocrine disrupting chemicals are shuttled around the body by SHBG, which is something this paper is saying it does.
I've also hypothesized that a high SHBG level may actually be helpful in protecting the body from EDC's.
Guys looking at the image may see the up arrow by Free T and thinking they should go guzzle BPA and PBCs. Please don't! Remember that this study is focused on women. It's also a generality which means that not every chemical will have the same exact effects, especially across the sexes.
"[Xeno-estrogens] have unexpected activities by acting as either estrogen, triggering receptor pathways, or anti-estrogens, blocking normal estrogenic activity" 
This is an important idea revealed while diving deeper into the literature. Some of the harm from xeno-estrogens isn't just because it mimics estrogen but because it can have anti-estrogen effects. It can block your normal healthy functioning of estrogen.
Here's an example of a table of some xeno-estrogens showing their effects.
Another important learning from here is the idea that phytoestrogens do not necessarily mean more estrogen. Here's an example of that:
"More specifically, [quercitin], [apigenin], and even [resveratrol] have been noted to exhibit a biphasic effect; at low concentrations, these phytoestrogens display estrogenic activity, whereas, at higher concentrations, they display more protective anti-estrogenic activity."
I've talked about bell-shaped curves before, specifically around the topic of dosing. Sometimes one amount will do something and more doesn't do more. It can effectively have the opposite effect. Welcome to the complexities of biology.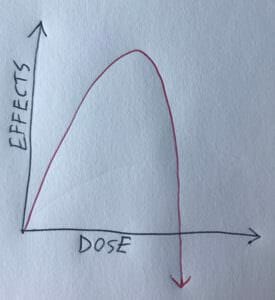 "Of all the reviewed phytoestrogens, curcumin (CUR) has been the most evaluated in terms of both pre-clinical and clinical investigations."
That's right, the main component of Turmeric is a phytoestrogen. Most people aren't aware of this fact when they're taking it for inflammation. Just thought I'd throw that in there for fun.
"Amongst the phytoestrogens, isoflavones are the most potent inhibitors of aromatase. Many phytoestrogens decrease the plasma estrogen levels, pointing towards a possible inhibitory effect in the regulation of E2 synthesis via suppressing the expression and activity of aromatase"
Aromatase is the enzyme that converts testosterone into estrogen. Inhibiting or suppressing it would lead to having more testosterone and less estrogen. This effect is one that many men seek to have. Isoflavones are found in many beans, notably soy, chick peas and peas. They are found in herbs such as red clover. There are even isoflavones in dairy, eggs and meat, though only small amounts.
There's much more in this study. Here's a partial chart of some of the phyto-estrogens listed.
All this shows more evidence that phyto-estrogens and xeno-estrogens are different matters entirely. This is more evidence for what I said before
Xenoestrogens = bad and should be avoided and minimized as much as possible.
Phytoestrogens = does not equal bad, in fact can be beneficial. But also can be overdone in some cases.
Before seeing the science backing this up, it was a simple principle from following the guideposts of nature.
References:
Latest posts by Logan Christopher
(see all)