It's finally come. The dreaded time in our life when our hair seems to start taking its retirement, leaving us frustrated and "understaffed" in that department.
For many, light hair loss is the opening act for full-blown baldness and something that is totally unavoidable…or so they say.
Luckily, this is definitely not the case, but most men just think so since they've never done anything about it.
Hair loss is Hair loss, Right?
Not exactly… as there are many different causes that can contribute to it. You may be surprised to learn of all the different types of hair loss that actually exist, ranging from that caused by the use of common medications, to auto-immune disorders and more. But if you're a man, by far the most common factor is your cursed genetics!
On that note, we introduce you to "Androgenetic Alopecia", or male pattern baldness to simplify, owing to the fact that it occurs primarily in men. Don't go off assuming that if a woman has hair loss that she definitely is not suffering from this kind, as variations in actual androgen levels, the sensitivity of the scalp to DHT and her genetics could also contribute to male pattern baldness in women.
Why Am I Losing My Hair?
The exact answer is…it depends. Though, if you're a man, certain correlations are far greater. But as a quick overview, it could be attributed to one or more of the following:

Your Family History: genetics are virtually impossible to overcome. True, artificial hair transplants can "mask" the real impact of your genetics on hair loss, but most people don't go through the trouble of doing it. It is estimated that as many as 6 out of 10 men will experience some degree of hair loss, be that minor or severe, attributed largely to different follicle chemistries and sensitivities to the androgen dihydrotestosterone (DHT). DHT attaches itself to DHT receptors located on hair follicles and can occlude blood flow, causing them to shrink and become unable to receive the nutrients necessary for your mane to shine.

 

While DHT blockers can be indicated for this, for all that is holy (such as your manliness) only opt for topical solutions as pills designed to do so will destroy your manhood (such as

Finasteride

).

High Estrogen Load: a high estrogen load is not good news for men (aka estrogen dominance). From sexual dysfunction to excess weight retention, estrogen is also implicated as a catalyst in starting hair loss. The way this happens is due to the competing nature of DHT and estrogen. If estrogen levels are high, the body attempts to compensate by increasing DHT synthesis (

DHT protects against estrogenic side effects

). This negatively affects the follicles and can bring on hair loss.

Natural aromatase inhibitors

are a good idea if you suffer from estrogen dominance. Also, Progesterone, an often underestimated hormone, can actually keep both in check and is thus beneficial, but loses its protective effect under periods of high stress (progesterone shares a close relationship with the stress hormone cortisol).

Low Testosterone: contrary to what most people think, high testosterone levels are not responsible for causing hair loss unless it is from having super-physiological levels, such as from anabolic steroids usage (by excess conversion to estrogen). During men's teenage years, testosterone peaks to an all-time high along with the hormone progesterone. During this time, close to zero men experience any hair loss. Rather, when men age and these two hormones start to decline, this is when hair loss often shows it's face for the first time. One of the best anti-aging strategies for men is to monitor levels of testosterone and progesterone and make an effort to keep them within healthy levels, which includes benefits for hair loss control (by balancing estrogen and DHT in relation to testosterone). When it comes to hormones it is not the total levels of, for example, testosterone that matters (this is what most men obsess about), it is the ratio or relation of different hormone levels to each other. You can have all the testosterone in the world but if a lot of it is being converted into estrogen, you will be one miserable hairless man.

Health Conditions: these include conditions that may directly affect the growth cycle of hair, or cause damage to the follicle itself.

Pharmaceutical Medication: some medications can alter hormone levels, affect the growth of hair or interrupt blood flow and nutrient delivery.

Can Hair Loss Be Stopped?
Hair loss is difficult to stop if you are genetically predisposed, but that does not mean that active efforts to reverse the trend can't be achieved. In fact, if you emphasize treatments that address the underlying cause, you will likely end up very pleased with your results.  Try the following to apply the brakes to hair loss:
Cistanche
Cistanche is a "legendary" herb, brought to popularity by none other than the mighty Mongol conqueror Genghis Khan. According to legend, Cistanche sprouted from the ground where he slaughtered horses sent from the heavens, after being on the verge of defeat in war. After consuming this newly sprouted Cistanche, his army had their energy and morale restored, and went on to win the battle.

In modern day times, Cistanche has built up its reputation as a sexual tonic, claimed to increase penile size and erection potency. The effect on erection potency holds merit and can explain its utility in managing hair loss, owing to the ability of Cistanche to increase male hormones and improve blood flow and circulation. Restoring blood flow is one facet of stopping and possibly reversing hair loss. Another study investigating its role in hair loss found it to be roughly equivalent to a 3% Minoxidil (Rogaine) solution for stopping hair loss when used in combination with another compound.
He Shou Wu
The name of this herb is sure unremarkable but means a lot according to Chinese legend. The name loosely translates to Mr. He's Black Hair or Hairy back, which gives a good indication of its primary use at the time. Since then, its use has grown throughout Eastern Asia as a hair loss remedy and seems to be very effective at what it does. According to studies carried out on rodents, Chinese knotweed (the common Western name for He Shou Wu) was able to activate the anagen phase of hair growth, which in humans is the phase by which hair grows continually for a period of time (usually 2-6 years). While it may be ingested- as is frequently the case in Asian cultures, this study was done via topical application, a testament to the likely potency of this extract.
Nettle Root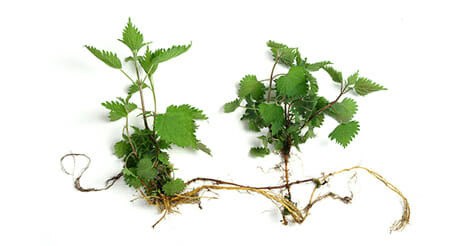 Nettle root is aptly called a "hormonal optimizer" because rather than increasing their levels, it finds ways to make the most out of what you already have. In terms of managing hair loss, it does so by two main mechanisms:

Natural Aromatase Inhibitor: one of the aforementioned contributors to hair loss is high estrogen load, which could start the hair loss cascade. By inhibiting excessive testosterone conversion to estrogen, via aromatase inhibition, this cause is addressed.

Mild 5-Alpha-Reductase Inhibitor (5-AR): 5-AR is the enzyme which converts testosterone into DHT, the metabolite that is implicated as being a primary cause of hair loss (even though this can be debatable). Use of potent 5-AR supplements/medications is not advised, as it can have far-reaching implications on the health of the man in question. Which is why nettle root stands out; by offering mild support, it inhibits excessive conversion but does not shut it down completely, as DHT is necessary for optimal male health. This is one of the few natural DHT inhibitors we would recommend (another good one being progesterone cream, we're not fans of Saw Palmetto because of potential reductions in libido).
Minoxidil
Minoxidil is the hair loss treatment that started it all, being extremely effective while it is used. Known historically as Rogaine, this was the brand that gained worldwide popularity, although today there are numerous generic Minoxidil preparations available, which cost significantly less.

But its discovery in being effective for hair loss could be described as a random coincidence, as it was originally developed to treat hypertension, with hypertrichosis (hair overgrowth) one of the observed side-effects. This side effect was soon exploited, with it being made into topical preparations.

Minoxidil works via increasing blood flowing to hair follicles, enhancing the delivery of oxygen and nutrient-rich blood to these sites. The efficacy of Minoxidil appears to be related to the concentration used, as higher strength preparations are significantly more effective than lower dosed ones.
If you have heart problems, we would not recommend Minoxidil as in theory topical absorption could reach the bloodstream, and there are a small amount of users whom experience problems (often involved with excess dosages, keep it on the low side).
Progesterone Creams
While progesterone is considered a female hormone by the medical community (this is debatable and we don't agree), it is still present in small amounts in men and can serve us in our quest to stop hair loss. Progesterone has the unique ability to compete with both the 5AR receptor and estrogen itself, helping reduce the effects on hair follicles.
By design, DHT levels try to self-regulate with increasing estrogen, but at the cost of our hair (and an enlarged prostate sometimes). Progesterone levels also tend to decrease rapidly during middle age, the time when most men start to notice substantial hair loss.
Contrary to what most people would think a DHT inhibitor such as progesterone would do (such as decrease libido), progesterone cream actually increases libido if you are low in progesterone. It also increases testosterone levels and decreases estrogen, making it our favorite hair loss treatment. It is better to view progesterone as a protective hormone than a female hormone, which is what the research is starting to show.
Topical Ketoconazole
Ketoconazole is a popular anti-fungal medication that is indicated for fungal causes of hair loss, but it was the discovery of its DHT blocking effects that made it a true hair loss treatment superhero.
While it doesn't reduce the synthesis of DHT, it does inhibit it from interacting with receptors found on hair follicles, by binding to the receptor active site.

Finasteride
Finasteride's does its job of reducing DHT synthesis exceptionally well, as evidenced by it being among the only two FDA approved treatments for hair loss (the other being Minoxidil). But do not be misled to go and ask your doctor for a Finasteride prescription, as its side effects can be extremely harsh and even permanent for some. The worst of the lot are related to sexual dysfunction (inability to maintain an erection, loss of libido), and following an attempt to stop treatment, neurochemical and neuroendocrine changes, resulting in suicidal tendencies and mental deterioration. WE STRONGLY DON'T RECOMMEND FINASTERIDE.
Alternative Treatments
Salicylic Acid Shampoos
Sometimes, hair loss may look like androgenetic alopecia on the surface, but can actually be due to excessive sebum production. Excessive sebum clogs hair follicles, and results in diminished blood flow to them, slowly starving and eventually causing their death. Salicylic acid shampoos promote removal of the uppermost skin layer, so that excess sebum accumulation is removed in a timely fashion.
Soy Isoflavones And Capsaicin
Soy isoflavone extract in conjunction with capsaicin can boost levels of dermal IGF-1 (growth hormone). Diminished levels of IGF-1 are associated with hair loss, which is what this combination seeks to address; elevating IGF-1 production. We have a theory that the people experiencing hair loss on low carb and ketogenic diets do so because of low levels of IGF-1 in the scalp, however, this is temporary while the body is adjusting to metabolizing fats instead of carbs. 
Putting It Together
There is no real one-trick pony when it comes to restoring hair, as your inherent genetics play a strong determining factor. However, a multifaceted approach is definitely the way to go, addressing multiple pathways that together have a 1+1=3 effect. Try these:
Blood Flow Enhancers: this can come in the form of Cistanche, with or without topical Minoxidil. Minoxidil is considered the gold standard of many hair loss treatment plans, so it may be wise to include it.

DHT Blockers/Hormonal Optimizers: include nettle root extract with topical ketoconazole, as this will ensure both suppression of DHT production and interaction with receptors on follicles. Plus, reducing estrogen synthesis is never a bad thing in men, as so many are actually bordering on estrogen dominance.

He Shou Wu: being able to stimulate the growth phase of hair is a smart idea, especially if this may be a contributing factor not often considered. There aren't many compounds/ supplements out there that can do this, making it extremely useful.

Optional: Progesterone creams (we highly recommend these but make sure you monitor your levels by blood test), Salicylic Acid Shampoos and Soy Isoflavone/Capsaicin Combination; these have specific uses when they can be fully taken advantage of. For example, men over 40 may benefit most from topical progesterone creams, while individuals on low carb diets can benefit from soy isoflavone/capsaicin consumption (low carb diets reduce IGF-1) and salicylic acid can be considered a wildcard when you have tried things and nothing seems to work. In such a case, it's worth a shot to address sebum accumulation on the scalp. There are plenty of

hair loss shampoos

that contain some of these ingredients.

Scalp Massage: 20 min x 1-2 times per day to increase blood flow and reduce fibrosis of the scalp. Fibrosis of scalp tissues is the actual process that is shrinking your follicles since the skin is becoming harder and thicker and this is what reduces blood from reaching your hair follicles with nutrients. There is

interesting research where daily scalp massage has regrown hair

.

The thing that cannot be stressed enough with hair loss is that you are losing your hair because there is an imbalance in your body. Whatever it is, you have to find it to fix your problem. We recommend blood tests (estradiol, testosterone, SHBG, progesterone, DHT, IGF-1) to make sure hormones are in order, as well as testing for markers of inflammation (C-Reactive Protein, high levels would suggest potential autoimmune issues such as food allergies) and thyroid function (can contribute to hair loss).
In the end, hair loss is a multiple spectrum disorder and cannot be treated in such a simple way as inhibiting DHT, you need to attack it from all sides. Also remember, you might have only started to lose a small amount of hair so far, but start your treatments early! Some hair loss is a sure bet of a problem that will only keep increasing with time.
Check out more excellent info from Alex at https://www.anabolichealth.com/.
Latest posts by Alex Eriksson
(see all)