I teach about health. And I feel that in order to not be a hypocrite, I should share my health results with people as proof that what I teach works.
I would similarly challenge anyone else who is in the health space to do the same. I understand privacy concerns and all that, but do you practice what you preach, and does what you preach work?
While test results are not the only form of that, it is a well-recognized hard data form. (I would argue that just following my strength feats on Instagram, Facebook or Youtube is another way to see that what I recommend works!)
I want to share my blood test results today even though the test did not reveal my desired result. To avoid the "file drawer effect" I share this partial failure and some ideas on what went wrong and what we can learn from it.
To understand I need to take you back to a previous test almost two years ago. I had a 992 ng/dL total testosterone.  This was great news, a testament to these herbs and that what I teach, like in Upgrade Your Testosterone, works.
But since taking that test, I thought it would be amazing to break the 1000 mark. Just like strength training, to hit a PR (personal record) in total testosterone.
(Never mind that according to some reference ranges this is too high. Reference ranges aren't actually ideal ranges, but averages of people. There is research showing that there is an overall decline of testosterone among everyone, not just age-related decline. I buy into the idea that our ancestors may have had significantly higher testosterone levels than us…just that blood testing didn't exist back way back when.)
So this is what I set out to do. If you saw last week's blog post on How to Experiment with Herbs, I discussed all the details of putting together a protocol for experimenting purposes.
My Protocol
Again, I mentioned this in the previous post, but here was my specific protocol for a period of almost three weeks leading up to this blood test.  
I did a few other herbs randomly during this time, such as adding Goji or Sea Buckthorn to my nightly Pine Pollen Megadose drink. But for the most part, I stuck to this schedule.
This was done in addition to sunbathing nude, every day the sun was out and the use of a testosterone boosting hypnosis. There were not any other big changes to my diet, training, sleep or sex life.
Please note that I am normally much more intuitive about my herb taking. As you might imagine, I have all the Lost Empire Herbs available plus more on top of those. I take what I feel like taking at the moment usually. But I was quite strict in following the protocol as I laid it out during this time period.
I'll also mention that the blood test took place on a Friday morning. The following Tuesday I flew with my wife and baby daughter to Scandinavia for a three-week vacation. Vacation prepping is typically a stressful event. Throughout the timing of the protocol, I was working to get everything done as needed for vacation. It certainly affected my body, though I can't say exactly how. Not ideal, but life is messy.
Life Extension vs. InsideTracker Blood Tests
If you've followed my past blood test results, you'll have seen that I've been using and recommending InsideTracker.  However, this time I decided to go with someone different.
Let me state, that I really like InsideTracker. That's part of the reason we partnered with them and they offer LEH customers 10% off any test. One of the best things, in my opinion, is that you can visually see your data over time.
Any single blood test is only so useful by itself. But seeing trends over time and noticing how various things you do impact those things, is what is even more useful.
However, this time I did my blood test through Life Extension Foundation.  Why? Quite simply, they have a few more metrics that I wanted to test this go around, that InsideTracker does not offer. In the results below you'll see some of those mentioned.
Another cool thing about InsideTracker is that you can upload tests done from outside people into their portal, and thus still make use of the visual graphs and their recommendations.
Here is a link to the PDF of my full results.
Down below I'll be pulling the numbers from the PDF. I'll also be showing some screenshots from the InsideTracker graphs to point out trends.
I will not be covering everything that was tested. But I will cover all the things that were outside of range, as well as specific areas that I know to be of interest to our readers. So there's still a lot here. Let's get started.
Blood Test Results
Total Testosterone
667 ng/dL – Normal – Reference Interval 264-916
My goal was over 1000 total testosterone. I failed and by a good amount. In fact, this is the lowest total testosterone my blood tests have shown in the past three years. (That doesn't mean it's the lowest I've had, just on these five specific days.)
Does that mean these herbs reduce testosterone? That would be leaping to conclusions. You can't just look at one hormone, but the symphony of them, so you'll get a better picture of this as we continue.
One thing I can say, as it mirrored how I felt, was that I was probably taking TOO MUCH. It's a fallacy to think that if some are good, more is better. Many herbs, whether a single herb or several in combination, work on a bell-shaped curve response. That means too little has no effect, too much has little or even negative effects, while the right dose (which can change from person to person, or time to time) would yield the best effect. More on dosage-response curves in this article.
While my total testosterone was lower, it was by no means low. It is still safely in what is considered the ideal zone. InsideTracker lists that as 552.6 or above.
Free Testosterone
11.8 pg/mL – Normal – Reference Interval 8.7-25.1
Total testosterone isn't the only important number. Free Testosterone is equally as important. Here, I landed in the normal zone, though not the ideal. And that is because of…
Sex Hormone Binding Globulin
88.4 nmol/L – High – Reference Interval 16.5-55.9
Seemingly, this is my nemesis. My SHBG is ALWAYS HIGH. And here I broke my record for the new highest amount.
Based on my brother Zane's results,  I think that we might have a genetic predisposition to having higher SHBG.
And SHBG is not the boogeyman that it has been made out to be. My strength training might be heavily impacting this number. An upcoming article will go deeper on SHBG and some of the more recent research that shows it is not just rendering testosterone inert as was previously believed.
Pregnenolone
124 ng/dL – Normal – Reference Interval <151
Part of the reason I did this test with Life Extension was to look at some of the other hormones at play, such as Pregnenolone. There are many sex hormones which get converted from one thing to another as shown in this picture.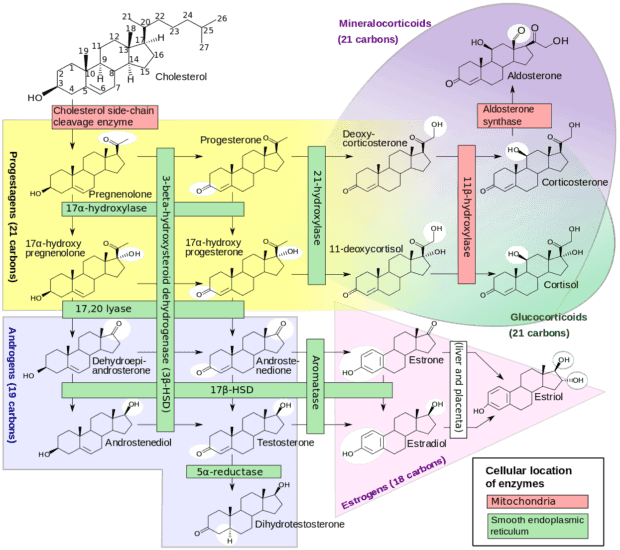 So here I share some of these other numbers. Both pregnenolone and progesterone can be thought of as starting material for other hormones that may be more important for men.
Notice I'm in the reference range, but on the higher side.
Progesterone
0.3 ng/mL – Normal – Reference Interval 0.0-0.5
Once again, notice I'm in the reference range for Progesterone, but on the higher side, in this case only slightly so.
Dihydrotestosterone (DHT)
76 ng/dL – Normal – Reference Interval 30-85
Here was one of the main hormones that InsideTracker does not look at that I wanted to see. Although DHT has gotten a bad rap because of prostate issues and male pattern baldness, it is a crucial hormone. It is commonly stated to be multiple times more powerful as testosterone itself. Some say that many of the things we attribute to testosterone are actually because of DHT. This is another hormone I'll be diving deeper into in an upcoming article.
Notice that while normal, I am towards the top end of the reference range here. This could be responsible for some of the sexual effects I note below as it's implicated there. Since this is the first time I've tested this number personally I don't know if this is higher, lower or average compared to normal.
DHEA-Sulfate
335.1 ug/dL – Normal – Reference Interval 138.5-475.2
DHEA is a weak androgen but is often looked at for its many anti-aging benefits. While Pine Pollen is often focused on because it has testosterone in it, it also contains DHEA.
In the normal reference range, but in the top half.
Luteinizing Hormone (LH)
8.9 mIU/mL – High – Reference Interval 1.7-8.6
Here is where see the first hormone that is outside of range. Note that it is just barely, 0.3, above the top end so not too far. Meanwhile, follicle-stimulating hormone (FSH) was in the normal range, a bit below average. LH and FSH are more focused on women generally and their more complicated hormones.
One of the main things that LH does for men is it stimulates the production of testosterone in the testes. It is possible that the herbal protocol ramped up LH, though this is not seen in total testosterone. Maybe because aromatization went up as is covered next…
Estrogen
Estradiol 16.8 pg/mL – Normal – Reference Interval 7.6-42.6
Total Estrogens 117 pg/mL – High – Reference Interval 40-115
Estrogen is important for men. I was just listening to an interview with a doctor going over all the benefits of estrogen and how this should be looked at far more than it is. So guess what? I'll be doing a deep dive article on estrogen for men coming next week.
Estradiol (E2) is the main form of estrogen. This is often the only estrogen measured in tests. And you can see here that I fall inside the reference range, even a bit below the median. This is good because high estradiol is associated with abdominal fat, prostate enlargement and cardiovascular risk in men.
But then the total estrogens are high! I had to search for more details about what is being measured here on Life Extension's website. Unfortunately, there isn't a whole lot of information. It doesn't talk about this number for men at all. It mentions estrone (E1) here. Elsewhere they also mention estriol (E3). Is it these three that are measured? Are phytoestrogens or xenoestrogens being measured at all? (I believe not, but I could be wrong).
So this would seem to mean that while I have normal estradiol, I have high estrone and/or estriol. What that means for my health, I am not sure. Hopefully, I'll be able to dig up some more answers in my upcoming research.
Vitamin D, 25-Hydroxy
44.6 ng/mL – Normal – Reference Interval 30.0-100.0
In past tests I've been a bit low on Vitamin D. Not good, considering the importance of this pre-cursor hormone! The reason for that was attempting to get all the vitamin D I needed from the sun. Unfortunately, I was not pulling that off. Nowadays, as mentioned previously, I regularly engage in nude sunbathing. And if I'm not able to do that (which includes about two-thirds of the year at my house) then I will supplement with D3.
PSA
Prostate Specific Antigen 0.5 ng/mL – Normal – Reference Interval 0.0-4.0
PSA, Free 0.36 ng/mL – Normal – Reference Interval N/A
% Free PSA 72.0% – Normal
I'm still a younger guy at 34 years right now. So I shouldn't have any issues here and I don't. But seeing as prostate issues are such a big issue for guys that get older, I figured I'd point this out. Nettle root is well known for supporting a healthy prostate. During this time I took both the powder and tincture. Did it affect these numbers? Can't say for sure, but they do look good.
Insulin
2.5 uIU/mL – Low – Reference Interval 2.6-24.9
My insulin comes in a little low. To be honest, I'm not familiar with this measurement. Doing a little research I found that there isn't much agreement on the ideal range. Almost everyone talks about it being too high (obviously for diabetes) but couldn't find much on a too low rating here. My result could be better than normal.
Alkaline Phosphatase
36 IU/L – Low – Reference Interval 39-117
The Alkaline Phosphatase enzyme is important in liver health. I'm only slightly outside the normal reference range. And from a little bit of searching, since I wasn't too familiar with this one, everyone is talking about problems of it being too high, not low. Once again, this could be better than normal.
LDH
117 IU/L – Low – Reference Interval 121-224
Lactic Acid Dehydrogenase is another enzyme found in almost all cells in the body. This looks at how much tissue damage you have. Once again high levels are what is looked for, and I am just barely outside of range on the low side. This could be better than normal. Am I sounding like a broken record yet?
LDL Cholesterol Calc
100 mg/dL – High – Reference Interval 0-99
"Oh my god! Your cholesterol is high! Let's get you on a statin right now, just to be safe," so may say the drug-pusher doctors. But I would never personally take a statin no matter what the numbers said. (Not saying you should follow suit, but please do your own research. I think this is one area were some flawed scientific ideas got spread far and wide.)
I'm just a single point over on this reference range. All my other cholesterol numbers look fine like the more important VLDL and triglycerides.
WBC
3.0 x10E3/uL – Low – Reference Interval 3.4-10.8
Neutrophils
1.0  x10E3/uL – Low – Reference Interval 1.4-7.0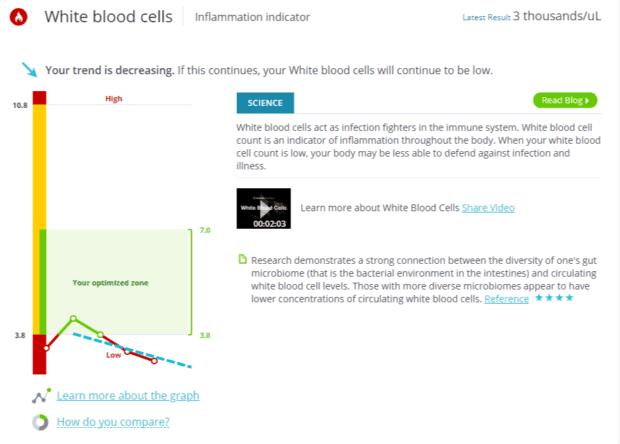 Looking at my previous tests I similarly see low numbers. Just a bit below the reference ranges. WBC count is a sign of inflammation in the body. Neutrophils fight off infection. If these are too low, I might not be able to fight off infections well. But I wonder if it's low because of all the different herbs I take, such as Mushrooms and Elderberry, which may "take on" some of the work for the body?
How I Felt
Looking at the blood test gives us the objective numbers. But, in my mind, the subjective information is also equally important. In other words, how did it feel doing this protocol?
Here too we can see some high points and low points.
I did feel like I was taking too many herbs during this protocol. It was significantly more than I normally take. That doesn't mean that you can't take this many herbs. Just that where I am in my life, I may not need too. Everyone is different.
If you think of herbs as medicine (which legally we're not allowed to do, but I think it's okay for this analogy) you'd want to work towards a middle balancing point where you can largely stay super healthy off of regular food and your lifestyle. Just like you can prop yourself up on pharmaceuticals in order to feel "normal," you could use herbs in much the same way.
In other words, sometimes, less is more.
One thing I noticed was that I seemed to get angrier than normal. Things got to me that wouldn't normally. This is commonly associated with higher testosterone levels. Yet the blood test didn't show that specifically. This seemed to happen more towards the beginning of the protocol though. So maybe testosterone was higher then, but later dropped off a bit. It's impossible to say for sure.
I would say that my sex drive was pretty much normal. However, my performance was markedly different. I don't have issues but let me say that things stayed harder longer and were harder period than what was normal for me. Big time difference! This wasn't a subtle effect but something that my wife commented on, too. So that was a pleasant effect ;) DHT may be responsible for this effect. More on that soon.
My workouts were great, but that is par for the course. I hit some great PR's such as this Turkish Getup with a 135 lb. barbell.
I did not notice it at the time, but compared to the period after (and post-vacation too), my recovery did not seem as good as it was during this protocol period. Better recovery is one of the most noticed things that many people experience when megadosing Pine Pollen.
Lessons Learned
As mentioned, I feel that some of these areas need a deeper exploration (as if this article isn't long enough already). I will be diving more deeply into these three areas in upcoming articles:
Estrogen for Men
SHBG
DHT
I did not hit my goal of a 1000 Total Testosterone. That just means I will try again. In doing so I will probably use fewer herbs next time.
Once again, does this mean that these herbs don't work for hormone health? If you look at all the other numbers, not to mention our many, many reviews and case studies from customers, that does not appear to be the case. Overall things are looking quite good from this test, just not the number one goal I was shooting for. Although I might label this as a failure, it's still a pretty damn good failure.
I realize that some could take this to mean that Stag Swag isn't a great product. That's okay if you want to read it that way. I wanted to avoid the file drawer effect even though I missed my goal by a long shot.
The limited research shows that deer antler doesn't increase testosterone anyway.  But I have to say I like the "feeling" of Stag Swag more so than something like Pine Pollen Tincture by itself.  But that's just me.
Got questions or something you'd like to comment on? Please share them below.
Latest posts by Logan Christopher
(see all)