He Shou Wu belongs to the group of 60 herbs in Traditional Chinese Medicine (TCM) which are thought to be the most important ones among 10,000 plants used in this system. Chinese often use it as an anti-aging tonic which improves liver and kidney functions. Furthermore, He Shou Wu is well known for its ability to strengthen bones, tendons, and muscles and help in treating problems with knees and lower back pain.
But He Shou Wu also improves libido and increase fertility in men by increasing sperm count. It also works well in women, making it one of the best herbs for those looking to conceive. Judging from the youthful look of old people in China, it is clear that He Shou Wu is very beneficial in maintaining the color of the hair and preventing or stopping hair loss.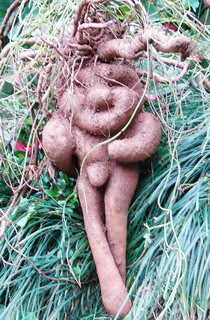 He Shou Wu tonic is made from the root of Polygonum multiform plant. It is mixed with black bean soup which is cooked and later dried to prepare this extraordinary tonic, which has been used for more than 1,000 years now. However, it can also be used in its raw form. Some other well-known benefits of He Shou Wu are listed below.
Resolves Acne problems
Provides strong laxative properties
Increases stamina
Increases resistance to diseases
Help with angina pectoris
Regulates blood sugar levels
Prevents blood stools
Studies have shown that He Shou Wu has antioxidant properties, improves the immune system, successfully slows down glands degeneration and has a positive effect on the cardiovascular system. Scientists suggest these findings might be helpful in the prevention of several conditions like heart attacks, cancers, and strokes.
He Shou Wu contains many important phytochemicals and nutrients which are essential for healthy functioning of our bodies on a day-to-day basis. Zinc content in He Shou Wu is very high, sometimes up to 40mg per 100 grams of herb. If you didn't know, Zinc is an important mineral, required by all living organisms. It plays a highly important role in maintaining healthy neurological function, growth, and reproduction. It is also one of the reasons why He Shou Wu is so effective in treating low sperm count and its quality.
What our customers are saying…
"I've been taking He Shou Wu for about 6 months now and it only gets better over time! My widow's peaks (high peaks run on both sides in my family) have receded and my gray hair is a thing of the past. Oh yeah, I'm just a couple of months shy of 58. I bought it because I was looking for more Jing as I had some aches in my kidney and knee areas. Gone! This herb does everything you promise. As usual."
"He Shou Wu rocks! After 5 weeks of use, I am experiencing a much higher energy level, improved libido, and better sleep. People, this is the real deal."
"I feel great using this stuff…lots of physical energy and mental calmness! Also, wonderful customer service when I have had very specific questions. I have recently been having knee problems and my recovery (through exercises per instruction of my chiropractor) was much faster than he (my chiro) anticipated. I don't know if it is directly correlated to this, but having used it almost a month now, it seems quite a coincidence! Very happy. I will keep buying this from here as I trust the quality of products. Thank you!!"
To learn more about the benefits, science, or to read more reviews, please visit the product page HERE.