Shilajit Pitch has been discontinued…but for the next best thing check out Shilajit Resin here!
Shilajit Pitch
It's BACK… & in LIMITED Supply so Grab yours Today!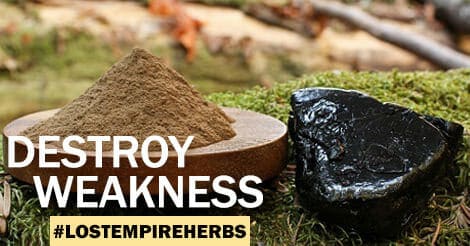 Shilajit, the Destroyer of Weakness and Conqueror of Mountains.
Rated the#1 herb in Ayurvedic Medicine. It is highly regarded as the most powerful anti-aging substance known to the people of India.
In fact, according to legends, it is believed to be a nectar of the gods, to be magical or have divine power and it has historically been used as a Cure-All.
What Stands Out About The PITCH?
Not all shilajit's are the same! Shilajit's will have different mineral and fulvic/humic acid contents based on the regions they form and even from site to site and season to season within a region. We specify this because this pitch comes from the mountains of Nepal, whereas, our resin and powder come from the mountains of Bhutan.
As we wanted to get this old variety out again and with only a very limited supply of it, we have not retested it to compare the minerals against the resins.

The Many Benefits of Shilajit
There is hardly any function of the human body that is not supported by Shilajit. 
Full of Fulvic Acids
Full of Humic Acids
Promotes sexual aptitude
Purifies Blood
Contains at least 85 trace minerals
Support Nervous System
Increase Ability to Focus
Regulates Blood Sugar
Helps Support Weight Management
Reduces recovery time
Shilajit Contains Large Amounts of Fulvic Acid
Fulvic acid is one of the main constituents of shilajit that has some amazing benefits.
Makes minerals bioavailable, helping move minerals and other nutrients into the tissues that need them
Free radical scavenger
Supports the immune system
Most powerful natural electrolyte known, balancing our cells
Once our food supply had a regular amount of fulvic acids, but over the years it has become virtually non-existent. Shilajit is a great and safe source to get this vital organic acid back into the diet.
Shilajit also contains Humic Acids
Fulvic acid comes from humus, which also contains Humic acids. These acids are known to give you:
Increased Energy
Decreased Appetite
Better Sleep
Stress Reduction
Special Guidelines for Handling Shilajit pitch:
Prior to the opening, freeze the shilajit to solidify the consistency giving you better access to the shilajit and less mess :) Trust me… this is the SECRET!
Dosage
The recommended way to take our Shilajit Pitch is to take a piece off and put it in your mouth and let it dissolve.
You can also take a piece off and let it dissolve in water. This might take longer if you froze the shilajit as directed to above. The taste will likely throw off anything else you put with it so it is best consumed by itself in water.