The other week I attended a seaweed foraging class that was put on through ForageSF.
This required me to wake up at 2:45 in the morning to drive a few hours up the coast, but it was worth it.
I'm amazed at how something that seems so difficult at first, can turn into something so easy with a little instruction. A typical person, myself included, looking at the beach and ocean will just see "seaweeds." No identification, knowing nothing about what is useful and what is not.
But then afterwards, you'll likely never be able to un-see the different types of seaweed. The plant blindness goes away.
We ventured out at low tide. You don't want to collect seaweed that is rotting on the shores, but instead to venture into the water at this time and collect what is still attached and still growing. Be careful though, the rocks are quite slippery.
Here, our teacher was showing us bladderwrack. While all seaweeds have some iodine bladderwrack is highest by a big degree. Since lots of people are deficient in this important mineral, causing issues in the thyroid and metabolism, along much else, this seaweed can be quite useful.
In the end, I came home with a few different kinds.
Lots of kombu. One thing I learned about this is that you can add a small strip to beans when you're cooking them and it will eliminate gas, as it contains an enzyme needed to break down the oligosaccharides.
Then there was a large amount of nori. This is the seaweed that is used to wrap sushi rolls, though it takes some processing to come in those flat sheets.
There was another one that I can't remember the name of. This one must be eaten fresh or pickled. It doesn't dry right, which is why you won't find it in the stores, and why it's not commonly known. In fact, it didn't even have a common name, just a complex Latin one.
The good news is that there is only one poisonous seaweed and it is white, so it is easy to identify. All others are safe (assuming you're coming from a non-polluted area). Whether or not they taste good is another matter. We tried one there called Cat's Tongue, because will the texture is like a cat's tongue. I did not bring any of that one home.
But harvesting the seaweed was only the start. Even more time was spent back at home in processing and drying the seaweed.
It needed to be rinsed and then laid out to dry. Part of the rinsing process involved removing a few of the sea bugs that came along for the ride. There were probably 7 or so of these little guys, mostly in the nori.
I used a dehydrator, though you don't need one. Sunlight, and more time, works just fine. However, I chose to use my dehydrator because I didn't have enough racks and space for all the seaweed.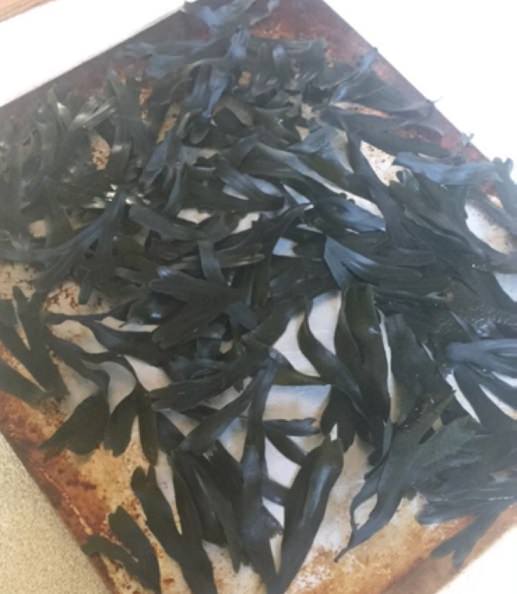 In the end, I yielded quite a bit of seaweed. Properly dried, this can store for a long time. My wife and I will probably be eating this seaweed for months and even years to come.
For me, as I've learned more about plants that can be used for medicine, specifically finding local ones to wildcraft, I've also gotten curious about what I can use for food. I'm still early in this journey but I'm having a great time learning.
When you can make more wild foods a part of your diet (and I don't know any seaweed farming operations) then you can become all the healthier for it.
Latest posts by Logan Christopher
(see all)