The benefits of a vasectomy are clear. No more getting anyone pregnant. It's a very common procedure for men, especially after they've had whatever number of children they think is enough. Quite a few people I know have gone through the procedure and it's estimated up to half a million men in the US get this surgery every year.
Overall, it's a fairly low risk procedure. But that doesn't mean there aren't risks, including some very bad ones which will be detailed here.
I'll start out by saying that this is less invasive procedure than some others. (As little as surgery on your genitals can be!) It is far less invasive than the female equivalent of getting tubes tied, more formally known as tubal ligation.
The cost of a vasectomy is around $1000, which is typically covered by insurance. It can be reversed; however this is riskier and more costly.
Short Term Risks
Risk #1 – It doesn't work
Vasectomies are not fail-safe. Sometimes the tubes are not completely blocked off. Sometimes the tubes heal in a way that allows the sperm to get through once again.
Post-vasectomy semen analysis is done to confirm that the operation has worked. But even then it is not 100%. The American Urological Association says "The risk of pregnancy after vasectomy is approximately 1 in 2,000 for men."
Risk #2 – Pain
I talked to a man that was in crippling pain for almost a month following his vasectomy. Fortunately, it went away after that. This can be caused by many of the other risks mentioned here.
Pain can be a dull ache, or quite sharp. It's estimated that 1-2% of men have this. In most cases it goes away as the body heals, but in some cases additional surgery may be required to fix it.
Risk #3 – Infection
Antibiotics are typically not used in vasectomies. Just sterile equipment and washing. Despite this, infections still occasionally occur. This occurs in up to 4% of people.
Risk #4 – Vasovenous fistula
This one is quite rare. Blood vessels can become injured during the surgery which then connect into the vas deferens. This then leads to blood in urine and/or ejaculate.
Risk #5 – Sperm granuloma
This one is very common, an estimated 15-40% of men. But only a small amount of those have any noticeable negative symptoms associated with it. Here a lump of sperm may cause bumps or cysts to form. Some are harmless. Others are associated with pain. In rare cases, surgery may be required to remove them.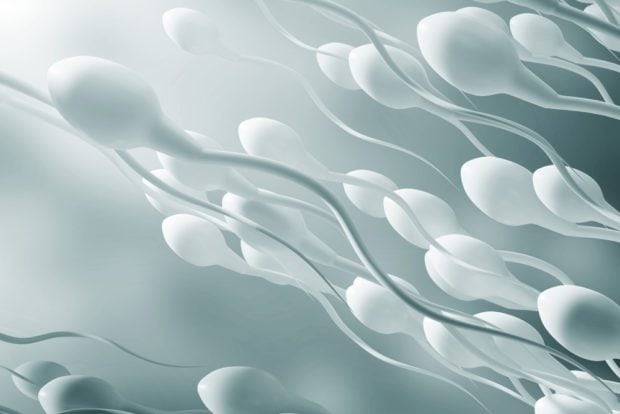 Risk #6 – Bleeding or Hematoma
Bleeding is normal with surgery. This blood can pool inside the body pressing up on other areas which can be painful. These typically resolve on their own, but occur in 4-20% of cases.
Risk #7 – Swelling and Inflammation
The epididymis is a duct behind the testicles. It allows sperm to flow into the vas deferens. With the vas deferens cut this duct can become backed up leading to inflammation, swelling and pain. It's estimated that 1-3% of men have this following a vasectomy. It can be short term or stick around for a while.
All risks are lessened with skilled professionals. It is best to seek out someone who does lots and lots of vasectomies. Practice makes perfect so they're more likely to have lower risk statistics than listed here.
Long Term Risks of a Vasectomy?
All the above risks are likely to be discussed with your doctor before doing this surgery. What is not often talked about is the long term complications that are possible.
Science has investigated
This page has 222 references evaluating these. Check it out if you want to dive far deeper into the science. They conclude, "There have now been nearly four decades of intense research on potential long-term health effects of vasectomy. This research provides reassurance that vasectomy does not have any significant long-term negative effects and does not increase the risk of cardiovascular disease, which is the major cause of morbidity and mortality in men in developed and most developing countries."
But…
Like all things there seems to be another side of the story (and the science). Like Post-Finasteride Syndrome, and various other medical procedures, long term negative effects are denied by many in the profession. One of the biggest problems that I see reported is the following…
Sexual Problems and Pain
Again this seems to be denied by many professionals. For instance, UpToDate.com says, "Having a vasectomy will not affect testosterone (male hormone) levels, sex drive, or the ability to have an erection."
Vasectomy.com puts it like this: "A vasectomy should not affect your sex drive, or your ability to have erections or ejaculate. If you experience sexual difficulties after a vasectomy, contact your doctor. They may be a sign of either emotional or physical issues, including heart disease."
In other words if you do have problems, it is either in your head or it is something else. Nevermind, that it is temporally linked to the surgery. Your heart disease just now began acting up.
But you hear stories…
"Since my original vasectomy, I have undergone six additional surgeries and nerve blocks in an attempt to stop the chronic pain, including a four and a half-hour testicular reconstruction and vasectomy reversal. I have been offered 90 medications in conjunction with innumerable therapies. Some approaches have offered temporary relief, but none have provided a cure. Other men I've come in contact with who have experienced the same type of painful consequences from their vasectomy procedures have been dealing with the aftereffects for five to ten years and more." – Kevin Hauber
Is this is the guy's head? I don't think so.
Dr. H. J. Roberts, MD, wrote Is Vasectomy Worth the Risk? A Physicians Case Against Vasectomania. He says, "no other operation performed on humans even approaches the degree and duration of multiple immunologic responses that occur in the post-vasectomy state."
One of our customers sent this in:
"My wife wanted me to get a vasectomy, so I did. Now what? I feel like I've been tracked by Jack The Ripper. It's pretty hard to get wood. And I'm happily married. It seems weird I would be, but the fun only lasts a few minutes."
So is it Risky or Not?
I tend to believe people if they say something messed them up bad especially if they're undergoing additional procedures to try to fix it. It might be a rare occurrence but that really sucks for that rare person!
This being an intervention on biology, I have to wonder if there are long term negative effects that even those who seem to be well off don't know about. The science mostly doesn't say so, but studying medical science in general I know how easily that can be manipulated. Sadly, its often "tobacco science" and nothing more. Not just that, but if something is denied then people don't look for it, and thus just plain miss it later on.
Personally, I know a few people that have had vasectomies and haven't heard any problems from them. And as mentioned, I know one guy that was in crippling pain for a month before it went away.
Knowing what I know, I do not plan to get a vasectomy personally. I'll rely on other methods of birth control instead.
But you have your own choices to make. If you're thinking about it I would research the topic far more than just this article. And once again, if you're going to do it I would go to someone that does lots of vasectomies and does not charge a bargain basement price. A more skilled doctor means less likelihood of any of these issues.
If you've already gone through the procedure will you comment below. Has it worked out well for you? Has it not? Please share your story in the comments below. (If you want you can write Anonymous for name.)
What to do if you have Vasectomy Problems?
Herbs might help but I doubt they could fix a long-standing problem such as nerve damage.
There are some that may help with pain. Others that help with inflammation. I've even heard reports of a specific Chinese herb that has been known to regrow the vas deferens and thus reverse a vasectomy. We don't sell that and honestly, I can't remember the name of it.
Surgeries can be used to correct issues. Unfortunately, these are not always successful either.
Sometimes it takes reversing the vasectomy to get out of pain. But then you're firing with a loaded gun again which defeats the original purpose. In some cases men have had it reversed and then re-done again.
I even read that sometimes the proposed solution is castration! And even this is only sometimes successful in stopping chronic pain.
Personally, I would look to some other non-conventional methods such as acupuncture. I feel like in cutting the body, you may be cutting energy channels (not to mention nerves) that could possibly be restored through other methods then simply going back under the knife (even though most vasectomies are scapel-free).
If you've has success in dealing with any post-vasectomy issues, short or long term then be sure to help others out by reporting below.
Latest posts by Logan Christopher
(see all)