Special offer for Mark Wilson's readers only…
Three POTENT Testicle Boosting Herbs
This special package from Mark Wilson was created just for you. It contains our popular:
Mucuna
Shilajit Powder
Tongkat Ali
Let's see how each of these affect testicular health and fertility:
Mucuna Pruriens
A study published in Evidence-based Complementary and Alternative Medicine in 2010 found that Mucuna Pruriens significantly increase sperm counts in infertile and fertile men.
Other studies have found that Macuna boosts testosterone levels as high as 38% and elevates Luteinizing hormone by as much as 41%.
Mucuna also dramatically reduces the female milk producing hormone, prolactin in human male subjects.
And another study found that Mucuna Pruriens reversed semen loss in men who were given the semi-synthetic estrogen, ethinyl estradiol.
The authors concluded their paper with this…
This is the first study demonstrating that L-DOPA largely accounts for pro-spermatogenic properties of Mucuna Pruriens.
Shilajit Powder
A Shilajit study done on men with low sperm counts was published in 2010 in theU.S. National Library Of Medicine.
In this trial, men given Shilajit saw sperm counts climb by a massive 61.4% and serum testosterone levels also rose by an impressive 23.5%
The authors summed up their research with this…
The present findings provide further evidence of the spermatogenic nature of Shilajit.
Other studies have found that Shilajit boosts spermia by 38%, increases semen motility by 18% and elevates follicle stimulating hormone by nearly 10 percent.
In another paper titled….
Evaluation Of Aphrodisiac Activity And Spermatogenic Effect Of Shilajit.
Male rats were fed Shilajit daily, then their sperm parameters and sexual behavior were monitored.
The scientists noted that mounting frequency increased, seminal vesicles grew in size and semen volume went up significantly.
At the end of the study, the authors wrote…
Administration of Shilajit showed significant increase in sperm count as compared with controls not given Shilajit.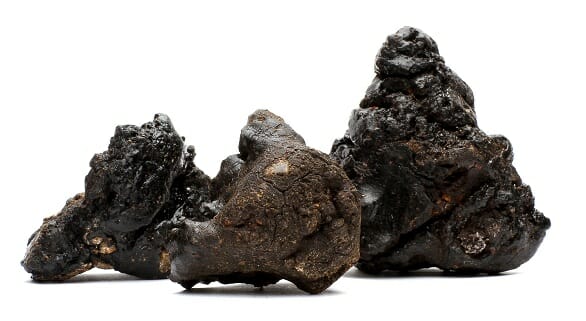 Tongkat Ali 100:1 Extract
Tongkat Ali stimulates the leydig cells inside your testicles to increase the production of testosterone.
In one study, tongkat reduced the stress hormone cortisol by 16% and increased testosterone status by a whopping 37%.
In another tongkat study, semen motility increased by 44% and semen volume went up by a full 18%.
In vitro testing found that tongkat was more effective at blocking estrogen than the anti-estrogen drug tamoxifen.
This impact on estrogen, along with its testosterone and sperm boosting effects explains why Tongkat Ali is such an effective testicle boosting supplement.
Get all three high quality herbal extracts in one discounted package offer, a special offer for readers of Mark Wilson's.
Buying each one of these individually here would normally cost $114.85.
But click the add to cart button to get $17.85 off. 
* These statements have not been evaluated by the FDA. This product is not intended to diagnose, treat, cure or prevent any disease.