Reishi – The Mushroom of Immortality
Reishi, also known as Ling Zhi and Ganoderma Lucidum, is found in many parts of the world on a wide variety of trees. It has also been called by a number of other names including:
"God's Herb" and "10000 Year Mushroom."
Many tonic herbalists agree that if everyone was taking Reishi, the world would be a much better place. It increases your sense of well-being and may enhance your personal evolution.*
It has the highest reputation in China and surrounding areas, even being displayed along with gods and goddesses in their artwork and temples, like on top of the pinnacle in the middle in the art below.
Among the therapeutic mushrooms, the organic Reishi herb has been studied more than any other, because of its historic reputation.
Antioxidant*
Benefits Blood Pressure and Cholesterol*
Cardiovascular Protection*
Reduces Stress*
Modulates Immune System*
Supports Kidneys, Liver, Lungs and the Brain*
Blood Sugar Balancing*
Optimal Joint Support*
Premiere Qi and Shen Tonic Herb according to Chinese Medicine*
The active constituents of Reishi include:
Beta Glucans – Most Important for Immune System Support*
Ganoderans
Triterpenes (including Ganoderic and Ganoderenic Acids)
Ling Zhi-8 Protein
More than 100 distinct polysaccharides and 119 triterpenoids have been isolated from reishi!
While Reishi has been the subject of many studies, only a fraction of these compounds have been investigated for their full effects.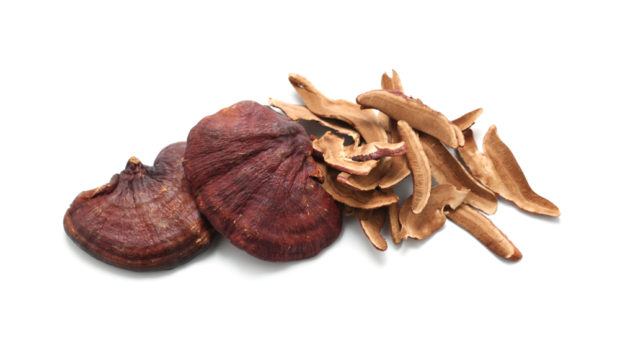 Real Mushroom Extract, Not Mycelium Grown on Grain
Most therapeutic mushrooms sold in the US are mycelium grown on grain. These have been tested to have far fewer components, like beta-glucans, triterpenes and more, than real mushroom fruiting bodies. In fact, most of what is sold to you from other companies are just starch from the grain that it is grown on.
Further, the mushrooms cannot produce the same components when grown on grain as on their natural environment, aka wood. Reishi needs to grow on wood to produce triterpenes which provide its bitter flavor, not to mention many benefits.
Our Reishi mushroom supplement is made exclusively from the fruiting bodies grown on wood, commonly known as the mushrooms, and nothing else. No grain, starch or fillers of any kind.
Organic 16:1 Dual Extraction
This is a potent extract of Reishi mushrooms! Sixteen kilograms of Reishi is used to produce a single kilogram of this reishi extract. Yes, it is pricier than many other Reishi products out there but that's because it is highly concentrated. This means you need far less of it to enjoy the benefits.
Instead of growing in a lab, the Reishi mushroom supplement is cultivated on logs in China, where proper growing and processing is at its best. Rest assured that our mushrooms are 100% organic certified by the USDA.
The organic Reishi herb is then extracted with both alcohol and water to draw out as much of the curative compounds from the mushrooms as possible.
24.4% Beta-(1-3)(1-6)-glucans
The recommended dosage is 1/2 to 1 gram per day meaning each bag will last you up to 1 month. This is approximately 1/4 to 1/2 tsp per day.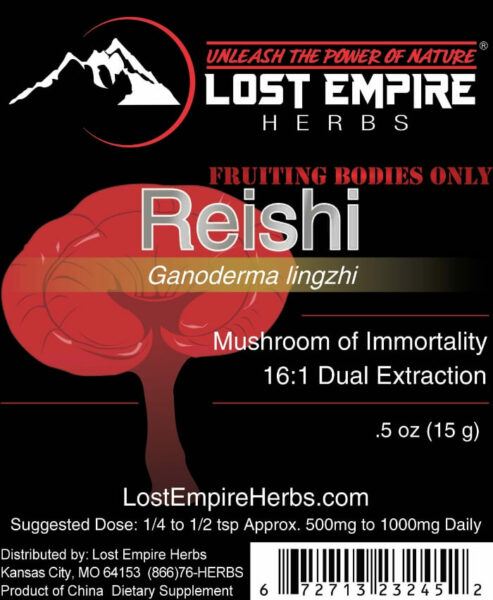 *These statements have not been evaluated by the FDA. This product is not intended to diagnose, treat, cure, or prevent any disease.