Miron Glass – The Best Storage Containers for Herbs
Miron is the best type of glass to use for the storage of any foods or herbs for preservation and potency purposes.
What is Miron Glass? Although it looks black from the outside, Miron is a violet glass. If you hold a light source behind it, you can see the true color of the glass.
While it has only come into modern consciousness recently, first being produced in our modern age back in 1995, evidence suggests that violet glass was first used by the ancient Egyptians, as well as medieval alchemists to protect their special herbs and materials.
When it comes to herbs there are a few natural things that can degrade their quality; light, air, and heat. (For more information on this see this blog post about the shelf lives of herbs.)
For these reasons, we recommend you keep your herbs sealed in their package and stored in a cool, dark cabinet. Typically, there is no reason to refrigerate. Our black bags help to block out light.
The most important thing for you to do is to keep air out of the bag as much as possible. In some of the herbs, we even add in an oxygen absorber to help with this.
Clear glass allows the entire light spectrum inside. Cobalt and amber glass block some of it. Miron glass only allows in the violet color, as well as UV and infrared light.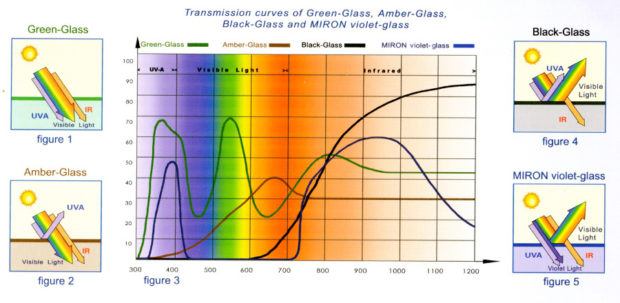 Storage Tests with Miron Glass
What do these wavelengths mean for you? Several tests have shown that using Miron glass can dramatically improve the shelf life and potency of various products. Possibly more so than completely blocking all light.
You can see what just two months of storage in the different jars did to these chives, under conditions of both sunlight and normal indoor light. Which one would you prefer to use?
Not only will these taste and smell better, but it also means more of the medicinal properties and nutrition is preserved.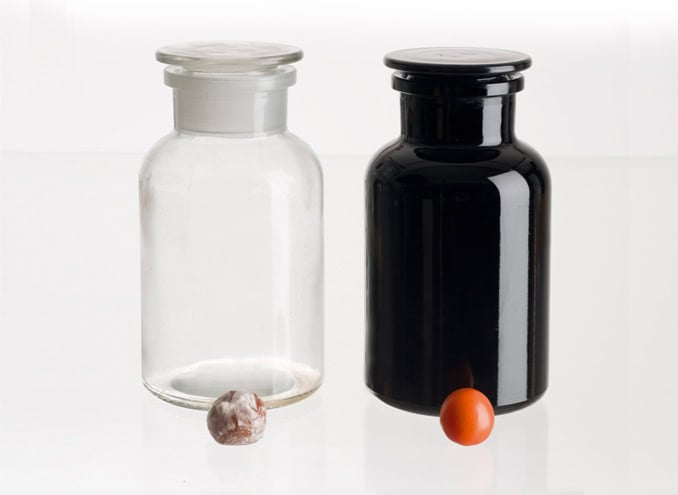 Another test showed what seven months did to a cherry tomato kept under room temperature with sunlight coming in.
In addition, tests with beekeepers in Germany have found that Miron Glass best conserves the taste, smell, color, structure and enzymes of honey. (Honey is normally shelf-stable for long periods of time, but that doesn't mean it can't be even better protected, as was shown in these tests.)
Similar other tests have been conducted with spirulina, rose water and more.
More Esoteric Properties of Miron Glass?
The following image shows water crystal photography as made popular by Masaru Emoto. The images are shown with Miron Glass next to brown and clear glass. The first set of pictures is after seven days. The second set of pictures is after 74 days. You are free to draw your own conclusions based on these photos.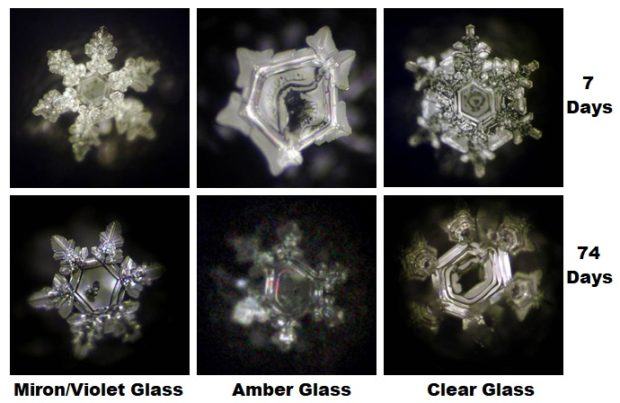 Theories on how Miron works go beyond photodegradation. Fritz-Albert Popp talked about biophotonics which, "provide a new powerful tool for assessing the quality of food (like freshness and shelf life), microbial infections, environmental influences and for substantiating medical diagnosis and therapy."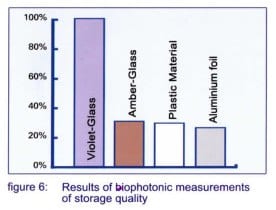 While I can't find this work published in any journal, I'll share it here. "Since 1988, Dr. Niggli has collaborated scientifically with Professor Popp. In the middle of the nineties he started biophotonic research on the quality of food stored in a variety of packaging materials. The results of these studies are shown in figure 6. Biological samples stored in violet-glass preserved their quality of bio-energy significantly better than in classical packages (e.g. amber glass, Aluminum foil, and plastic)."
This other chart shows the chives from earlier as measured in this way.
We considered packaging all of our herbs in Miron glass, however, it would increase the price, not to mention shipping costs. Plus, our best customers would end up with hundreds of bottles.
Instead, we've decided to make these available as a stand-alone product. You can buy one, or a few, and use them to store your Lost Empire Herbs, as well as many other spices and things.
They're reusable, washable, and will last forever as long as you don't break them.
Three Sizes Available
150 mL – This is a small jar that will be able to hold many of our herbs in the 30-60 gram range. Think Tongkat Ali powder, Chaga or the 30-gram bag of Schisandra.
250 mL – This jar is a little wider than the above, but the same height. It holds all 100-gram bags of herbs. Gynostemma tea is a great one to save in Miron glass to preserve freshness. Albizia and Phoenix Formula are also in 100g offerings.
1 L – This jar will fit any of our 250-gram bagged herbs with room to spare. These would be for "Megadose" sized herbs like our largest bag of Pine Pollen Powder, Goji berry or Sea Buckthornberry bags. Or if you decide to stock up, you could double up on smaller bags for safekeeping in this largest Miron jar.