Horny Goat Weed
One translation of the Chinese name means "The Herb for the Man that likes It Too Much, Like a Goat."
The story goes that a man noticed his goats being particularly randy after eating the leaves of a certain bush. He tried the leaves for himself…and he and his wife were happier.
Although that is its primary use, the truth is this herb does quite a bit more than just that. Known as Yin Yang Huo in China this plant has been used for thousands of years.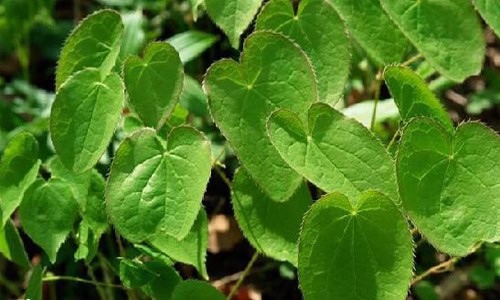 Icariin
The so called "active" constituent of epimedium is icariin, a unique flavonoid. What is special about this molecule is that it is a PDE5 inhibitor. That probably doesn't mean much to you until you know that this is what the various Erectile Dysfunction drugs are too.
PDE5 is an enzyme that breaks down the result of nitric oxide with cGMP pathway, causing the erectile tissue to lose its blood flow.
This is just one of the effects of Horny Goat Weed powder.*
While some people extract just the icariin out of this plant, turning it into something akin to these drugs, we provide a full plant extract. Ours is not standardized, but has roughly 1-3% icariin. If you're looking for a 40+% icariin, that's not what we carry or recommend.
Nitric Oxide and PDE5
Horny goat weed powder also helps to boost nitric oxide, not just inhibit its breakdown.* This has been shown to work through several different pathways in rabbits.[1] Also direct injection into the penis of rats increased penile blood pressure.[2] (We absolutely don't recommend that way of administering it.)
Don't take this expecting the same exact effects of the little blue pill or similar drugs. It is an herbal extract not a drug.
But perhaps it can restore your own body to a healthful, more vigorous level. Epimedium has been shown to not just work on NO in the moment but also up-regulate genes associated with nitric oxide production in ways that other PDE5 inhibitors do not.[3]*
Other Non-Bedroom Performance Benefits
Helps with Bone Mineral Density [4][5]*
Cardiovascular Benefits [3]*
Androgens Mimetic Properties [6]*
Rich in Bioflavonoids with Antioxidant Properties [7]*
Protects DNA [8]*
Emotional Balancing Effects [9]*
Mediates HPA Axis and Stress [10][11]*
Neuro-Protective [12]*
Nerve Regeneration [13]*
Supports Blood Pressure*
Traditional Chinese Medicinal Uses
Organ Meridians affected: Kidney and Liver*
Tonifies the Kidney Yang*
Used to support Sex Drive, Impotence, Infertility, Urinary Frequency, Forgetfulness, Lower Back Pain*
Strengthens Lung Qi*
Strengthens Sinews and Bones*
Expels Wind-Damp-Cold*
Phyto-Estrogens in Epimedium
Because of its Yang nature this herb is mostly used by men, but can certainly be used by women too. Like other herbs the dosage is often cut in half. For best effects it is also combined with yin bedroom natural performance enchancing supplements.
It does contain phyto-estrogens, Icaritin and Desmethylicaritin, which were shown to raise the levels of estrogen in post-menopausal women.[14]*
Based on lots of men taking this natural performance supplement for positive performance in the bedroom effects, I don't think these phyto-estrogens are going to raise your estrogen levels or decrease male hormones in any way. One study with men found no estrogenic activity [15]*
Epimedium Dosage and Directions
We have a 10:1 Water Extract available of Epimedium grandiflorum. Roughly 10% non-GMO corn maltodextrin is used to make this powdered extract from the liquid extraction. This is far from isolated icariin as some other companies sell.
The recommended dose is 1/2 to 1 teaspoon which is 2-4 grams. Some people like to take it 30-60 minutes before intercourse.
Other people will find better results when they take it daily for a few weeks. The same dose of 1 teaspoon per day can be done.
Contraindications: Not for use with those with yin deficiency with heat signs. Can also be drying.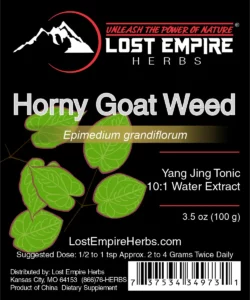 *These statements have not been evaluated by the FDA. This product is not intended to diagnose, treat, cure, or prevent any disease.