He Shou Wu: The Drunk Man's Way to Health, Hair, and Virility
If you've lost your youthful vigor, potency, strength, and energy, try He Shou Wu.
If it worked for Mr. He, it could work for you!
The ancient legend says that he was old, single, gray, and drunk. He was drunk because he never had kids. He never had kids because he was never married. And he was never married because he was impotent.

As you can probably imagine, drinking probably didn't help his situation, however, it was the drinking that changed his life forever.
His name was Mr. He and one evening, he wandered off into the woods in another drunken search for a place to nap. He finally stumbled upon a comfortable spot and drifted off into a dream about the family and life he wanted.
His wife was always happy to see him, especially after the kids were asleep. His many children were proud to call him bàba, or daddy. His hair was dark and long, showing the world that he was healthy, strong, and potent in his manhood.
Waking from his dream and still in a fog, Mr. He finds something on the ground that catches his eye. It was a root much like any other root, but this one looked like two people in the throes of passion.
Mr. He dug up the plant and took it back to his village. No one knew what this plant was, not even the village wise man. But the wise man told Mr. He that this plant found him and it was his destiny to consume it.
So Mr. He prepared the plant in the traditional ways and created a tonic. As he drank the tonic, he began to feel strength he hadn't felt in decades. He continued with his routine of consuming the plant and eventually began to gain the health and strength he had dreamed of.
His body was regaining the youth and vitality it had lost so long ago. Eventually, his hair turned black again and his virility was stronger ever. He married a widow and fathered 19 children, living another 100 years beyond the day of that fateful discovery.
The herb was named after the man who discovered it and is now known as He Shou Wu, or Mr. He's Black Hair.
A Chinese Fountain of Youth: He Shou Wu
Benefits, Science & Uses
Have you noticed that your youthful vigor is not what it once was? Have you felt out of balance, inside and out? It could be more than just getting older.
For centuries, people have used He Shou Wu to regain the healthy energy, balance, and vigor they had when they were young. It has long been touted as a way to get color the back in gray hair or even regrow hair! This is because He Shou Wu helps support kidney and liver function which can provide better blood flow to the scalp. Kidney health can also affect some knee and lower back pain.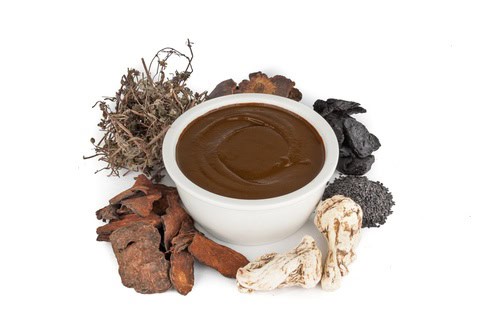 In ancient Chinese tradition, hair and other visible factors of health reflect what's going on inside the body, so healthy and beautiful hair and skin mean healthy internal organs. This is why He Shou Wu is one of the few herbs commonly used on its own rather than a mixture and recommended by emperors across generations.
He Shou Wu also contains many powerful antioxidants that help control and destroy DNA harming free-radicals which have been known to lead to more advanced aging of the skin and body.
As a matter of fact, hundreds of important compounds have been found in He Shou Wu that can lead to better organ and tissue health, memory, bad cholesterol, and more, giving you back the luster and potency of your youth. The principal constituent of the plant is 2,3,4′,5-Tetrahydroxystilbene-2-O-β-D-glucoside [2] (called TSG for short).
Zinc, which is plentiful in this herb, can help lead to an increase in sperm levels, bringing back the vitality and potency of a younger man. Zinc can also help with immune system health, mental performance, and can even help combat Chronic Fatigue.
He Shou Wu Benefits
Supports Liver and Kidney Detoxification*
Promotes Hair Growth and Color*
A Mild Sedative said to Calm the Nervous System*
Helps to Enhance Sexual Function (high in zinc)*
Shown to Significantly Increase Levels of SOD (Superoxide Dismutase) in the Body which is a Powerful Antioxidant that Protects DNA from Damage*
Supports Blood Building and Blood Cell Health with Iron*
Helps Modulate Estrogen*
Strengthens the Kidneys and Adrenals*
Aids in Mental Clarity, Learning and Memory*
Can help with Low Back or Knee Pain (as these are associated with Kidney Deficiency)*
Immune System support*
Slows Degeneration of Glands*
Helps Strengthen the Muscles and Tendons*
Many people report Improved Sleep*
Inhibits Formation of Advanced Glycation End Products (AGEs)*
Anti-Mutagenic Effects and Improves DNA Repair*
Protects Skin from Photoaging*
Increases Nitric Oxide and Endothelial Health*
Improves Mitochondrial Function*
The benefits of He Shou Wu could really be the Fountain of Youth that Ponce de Leon should have been searching for!
He Shou Wu on Gray Hair and Hair Loss
The name He Shou Wu has been translated as Mr. He's Black Hair or Hairy Back. In either case, it has to do with hair, which may be one of this root's most hoped-for benefits. You can see it worked for him in the story above.
Its principal effect in this arena seems to be in helping prevent or even restoring gray hair to its natural color. There are some studies with rats even showing regrowth from hair loss. [1][2]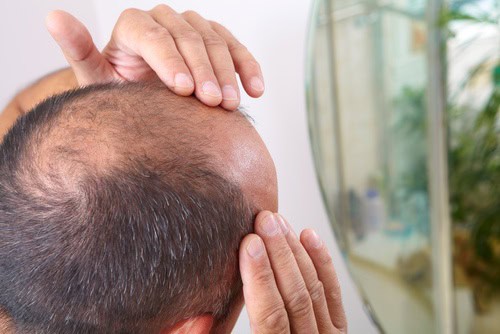 In Chinese medicine, gray hair, especially premature, is an issue with Jing, which He Shou Wu can help restore.
Our opinion is that if you're looking to combat gray hair or hair loss then give it a shot and see how it works for you.
10:1 Full-Spectrum Water Extraction of Prepared He Shou Wu Roots
He Shou Wu is known scientifically as Polygonum multiflorum. It is also well known as foti or fo-ti. While calling it fo-ti is technically inaccurate (originally referring to a completely different herb), the terms are now used interchangeably.
The herb is commercially found in two forms: raw root and prepared extract in powder or capsules and tablets.
Raw, the herb acts as a strong laxative and doesn't provide many of the positive effects of the prepared version.
Our He Shou Wu root goes through the traditional preparation. The mature, 4-year old root is sliced then stewed in a black soybean juice for hours until the liquid is absorbed into the root, leaving a more potent and useful product than before. The preparation helps to decrease the levels of anthraquinones like emodin while increasing others like stilbenes that are present in the raw roots.
The prepared root then goes through a 10:1 reflux extraction process, meaning it takes 10 pounds of roots to make 1 pound of extract. In other words, it is potent!
The reflux extraction process involves crushing and stewing the prepared root in pure water and then distilling the essence filled liquid in order to arrive at an incredibly pure product. The process is done 3 times over the course of 4.5 hours to get the purest essence of the herb available. This essence is then filtered, further concentrated, and air dried to give you the highest quality and strongest extract you can get.
Here's a visual overview of the entire process:
How do I Take He Shou Wu?
Our He Shou Wu extract is straightforward and versatile to use. Just mix ½ to 1 tsp into your morning and evening water, coffee, tea, smoothies, juices, etc. It's very easy to incorporate into your daily routine.
You could also make a calming tea by stirring your dose of the powder into a cup of near-boiling water. The hot water and nerve-calming He Shou Wu make for a very relaxing moment.
Our He Shou Wu is Gluten Free and Vegan-Friendly and does not contain GMOs, fillers, preservatives, added sugars, or any artificial flavors or colors. However, roughly 10% non-GMO corn maltodextrin is used to make this powdered extract.
Possible Side Effects He Shou Wu
He Shou Wu, in its raw form, is a powerful laxative and could potentially cause liver issues when over-consumed. However, our product is made with the traditional preparation method (more below) and has been found to be protective of the liver.
He Shou Wu is typically safe to consume for relatively healthy adult men and women. Children and pregnant or breastfeeding women should not consume He Shou Wu to be on the safe side.
The most common, though rare, He Shou Wu side effects are slightly soft stools and mild gastrointestinal discomfort.
*These statements have not been evaluated by the FDA. This product is not intended to diagnose, treat, cure, or prevent any disease.

WARNING: Consuming this product can expose you to chemicals including Lead, which is known to the State of California to cause birth defects or other reproductive harm. For more information go to www.P65Warnings.ca.gov/food.