Goji Berry Powder – The King of Antioxidants, known as the 'Happy Berry' for How it Makes You Feel*

Freeze Dried Concentrate to Preserve
Maximum Nutrition and Taste

!
Goji berries have earned the reputation of being the "gateway herb" in that they're an easy place to start for beginners yet they still pack a solid herbal punch, loaded with tons of nutrition.
For that reason some consider them the #1 herb in Chinese Medicine.
In the past five to ten years these have gone from virtually unknown to even being inside regular gas stations! They're known as the "Happy Berry" for how they can make you feel, studies have even shown improvements in feelings of well-being.4
Antioxidant Powerhouse
The ORAC value (oxygen radical absorption capability, a process used to determine antioxidant levels) of goji berries is commonly stated to be over 25000. Contrast this to blueberries, often touted for their antioxidant levels, at around 7000.
Further organic goji berry powder assists the body in increasing supply of their internal antioxidants like glutathione and superoxide dismutase (SOD).1,2*
Amazing Lycium Barbarum Polysaccharides (LBPs)
Most of the studied effects of goji berries come from Lycium barbarum polysaccharide or LBP, of which there are a few different varieties.
LBP's have been researched in their functions to support:
Anti-aging2*
Healthy Blood Sugar Levels2,3*
Healthy Liver Function2*
Healthy Eye Function2*
Healthy Metabolic Function2,5*
Healthy Immune System Function2,6*
Neuroprotection2*
Healthy Reproductive System Function2*
It should be noted that most of the human studies done have been with GoChi, a goji juice blend, that is sold through multi-level marketing and is standardized for LBP levels (though they don't say what those levels are).
The cellular mechanisms by which LBP is shown to have this wide range of functions is explored in depth in An evidence-based update on the pharmacological activities and possible molecular targets of Lycium barbarum polysaccharides.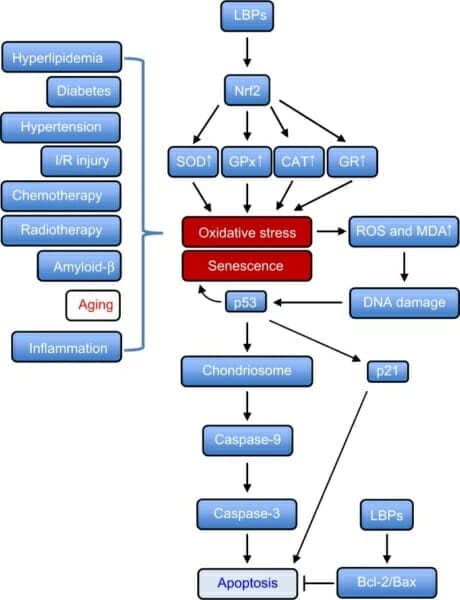 Goji Berries Nutrition
Beyond the polysaccharides, organic goji berry powder is very nutrient packed, even more so than most berries.
Zeaxanthin
Beta-Carotene
Quercitin
Kaempferol
Vitamin C
Bioflavonoids
Vitamin B1 and B2
Vitamin E
Polyphenols (caffeic acid, coumaric acid, rutin, scopoletin, feruloyl tyramines)
Betaine
Beta-sitosterol
Amino Acids (contains 18 amino acids)
Sodium
Calcium
Iron
Trace Minerals
Our powder is almost 10% protein (a complete protein and then some), and contains 60% glucose and other sugars.
Organically Grown in China, Freeze Dried to Perfection
Previously, we sold a goji juice powder. This was good…but we're always on the lookout for something better. One day we stumbled across a freeze-dried concentrate of goji and were blown away by the flavor. So much better!
You'll notice the deep color and a strong goji flavor when you try it.
The Goji Berries are harvested at peak ripeness from secluded farms in China and freeze-dried then ground down into a powder. The freeze-drying process locks in the most nutrition possible.
In addition, this is done without any fillers such as maltodextrin at all.
Dosage
Goji berries are more of a food than a herbal antioxidant supplement so the dosage can vary wildly. Our recommended dose, to get beneficial effects, is one to two tablespoons per day. That being said feel free to take more or less.
Our goji berry powder can be combined with water, tea, smoothies, and even baked goods.
Each 250-gram bag contains approximately 26 tablespoon doses, so at the recommended dose it will last for almost about two weeks to a month.
NOTE: This is organic goji berry concentrate and not whole goji berries.
Contraindications
Goji berries are very safe with no known side effects or contraindications and are often used daily for long periods of time by many. However, they are in the nightshade family so some people may be sensitive to them.
As goji berries assist the body in varying capacities they may cause changes in drugs so ask your doctor if you're currently taking blood pressure or diabetes drugs.
*These statements have not been evaluated by the FDA. This product is not intended to diagnose, treat, cure, or prevent any disease.

WARNING: Consuming this product can expose you to chemicals including Lead, which is known to the State of California to cause birth defects or other reproductive harm. For more information go to www.P65Warnings.ca.gov/food.
For more information on what this warning is, visit https://lostempireherbs.com/california-prop-65