Goji & Schisandra Tincture – A Balanced, Great Tasting Duo that Touches on Every System in the Human Body
We're pleased to announce the newest addition to our line of tinctures, the one-two punch of Schisandra and Goji.
These two berries are often combined in Chinese medicine because of their great harmonization in how they work together.
Goji berry is yin. Schisandra is both yin and yang, but more yang. (Read more about Yin and Yang dynamics here.)
Even more important is the Dry/Wet balance. Schisandra is quite astringent, which has a drying quality to it. Most herbs are on the drying side. Meanwhile, Goji is quite wet. These two seem to balance each other quite well here. (Read more about Dry vs. Wet here.)
And that makes it so that our Goji & Schisandra Tincture is something you can take everyday for the long-term.
About the Five-Flavor Fruit, All-in-One Tonic, Schisandra
People often ask me what it is for. And the truth is, a little bit of everything, such as:
Anti-Aging*
Antioxidant*
Supporting Phase 1 and 2 Liver Detox*
Adaptogen to Help You Better Handle Physical and Mental Stress*
Increases Alertness and Concentration*
Inflammation Modulating*
Immune System Support*
Beautifies the Skin and Hair*
Read more of the details about this amazing herb on our standalone Schisandra Concentrate product page.
About The Happy Berry and Antioxidant Powerhouse, Goji
Known as the Happy Berry for its Mood Effects*
Antioxidant Powerhouse (ORAC value over 25000…blueberries at 7000) *
Immune System Support*
Anti-Aging*
Supports Metabolic Function*
Supports the Eyes*
Neuroprotective*
While Goji is loaded with all kinds of nutrients, vitamins, minerals, amino acids (18 of them!), it's best benefits are likely coming from the Lycium barbarum polysaccharides.
Read more of the details about this great berry on our regular Goji Berry Freeze Dried Concentrate page.
The Most Premium Quality Ingredients We Can Find
There are four and only four things inside this tincture.
1. Organic Schisandra as grown on the pristine farm, with very rich soil, in Massachusetts, USA. Compare the richness of the color of our Schisandra compared to most on the market. This is what goes into our tincture. One third of the weight is Schisandra.
2. Organic Goji Berries from China. This is the same source as our Freeze Dried Goji Powder, except that the whole berries are used for this tincture. Two thirds of the weight is Goji Berries.
3. Organic Cane Alcohol is used at a 30% alcohol by volume amount.
4. Fresh Spring Water collected from the Santa Cruz mountains. This is 70% by volume.
Nothing else. No additives, no fillers, no flavoring agents or anything like that. Pure organic goodness.
Sweet & Sour Great Taste!
Of all our tinctures, this one takes the case for the best tasting. It is mostly a combination of sweet and sour together. (Of course, since Schisandra is the five-flavor fruit, ALL of the flavors are there.)
The ratio of Goji is higher than Schisandra so that the sweetness balances the strong flavor of the latter.
In addition, this is a lower alcohol percentage than our other tinctures making it less harsh.
Many kids love the flavor and this tincture is suitable for them!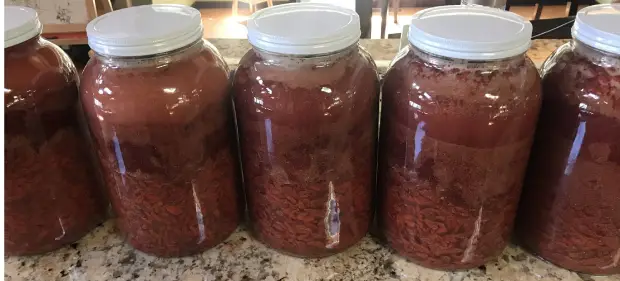 Dosage
Our Goji & Schisandra Tincture comes in a 2 fl. oz. bottle. It has approximately 39 dropperfuls or squirts (approximately 30 drops) in it.
The recommended starting dose is one squirt twice per day. You may modify this up or down as you see fit. Many people may decide to take much more. It is not recommended to cycle this, but instead to take it every day.
Personally, I've been taking between 3 and 6 squirts per day since this tincture was made.
As a tincture it is best to take sublingually. That is you squirt it under your tongue and hold for about 30 seconds before swallowing. And you can also add it to tea, smoothies, drinks or whatever you choose. Try a couple squirts into a glass of wine… ;)
Be warned…because of the effects and the taste you may find yourself going through this tincture much faster than others!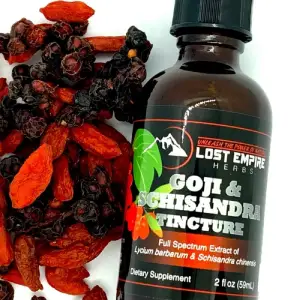 Contraindications
These are berries and thus are suitable for almost everyone. Schisandra can be drying by itself, but Goji is wet so this should be helpful for a wide range of people.
Schisandra should not be used while pregnant, as historically it was used to induce labor. It is also not recommended to use while breastfeeding.
Avoid taking Schisandra when you have a common cold or flu because it has astringent properties that can hold moisture in the body. That being said, because of the great immune effects, especially of Goji, this is great to take to prevent getting sick in the first place.
Goji berries are very safe with no known side effects or contraindications and are often used daily for long periods of time by many. However, they are in the nightshade family so some people may be sensitive to them.
*These statements have not been evaluated by the FDA. This product is not intended to diagnose, treat, cure, or prevent any disease.