Blue Vervain Spagyric Tincture – Relax and Relieves Physical Pain and Aches Naturally*
This 4,437 Year-Old Herbal Tincture Destroys Swelling and Wipes Out Pain, Coughs and Headaches Fast …
A Potent All Natural Pain-Killer With Many, Many Applications.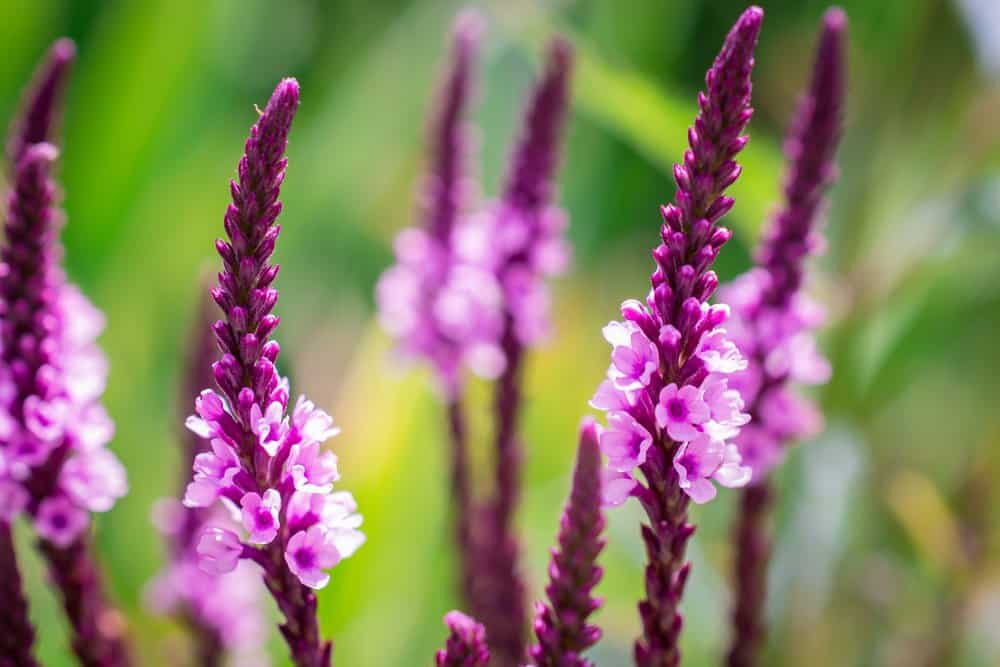 Blue Vervain Herbal Tincture (Verbena hastata)
Over the few millennia that it's use has been recorded, blue vervain healing herb has had many names… such as the-herb-of-the-cross, the enchanter's herb, the holy herb, the herb of grace and many, many more.
It's usage dates as far back as Ancient Egyptian mythology (that's 4,437 years ago!) in the story of the goddess, Isis.
"In Egyptian mythology, as Isis, goddess of fertility, grieved for her murdered brother-husband, Osiris, vervain grew from her tears."*1
Because of its powerful effects, Blue Vervain herb's popularity – up until modern times – spread like wildfire.
A Tonic That Relieves Stress, Calms Your Nerves and Relaxes Your Muscles
(Great For Adrenal Fatigue)*
Blue vervain is traditionally known as what's called a nervine.
Nervines are herbs that beneficially support your nervous system. Often they calm you down. Many people take these to fall asleep. Like valerian, or passionflower.
Valerian and passionflower, however, are a different type of nervine…hypnotics which have a sleepy effect.
Blue Vervain is another type of nervine: A nervine tonic
Although it has relaxant effects, blue vervain will not "knock you out" to sleep. Though it may help relax you before bed… which would help with falling asleep.
It's more gentle in action and thus can be used throughout the day.
Blue vervain is very bitter, which may be a contributing factor for why it helps stimulate your digestion.
Digestive stimulating herbs like Blue Vervain help:
Stimulate the flow of digestive juices*

Repair and detox your liver*

Seal your gut wall from damage (leaky gut syndrome)*

Fight of bad bacteria and parasites*
Because of its digestive abilities, it's not a surprise that blue vervain is also an adaptogenic herb…  since it targets your immune system (which is 90% in your gut).*4 Therefore it aims to put your whole body into a greater degree of symbiosis.*
Studies have shown that blue vervain has sedative effects and calms emotions… which can really help in times of stress.*5
If you're like many out there you may live a very stressful life, with a job, responsibilities, personal and relationship challenges, and a myriad of problems that life faces us with.
Blue vervain is a great natural tincture to calm your nerves when you need it (without having to reach for a drink or drugs).
History of Blue Vervain Usage
The Romans' healers and their army had their hands on it. Their military used it in case of injuries, and the Roman emperor's court physician used it for deadly illnesses.

While crucified, Jesus's wounds were filled with vervain. This was done not only to stop the bleeding but to remedy the immense pain he experienced.

Vervain's usage was renowned by the Druids; the secret philosophers, the peacemakers, medical professionals, teachers and political advisors of ancient Celtic cultures. This was their #1 herb.


In the middle ages, vervain became a popular remedy for skin problems. Herbalists used it for acne, pimples, and dandruff (today we now know that many of these conditions stem from gut and digestive problems).



Colonialists found Native Americans using it for digestive problems like gastrointestinal disorders.


Today, contemporary herbalists recommend vervain for pain, headaches, menstrual cramps and PMS, hot flashes, muscle tension, fighting parasites and even seizures and much more.
Now, instead of reaching for your favorite pharmaceutical pill to quiet headaches or pain of any kind…you can simply take a couple drops of this all natural and powerful herbal tincture to safely sedate your discomfort and relax.
Helps Type-A-Personalities and Hard Workers "Chill Out"*
Do you find yourself obsessed with getting to the next level in your career?

Are you always focused on working and how to optimize your life?

Want to be able to shut your mind off, let go and relax with your family?

Have a hard time transitioning from work to anything else?
Then Blue Vervain is just the herb for you.
It's nervine and sedative properties help over-achievers chill out when they need it most.
Let's look into that:
Blue Vervain, a Powerful Natural Pain-Killer that Reduces Swelling, Eases Strain and Soreness*
Over the last 75 years, the pharmaceutical industry has gotten us dependent on them for our health solutions.
Got a headache? Pop your favorite franken pill.
Suffering from awful cramps, nerve damage or joint pain? Reach into your medicine cabinet, and pop your favorite franken pill.
And to what consequence?
Today most Americans are sick and in lots of pain during their golden years.
Time Tested By Ancient Cultures…  
It's Pain Blocking Effects Have Now Been
Proven By Scientists
Vervain's usage has been time-tested (for over 4,000 years) and now science is PROVING its pain relieving components. Let's look at them:
Blue Vervain has the active constituents: iridoids, caffeoyl derivatives, and flavonoids. Scientists believe these are responsible for blocking the detection of pain by our senses.
Not only are these active constituents antinociceptive (meaning they block our pain receptors) but scientists also believe they can help to balance inflammation in the body.*2
This is HUGE.
Why reach for a pill that has god-knows-what kind of bad side effects when you can use an herbal tincture that will actually BOOST your immune system – instead of harm it?
Here's even more research on the subject:
One study on rats with massive ear inflammation found that vervain showed a high reduction of swelling.*3
Who could benefit from a reduction of swelling?
Anyone suffering from chronic pain

Rheumatic pain

Nerve pain

Women with menstrual cramps, PMS, and hot flashes
More research revealed that you could actually use this herbal tincture as a cream on wounds to block pain, because it is analgesic – meaning it relieves and blocks pain.
"In the analgesia test the cream dose-dependently exerted topically induced analgesia"*2
Great For Both Men with ED and
Women for PMS and Menstrual Cramps*
Because Blue Vervain is a sedative herb, it helps men who are stuck in their head, and over-thinking, to get-it-up.*
When you overthink, you begin to worry. This is a destructive thing to do when you're about to have sex.
Lots of men suffer from ED because their mind is concerned with getting it up.
Blue vervain helps you to STOP THINKING, putting you into your body so you can FEEL instead, and focus on what you need to: FEELING pleasure.
Vervain is also an amazing herb for women suffering from PMS, cramps and any type of menstrual pain.
It's proven sedative and pain-blocking effects make it a great alternative to pharmaceutical drugs which have similar effects… except vervain has no nasty SIDE effects.
How to Take Blue Vervain Spagyric Tincture
As always our aim is to bring you the highest quality products.
Our Blue Vervain is wildcrafted here in the US.
Along with pure Blue Vervain, we use Organic Cane Alcohol and Filtered Water.
There's nothing else.
Taking Blue Vervain Tincture is very simple…
One dropperful (about 30 drops) twice per day is the general recommendation.
You can also take small amounts, like 

6-12 drops at a time, several times throughout the day to help with stress or pain. 



Lost Empire Herb's Blue Vervain Tincture:
Made Using The Spagyric Process Takes Full Advantage of the Herb's Healing Properties
The word "spagyric" is derived from Greek: "Spaein" (divides) and "argarein" (unites). 
Reuniting is the idea behind the Spagyric process. It allows you to take advantage of more of the herb's FULL capabilities.
The spagyric tincture process adds the mineral component back into the extract, giving it more "body" so that it works better on your body.
This makes it extremely powerful and potent.
*These statements have not been evaluated by the FDA. This product is not intended to diagnose, treat, cure, or prevent any disease.