Kacip Fatimah is regarded as the "Female Tongkat Ali"
Lost Empire Herbs No Longer Caries Kacip at this Time, please go HERE for more options!
Libido Booster, Hormonal Support and More*
Kacip Fatimah (Labisia pumila) is a flowering plant from Malaysia. There it is regarding as the female equivalent of tongkat ali. And while tongkat can work great for some women, it's certainly not suitable for all.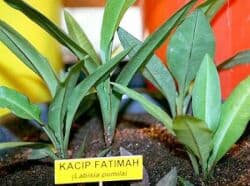 Phytoestrogens in Kacip
Kacip has been used in Malaysian medicine for many years. Its traditional uses all center around women.
Aphrodisiac and Improves Libido*
Helps Relieve Pre- and Postmenopausal Symptoms*
Helps Menstrual Irregularities and PMS*
Facilitates Childbirth and Restores Uterus*
Assists Post Partum Depression*
Tightens and Lubricates Tissues*
Kacip has been investigated for its phyto-estrogenic effects. Unfortunately at this point in time not a whole lot is known. Human studies have been limited.1,2
There is evidence that it can assist in maintaining bone mineral density3,4 as well as weight gain5, through insulin and leptin sensitivity, caused by estrogen deficiency in older women.*
It is also possible that some of the bedroom performance enhancing and libido effects aren't because of estrogen but through androgens.
Great for the Skin*
Kacip is being investigated for its use in cosmetics because of its potential for fighting photoaging on the skin.6*
It appears to promote skin collagen synthesis.7*
It is likely that part of its function here could be hormonal and also through its many other compounds.
Other Kacip Fatimah Benefits8-10
Reduces Cortisol and Stress*
Anticarcinogenic*
Antioxidant*
Anti-inflammatory*
Anti-fungal and anti-candida*
Antibacterial*
Anti-flatulence*
Cardioprotective Effects*
Modulates Immune System*
Some of the components insides kacip include:
Gallic Acid
Rutin
Quercitin
Myricetin
Kaempferol
Catechin
Epigallocatechin
Phenolic acids
Glycosides
Fatimahol
Benzoic acid
Naringin
Apigenin
Daidzein
Genistein
Ascorbic Acid
Anthocyanins
And many more
How to Use Kacip
Historically, labisia pumila has always been drunk as a tea. Our powdered form is simply a very strong tea that is boiled off until the powder remains.
Made by the same supplier and in the same way as our Tongkat so you know its high quality.
Try it out for yourself and see how it works for you. Many women love it! But if it doesn't seem to do much for you, you can always request a refund. Remember that herbs are not drugs, and many of their effects are very subtle.
Recommended dose is 100-200mg (1-2 spoonfuls) twice a day.
In Malaysia some men use kacip too.
Contraindications: Kacip fatimah appears to be a very safe herb. Its traditional uses often surround pregnancy even, though no clinical studies have looked at its safety there.
* These statements have not been evaluated by the FDA. This product is not intended to diagnose, treat, cure or prevent any disease.