Pine Pollen and Tongkat Ali are two of our most popular herbs and are known for supporting hormones in the human body. These are two of the top herbs available for that critical function, in my opinion.
The two substances work a bit differently from each other though. Let's find out about that!
Our pine pollen is sold in different forms; we have the Powder in both 50g and 250g Megadose sizes, the Tincture, the super-convenient Capsules.
For Tongkat Ali we have both the 100:1 Extract Powder and the 60-Count Capsules.
Pine Pollen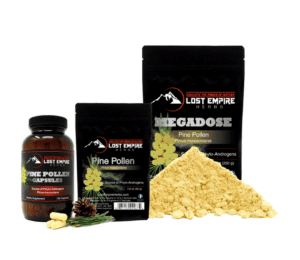 How does Pine Pollen work?
Well, let's cover that now briefly, but for what is undeniably the most comprehensive article on the internet on the subject, please read Pine Pollen – Everything You Ever Wanted To Know.
Pine Pollen actually contains testosterone, DHEA and other human hormones along with Gibberellins (GAs) and Brassinosteroids (BRs). These are novel plant sterols that are likely doing much more of the "heavy lifting" than the testosterone itself!
The human hormones such as testosterone are involved at only minimal levels and, looking at this in a scientific reductionist way we may think it can't have much of an effect at all but it certainly does. Why? That's because there's so much more going on that we may not be looking at and measuring specifically.
The result? Pine Pollen has a distinct hormonal signature along with bounteous other vitamins, minerals, amino acids, antioxidants, and nutrients. When these are all released together in the human body, they seem to support the body in healthy, natural testosterone production.
Another major benefit? Pine Pollen seems to be helping detox the xenoestrogens and other endocrine-disrupting chemicals that get stored in our body. While admittedly difficult to measure, the evidence tends to suggest that Pine Pollen helps to support the body in that way.
Now, let's contrast this functionality with…
Tongkat Ali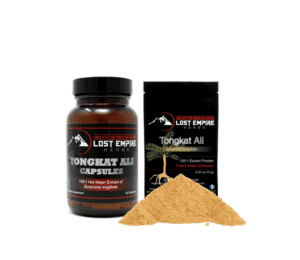 Tongkat Ali doesn't contain testosterone or any other human hormones.
However, in the human body, it seems to not only up-regulate the natural production of testosterone and other beneficial sex hormones but make them freely available.
Why is this important? Because there's a big difference between total and free testosterone.
One of the most important factors in the two is Sex Hormone Binding Globulin (SHBG) and Tongkat Ali may be able to assist in diminishing that and aid in keeping testosterone freely available and able to exert its anabolic action in the body.
Additionally, it may aid in limiting aromatization, the natural process that converts testosterone into estrogen. This isn't necessarily a bad thing but too much of it certainly is (for both men and women)! Tongkat Ali seems to beneficially regulate this natural process.
So, which is better? Pine Pollen or Tongkat Ali?
That's a very difficult question to answer.
It really comes down to your personal goals and what is going to work individually best for you!
One thing is certain: if your goal is to directly boost testosterone production, Tongkat Ali and specifically the Pine Pollen Tincture are going to be your friends. Many of our customers do combine these and report excellent results.
The two, when combined are much stronger than the Pine Pollen Powder just by itself. Why? I see the powder itself as more of a food supporting the hormones whereas the tincture directly boosts testosterone production, with the alcohol drawing out the hormones and delivering them straight to your system without the need of digestion.
The benefit of the powder by itself is that it's likely more sustainable in working naturally in the background to support normal hormone regulation. It depends on your goals but personally, I find the combination of the tincture and Tongkat Ali together is just a bit too strong for me at this point in my life. You may be at a different stage with different goals.
[pt_view id="3f98d7af2y"]
You really have to find what works best for you! Some users like one product specifically, some report benefits from using them together.
If you really need some major testosterone support, I recommend trying the Pine Pollen Tincture and Tongkat Ali together. Just be cautious. I've experienced my testosterone levels going too high and my libido along with it.
Be careful with this stuff! Which brings up our next point.
Side Effects
Besides a small percentage of people being allergic to pine pollen itself, there are really no real side effects other than it being too strong for some people. How can you know if you have an allergy to pine pollen? Take a small dose, say a 1/4 teaspoon and wait a few hours for common symptoms of an allergic reaction. This isn't a serious peanut-like allergy but uncomfortable symptoms can be felt.
Again, try them out and see what works for you!
Latest posts by Logan Christopher
(see all)