Which one is right for you, pine pollen tincture vs powder?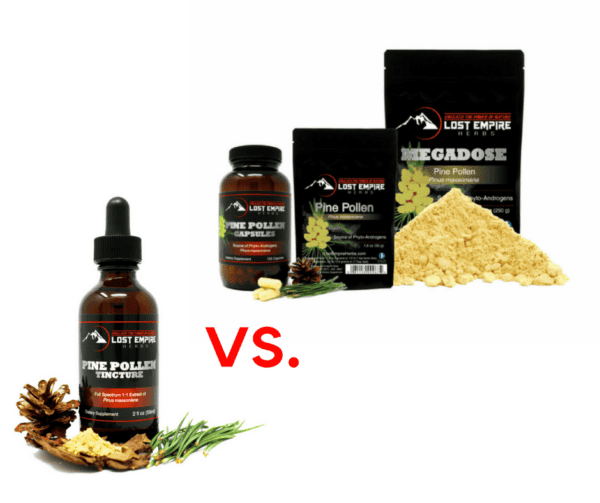 Pine pollen is best known for its hormone supporting effects. For this reason, men especially love it, although its great for women too.
And there are some pretty big differences between the pine pollen powder and the pine pollen tincture forms which are discussed below. Although the extract type will result in different qualities for many herbs, here the difference is quite pronounced.
Quick Recap of the Benefits of Pine Pollen Powder
As a powder you're getting all the nutrition that pine pollen provides. This includes many vitamins, minerals, amino acids, antioxidants, and other nutrients within (like resveratrol, SOD, MSM, etc.), making it, as my brother likes to call it, "Nature's Multivitamin".
In this form pine pollen can really be thought of as a food. That's why we have the Megadose version in which you can take several tablespoons per day. In China this is a common practice and they even use it to add to flours for baking.
The thing about the powder is that the phytosterols or androgens, meaning the testosterone, DHEA and other hormones pine pollen contains, are said to be destroyed in the human digestive tract. Still the hormonal benefits do occur with the pine pollen powder. The success of our male clients with the "Morning Wood Test" and at much else attests to this working…though, of course, hormones aren't the only factor in this either.
Still the powder is more modulating of the hormones. Plus, it appears to help in combating xeno-estrogens. In this form there is almost no chance it could increase your hormones to unsafe levels. It is fine to take every single day for years if you wanted. No cycling is needed.
It is safe for women and children. And it's great even pregnant or breastfeeding women as the original pine pollen baby can tell you. (After all the importance of good nutrition is even more important at these stages.)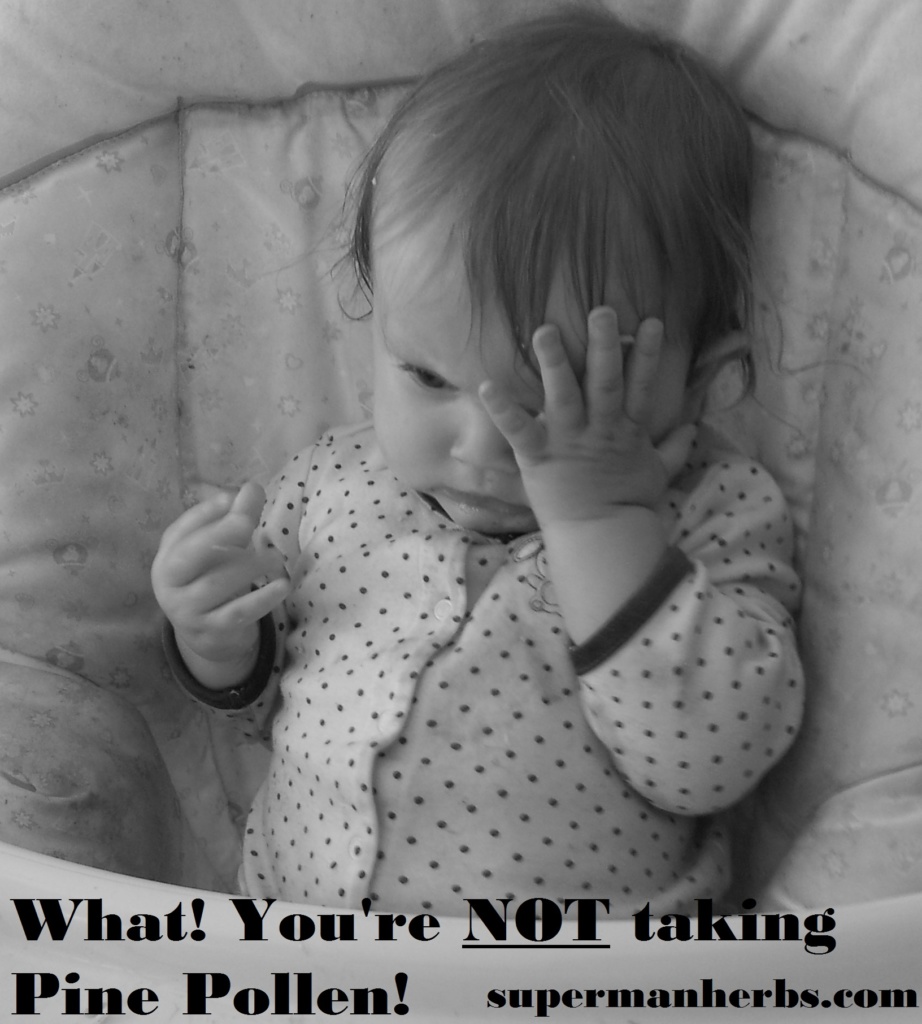 Quick Recap of the Benefits of Pine Pollen Tincture
When you tincture pine pollen you have something quite different. The alcohol draws out the phyto-androgens, concentrating them. Other components will come along too, but not everything that is found in the powder.
By squirting the alcohol tincture in your mouth, and holding it under your tongue, the hormones can immediately enter your blood stream. No digestive tract to get past, thus they're available right away in your system.
With the tincture, it is better to think of this as BOOSTING your hormones. And on that note this could likely be overdone. Its still nothing like shooting up with steroids, but if a person downed a bottle of tincture it would probably have some negative side effects.
For this reason, pine pollen tinctures are generally only recommended for men over the age of 30. Anyone younger than that should be just fine hormonally although this day and age with all the environmental pollutants, I can't say that's necessarily the case. For instance even at 29, I have used pine pollen tinctures off and on over the past couple of years. But anyone under 20 definitely should avoid them. That means no children at all.
Although they're not generally recommended for women, a few women have used pine pollen tinctures and reported great benefit. You'll have to make the choice for yourself. Definitely not for pregnant or lactating mothers. And in these cases it is typically 1 to 5 DROPS of the tincture.
In addition, it is best to cycle pine pollen tincture. Some people like to take it four or five days a week while taking a break the rest. Others will take it for a month then give it a week off. Or just a random approach, taking it every once in awhile. Any of these options and many others are fine. It's just not something you want to be on forever.
Also, some people are sensitive to alcohol. A way to get around this, while still getting the tincture benefits, is to squirt it into a very hot liquid. The alcohol has a lower boiling point than water so it will evaporate while leaving behind the components.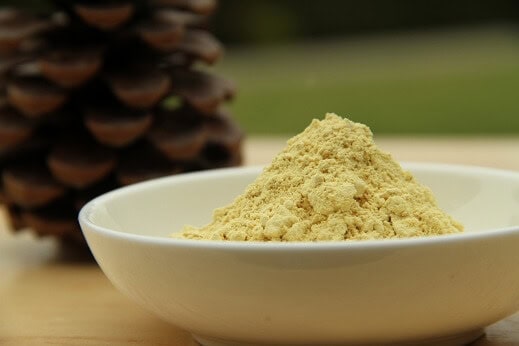 Pine Pollen Tincture vs Powder…Why Not Combine?
The tincture boosts hormones. The powder modulates them. What follows it a bit of a theory though we've heard favorable results from customers already. By taking the two together you have the boosting effects, but also with all the other nutrition and the intelligence of the pine pollen you get in the powder which along with that.
Overall, this seems to give more holistic results while achieving the great hormonal benefits many men describe. For this reason, we've put together a special Men's Hormone Package which includes both, and the addition of nettle root.
If you have any other questions be sure to ask below.
(There is another method that we've experimented with. In a tincture after the alcohol has drawn out the components for a couple weeks, the powder that is left is usually discarded. But using a Spagyric or alchemical process this powder can still be used through calcining it then being added back in. This results in the whole plant being available in a tinctured form, called a Spagyric tincture. While we don't have this commercially available with pine pollen yet, our Nettle Root Tinctures and Ashwagandha Tinctures are both spagyrically prepared.)
So it is best not to think in terms of pine pollen tincture vs powder. It is better instead to see each as having valuable, somewhat different benefits.
Latest posts by Logan Christopher
(see all)