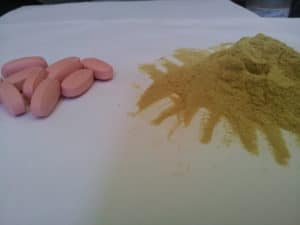 We got a question about whether you need to take a multivitamin if you're taking pine pollen.
First off, let's look at the difference between whole food and synthetic vitamins. Whole food ingredients can be easily absorbed by your body. They are created from unadulterated raw materials that possess hundreds of "cofactors" the body needs to absorb vitamins. Synthetic vitamins are missing these "cofactors". Without the cofactors, the body may act like the vitamin is a foreign invader and eliminate it as a whole. Synthetic vitamins may actually rob the body of needed cofactors before elimination. Over the course of years taking a synthetic multi-vitamin every day may lead to a deficiency of cofactors causing further problems.
My One-A-Day multivitamin is dangerous?
Using a synthetically derived multivitamin may be dangerous because of the manufacturing practices used by companies that make them. Synthetic Vitamin C or Ascorbic acid is made by combining corn syrup, hydrogenated sugar, acetone and hydrochloric acid. In fact, most vitamins in supplements are petroleum extracts, coal tar derivatives, and chemically processed sugar. The number one selling multivitamin uses all synthetic vitamins in their product…go Pfizer!
Some compounds used in their products for human consumption are also used in jet fuels, rubber, insecticides, flame retardants, herbicides, fungicides and pesticides. If that was on the label would you still buy it because it's cheaper? It profits over people for these manufacturers, and low prices sell.
Studies have shown how dangerous synthetic vitamins can be.
–Synthetic vitamin A was given to over 20,000 pregnant women. The study was cancelled after a 400% increase in birth defects (New England Journal of Medicine, 1995).
–Synthetic vitamin C was given to men for 18 months, leading to a 250% increase in thickening of arterial walls. Thickening of artery walls is a precise measurement for the progression of atherosclerosis, which causes strokes and heart attacks. Natural vitamin C does not increase thickening of arterial walls (Reuters Health, March, 2000).
–Synthetic vitamin E or synthetic beta-carotene was given to 29,000 smokers. Vitamin E increased the amount of strokes, and beta carotene increased the amount of lung cancer and heart attacks (New England Journal of Medicine, 1994).
A pollen as a Multivitamin?
Pine Pollen and Camellia sinensis (Green Tea) Pollen, could in fact be considered a food (they are gathered from the plants just like any other fruits or nuts would be), making it a whole food source of vitamins. As a food, these pollens contain all the "cofactors" needed for the body to properly use those raw materials to make a healthy body. Here is what is in these pollens:
Vitamins:
Vitamin A
Vitamin B1(Thiamin)
Vitamin B2(Riboflavin)
Vitamin B3(Niacin)
Vitamin B6(Pyridoxine)
Vitamin C
Vitamin D
Vitamin E
Minerals:
Potassium
Sodium
Calcium
Magnesium
Phosphorus
Silicon
Iron
Zinc
Selenium
Manganese
Copper
Molybdenum
Amino Acids:
Alanine
Arginine
Aspartic
Cysteine
Glutamic acid
Glycine
Histidine
Isoleucine
Leucine
Lysine
Methionine
Phenylalanine
Proline
Seserine
Threonine
Tryptophan
Tyrosine
Valine
Others:
Proteins
Fibers
Lignin
MSM
Quercitin
Polyphenols
Nucleic acids
SOD
Phytosterols
Unsaturated Fatty acids
Monosaccharide
Polysaccharide
Enzymes
Coenzymes
Flavonoids
Proanthocyanidins
Resveratrol
Along with a healthy diet, these pollens can be used individually or together to ensure that you are getting all your body needs to function at an optimal level. And you know that your body will be able to use all the raw materials because all the cofactors are still present right alongside them.
So, in response to the question, do you need to take a multivitamin when consuming pine pollen and/or green tea pollen is a simple, "No you don't".
If you do not care about the other benefits that come out of consuming such high-quality nature-made products like these, at least you can rest soundly (one of the benefits is better sleep) knowing that you're getting more vitamins and minerals into your body then you would paying for designer chemicals.
To close out, we need to be clear, we do not wish to be nor are we clinical doctors. We have not gone through the extensive training that "big pharma" gives to doctors.
So, all-in-all, you will want to ultimately use your own discernment. You are your own doctor so do your own research. Use common sense and listen to your body. Do these things and you will be just fine.
Latest posts by Zane Christopher
(see all)