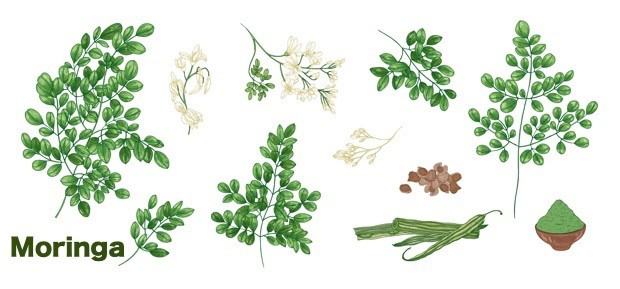 With a nickname like "the Miracle Tree", it's not difficult to imagine that moringa deserves your attention. Moringa oleifera, or  simply moringa, is a tropical tree that grows plentifully in Central America, South America, Africa, the Middle East, and Asia. Having been used medicinally for more than 4,000 thousand years, research has recently confirmed the numerous health benefits of moringa, including cholesterol and blood pressure balancing and tumor protection.
Aside from the 30 or so essential micronutrients that your body needs to survive, plants contain thousands of other unique phytochemicals whose effects we are only just beginning to learn about.
Moringa is no exception, and the research on this plant's unique phytochemical make-up shows just how powerful and important plants are to our diet.
Health Benefits of Moringa
Moringa has substantial cholesterol-fighting and blood pressure benefits
Moringa is a powerful antimicrobial agent,
Moringa's unique phytonutrients have profound health implications in areas such as cancer prevention and stress regulation
Moringa has been shown to fight breast cancer and colorectal tumors
Moringa is highly nutritious (although not as nutritious as some fantastically-overstated articles may lead you to believe)
Lowers Cholesterol and Blood Pressure
One of the most promising effects exhibited by moringa leaves is its significant cholesterol lowering ability. In one study, moringa leaf extract lowered blood serum LDL-cholesterol by 15%. It has been hypothesized that this is due to β–sitosterol, a bioactive phytonutrient found in moringa4.
In addition to lowering cholesterol, moringa has the added benefit of reducing blood pressure. "Nitrile, mustard oil glycosides and thiocarbamate glycosides have been isolated from Moringa leaves"- all of these chemicals have been found to be responsible for the blood pressure lowering effects of moringa1.
Cancer Tumor Fighting Power
Several studies focusing on bioactive chemicals isolated from moringa have shown strong cancerous tumor protective effects. In particular, a chemical called niazimicin was shown in to decrease the incidence of papillomas (skin tumors) brought about by chemically-induced carcinogenesis in mice by 80% after 10 weeks1.
In layman's terms, this means that after mice were exposed to cancer-causing chemicals; those mice that were given the phytochemicals derived from moringa had 80% fewer tumors than the control group, to whom the phytochemicals were not administered. More clinical trials are needed to better understand how Moringa tree leaf affects cancer.
Antimicrobial Properties
Similarly, moringa has also been shown to have potent antimicrobial effects. Again, this is no surprise as ethnobotanical surveys of the uses of moringa have shown that the main medicinal use of this plant in certain geographical areas has been in the treatment of infectious skin, digestive, and respiratory diseases2.  Recently, research has backed up what these indigenous populations have implicitly known for centuries.
A study comparing the growth of pathogenic microorganisms in the presence of moringa leaf juice, moringa seed extract, and a plant previously shown to have antimicrobial properties found that both the seed and leaf extracts inhibited microbe growth significantly more than the control. This means that moringa not only exhibited antimicrobial properties, but it exhibited a significantly better antimicrobial effect than a similar antimicrobial agent.
Further studies have found that one of the main antimicrobial molecules in moringa is 4(α-Lrhamnosyloxy) benzyl isothiocyanate3. Now, that may not mean much to you, but the important part to remember for now is: "isothiocyanate". These are a class of molecules found across several plant species that have tremendously powerful health implications in areas such as cancer prevention and stress response. However, we will need to save all that good stuff for another article.
Nutritional Excellence
Although there are some vastly overstated claims as to the micronutrient concentrations in moringa- for example, I have seen claims that moringa has 12x the vitamin c of an orange, 15x the potassium of a banana, and 25x the iron of spinach. This is patently untrue about a normal serving of moringa and originated from a paper that claimed these numbers are found in 100g of dried moringa leaf powder (this is around 2 full cups of dried powered, which is a highly unlikely amount for anyone to even consider consuming at one time)- it is still excellent dietary sources of many vitamins and minerals3.
An average serving of moringa will supply roughly 2.5 times the vitamin c in an orange, twice the magnesium in spinach, and more potassium than a banana. In tandem with the nutritional superpowers mentioned above, it is easy to see why moringa truly is a superfood.
References
Anwar, F., Latif, S., Ashraf, M., & Gilani, A. H. (2006). Moringa oleifera: A food plant with multiple medicinal uses. Phytotherapy Research,21(1), 17-25.
Ckeresaqb, A., Cabrera, O., Moralesb, O., Mollinedo, P., & Mendiab, P. (1991). Preliminary screening for antimicrobial activity. Journal of Ethnopharmacology, 33, 216.
Faizal, A., Razis, A., Ibrahim, M. D., Kntayya, S. B., Dqg, D., Lqfoxglqj, Q., … Vrxufh, D. V. D. (2014). MINI-REVIEW: Moringa oleifera. Asian Pacific Journal of Cancer Prevention, 15(20), 8571–8576.
Ghasi, S., Nwobodo, E., & Ofili, J. O. (2000). Hypocholesterolemic effects of crude extract of leaf of Moringa oleifera Lam in high-fat diet fed wistar rats. Journal of Ethnopharmacology, 69(1), 21–25. https://doi.org/10.1016/S0378-8741(99)00106-3
Latest posts by Zane Christopher
(see all)