When it comes to weight loss, we all know the drill.
You finally decide to take it seriously and set a strict diet for yourself. Maybe initially, you even see some results, but over time most people fall off the wagon and end up right back where they started… and are left with the feelings of disgust, hopelessness, and frustration.
Have you tried dieting and weight loss programs and been disheartened by the lack of success?
Does dieting work? Dr. Aviva Romm offers a refreshing perspective on a person's desire to "lose weight."  She says, "… 'dieting' doesn't really work, at least not sustainably.  I work with patients to heal their relationships with food and help them learn to make healthy food choices.  This often means healing their relationship with their self-esteem, and may even require digging deep into the origins of food and eating dysfunction."  The process is about regaining one's true vitality.
If dieting is not always the best option for losing weight, what is?
We all know that a sedentary lifestyle leads to weight problems, but sometimes even those of us who are consciously active still have some excess weight we'd like to lose.  Perhaps we have not been addressing weight gain properly, while food and movement do contribute, there are other factors at play.
Addressing Root Causes
While Western Medicine can be great at addressing symptoms it often fails to get to the root cause of health issues, including weight loss.  Headaches, insomnia, digestive issues, anxiety, depression, poor circulation, body aches and excess weight can all be viewed as symptoms of deeper issues and imbalances.  In order to bring lasting harmony when it comes to weight, it is important for each individual to determine what may be the root causes of their weight imbalance.
Thyroid imbalance and hormone imbalances in general, stress, along with poor diet and an overall sedentary lifestyle are all important factors to consider.  If you feel like you are putting a lot of effort into losing weight, yet nothing is happening, then it could be an indicator that the root cause isn't being addressed. This can be very frustrating at times; however, we must strive to look deeper if we are ever going to take control of our health.  Working with a health professional who can test your hormone levels is a good place to start if you feel like your body holds on to excess weight.
Traditional Chinese Medicine Perspective
When it comes to a Traditional Chinese Medicine  (TCM) perspective on weight loss, there is the underlying belief that the body is designed to heal itself—through focusing on supporting the flow of Qi (life force/energy), our bodies will naturally come back to balance.  Excess weight is considered a symptom of a greater health imbalance. TCM practitioner, Ellen Nan Lu, wrote in her work, Traditional Chinese Medicine: A Natural Guide to Weight Loss, that, "Prevention will become your true cure. When your underlying unbalanced internal conditions have been brought back into balance, you will find that your body will not be vulnerable to creating extra weight.  I believe it will be stronger than you have ever experienced.  You will also handle stress differently. Your ability to regain internal balance, should you falter, will be greatly enhanced."
While it is also important to consider the individual, there are some common causes of weight gain as identified by TCM. One of the main causes is an excess of mucus in the body.  This can occur from the intake of too much dairy.  TCM focuses on organ function in a holistic way—recognizing that our organs function together, and not just as individual symptoms.  Excess mucus indicates a dysfunction in the lungs or spleen organs.  While these individual organs may be okay, their functioning or integrative role in the body is dysfunctional.  In TCM, the spleen produces mucus and the lungs store mucus—an imbalance between these two organs can result in weight gain.  Along with too much mucus producing foods, a stressful lifestyle can also lead to excess mucus—specifically in the liver.  Liver imbalances influence an imbalance in the spleen, which in turn can lead to digestive issues.
Excess water in the body is yet another cause of excess weight from a TCM perspective.  The three organs at hand, in this case, are the lungs, spleen, and kidneys.  These organs are believed to be responsible for metabolism and the integration of water within the body.  For the body to eliminate water, all three of these organs must be balanced and working in harmony.
In TCM our emotions are also an important aspect of overall balance, and each emotion is correlated with an organ (meaning emotions influence our organ function).  Holding onto emotions creates a stagnation of the flow of Qi in the body.  This can result in the literal manifestation of our emotions as excess weight on the body.  In order to function properly, our digestive systems must be strong enough to not only digest food but also digest stress and emotions.
Where Does Food Come into Play?
Wondering how to lost weight fast naturally? We've all heard the phrase "you are what you eat."  To an extent this is true. Food is needed for nourishment and to supply our bodies with the nutrients vital to life.  So, while a self-imposed and stringent diet might not be sustainable, our food choices are an important factor in maintaining a healthy weight.  The key is in making your diet more of a lifestyle choice, and less of a restriction, which can backfire and lead to binging (ultimately resulting in gaining more weight than was initially lost).  When one's food choices become a lifestyle habit, it is naturally easier to maintain weight.  Yes, it is possible to no longer be ruled by cravings!
Mindfulness is a powerful tool that one can apply to eating to help create a lifestyle habit.   Mindful eating is a practice of observation in which one learns to identify true hunger and satiety signals from emotional cravings (think the ability to distinguish hunger of the body, verse hunger of the mind).  It also involves, literally paying attention to the foods you are eating— the tastes, textures, and the time it takes you to eat your meals. Practicing gratitude is yet another way to bring mindfulness to the table. Always make it a point to eat your meals sitting down and it can be particularly beneficial to share meals with others.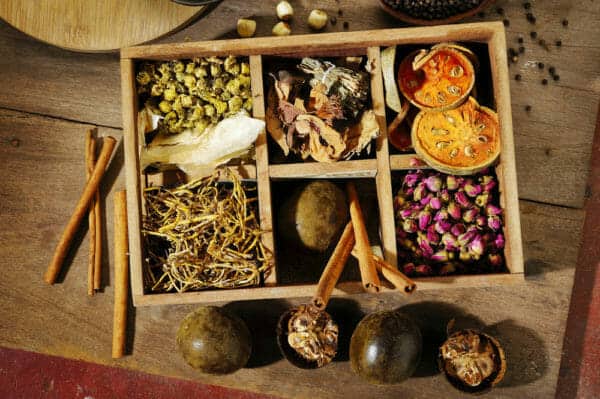 Herbs Can Help Achieve Balance in the Body
Herbs can also be beneficial in helping one to achieve their weight loss goals.  Focusing on herbs that support digestive health is often a great place to start.  In the traditional medicine system of Ayurveda, it is considered important to stoke the "Agni", which translates into "digestive fire" before eating meals.  The bitter taste can help stimulate digestion, and thus some herbal medicines are categorized as "digestive bitters".  One can simply keep an extract of these bitter herbs around to take before and perhaps even after meals.  Start with a few drops of a bitter herb tincture and see how you feel.
Blue Vervain is a wonderful herb that comes to mind to try as a digestive bitter.  This herb is also nervine and can help one relax.  Blue Vervain is known for aiding in detoxification and supporting liver health.  Considered an adaptogenic herb, it can help restore balance in the body.
Herbs can also be helpful in supporting metabolism.
Weight gain can be an indication of an altered metabolism, and significant weight loss through dieting can also cause altered metabolism!  That's right, altered metabolism is believed to be one of the main reasons why dieting doesn't work.  How is this so?  Well, following any significant weight loss, the body goes into a state of declining energy production, which in turn signals the body to the rev up fat production and storage—in a sense the body goes into survival mode and does everything possible to hold on and reserve weight.  These metabolic changes that occur not only result in fatigue, they also stimulate appetite- making it very challenging to not eat excessive calories. At this point, these calories are shunted towards fat production.  And so, the cycle of gaining weight begins again.
In order to maintain long-term balance, it is necessary to address metabolism.
Studies show that the medicinal mushroom, Cordyceps militaris, can increase the metabolism and support weight loss.  Cordyceps has been shown to reduce and even reverse insulin resistance, which results in more balanced blood sugar.   This is significant because, in a state of insulin resistance, the body is in a state of dangerously high levels of glucose and insulin in the blood.  As insulin works to drive the glucose out of the blood for storage of fat, the body doesn't get adequate fuel for energy, ultimately resulting in fatigue and excess weight gain.  Our current scientific understanding supports the long-time use of Cordyceps in TCM as a rejuvenate medicinal, used to fight fatigue and restore the body.  Therefore, it is not surprising that Cordyceps is also an adaptogen—and helps create balance.
Taking the time to identify the root causes of your weight gain will help ensure your efforts are not lost on the rollercoaster of weight loss and weight gain.  This means addressing the whole body. Reducing stress, healing digestive issues, and focusing on hormonal balance, and focusing on mindful eating and nourishment with whole foods can help one create the lifestyle change necessary for sustainable weight loss and balance.
References
Iyer, L. M., Burroughs, A. M., Anand, S., Souza, R. F., & Aravind, L. (2017). Polyvalent Proteins, a Pervasive Theme in the Intergenomic Biological Conflicts of Bacteriophages and Conjugative Elements. Journal of Bacteriology, 199(15). doi:10.1128/jb.00245-17
Lu, N. (2000). Traditional Chinese medicine: a natural guide to weight loss that lasts. New York: Harper.
(2013, May 24). NutritonReview.org. Retrieved February 06, 2018, from https://nutritionreview.org/2013/04/reversing-altered-metabolic-functions-enhance-longterm-weight-control/
Verbena.-Vervain. (n.d.). Retrieved February 06, 2018, from https://www.henriettes-herb.com/eclectic/kings/verbena.html
Women and Food Relationship: 10 Resources for Getting on Top of this Weighty Issue. (2018, January 29). Retrieved February 06, 2018, from https://avivaromm.com/women-food-top-ten-tips-getting-top-weighty-topic/
Latest posts by Erin Henry
(see all)