This article is aimed at exploring common everyday lead exposure to show the details involved as well as to give comparison against lead found in herbs.
Other herb and supplement companies do not provide you with this level of insight, nor deep-down-in-the-weeds education, to make truly informed decisions.
Its not to excuse heavy metal contamination, which is problematic at any level, but to show the bigger picture in relationship to wider exposure.
Lead is a natural element, classified as a heavy metal, that leads to both acute and chronic toxicity.
A large part of the reason that lead continues to contaminant our food, water and even air is because of leaded gasoline that was used for decades. I wrote a lengthy article on the subject here, which became part of the free ebook The Tobacco Playbook.
Contrary to popular opinion, leaded gasoline is still in use. Although leaded gasoline is banned across the world for all passenger cars it is still used in some aircraft, motorsports, farm equipment, marine engines and off-road vehicles, including within the USA.
There are other problematic areas, such as lead in paint, from mining, as well as lead in old plumbing pipes, but these pale in comparison to leaded gasolines effects on the environment, and thus human health.
Enough history lessons, let's dive into the weeds…
Lead Toxicity
Here is a useful review on Lead toxicity. Several quotes from this are below to give a picture of the problems of this element.
"There is almost no function in the human body which is not affected by lead toxicity."
"As of 2012, the Centers for Disease Control and Prevention (USA) have set the standard elevated blood lead level for adults to be 10 μg/dL and for children 5 μg/dL of the whole blood."
"Chronic lead exposure was found to reduce fertility in males."
"Signs and symptoms of chronic exposure include loss of short-term memory or concentration, depression, nausea, abdominal pain, loss of coordination, and numbness and tingling in the extremities…Fatigue, problems with sleep, headaches, stupor, slurred speech, and anaemia are also found in chronic lead poisoning."
"Lead poisoning causes a variety of symptoms, including abnormal behaviour which varies from person to person, while time of exposure plays an important role…There are also studies which show no symptoms of lead poisoning even with elevated levels of lead in the body"
"Blood lead levels from 25 and 60 μg/dL give rise to neuropsychiatric effects such as delayed reaction times, irritability, and difficulty in concentrating, as well as slowed down motor nerve conduction and headache."
"Lead poisoning is believed to be primarily responsible for the collapse of the Roman Empire, in which lead acetate was used as a sweetener of wine. Its prolonged use was considered to have caused dementia to many Roman emperors."
That's a quick overview. If you want to dive deeper into the effects that review is a good place to start. But this was provided just as some background to explore the topics of how much are we really getting in our daily lives.
Lead Exposure in Foods
All food you consume, because it grows in soil or consumes things that grow in soil, will have some amount of lead. That's just how it is. But how much can range considerably. The following charts are taken from FDA data found in a report available from the Agency for Toxic Substances and Disease Registry.
I'll note that it is tough to find real numbers of lead in food, largely because the subject is not often looked at and analyzed. (Testing being expensive being one reason why, our regulatory agencies being largely captured by industry being another.)
There is more focus on baby and toddler foods for the reason that exposure in youth is worse than exposure in adults.
Note that there are a number of samples and the range can be all over the place. Grape juice has from 0.3 mcg (micrograms, also represented as μg) to 41.3 mcg! Toddler puffs from 3.3 to 91 mcg!
Also note that these are micrograms per kilogram (μg/kg). A toddler isn't eating a kilogram of food in one setting so they're not getting this full load. But even a small baby could easily consume a kilogram of such foods over the course of a month.
Let's take that average of 18.1 mcg per kg of raisins. If you ate 50 grams (the equivalent to 1.76 ounces) of this than you'd be getting 0.905 mcg of lead. That's in a single snack. That's from the average.
Some were much better, but raisins also had the high limit of 151 mcg/kg. That would be a whopping 7.55 mcg of lead per 50 grams!
A second chart showed some other foods.
For whatever reason, this chart is in mg/kg a different unit. The number can be switched to mcg/g without doing any math. (Because there are both a thousand mcg per milligram and a thousand grams per kilogram, the table below showing the metric system conversions.)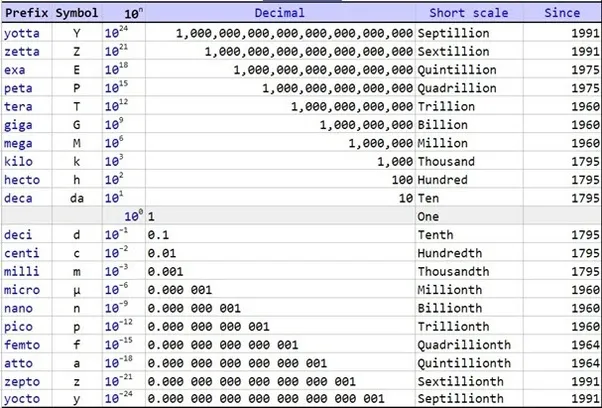 Let's say you eat 50 grams of a chocolate candy bar which contained on average 0.013 mg/kg of lead. You'd be consuming 0.65 micrograms of lead.
The research notes that certain foods tend to be more problematic with lead. These include baby foods, canned foods, root vegetables, chocolate, dried fruits and fruit juices, of which we've seen some examples thus far.
A report by the EPA summed up daily dietary intake of lead in children. Infants get just about a quarter of a microgram per day. With solid foods around 1-2 years of age, it shoots up to two micrograms per day. It just keeps on increasing from there. Therefore, you can extrapolate this to larger amounts for adults. Recall that these are averages meaning some get much less and some get much more.
Another chart with data from the American Chemical Society, finds lower estimates, but again this is per day. (My guess, without digging further is that since this is from an industry funded organization, it is downplaying the issue.)
EPA's Lead Water Limits
Lead can also be found in all kinds of water. It is found in many tap supplies due to the use of lead piping in the past.
To give perspective on this, according to this report, the EPA looks for lead concentrations exceeding 15 mcg. If this occurs in more than 10% of customers' tap samples, "the system must undertake additional action to control corrosion and inform the public about steps they should take to protect their health. The current action level is not based on avoiding adverse health effects due to lead exposure but is instead based on "technical feasibility" based on EPA's evaluation of "available data on the ability of corrosion control to reduce lead levels at the tap"."
Charts from the foregoing documents weren't as clear on actual levels. This one chart showed a median on 75 ppb (parts per billion) in water.
75 ppb translate to 0.075 micrograms per liter of water. If a person consume 3 liters of water per day, approximately 3/4 of a gallon, then that is 0.225 mcg of lead per day.
Do you drink from the tap? You can check your own tap water supply by heading to the EWG's website here and entering your zip code.
My town of Sandpoint, Idaho shows the following:
HAAS and TTHMs are chlorine breakdown products. Radium is a radioactive element, one of several that unfortunately are found in many water supplies.
From that you'll have to click the orange button that says 'What About Lead?'.
There it says that 90% of samples measured below 6 ppb, an equivalent of 0.006 mcg per liter. Quite a bit lower than the median amount shown before. Still, this and the other contaminants are why I collect fresh spring water to drink.
Lead in Air
We're not done yet. Yes, you can get lead in the very air that you breathe.
That chart from the EPA shows mcg per cubic meter of air. It's a tiny amount and thankfully on a downward trend, but then again you are breathing all the time.
A human takes in an average of 550 liters of air per day. This is equivalent to 0.55 cubic meters. What this means is according to this study every two days in 2017 you'd get about 0.02 mcg of lead just from breathing.
That's after the 94% decrease since 2000 too! I wonder what it was back in 1970 or so, which this chart on historic lead emissions gives some insight too…
Lead is accumulated and stays in the bones. No wonder people have so many health issues!
Comparison to Herbs
The above examples show that you get a minimal amount of lead via the air, more from food, and possibly most from water, all these depending on the environment.
In the USA, the limit is 10 ppm. In Canada it is 2 ppm. That's part per million, which really shouldn't be used as it is deceptive. What matters far more than the ratio is the amount, because as we've seen size of dose matters. For comparison here are some of our herbs expressed in ppm. These numbers are all available on our heavy metals page (and numbers from current batches at time of writing)
Tongkat Ali – 0.18 ppm
Chaga – 0.3 ppm
Cistanche – 0.06 ppm
Schisandra – 0.02 ppm
Shilajit Resin – Below detection limits of <0.11 ppm
Ant – 0.94 ppm
Nettle Root – 0.1 ppm
Maca – 0.28 ppm
Pine Pollen – 0.37 ppm
If these are converted to mcg's at the max dose recommended we get the following. Many of our herbs have lead levels that even pass California Proposition 65's strict standard of no more than 0.5 mcg per dose without having a warning label attached.
Tongkat Ali – 0.036 mcg per dose
Chaga – 0.3 mcg per dose
Cistanche – 0.12 mcg per dose
Schisandra – 0.2 mcg per dose
Shilajit Resin – Below detection limits of <0.11 ppm
Others do have higher amounts:
Ant 1.26 mcg per dose
Nettle Root 2.16 mcg per dose
Maca 2.8 mcg per dose
Pine Pollen 3.7 mcg per megadose (this is higher than most because of the megadose being the large amount of 10 grams, in comparison a one teaspoon dose would only be about 0.37 mcg)
Understand that these higher amounts are still considered very good by regulatory standards.
I'll be the first to admit these amounts are not all fantastic. Ideally, no lead would be present. And we see especially with the case of Pine Pollen that dose sizing matters. Compare that to Tongkat Ali, with the small 100 mg dose which yields a tiny fraction of lead.
In comparison, recall from the examples above of two ounces of raisins having on average 1 mcg of lead, or the highest tested having over 8 mcg of lead. Or a chocolate bar containing on average 0.65 mcg.
The amounts in water and air you consume are smaller in comparison but not totally insignificant either, definitely depending on where you are drinking or breathing from.
Just because you eat organic doesn't mean you're avoiding this either. Soils may have heavy metals regardless of organic or conventional growing methods, though the latter certainly come with additional issues.
If you are seeking to avoid any and all heavy metals, then tinctures are a good way to go. Lead does not extract in alcohol. Even the spagyric works of calcination and dissolution leave the lead behind.
Beyond that, you can use our heavy metals page as a way to scan lower amount herbs if you'd like. (Please note that our grading system is undergoing an upgrade with some major changes coming soon to more properly shown mcg instead of ppm.)
In addition, the good news is there are some things that can be done to detox lead. It doesn't just accumulate. Popularly cilantro, chlorella, clays such as zeolites, shilajit, EDTA and other substances can assist with this and other heavy metals. But that's a topic for another time.
I hope you have found this deep dive into lead illuminating. It's just one more step in our value of questing for quality that undergirds everything we do at Lost Empire Herbs.
Latest posts by Logan Christopher
(see all)