Being sick is no fun! So if we can avoid it, all the better. While all cases of illness suck, in this post I'm focusing on the common cold and flu that goes around especially during the winter season.
I remember being sick quite often as a kid. But in my adult life, as I began studying health and putting what I learned into action, I took pride in not getting sick at all.
That's the thing. Most people seem to except getting sick as inevitable. But it's not. This is far more within your control then many people might imagine, which is what this two-part series is about.
Personally, it's not that it never happened, but when I did get sick, it tended to be when I pushed myself to the limits. Travel, stress, off of my normal diet of quality foods, etc. Still, I think my best streak was when I went about six years without a single cold.
Recently, some things have changed. My daughter was born. That shook things up and that first year, things fell to pieces for me in this area. I am not proud to admit it, but I got sick a number of times.
Babies and kids running around pass around a lot more germs. So my exposure increased. Not to mention, I feel like her being related to me there somehow was an easier way past my immune defenses.
Anyway, I live by the NLP presupposition, "There's no failure, only feedback." What this means in this area was that I needed to do a bit more then I had been doing. I'm happy to say that making these adjustments I haven't been sick in over nine months, despite other people around me being sick.
And adding in more of these adjustments to my daughter's routine, she's also avoided any sickness this winter season so far. Fingers crossed, so far it remains this way.
Before we dive into those it's important to understand why we get sick (because this is widely misunderstood).
Three Factors – Why We Get Sick
There are three main elements to this.
1) Germs
2) Immune Defenses
3) Ecology
It is only by understanding how these factors work together that we can have a more holistic understanding of the common illness.

The Germ Theory of Disease
First off, let's start with germs. Wikipedia states, "The germ theory of disease is the currently accepted scientific theory for many diseases. It states that microorganisms known as pathogens or "germs" can lead to disease. These small organisms, too small to see without magnification, invade humans, other animals, and other living hosts. Their growth and reproduction within their hosts can cause disease."
In its most simplistic form, this states that if we get exposed to illness-causing bacteria or viruses then we will get sick. It is this reductionist idea on which Western Medicine has been based since bacteria were discovered (and why we aimed to vehemently wipe them out before realizing there were many good "germs" too). Learn more here.
The cracks in the foundation are starting to show, but this is still held as the most important factor when I would rate it as the least.
Yes, exposure to germs absolutely does matter, but it is not the full picture. We won't catch something if it is not there in the first place…but bacteria and viruses are far more pervasive then we might think.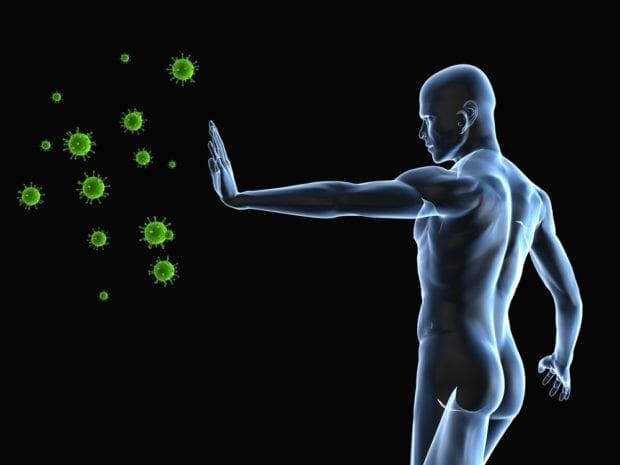 Building Your Immune Defenses
So the next thing we need to look at is our immune system itself. Without getting into details of the different sub-systems within it, or the types of white blood cells, just know that our immune system is there to keep up healthy. (If you do want this detail about how the immune system works you can find it here.)
The good news is that you can do a whole lot to support your immune system being better. Ideally, we want to have an immune system that can fight off exposure to any viruses or bacteria we come into contact with.
If your immunity is up, exposure to germs will simply result in a small skirmish that you (consciously) won't even notice. Enemy combatants are taken down quickly and efficiently.
If immunity is down, exposure to germs will invade you and setup reproduction so that a full-scale war occurs. This war is known as a cold or flu symptoms that you have.
Just think about it. What would you rather have to do? Strive to avoid all exposure to germs like Howard Hughes? Or being fine with sick people sneezing in your face knowing that your immune system can tackle it? (Not that you'd want a sneeze in your face.)
Ecology aka The Terrain
The third part that must be looked at is ecology. If it was just germs, then why do people get sick more often in the wintertime? Why is the cold itself associated with cold weather? While there might be more bugs going around at this time, it largely has to do with the ecological changes going on.
Too much cold and your immune system might not be able to ramp up its defenses, as it's thrown off of normal. Less oxygen and more carbon dioxide from being indoors can be another factor.
In addition, we need to look at the outside environment and how that impacts our internal environment. This goes as far as extending to specific ecological things like hot vs. cold or dryness vs. wetness that can impact areas of the body based on foods and herbs we consume.
If your internal terrain is optimal than a virus or bacteria will have a tough time setting up shop. Then the white blood cells can come and eradicate it easily.
Avoid Sickness by Optimizing All Three Factors
With these three factors, we can look at supporting ourselves and others in not getting sick through these different pathways as well.
Beyond limiting exposure to germs we can look at those things that are specifically anti-viral and anti-bacterial. We can look at the many things that amp up the immune system in a variety of ways. You might think of these as playing both offense and defense. Lastly, we can look at our resistance to environmental change and our internal ecology and how that can be affected.
I realize this is far outside of how most people look at getting sick. But that's just the thing. Most people get sick regularly so how they are thinking about it is likely leading there.
In other words, if you think it's only about exposure then you strive to reduce that, but don't do anything else. While reduced exposure is helpful, as I said earlier, it is the least within your control.
I'll dive into the specifics of what I personally do to optimize these areas in the next post, but first, let's discuss a few things I do not do.
What I Don't Do for Sickness
I never take any cold medicine for the symptoms. If you have a fever, unless it is dangerously high, you do not want to suppress it. That is the body's natural defenses upregulating the internal temperature to cook out the germs.
Taking a cough suppressant for a cough prevents your lungs from clearing out the mucus where the germs have taken root.
If you take a medicine to dry up a runny nose, it also prevents your body from getting rid of the mucus.
While these may make you feel better in the moment, what they're actually doing is suppressing your symptoms so that the illness is either driven deeper into the body or it will simply take longer to resolve. (That's not to say this should absolutely never be done, there's a case for everything, just not most of the time.)
And then there are the commonly prescribed antibiotics. Please note that if labs aren't actually done to determine the viral or bacterial origin of what you have, then specifically going down the antibacterial pathway can be detrimental.
Taking antibiotics when you have a viral infection is not just ineffective, it is actually damaging. To do so can negatively impact your symbiotic microbiome, which makes up a large part of your immune defenses. So beyond a placebo effect, antibiotics used against viral invaders can actually make your sickness worse …plus, affect your health in the long-term.
And if you have a cold from a bacteria, or ear infection, I also wouldn't recommend taking antibiotics either. In my opinion, the proper use of antibiotic drugs is only in life-or-death situations or potential catastrophes, like Lyme disease. They shouldn't be used for common bugs at all because of the long-term negative consequences like the impact on your microbiome and contributing to antibiotic resistance. This is a topic I've been talking about on the Health Sovereign podcast as an over-intervention.
You may wipe out a bacterial infection, however, you only set yourself up for more sickness down the road, especially if you do not work hard to replenish your microbiome after the fact.
In part two, I'll go into all the things I do to prevent sickness in the first place, as well as to hasten recovery if it still happens.
Read Part 2: herbs and recommendations
Latest posts by Logan Christopher
(see all)