In this article, we'll be giving step by step into how to make herbal tinctures at home. Specifically for this walkthrough, I'll be showing you how to make what I affectionately call "ginseng whiskey."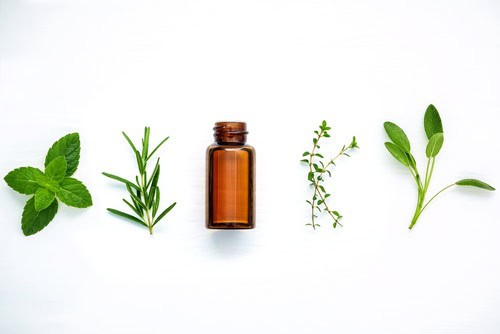 Making herbal tinctures typically involve using alcohol extracts of some type of plant material. The alcohol is used as a solvent that draws out the properties and chemistry of the plant material, notably alkaloids, terpenes, sterols, essential oils and more. Other solvents can be used, such as vinegar, glycerine, honey, etc., but more often alcohol is used for tinctures because it's easy, inexpensive and it works very well. Furthermore, the alcohol acts as a preservative, so tinctures keep a long time. And tinctures allow the herbal components to be delivered straight to your blood stream, bypassing digestion, and thus typically delivering greater benefits with less.
They're easy to take and travel with. (I get asked this many times, but I've never even had troubles getting through airport security, even with a bunch of tinctures on me.)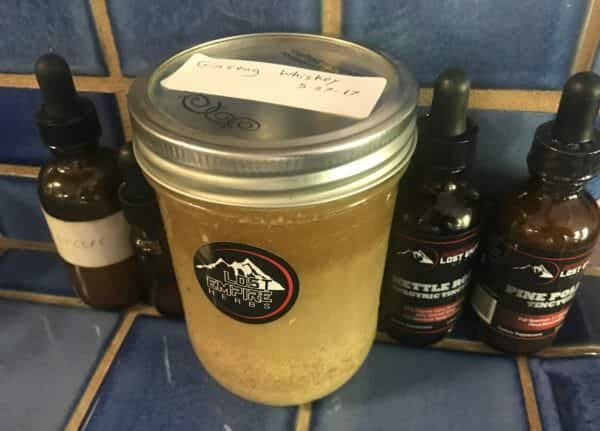 You can go far in your herbal tincture making skills, but what is covered here is a relatively simple format, along with a few tips for going more advanced. Here's an outline of what is covered:
Step 1 – Procure Herbs and Tincture Supplies
Recently, we acquired some high quality American ginseng roots. (Sorry, these are not for sale, though there is a possibility we could have them available for VIP customers in the future.)
It is important that you start with fresh or dry herbs. You do not want to create a tincture from a finished extract, like most of our herbs at Lost Empire are. This is because you will be losing out on some of the benefits if you do so. If it's a water extract, it will have pulled out the water soluble components, leaving the alcohol soluble components behind. Even if it's a dual extract already,  you will lose potency by making a tincture off of an already extracted herb. Good choices from what we do have available are:
(You could do Maca, but in my opinion, maca is not worth tincturing. Some herbs are best used in one fashion or another.)
Instead, fresh or dry herbs can be wildcrafted, bought at many health food stores, or purchased elsewhere online.
In addition to the herbs, you also need a few simple pieces of equipment to make your own tinctures.
Mason jar with lids, or something similar
Alcohol
Cheesecloth or paint strainers
Funnel
Tincture bottles
Labels
I'll describe details about these largely as we get to the relevant steps. But right now let's talk about the importance of alcohol selection in making herbal tinctures.
Selecting the Right Alcohol for Your Herbal Tincture
How strong should you alcohol be? In general, with fresh herbs, you want a higher proof alcohol. That is because fresh herbs have a water content that is going to be drawn out, so you'll end up with something lower proof.
In the end, you want something that is at least 30% alcohol, or 60 proof. That is generally considered the amount that is necessary to preserve something. Lower than this and your tinctures might spoil.
As for the best proof or percentage, it depends on the herb you're using. Some are better with something higher. Some with something lower. In this case, an actual chemical analysis would be needed to find out the ideal. The good news is you don't need to have anything exact. Anything 60 proof up to 190 proof will work.
In general, clear alcohols, most notably vodka is used. Brandy is another alcohol that has often been used for making herbal tinctures over the years.
Never use isopropyl alcohol! Anything besides ethyl alcohol, which is what is in all drinking alcohols, should not be consumed
For something more potent you can use close to pure alcohol like everclear. If you're using pure alcohol, it is important to note that the alcohol is too overpowering on the taste buds so it must be watered down in some fashion. If you want the really excellent pure stuff, you can order from a place like https://organicalcohol.com/
That being said, you can use all kinds of alcohols. I used a top shelf Scotch whiskey, Johnnie Walker Blue Label, to make my Ginseng whiskey. Why? Because whiskey and ginseng go together well of course. 🙂
Step 2 – Grind Herbs to Expose More Surface Area
When you're working with a solvent such as alcohol for tinctures, the alcohol is interacting with the herbs and drawing out the things inside. Therefore, the more area you can have where these interactions can take place, the more it will happen. For this reason, you want to expose more of the surface area of your herbs.
Depending on the herb you may not need to do much work here. Pine pollen is already very granular, so mission accomplished, though it makes Step 5 much tougher. For things like roots and mushrooms, this step is crucial.
In working with the ginseng, I put all the roots in my Vitamix blender. The roots were completely dry, so it was more like wood than a fresh root. If you're working with fresh material, you can often use a pair of scissors or just a knife to cut it up. I did not include this in the list of supplies because it depends on what herb you're working with.
You can see the Vitamix completely powdered most of it while leaving some smaller and bigger chunks. I felt this was good enough to move forward.
Herbal Tincture Technical Terms
There are three terms that are likely to come up when you're talking about making herbal tinctures. All three start with the letter "m."
The term for the solvent used, in this case, alcohol, is menstruum.
The term for the herbs, the solid material used in a tincture is the marc.
The term for the combination of the menstruum and the marc is a maceration.
Step 3 – Add Alcohol
Take the powdered herbs and put it into the mason jar, or another vessel that you're using to make the herbal tincture. Mason jars are ideal because of the wide lid, plus they're generally easy to find and cheap. It is important that you have a lid that seals well.
Once the herb is in there, you add your alcohol.
With the ginseng, I had a bottle of Johnnie Walker Blue Label that I had been gifted on my birthday. Some might think this is a waste of good scotch to make a tincture. My opinion is I want to use the best quality alcohol with the best quality herbs. Good ginseng deserves a good scotch.
Tincture Ratios
A word as to ratio for your tinctures. A ratio is used to tell you the weight of the marc, to the volume of the menstruum. Thus an ounce (weight) of marc, to one ounce (volume) of alcohol would be a 1:1 ratio. An ounce of marc to five ounces of alcohol is a 1:5 ratio.
But don't worry. When you're starting out you do not need to be exact with the ratios. Here are two rules of thumb to use:
Pour in enough alcohol to cover the herbs plus about two fingers widths on top of that.
Pour in enough alcohol to cover the herbs and double that. For example, if your herbs come up to the halfway line of your jar, then fill the jar with alcohol.
Anywhere between these two measures will be okay. Obviously, with less alcohol, you'll have a bit stronger of a tincture. With more alcohol, it will be weaker, but you'll have more tincture. If you on on the lower side, make sure you check your tincture and add more alcohol if needed because the plant material, especially if dried, may absorb the alcohol, leaving some parts uncovered. Uncovered plant material can lead to unwanted mold.
My powdered ginseng filled between 1/3rd to 1/2 the jar, then I filled it with alcohol. Had I not ground the ginseng, I couldn't have even fit all those roots in there! Still, with this ginseng whiskey, I more than doubled the volume, but I never weighed the material. Still, it would likely end in that 1:1 or 1:2 range, had I done that.
A more technical way to do it (and the way our Pine Pollen 1:1 tinctures are measured) is one gram of herb to one milliliter of alcohol (1g/1mL). That means there are 60 grams of pine pollen per 2 fluid ounces, or 60 mL, which is what is in each bottle. That's potent stuff! The thing is you can't do this easily at home, without more equipment.
Step 4 – Let Maceration Sit, with Frequent Shaking
Now you're going to let the tincture maceration sit for at least two weeks. But you're not just letting it sit. At least once a day you want to shake the jar vigorously. Feel free to do it more often than this. Shaking the jar gets more action going on, as things may settle, and thus will yield a better herbal tincture in the end. That is also why it's important that the lid is tightly sealed!
It is a good idea to label your jar with what kind of tincture it is and the starting date. I promise you, if you make more than one tincture at any one time you may forget what is what. Other information like alcohol type and the ratio can also be written on the label. You can see the label used in the picture at the top of this article.
If you want to get more esoteric and traditional, tinctures would be started on a new moon and then finished on the full moon. If you want to get even more esoteric or alchemical then that, you need to know which planet rules the plant, and then work with days of the week and certain times that reflect that energy more so.
Step 5 – Separate Marc
Once those two weeks are up (and there is no harm in going longer and can be a good thing), its time to separate the alcohol from the herbs, or the menstruum from the marc.
Take the lid off your jar and grab a measuring cup or another vessel. Put the cheesecloth over a funnel between vessels and pour. Or if you're using a paint strainer it's already funnel shaped. With larger pieces in your marc, it can be effortless. But depending on how powdered your marc is, this can be a complicated process, which requires going back and forth, and often leaving things to strain for some time. Anything powdered essentially turns to mud, and thus can be quite difficult to work with.
Squeeze the cloth until the marc is as dry as you can get it. If you're using something that absorbs the alcohol, you can also blend this up, then squeeze more. That will allow you to extract even more. Good hand strength comes in handy!
I prefer working with paint strainers, though it is important to note that with too much squeezing the mesh can come off the paper. It might take a few paint strainers to handle one tincture pressing. Also, as you can see the paper in the paint strainer is going to absorb some of the alcohol.
For more advanced operations you can get a tincture press, which helps you to press out more of the liquid mechanically.
However you do it, repeat as much as needed until you have a filtered fluid.
Optional Spagryic Steps
Typically, the marc is then discarded. However, more advanced steps can be undertaken with it…
In spagyric work, which is the term for alchemical processes used with herbs, you'll use the marc by calcining, meaning burning it and grinding it, until it yields a fine white powder. That is then added to water to separate the soluble and insoluble minerals. The soluble minerals are then evaporated until crystals result. Finally, these crystals are added back to the tincture. That puts the mineral matrix, or "salt or body," back into the tincture making it more robust and more holistic.
It's a lot more work requiring a few more bits of equipment like crucibles and strong fire sources! Perhaps in the future we can cover those steps in more detail.
This spagyric process is how our Ashwagandha and Nettle Root Tinctures are prepared.
Step 6 – Herbal Tincture Bottling and Enjoy
From your filtered liquid, use a funnel to pour your tincture into one or more tincture bottles. The measuring cup, with it's shaped mouth, helps to make this easier too.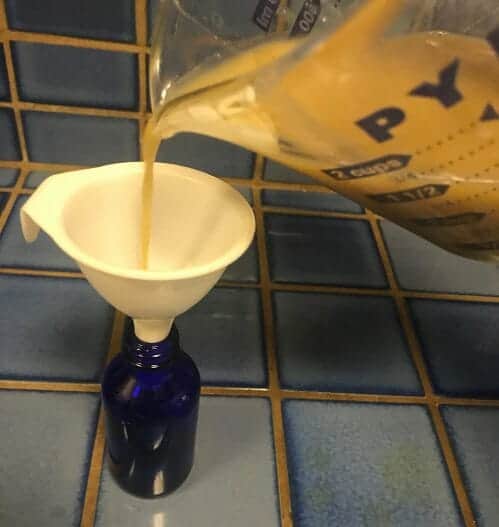 It is best to use amber bottles, or other types of dark glass like miron or cobalt because these will further protect the tincture from light. Once again, you'll want to label your tincture bottles, so you remember what is in them. Here a date, or other information, can be used but it's up to you.
Depending on the herbs used and the strength of your extract your dosage can range from a drop to tablespoons. Please experiment responsibly.
The final step is to enjoy your new herbal tinctures. (This article was finished under the influence of ginseng whiskey.)
Latest posts by Logan Christopher
(see all)