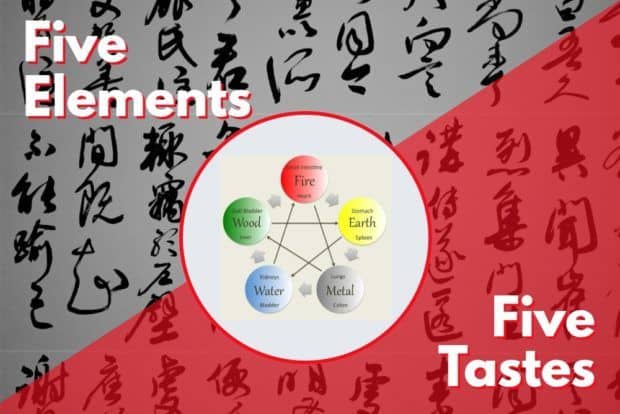 Are you ready to learn…
about the five elements from Traditional Chinese Medicine(TCM) and how they correspond to the five tastes?
Water –

Salty


Wood –

Sour


Fire –

Bitter


Earth –

Sweet


Metal –

Pungent
One of the major models of Chinese medicine is the five elements. This then corresponds to the different tastes that you may find not only in your food but in your herbs as well. Although the specifics of how it was done aren't known, this model came from observations of nature.
You may be used to a four-element model from other cultures that includes water, fire, earth, and air. The Chinese do it a little bit differently with water, wood, fire, earth, and metal. In the picture here, you can see that with each of these elements you have a major and minor, Yin and Yang organs or meridians of the body as well.
This is different than the Ayurvedic model. They also correspond to the elements. They use five elements. They use the different ones with those other four we talked about (water, fire, earth, and air) and the ether. And then correspond two tastes each of them, but that's a topic for another time.
Here we're talking about the Chinese model and how they use it. Now the five elements are often also called the five seasons or the five rhythms. And the idea is really that with each one of these, you have a different corresponding aspect of nature. Here we're talking about the taste so let's dive into it.
Water Element – Salt Taste
Starting with the water element. These have a salty taste. This is a pretty easy one to remember if you just think in terms of saltwater and if you look a little bit deeper with the water element, you have the kidneys and bladder, right?  This is kind of our filtration and excretion system of the water, of the body, which has a lot to do with the minerals, aka the salty tastes. The salt taste is not just salt itself, although that's a piece of it, but also has to do largely with the mineral taste because basically that's what salt happens to be.
Herbally, a good example of the salty taste is Bacopa.
Wood Element – Sour Taste
Let's move on to the wood element here. We have this sour taste corresponding to the wood element with the liver and gallbladder. Now, with the sour taste, the most notable example of that would be citrus fruits. We have oranges, lemons, limes, that sort of thing. But many fruits are actually sour. Berries are sour, definitely have some sweetness to them, but it depends on how ripe they are. Often with fruits, part of the sour taste is because of vitamin C. If you've ever tried just straight ascorbic acid, you know, it's a pretty sour-tasting substance. But along with vitamin C, you have bioflavonoids and other things that lend that sour taste.
A great example of this is Elderberry.
Another aspect of the sour taste is various forms of acid. Citric acid, which is found in those citrus fruits, but also ascetic acid as is found in vinegar. And if we look at fermented foods, these all tend to be sour as well from the production of these acids. So you have a couple of different types of a sour taste. All of them correspond to the wood element.
A good example of this side of the sour taste is Pearl Powder as it is fermented.
Fire Element – Bitter Taste
Next up, we have fire. Now when you think of fire initially you might think of pungency or the spicy taste, but that is the Metal element. A way to think about fire corresponding to the bitter taste is there kind of working a little bit in the opposite, right? If you have a fire, you kind of have an outward expression of a lot of energy going on and that often happens with the fire element that can get out of control, burn too bright, that sort of thing.
Well, the bitter taste has a cool in downward bearing action. If you've ever tasted something extremely bitter, you may notice that it can actually send shivers down your spine, right? So this bitter taste can help to dampen the fire when that may be needed. So the bitter taste, it's trying to close down the fire. That's one way you can think of the fire element corresponding to bitter.
A great example of the bitter nervine action is Blue Vervain.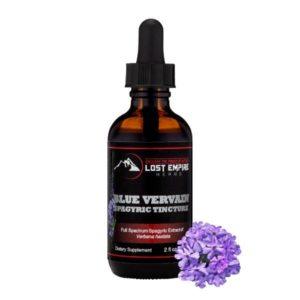 Although not nervines you can taste bitterness strongly in Tongkat Ali, and more mildly in Pine Pollen.
Earth Element – Sweet Taste
With the earth element, we have the sweet taste. To me, this is a pretty easy one to understand. Easy correspondence with the earth element. We have the spleen as well as the stomach. Now the spleen in Chinese medicine is a really, really, really important meridian. It has to do with the metabolism of the body as well as having a huge function on the immune system.
In the West, we look at the spleen or the pancreas, right? It's an organ that basically does just a single job, which is the regulation of insulin and blood sugar. Sugar, for instance, it's going to increase blood sugar. The spleen or the pancreas has to act on that and then get to work. So it's a pretty easy thing to see right there. Another way you can think about this, if you have an earth type of person, these people do tend toward obesity and diabetes because they often need too much sweet food and the spleen just can't keep up with it.
A great example of the sweet taste because of sugars inside is Goji Berry.
Now with the sweet taste, it's not just about sugar. Sweet also has to do with more even just the presence of carbohydrates; sweet potatoes, rice, those sorts of things are sweet, it's just a little bit more subtle.
But an example of the sweet taste, which most would just call bland, is Nettle Root.
Metal Element – Pungent Taste
Now we move onto the metal element. Everything to do with the lungs and the colon or the large intestine. Here the taste is pungent. Now, this is very similar to spicy, although there can be some other sorts of pungent action. It's really sort of a dispersive or energy that kind of moves outward in the mouth. Cayenne or any type of hot pepper is the classic example of this taste.
A one way you can think of this as if you have something really spicy, oftentimes start breathing pretty heavily, right? And that's the lungs, the major organ of the metal element.
Herbally, a good example of a pungent taste is Albizia.
Why Taste is Important
So that is our five tastes, water salty, wood sour, fire is bitter, the earth is sweet and metal is pungent. This is important to note because these tastes correspond to these elements which then correspond to the meridians as well as other things and thus when you are eating just normal foods, but also taking herbs, those tastes can include you into some of the action that is going to take place within the body.
This is one of the reasons that people were able to figure out what on earth does without having scientific instruments or double-blind studies thousands of years ago, right? They observe nature. They noticed what was happening and they noticed that there was this clue that sour things tended to work on the liver and gallbladder, not just organs but the meridian systems and all the other things that work along with that as well.
So you do want to taste these things, and now in the West, we tend to focus completely on sweet foods and salty foods of these five tastes. Some people like pungency, some people like sour, almost no one likes bitter, right?
But that means by not tasting the full sort of rainbow of taste, you aren't going to get all the benefits. You're not going to be balanced across these five elements. Now I'm not saying you need equal amounts of these, that's not the case because different people have different proportions of these elements within themselves, but it's important to note that you will want some of all of these tastes. It's going to be really important. It's not that one thing is better than another. Sweet is not better than bitter. Instead, there are different flavors. Learn to enjoy them all for what they are and that's going to help you to have even better health moving into the future.
Schisandra – The Five Flavor Fruit
One thing I have to talk about when discussing the five tastes is Schisandra, which is also known as the five flavor fruit. This is one of the top herbs in Chinese medicine that does a wide range of different things.
Now, when you taste Schisandra, you'll predominantly notice a sour taste. There's also the astringent taste, which is sometimes called the six taste, but sometimes it's labeled a mouth feel instead. This is characterized by a drying sort of action, like the water in your mouth is disappearing. Predominately, you'll notice that sour taste, but if you taste more subtly if you tune your senses into what's going on, you'll notice there's some pungency there, some bitterness, some saltiness, and some sweetness as well.
What that means is that Schisandra is working on all five elements. It's corresponding to all those different meridians and thus it is doing a lot within the human body. People sometimes ask me, what does Schisandra do? I say a little bit of everything. It's really amazing thing, so if you want to sort of understand the five flavors a little bit more, I do recommend you try some Schisandra and you'll get an experience kind of unlike anything else you'll ever see because things tend to not have all five flavors within one substance.
What about Shilajit?
How would you characterize the tar-like flavor of Shilajit Resin? Here we see predominately pungent flavor, but with bitterness, saltiness and sourness as well. I would not say that it is sweet at all. So with four flavors, this also shows the Shilajit does a lot inside the human body.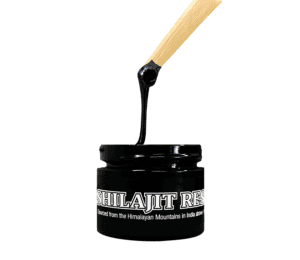 Taste is important. In the West, we've mostly eliminated certain tastes from our diet, most notably bitterness. But to do so is to get rid of all the medicinal compounds that come along with the bitter taste. In other words, if you're not tasting all five flavors your diet is deficient. The good news is that your tastes are more malleable than most people believe. You can come to love these flavors in time.
There's a lot more that can be said about the five elements and the five tastes, but I hope you enjoyed this introduction.
Latest posts by Logan Christopher
(see all)